In recent years, the public debate has shifted from discussing 'mental illnesses' to the broader framework of 'mental health'. Mental illness is presented to us as any other illness, but public campaigns encourage us to talk positively about 'mental health' and to 'raise awareness'.
While it is extremely important to combat stigma and, indeed, to raise awareness about the importance of mental health, the current state of the public conversation doesn't do that. Instead, by focusing on 'mental health' as an abstract object, the conversation shifts the public's attention away from societal problems that increase distress.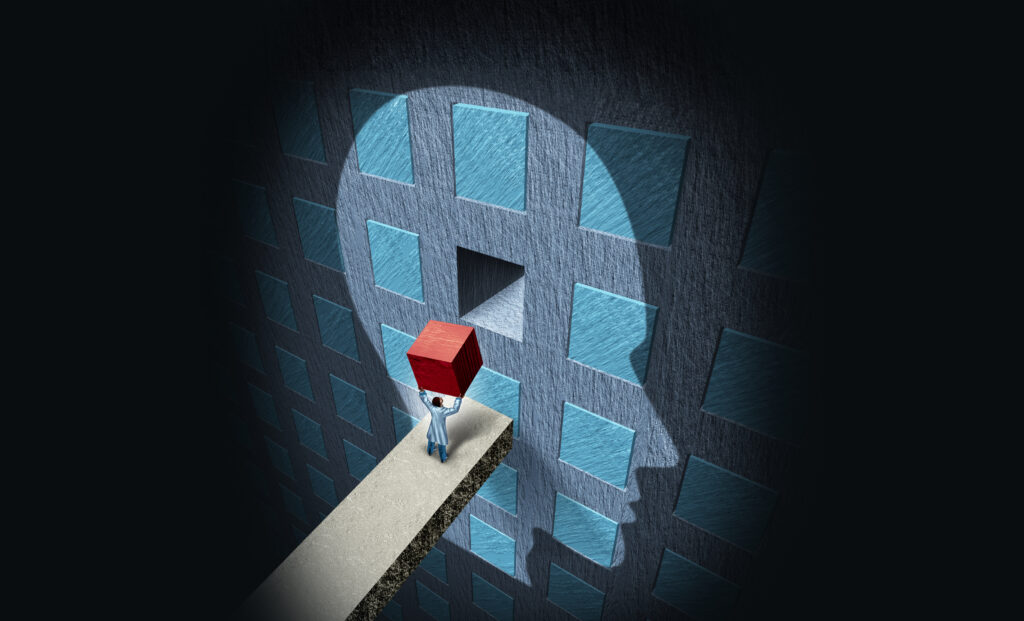 'Mental health' is a euphemism that conceals the fact that mental illness is still viewed and treated as a social deviance, dealt with by the authoritarian institution of psychiatry.
One of the most important papers in sociology, still studied to this day, is Robert Merton's 'Social Theory and Structure' (written in 1938). It's still listed as a key text for certifications in sociology.
It's difficult to read it today without noting its problematic nature; Merton essentially positions certain people as social outcasts, who retreated from the society because they were unable to adjust. In this category he lumps together those with mental health problems, the extremely poor, and criminals:
"Persons who 'adjust' (or maladjust) in this fashion are, strictly speaking, in the society but not of it. Sociologically, these constitute the true 'aliens'. Not sharing the common frame of orientation, they can be included within the societal population merely in a fictional sense. In this category are some of the activities of psychotics, psychoneurotics, chronic autists, pariahs, outcasts, vagrants, vagabonds, tramps, chronic drunkards and drug addicts."
According to Merton, then, some people can be included in our society only 'in a fictional sense'. They have deviated from the norms of society enough to become 'true aliens'.
Why do I bring up a text from 1938 here? After all, it represents quite an outdated way of viewing these social issues and mental health problems.
The text of Merton, even if it was written in 1938, is still very relevant today because it simply tells the truth about how society views mental distress, which is concealed by the ways that society currently talks about mental health (its discourse). Officially, most of the categories mentioned by Merton, such as 'some of the activities of psychotics', and 'drug addicts', are now labeled as mental health disorders, and are treated as illnesses. Psychiatrists, based on the positivist way of thinking, assure us that mental illnesses like these are a brain disease which can be treated.
At the same time, more and more disorders are added into an already vast collection of psychiatric diagnoses. The Diagnostic and Statistical Manual of Mental Disorders (DSM), known as 'The Psychiatrist's Bible', lists all kinds of mental health problems, and all (including totally unrelated societal problems and real cases of distress) come now under the domain of mental illnesses.
Yet, the public conversation is now focused on using the term 'mental health', which shifts the emphasis. Instead of focusing on how we still view and treat mental distress as social deviance, the conversation becomes how we should talk about mental distress in public, creating a dichotomy between mental illness (recognized as social deviance) and the buzzword of 'mental health'.
This highlights the main problem that mental health debate conceals, as much as it tries to convince us to the contrary. Representing mental distress under the umbrella term of 'mental health' creates an abstract discourse which presupposes a positive perception of mental health problems. However, this happens in parallel to treating mental illness as social deviance in real life, with patients and service users not seeing any real improvement in mental health services, and in failing to see how they can contribute to the discourse as service users.
Whenever reforms to the psychiatric system have happened, it was initiated by social reformers, as well as psychiatric survivors—those who had experienced the system—and aided by a few physicians. The main cause was to combat stigma and to ensure better treatment for psychiatric patients.
However, what has happened in the recent years is that the debate on mental health has been stolen from the service users, and the hands of big pharmaceutical companies have co-opted the fight against stigma. Although they claim to be reducing stigma with these 'mental health' awareness campaigns, stigma is not decreasing but shifting its focus. The campaigns encourage one to talk about one's 'illness' but they do not change the opinion of the general public, who—according to study after study—continue to want distance from those with mental health problems and who view those with major mental health diagnoses as being more dangerous than ever.
In my own experience, discrimination based on psychiatric diagnoses is still an everyday concern. I, and others like me, know that if we actually discuss our 'mental health' we are at risk of losing our jobs, failing to get hired in the first place, losing our social networks, and so on. If we were to obey the awareness campaigns, we would be harmed because of it.
What the public debate on mental health hides is that psychiatry is an outlet for behaviour management, disguising it under the umbrella of presumed, unverifiable 'brain disease', and where the inclusion of an increasing number of diagnoses makes it impossible to fight any stigma, since diagnoses and disorders incorporate now all manifestations of difference, out-of-the-box thinking, and various personalities, together with psychosis and depression. Service users cannot keep up with an expanding list of diagnoses in order to address any discrimination and stigma.
It was in 1963 when Erving Goffman, a distinguished sociologist, thanked the psychiatrists in the beginning of his book 'Behaviour in Public Places' for providing us with the official guidance in terms of how we monitor behaviour. As he said, it's up to the psychiatrists to judge the instances of inappropriate behaviour, and then deliver a diagnosis.
It is in this field of critical realism that we should look at the debate on mental health, by recognising that the psychiatry has become an outlet for dealing with societal deviance, and where raising awareness about mental health issues becomes a discourse which takes our attention away from this development.
If we look again at what is studied to receive a sociology degree/certification, especially in the UK, we can see a clear preference for functionalist approach to how we view ourselves as a society, reflecting the current stance of the conservative government in the UK, but also how other governments operate in Western hemisphere. They all adopted a functionalist approach towards society.  Functionalists look at the society as an organised structure where institutions such as family, education, etc, play an important role to sustain a functioning society.
Durkheim, one of the most famous functionalist sociologists, thus argued that society was a social order based on shared norms and values. In order to maintain this order, the society recognises what is considered to be a normal behaviour and what is not, with such institutions as the police exerting the main control over those who break this order.
Robert Merton put people who broke the law into the category of 'innovation'. He studied American society and argued that the society's goal of the 'American dream' was simply unattainable for some via convenient means, and as a result, some individuals would try to achieve this goal by using illegitimate means.
But we also have individuals in the society who do not conform by their way of thinking, and psychiatry was created in order to tackle these individuals by successfully renaming people that Merton placed in his category of 'retreatism' as 'mentally ill', who could be looked upon by such an institution as psychiatry. Psychiatry maintains its legitimacy by claiming that mental illness is a brain disease with biological explanations, and that one day a neurological defect will be established in all mental illnesses.
This claim is one of the most successful marketing campaigns in human history because it gives the psychiatry the power to act as a domain of medicine, and we cannot argue with medicine since it is supposed to heal us. The research which contradicts psychiatry's claim that mental illness is a brain disease is silenced and put into the domain of heresy, and psychiatrists who question the status quo are pushed away from the power structure of the institution itself.
How we look at mental distress under the umbrella term of 'mental health' is of particular importance today because anti-stigma campaigns, such as the slogan of the UK government 'No health without mental health' conceal the real picture of how we still view mental malaise in our society. We will continue looking at manifestations of mental distress in a very negative, stigmatic way when new diagnoses of mental health are added constantly to the list of mental health disorders.
Talking about mental health in its general terms only hides the fact that psychiatry has become an institution dealing with societal deviance, and contributes to the reinforcement of medical capitalism, where everything is justified to increase spending on drug treatment and research involving drug development, at the detriment of people with real problems and in need of real help, instead of being passive witnesses of the campaigns which do not include them as users and patients.
It also conceals the fact that medical capitalism incorporates the rise of numerous applications and products aimed to help people struggling with their 'mental health' problems and trying to find an outlet for the malaise of the society lost on a spiritual level in the Western hemisphere and during the Covid pandemic. We are seeing the proliferation of new applications on meditation on a daily basis, but they seem to fail to counteract the rise of mental health problems, especially among young people.
Looking at mental health problems in its general terms takes our attention away from the fact that nothing has changed in terms of how we view mental distress as a society. It creates a discourse about how we are supposed to talk about it in public, creating a false political correctness, with underlying stigma remaining firmly in place. It presents us with a fake promise that it is okay to talk about one's mental health problems, while it is still not okay to be mentally distressed.
Some regulations in countries in the West effectively deprive certain people of their freedom, and mental health patients can be detained against their will in the hospital. They are released back into the community without any real support, apart from being drugged with a medication which, as research shows, can inflict considerable damage if taken in the long term. There is no real financial help, psychological counselling, or possibility to re-educate or retrain in order to accommodate the new life demands that a mental health condition creates.
How we still view mental distress as a society is presented to us in the sociology degree and certification in the UK, but how we are supposed to talk about it is presented to us in numerous anti-stigma campaigns that don't really lead to anything concrete, such as actual help for those who have been diagnosed with a 'mental illness'.
By focussing the debate on 'health' our attention is moved away from such societal problems as poverty, inequality, the rise in society of the Spectacle (through the increased use of online technologies), and increasing alienation that people experience both at work and in education systems.
The expansion of diagnoses tries to conceal the truth that it is becoming harder to remain emotionally balanced and mentally healthy when the attainment of a happy and fulfilled life has become impossible for many, especially recently due to the pandemic. Merton was right in his analysis of the society and the difficulties in the attainment of the 'American Dream', which is translated in other Western societies as a pursuit of status and wealth. He was also right in defining some of his categories.
He was wrong, though, in defining his category of 'retreatism', as people he had listed in this category, in their majority, do not retreat by choice, but are unable to cope under the burden of the demands of the modern life. But by putting all societal problems under the umbrella term of 'mental health', the societal malaise is relegated to the domain of medicine, where existential problems, together with real cases of mental distress, are supposedly being treated by the specialists.
It also conceals the dichotomy between behaviour punishment and health. Psychiatry, as an institution, is only possible because some behavioural patterns are considered to be symptoms of mental disorder, while others are not. It can be seen in the fact that diagnoses are based on observation, or, more often, the patient's self-report, and not on rigorous physical evaluation, such as tests that are conducted to establish physical illnesses.
The statement of Western governments that 'mental illness is like any other illness', as well as the positioning of it under the term of 'mental health', leads to the exclusion of consideration of other factors in cases of mental distress, such as social and psychological dimensions. Looking at all mental distress in the framework of 'mental health' means that such factors as isolation, poverty, psychological trauma, and inequality, are taken out of the equation, and are treated as if these problems do not play a role, while if we go back to the analysis of Merton, it is the struggle on a societal level that leads to problems for some individuals to conform to the established picture of an ideal citizen.
By treating all mental problems as 'mental health' in a public domain, politicians take away the attention of the public from rising inequality, the struggle of the young people in a society which places ever more demands on the achievement of success, increasing pressure on children at schools with tests and exams, and racial and gender issues.
By renaming occurrences of mental malaise into umbrella term 'mental health', politicians, policy-makers and also psychiatrists, effectively conceal the fact that 'mental health' talks about 'societal malaise', and not about individuals suffering from mental health problems, who do not see any improvement in terms of their treatment.
While the public campaign encourages us to talk about mental health, as some sort of an abstract object, mental health services are undergoing budget cuts, hospitals lack staff, and patients have to wait for years to receive treatment, or are sent miles away from their homes in order to receive help. All this happens in parallel with the psychiatry acquiring an increasing power as an agent of behavioural control.
Psychiatrists do not want to acknowledge the fact that they have become guardians of social order. Psychiatry has effectively moved in recent years into the crime and deviance section, but is presented to us as a health profession in a positive light. Perhaps psychiatrists as doctors can heal and treat real cases of distress and even illness, but it happens at the same time as some patients are deprived of their rights via mental health regulations in the majority of countries in the Western Hemisphere. It also happens at the same time as stigma is increasing, where seeing mental illness as any other physical illness leads to more negative public judgement and hinders prospects of recovery for those affected, as patients with mental health problems need to reintegrate back into the community and feel as a part of it.
In order to redress the balance between the discourse on 'mental health' and real problems in real life, such as a lack of budget within mental health services, cuts of benefits for those affected by mental health problems, and stigma, we need to shift the discussion back to individual and totally different problems that the umbrella term 'mental health' started to encompass in one go.
We need to talk about the concept of 'social deviance' and the role of psychiatry in enforcing social order, which also leads back to discussion of what we consider normal or abnormal, and why. We need to go back to discussion of individual distress and consider whether increasing number of diagnoses helps to distinguish between concrete problems, or, on the contrary, creates an illusion that if we name something as 'disorder' when everything can be treated by the means of the drugs.
We need to go back to analysing the environmental aspects of mental distress and include psychological and sociological perspectives next to the hegemony that psychiatry exercises. Or, if we decide that we should talk about 'mental health' in its general terms, then we should abandon diagnoses all together and look at manifestations of mental malaise as manifestations of societal malaise as such.
***
Mad in America hosts blogs by a diverse group of writers. These posts are designed to serve as a public forum for a discussion—broadly speaking—of psychiatry and its treatments. The opinions expressed are the writers' own.
***
Mad in America has made some changes to the commenting process. You no longer need to login or create an account on our site to comment. The only information needed is your name, email and comment text. Comments made with an account prior to this change will remain visible on the site.