In an article published in JAMA Network Open, Bernice Pescosolido and her colleagues examine the stigma around mental illness in the United States between 1996 and 2018. The researchers used survey data from 4129 participants to trace the changes in prejudice and discrimination towards people diagnosed with a mental illness.
The current research produced mixed findings, with decreases in public stigma towards depression and increases towards other diagnoses. They also noted a troubling increase in public perceptions of likely violence from people diagnosed with schizophrenia. The authors write:
"This survey study found the first evidence of significant decreases in public stigma toward depression. The findings of this study suggest that individuals' age was a conservatizing factor whereas being in the pre–World War II or millennial birth cohorts was a progressive factor. However, stagnant stigma levels for other disorders and increasing public perceptions of likely violence among persons with schizophrenia call for rethinking stigma and retooling reduction strategies to increase service use, improve treatment resources, and advance population health."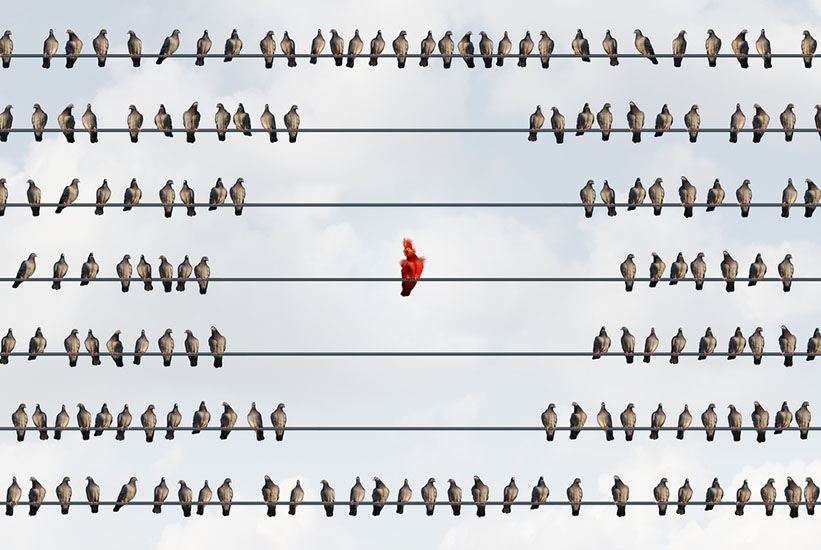 Research has linked stigma and discrimination towards people diagnosed with a mental illness to essentialist thinking, the assumption that an underlying essence makes things what they are. Similarly, researchers have linked stigma and discrimination to the biomedical model of mental health. The adoption of this model, which views mental suffering and behavioral abnormalities as caused principally by underlying biological issues, has led to a lack of clinical innovation and poor mental health outcomes for service users.
Stigma around voice hearing has been linked to isolation, secrecy, and poor functioning. This is true even in the absence of diagnosis. Stigma also seems to effect the experience of hearing voices, with distressing voices being much more common for people that had adverse experiences around voice hearing. In other words, people who are treated poorly for hearing voices tend to hear more disturbing voices.
Anti-stigma campaigns have had mixed results, with some researchers arguing that they do more harm than good. Sociologists have argued that anti-stigma campaigns that do not address the social causes of mental distress have limited impact. Anti-stigma campaigns can also hinder discontinuation of psychotropic drugs by insisting that mental illness must be treated, most typically with dangerous medications.
Research has found that viewing mental illness on a spectrum rather than as a binary significantly reduces stigma. Similar research has found that psychosocial explanations of psychosis (for example, that psychosis is principally caused by adversity rather than biology) reduces stigma.
The current research examines survey data collected from 4129 participants using the General Social Survey (GSS) in 1996, 2006, and 2018. The GSS collects representative data from noninstitutionalized adults in the continental United States. The GSS presents participants with a short story of someone meeting DSM diagnostic criteria for diagnosis of major depression, schizophrenia, or alcohol use disorder against a "daily troubles" control vignette. It then asks questions concerning causes of the behavior, perceptions of likely violence, and desire for social distance.
Between the years of 1996 and 2006 there was a significant rise of biomedical attributions for mental illness, meaning respondents were likely to understand mental illness as a brain disease rather than a reaction to poor environments or difficult circumstances. This coincided with a decrease in stigmatizing attributions. However, this did not effect the level of social rejection towards people with diagnoses.
Between the years of 2006 and 2018 the researchers saw a significant decrease in stigma around depression. Respondents across the board expressed less desire for social distance from people diagnosed with depression, including in professional settings. However, the same was not true of schizophrenia and alcohol dependence. Levels of social rejection remained consistent for both categories. Perceptions of the danger associated with people diagnosed with schizophrenia increased during this time, as did moral attributions for alcohol use disorder.
The authors note that the changes they saw in this research were not specific to certain demographics, meaning the changes were likely societal rather than generational or cultural.
The authors acknowledge several limitations to the current research. The responses reflect attitudes towards mental illness, not actual behavior. It is possible respondents could act against their self-reported attitudes in real-world circumstances. The study also had issues with decreasing response rates. Over the 22-year period of the study, responses decreased by 16%. The authors conclude:
"The societal and individual effects of stigma are broad and pervasive. Stigma translates into individual reluctance to seek care, mental health professional shortages, and societal unwillingness to invest resources into the mental health sector. Yet, the research, teaching, and programming resources targeted to redress prejudice and discrimination remain a low priority, small in scale, and individually focused. With indications that the level of stigma may be reducing, strategies to identify factors associated with the decrease in stigma for depression, to address stagnation or regression in other disorders, and to reach beyond current scientific limits are essential to confront mental illness's contribution to the global burden of disease and improve population health."
****
Pescosolido, B. A., Halpern-Manners, A., Luo, L., & Perry, B. (2021). Trends in Public Stigma of Mental Illness in the US, 1996–2018. JAMA Network Open, 4(12), e2140202. https://doi.org/10.1001/jamanetworkopen.2021.40202 (Full text)