A primary care physician looked for my advice. He had self-prescribed paroxetine 20 mg/day at a time when he was going through a painful divorce. He reported his case as follows:
"I had seen many patients of mine getting a lot of benefit from this medication and I thought that I could be one of those. It actually helped: I felt some relief and I experienced some sound sleep after several weeks. But my problems with my former wife were not over, and trying to save our children from our fight was not easy. So I thought I better kept on taking paroxetine, as a sort of protection.
"After a couple of years things were looking up a bit and I decided it was time to quit. I knew I had to do it gradually, so I split the 20 mg tablet. A nightmare: a flare up of somatic symptoms with total loss of concentration (I could not even work as a doctor). I went back to the original dose and things got better. I remembered that this happened also to some patients of mine; I had looked for advice to a couple of psychiatrists I was familiar with for a few patients who had problems similar to mine, and they just suggested me that those patients had simply to go back to the medications they took before.
"So I thought that may-be I was not ready and waited a few months. But the same happened again. I checked again with one of the two psychiatrists and she said "You are simply experiencing a relapse. Keep on taking your tablet." I knew it was not true: relapse of what? I had never experienced the type of depression I had seen in my patients. I realized I was in a no man's land, that I had a disease, but there was no place to go. As a primary care physician, I became quite good in referring my patients to proper specialist care. But I could not do anything for myself."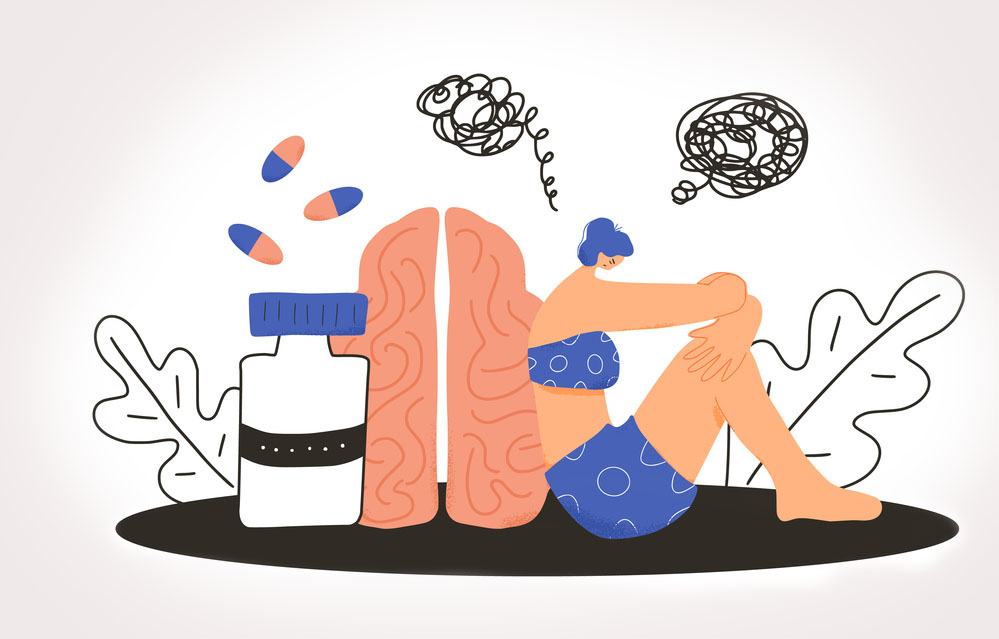 This case, which I described in my recent book, exemplifies a major worldwide healthcare problem that is currently ignored. One person out of 6 in United States is taking psychotropic drugs. In 80% of cases, it is for long-term use and predominantly involves new generation antidepressants, such as SSRI (e.g., fluoxetine) and SNRI (e.g., venlafaxine). When patients want to take off these drugs and/or their physicians decide it is time to stop, substantial problems ensue. About one patient out of two experiences withdrawal symptoms, that do not necessarily subside after a few days or weeks and may be severe and threatening. Patients, like the primary care physician, do not know what to do.
You would hope that specialists or specialized centers would have better tools for assessment and treatment. But also, psychiatrists often do not know what to do, because of massive denial of the problem by scientific societies and journals ("antidepressant drugs do not cause dependence; it is just a matter of tapering them slowly; what patients experience are harmless discontinuation syndromes"). Major financial interests (pushing prescriptions to the highest doses and most prolonged administrations) are behind this denial.
What many psychiatrists have learnt is to perform a diagnosis according to DSM and to write one or more prescriptions in an automatic fashion. A problem is that the DSM applies to patients who no longer exist (drug-free subjects): most of the patients who come to clinical observation today are already taking psychotropic drugs and this occurrence is likely to affect the presentation and outcome of symptoms. Yet the iatrogenic perspective is more than just ignored: it is forbidden.
Helping patients to overcome their difficulties requires excellent skills in differential diagnosis; deep knowledge not only of the potential benefits of treatments (antidepressant drugs remain life-saving medications in severe depression), but also of their vulnerabilities; and awareness of the advances in psychotherapy that enable self-therapy. We also need psychiatrists who are able to understand that each individual case may be different (one size does not fit all) and to use clinical judgment for a better understanding of phenomena.
Withdrawal reactions are only part of the picture that may be triggered by use of antidepressant medications (the tip of the iceberg). Other problems might be associated: very serious medical side effects (e.g., gastric disturbances and hypertension), loss of effectiveness during maintenance that does not respond to dose increase, paradoxical effects (deep apathy), switching into a manic state in patients without a history of bipolar disorder, resistance (a medication that was helpful in the past is no longer effective after an interval), refractoriness to treatment. All these manifestations, which are expression of a state of behavioral toxicity that may occur with use of antidepressants, are subtle and would require a unifying outlook.
In the seventies, when I was a medical student in Italy, I had the opportunity of spending a summer elective in Rochester, NY, seeing patients with George Engel and John Romano. They trained generations of psychiatrists who would have been able to deal with the major healthcare problems linked to use of antidepressants. But where have all these psychiatrists gone? We need to renew the psychosomatic approach of Engel and Romano.
The progress of neuroscience in the past two decades has often led us to believe that clinical problems in psychiatry were likely to be ultimately solved by this approach. Such hopes are understandable in terms of massive propaganda operated by Big Pharma. An increasing number of psychiatrists are wondering, however, why the cures and clinical insights that neuroscience has promised have not taken place.
It is clear that the problems related to the use of antidepressants cannot be solved by an oversimplified psychiatry brainwashed by the pharmaceutical industry. A different psychiatry is needed to address the problems and difficulties related to antidepressant drugs. This is the psychiatry that I have tried to outline in a manifesto in the last chapter of my book and which has been made available by Oxford University Press using this link: https://oxfordmedicine.com/view/10.1093/med/9780192896643.001.0001/med-9780192896643-chapter-13.
The healthcare problems associated with the use of antidepressants need to become a priority for research and funding. We know so little about a number of issues. We lack neurobiological investigations that may shed some light on why, with the same treatment for the same duration of time, certain patients develop withdrawal syndromes and other do not. We lack long-term investigations exploring the occurrence, clinical features and neurobiological correlates of persistent post-withdrawal disorders and large studies that may clarify the relationships between withdrawal syndromes and other manifestations of behavioral toxicity (e.g., refractoriness, loss of effects).
The hypothesis that very gradual tapering may yield a lower likelihood of withdrawal phenomena has very few data available to support it and runs counter the disadvantage of prolonging toxic exposure to antidepressants. There is the pressing need of randomized controlled trials comparing different methods of managing withdrawal syndromes, including psychotherapeutic strategies.
As taxpayers, we can no longer tolerate that public money gets wasted into roads to nowhere and projects that will never have an impact on clinical practice and suffering. It is time that we tell policymakers and key opinion leaders, "Your time is up. We have serious problems and we need a different psychiatry."
***
Mad in America hosts blogs by a diverse group of writers. These posts are designed to serve as a public forum for a discussion—broadly speaking—of psychiatry and its treatments. The opinions expressed are the writers' own.
***
Mad in America has made some changes to the commenting process. You no longer need to login or create an account on our site to comment. The only information needed is your name, email and comment text. Comments made with an account prior to this change will remain visible on the site.