I presented the following comparison of the philosophic psychiatry of Thomas Szasz to the psychiatric philosophy of Epicurus in May 2014 at the 167th annual meeting of the American Psychiatric Association in New York City.   Because Szasz had died late in 2012 I assumed it would be merely one of several retrospectives of his thought and influence.  In the event, mine was the only paper to mention him, and the circumstances afforded me for presenting it proved challenging.  I was assigned to the last slot on the last of the five-day conference, to a session titled "Topics of Interest Rarely Presented."  (The first presentation discussed psychiatric patients' self-assessments of body weight, while the third dealt with psychiatric morbidity among Bangladeshi women in rural and slum populations.)  The audience was predictably small, but the paper was quite a hit among them.  It has continued to garner favorable remarks in private circulation.  Since the second anniversary of Szasz' death on September 8 is now approaching, it seems a suitable occasion to publish it to a wider audience.
When the American psychiatrist Thomas Szasz killed himself a year and a half ago at the age of 92, I thought there would be a global outpouring in psychiatric circles of sympathy or scorn.1 Instead, his death was largely met with silence, a silence as deafening as the one that attended the second half of his long, prolific, and polemical career. Szasz' name didn't show up at all in the APA program last year, and this presentation of mine is apparently the only one to mention him this year. This silent treatment has, ironically enough, and surely against his will, forced him to fulfill the ancient Epicurean ambition to live and die unnoticed (in Greek, lathe biosas, 'shun the limelight as you pass through life').
Who Was Thomas Szasz?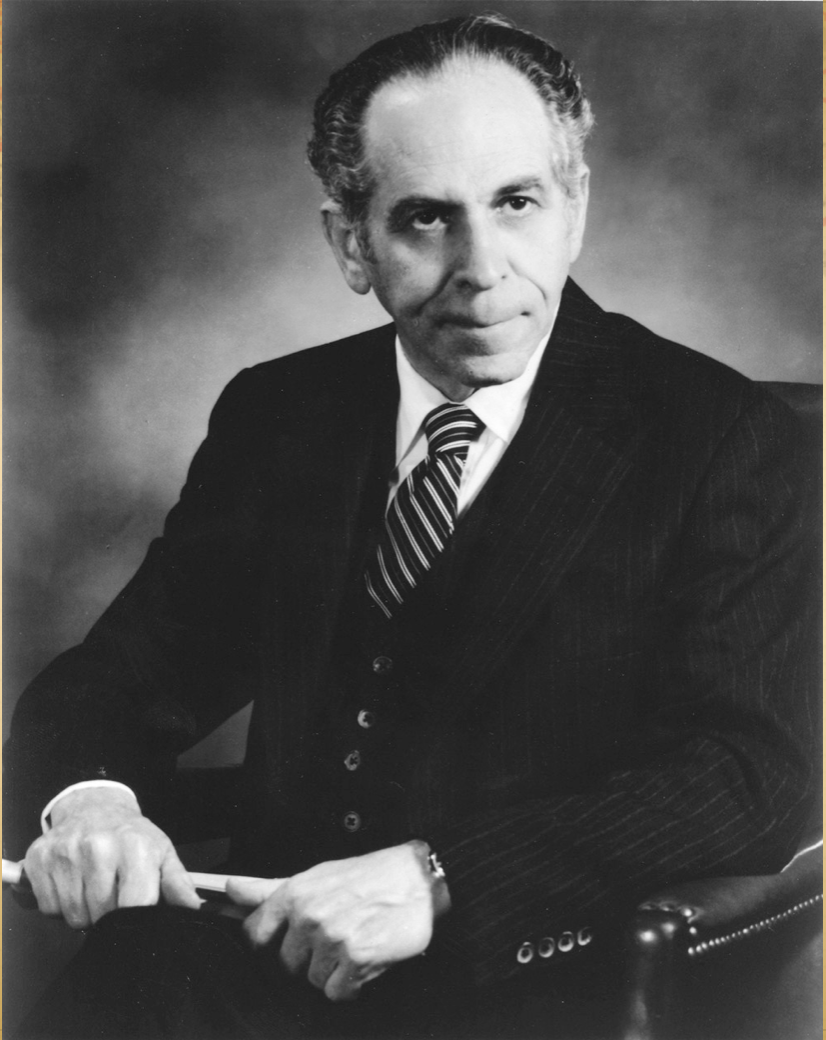 I am not sure I need to tell you, but perhaps I do.
From the 1960s through the 1980s, Dr. Thomas Szasz (1920-2012) was the most famous psychiatrist on earth. Born in Budapest, he emigrated to the United States with his family as a teenager and graduated as valedictorian of his class at the University of Cincinnati Medical school. In 1961 he published The Myth of Mental Illness. It was an international bestseller. In it he argued the simple proposition that personal distress and behavioral eccentricity were being wrongly interpreted as medical illnesses, and that attempts to treat such behaviors by medical or surgical means were forever doomed to fail.
Szasz was fond of comparing psychiatry to the Inquisition, psychiatrists to witches, the mental hospital to the Church, and the medieval Age of Faith to what he called the modern Age of Madness.2 He saw psychiatry as the secular successor to the medieval practice of persecuting witches and heretics: it was, he argued, merely a change of name and rationale, rather than a change of substance, in man's eternal quest to dominate man.3
Szasz' interpretation seems to present us with a simple binary distinction between supernatural-religious and atheistic-materialist explanations of the world,1 much like the familiar (and ancient) debate between creationism and evolution.4 In rejecting the brain-disease explanation of mental illness, he might seem to be advocating a return to supernatural explanations. Nothing could be further from the truth, however; Szasz routinely referred to God and religion as transparent fictions, tout court. In my view, his focus on the coercive element of institutional psychiatry as the successor of mad-doctoring explains his failure to articulate the position he was advocating as clearly as he might or should have. And that in turn explains why his attempts to repeal psychiatry have failed. A comparison with the ancient Greek approach to mental illness, and especially the philosophy known as Epicureanism, will make my view clear.
First, however, since these issues tend to be fraught with emotional involvement — I imagine some of you are angry or aghast at what I've said already — let me now state clearly that I have no professional competence in psychiatry to endorse or reject Szasz' ideas. My aim is merely to describe and compare them to a system of thought that flourished worldwide in an era that I do know quite a bit about.
Like vegetarianism vs. eating meat, competing explanations for the cause of mental illness are one of those social-ethical fashions that mankind rediscovers every few generations as if it has hit upon a brand new, progressive idea, and to which it goes back and forth. So too are the changing treatments. But contrary to the impression you might get from Szasz' constant opposition of scientific psychiatry to religious witchcraft, there are not just two, but three ways of explaining so-called mental illnesses. The competition among them in the crucible of classical Greece some 25 centuries ago shows how.
From time immemorial, popular thought in Greece and Rome attributed mental abnormality, as inferred from behavioral deviance, to divine intervention. People believed in possession by supernatural forces, such as gods or demons, and sought to expiate it through the shamanistic sacrifice of animals. Jesus himself was a firm believer in demons and regularly cast them out of people. Amid the Ecclesiastical State of the European middle ages and early modern period, this belief reemerged and prevailed. According to it, the Church held that witches, possession by Satan, and Jews and heretics were responsible for mental abnormality as inferred from behavioral deviance. The sacred symbol of this view is its emblematic treatment, exorcism, or shamanic ritual.
In 5th-century BC Greece, Hippocrates introduced a new explanation—the medical model, which attributed mental abnormality, again as inferred from behavioral deviance, exclusively to natural bodily causes. Hippocratic healers believed in humoral imbalances in the brain, and sought to correct them through the use of neuroleptic drugs, forcibly administered if need be, and confinement in the clinic.5 With the dawn of the Scientific state of the European Enlightenment, this belief reemerged and has come to prevail. Because few people today really believe in demons, witches, or Satanic possession, they, and their governments, hold that chemical imbalances in the brain are responsible for mental abnormality or personal distress as inferred from behavioral deviance. The sacred symbol of this view is its emblematic treatment, excision, of parts of the brain through surgery, electroshock, or neuroleptic chemicals.
The opposition of these two approaches is well known, and figures in every history of psychiatry. What is less familiar today is that in 4th-century BC Greece, yet another view was on offer—the Epicurean model, which attributed mental abnormality, as inferred from behavioral deviance or self-report, to spiritual anguish. The Epicurean model held that man's universal fear of death was responsible for his mental anguish, which caused and resulted from his poor choices and failure to understand the relationship between his appetites and his responsibility. The sacred symbol of the Epicurean view is its emblematic treatment, talk therapy or exercise, both mental and physical.
The competition among three different models of mental anguish—the shamanic, the medical, and the Epicurean—is hard to map onto today's context. In part this is because the Epicurean model runs counter to modern scientific thinking. It interpreted the spirit or mind (psyche, soul), not as something immortal and God-given, but as a purely mortal and material product of natural evolution; so it may seem counterintuitive. Since most people today, and especially non-Christians, believe either that the soul does not really exist, or that the mind is just a function of the brain, they have a hard time understanding this approach. For an atheist to say we have a spirit, and to refer to "spiritual well being" (as Szasz does), may strike you as funny. Most unreligious people today would deny that human beings have a spirit. For them, humans are organic compounds of atoms, molecules, electrochemical processes, and no more. There is no room in this picture for a spirit, a word that smacks of religion, superstition, or supernaturalism. Furthermore, today psychoanalysis (talk therapy) and pharmacophysical treatment (lobotomy, electroshock, drugs) are both subsumed under the name psychiatry; whereas in antiquity, the two were in direct competition. The medical model was the province of the Hippocratic healers, or doctors. The Epicurean model was the province of the philosophers and their students. Each group explained distress differently. The philosophers, like psychoanalysts, thought the patient's psyche was disturbed; whereas the psychiatrists, like the Hippocratics, thought the brain's chemistry (or humors) were out of balance. (In antiquity, the shamanic model was only believed in by the lower classes and because it is obsolete today, it does not interest us here.)
It is the Epicurean model, I suggest, that Szasz himself hit upon and developed independently—though he was apparently unaware that he was reactivating a view that was not only ancient, but that had once been massively influential on civilized man, and for seven centuries.
Who Was Epicurus, and What Was His Philosophy?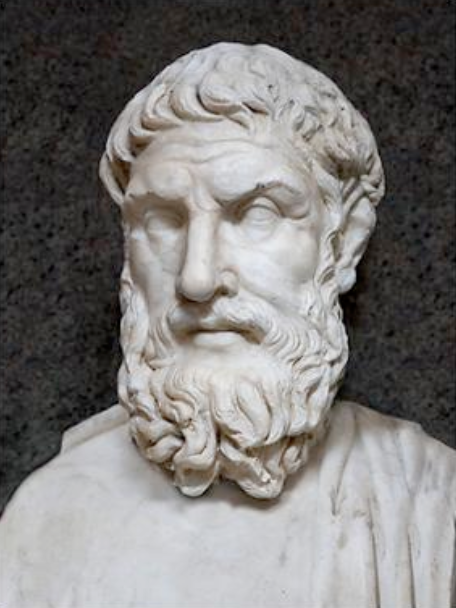 Born in Samos (Greece) in 341BC, he emigrated to Athens and founded a philosophic school at his private residence, the Garden. Epicureanism soon became the largest of the three main schools of Hellenistic philosophy, overtaking Skepticism and Stoicism. In the wake of Alexander the Great's conquest of the Mediterranean, the Middle East, and beyond, it soon spread to become a world philosophy. It was dogmatic and missionary, transmitted not only by one person to the next but especially through books — books of aphorisms, a manifesto (the tetrapharmakon), and graded textbooks. It met with opposition, first from rival philosophies (Platonism, Stoicism), then from religions (Judaism, Christianity).6 After Epicurus' death in 270 BC, adherents of his philosophy could be found across all of Europe, North Africa, the Middle East, and India. It was especially popular with the middle or bourgeois classes in the vast Roman Empire. It thrived for seven centuries, dying out in the 4th century AD, when it was swamped by Neoplatonism and Christianity (belief in which became legally mandatory in 381 AD). Thereafter, it slumbered for some 12 centuries. In the Renaissance, it revived and gave the chief impetus to the Enlightenment. Thomas Jefferson is only one of several famous self-affirming Epicureans of modern times.
What tenets did Epicureanism hold? Epicurus preached a materialist philosophy. It was rooted in recent scientific speculation about the physical world. He believed everything in the universe was made up exclusively of atoms and empty space, or void, for the atoms to move through. As they moved, the atoms collided at random to form compounds, like water, air, trees, people, planets, and so on. He thought human and animal life arose purely through evolutionary processes; that is, no god created it, no god looked out for it, and no god was preparing rewards or punishments for life after death, because the soul or mind, which was just another collection of atoms, did not survive death – nothing did. Because there was no life after death, there was no heaven and no hell, and the gods, though they did exist, did not care what we humans did or did not do to one another.
This physical outlook necessitated a new moral outlook on human conduct. Epicurus preached that all social arrangements, such as justice, were simply convention. The highest aim of his philosophy was therefore individual pleasure – by which he meant, not binging on food, drink, or sex, but simply acquiring the minimum pleasure necessary to avoid pain. In short, he preached freedom from fear — the fear of death, which he considered the source of human anxiety. The goal was to achieve mental health (ataraxia, tranquility of the mind or soul) by realizing that there is no life after death, and hence nothing to fear from dying. You will surely recognize this as the forerunner of the contemporary secular humanist lifestyle.
His philosophy was, in other words, psychiatric. Talk therapies were explicitly meant to heal the soul and relieve its anguish. If you had told Epicurus you could "fix" a man's disordered thoughts by shocking or lobotomizing his chest (wherein he thought the soul resided), he would have laughed or cried or tried to talk you out of it. So too, I suspect, with neuroleptic drugs. Epicurus would surely have agreed that disrupting or destroying your body's material substructure will cause you to think differently, but he would not have agreed that such means could relieve you of your fear of death. While he and other philosophers were trying to reason people into correct opinions, do recall, the Hippocratic soul healers were trying to cure insanity with hellebore, the neuroleptic drug par excellence of antiquity; and the regular folk were still using shamanistic expiations.
Epicurus made no effort (to our knowledge) to oppose the Hippocratic healers, but he certainly opposed religious expiations as pointless and evil. For Lucretius, his great missionary in Rome, the sacred symbol of evil done in the name of traditional piety was a human sacrifice – specifically, the deliberate sacrifice of Iphigenia, the eldest daughter of King Agamemnon in Greek mythology, when he found his political ambitions blocked. For Szasz, the sacred symbol of evil done in the name of psychiatric piety was also a human sacrifice – specifically, the willing sacrifice (as he put it) of Rosemary Kennedy, the eldest daughter of Joe Kennedy, U.S. ambassador to Britain in 1938 and father of U.S. President John F. Kennedy. In Szasz's account,7 Joe agreed to lobotomize his own daughter when he found his political ambitions blocked.
Another feature distinguishes Epicurus' philosophy from that of his rivals and makes it resemble Szasz' philosophy. That is that he was metaphysically a libertarian:
that is, he believed above all in free will. For him, the soul was certainly a bodily organ (located in the chest), but in his view free will and reasoning emerged from this material substrate, enabling man to break the deterministic chains of Fate and become a moral agent. By persuading a man to reason his way out of irrational fears, such as that of death, man could in turn act upon his atomic makeup, his body, and achieve inner peace. "Human nature is not to be coerced but persuaded," said Epicurus (Vatican Saying 21, trans. DeWitt). The maxim could have come verbatim from Szasz' pen.
In fact, mutatis mutandis, everything I have just said of Epicurus is also true of Szasz' thought. It can be illustrated in almost any of his books.
This view of the soul or mind stands in contrast, by the way, to that championed by Stoics in antiquity and by psychiatry coursework today. Many people suppose that if our thinking occurs in our brains, and is not directed or controlled by gods, then we are foreordained to behave as we do. The Stoics called such determinism, or causes (rather than reasons), to Fate; whereas today we attribute it to genes or chemical imbalances in our broken brains.
Szasz and Epicurus would both have opposed such thinking as simplistic and overly reductive. What does that mean? Let me illustrate the point with a cartoon. Here is a "Dilbert" cartoon from June 4, 2000, that puts the matter simply.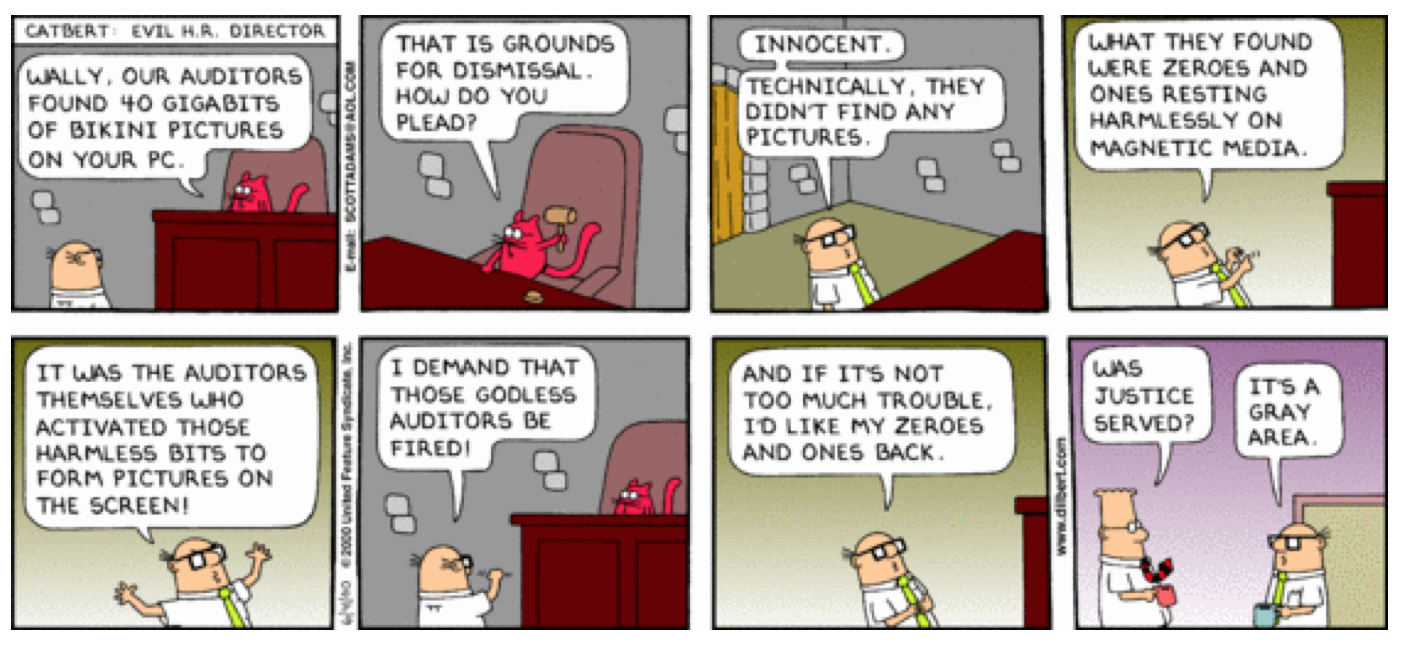 My interest is in the first four panels. In them Dilbert is caught with risqué photographs on his computer at work. What is his defense? That the pictures are "really" just strings of ones and zeros—that is to say, just binary code. Mutatis mutandis, Szasz or Epicurus would say, those who believe that people behave oddly because their brains are misfiring, instead of acting as they do for reasons they themselves deem appropriate, cannot see the pornographic motives behind strings of binary code.
If their philosophies were indeed similar, why did Epicureanism flourish where Szaszianism has failed? I ask because although he suggested and advocated many, Szasz cannot be credited with implementing any psychiatric, social, political, or legal reforms, save perhaps deinstitutionalization. His philosophy, and especially his chief claim that mental illness is not a medical disease, has not spread throughout the world; rather, it is psychiatry that has flourished and grown worldwide, and has spread throughout all classes in the West.
It cannot be just that Szasz was wrong, if you believe him to be so. Wrong ideas win all the time.
It also cannot be because of their principal tactics of persuasion. Both men liked and employed satire, aphorisms, dogma, candor, and arguing from the excluded middle. Both wrote in the global lingua franca (Greek, English), enjoyed translations, and enjoyed easy access to disseminating their ideas in print.
Clip from "The Last Interview of Thomas Szasz," a film by Philip Singer, Ph.D
(Trailer below)
There are, to be sure, some signal differences. Epicurus founded a school and named it for himself. He demanded loyalty pledges of his students. He wanted, and became, the Greek messiah. By contrast, Szasz worked at a school. He demanded loyalty pledges of no one. He had no interest in becoming, and did not become, the psychiatric messiah. He believed too firmly in autonomy and individualism for that.
One possibility is that Szasz' opponents reinterpreted his ideal, autonomy, to mean selfishness, just as Epicurus' opponents twisted his ideal, pleasure, to mean hedonism. No one wants to be called a glutton or selfish; but I don't think this explains his failure.
Rather, it seems Epicureanism spread because its endpoint was popular. People wanted to believe there was no (horrible) life after death because its physicalist-atheist underpinnings made sense to them and because believing in it freed them to pursue pleasure, however they defined that word for themselves.
Szaszianism also preached freedom—not from the fear of death, but from coercion. His highest aim, autonomy, sounds pleasant, but it is not. Framed as freedom, autonomy sounds grand. Framed as personal responsibility—accountability, answerability, paying the price, failing—it is exceedingly unpleasant. Therein lies the difference. Pleasure and personal responsibility are not merely different; they are often polar opposites, as we can see when manifested in the case of, say, obesity or alcoholism, and the various treatments of them.
In short, Szasz failed not because he was wrong but because he championed an ideal, personal responsibility, that few want to accept. As he knew and said, responsibility is something man is forever hoping to avoid and displace onto another; hence his attribution to Satan or illness as the agent "really" responsible for his poor choices. It is more pleasant to blame his failings on demons, witches, his genes, or his metabolism for his gaining weight—anything but himself.8  The fact that bariatric surgeries, and the unending quest for a weight-loss pill, are on the rise suggests that in the short term, Szaszianism will never succeed.
The other reason Szaszianism has failed is because—on my evidence— psychiatrists do not know what philosophers have to say about the mind or soul. They are committed to the Hippocratic, reductionist-materialist view that it's just the brain. They aren't taught that other views are out there. Perhaps they should be.
* * * * *
Download the handout for the talk at the APA here.
The Last Interview of Thomas Szasz," a film by Philip Singer, Ph.D, is a documentary exploring the controversy & beliefs of anti-psychiatry psychiatrist Dr. Thomas Szasz. For more information please go to Witness Films.
References
(For undocumented statements about Epicurus and Epicureanism, see De Witt, O'Keefe, and Warren.)
De Witt, Norman. 1954. Epicurus and his Philosophy. Minneapolis, MN: University of Minnesota Press.
Fontaine, Michael. 2013. 'On Being Sane in an Insane Place—the Laboratory of Plautus' Epidamnus,' Current Psychology 32.4 (2013), 348-365.
O'Keefe, Tim. 2010. Epicureanism. Berkeley: University of California Press.
Szasz, Thomas S. 1973. The Age of Madness: The History of Involuntary Mental
Hospitalization Presented in Selected Texts. Garden City, New York: Doubleday Anchor. —. 1988. The Theology of Medicine: The Political-Philosophical Foundations of Medical
Ethics. Syracuse: Syracuse University Press. (Original work published 1977.)
—. 1997. The Manufacture of Madness: A Comparative Study of the Inquisition and the Mental Health Movement. Syracuse: Syracuse University Press. (Original work published 1970.)
—. 2007. Coercion as Cure: A Critical History of Psychiatry. New Brunswick, NJ: Transaction Publishers, 2007.
—. 2010. The myth of mental illness: Foundations of a theory of personal conduct. New York: Harper Perennial. (Original work published 1961.)
Warren, James. 2007. The Cambridge Companion to Epicureanism. Cambridge, UK: Cambridge University Press.
Footnotes:
1. Szasz committed suicide at home on September 8, 2012. His 855-word New York Times obituary is found here. Jeffrey Schaler's more informative obituary ("Kaddish for Thomas Szasz") is found here.
2. The Age of Madness, introduction, and The Manufacture of Madness.
3. The Manufacture of Madness.
4. Epicurus, like many other ancient thinkers, believed in evolution.
5. For evidence and references, see Fontaine 2013.
6. In Rabbinic Hebrew, Epicurus' name became the word for "infidel," "heretic," "unbeliever".
7. Coercion as Cure, pp 152-3.
8. The Theology of Medicine.
* * * * *
***
Mad in America hosts blogs by a diverse group of writers. These posts are designed to serve as a public forum for a discussion—broadly speaking—of psychiatry and its treatments. The opinions expressed are the writers' own.
***
Mad in America has made some changes to the commenting process. You no longer need to login or create an account on our site to comment. The only information needed is your name, email and comment text. Comments made with an account prior to this change will remain visible on the site.