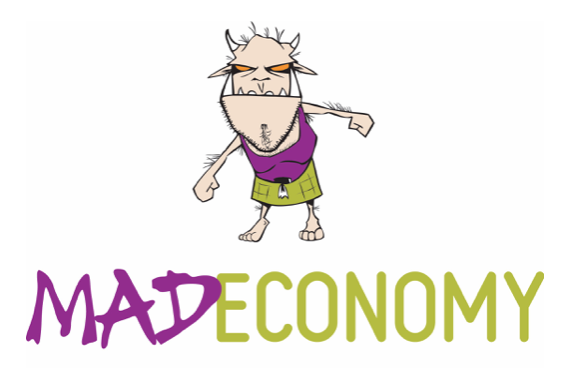 For a while my partner Ron Coleman had been thinking through the possibilities of creating a way of funding recovery projects outside of the mental health system, without grants, or any unneeded interference from "systems." He came up with the idea of the mad economy.
Everyone in the world is either touched by their own mental health issues or have had a family member affected. What if they directed their buying power to an organization that would use the profits to fund exciting mental health & recovery projects both in the developing world and in their own countries? Projects that would be ethical, non-coercive, personal recovery-based, and were aimed at creating recovery communities like recovery houses, camps, festivals etc? What if they could buy products, crafts, services, art, music, books from people who had experienced mental health issues, enabling them to set up their own businesses or buy from social co-operatives that enabled distressed people to work and earn a living wage?
What is the mad economy?
Working to Recovery is pleased to announce that the soon-to-be-launched website MadEconomy.com will be coming to you through the ether very soon. MadEconomy.com is a web-based marketplace that has at its core the idea that collectively we can create a mad economy that benefits an often ignored group of people in our society. The mad economy is not a thing; rather the mad economy is made up of a community of interest, which in turn is made up of people.
Who is part of the mad economy?
One in four people will have a mental health diagnosis in their lifetime; the other three in four are probably family or friends of this group of diagnosed people, making the mad economy potentially the largest marketplace in the world, with everyone a potential member.
How will the mad economy work?
The mad economy site will operate in many ways like Amazon and E-Bay; the major difference will be that profits will be used to fund mental health projects that are recovery-based and outside of the system, and not go to shareholders. The projects will be new and innovative, and 50% of them will be in developing countries and 50% in the developed world. We are committed to funding 200 projects in our first two years.
When you go into the Mad Economy site you will enter via our homepage. This page acts as both a gateway into the marketplace, and a browsing point for news, information and blogs, as well as a place to leave comments or chat with other browsers. The home page will also be where buyers and sellers register for membership in the mad economy.
Membership is free, though donations are accepted, which will be used to develop mad projects. Once registered, people will be able to enter the marketplace and buy and sell or explore.
In the Mad Economy we will have different areas; there will be Mad News, Mad Blogs, Mad Info, Mad Talk; then in the marketplace there will be Mad Buy, Mad Sell, mad wants, ad ads, mad arts, mad crafts, mad books, mad music, mad jobs, mad services, mad love, mad accommodation, and there will be a section called Fairly Mad that will allow artists in developing countries to sell their wares at proper market rates; a bit like fair trade for mental health. There will also be an area on mad education, mad training, mad consultancy and mad therapists.
So what will happen next?
Over the next couple of months we need your help to start finding artists, authors, musicians, sellers and publishers who would be interested in using the site. That will help us begin the next phase of this work. We also want bloggers, news finders, and info diggers who will help create lively and interesting content. We cannot make this work without you because the mad economy is you. Let's change the world!
Please share and fill in contact information on the website:
And join our Facebook page:
https://www.facebook.com/The-Mad-EconomyCom-521024894739688/timeline/