I am going to back up Sera Davidow's blog post with an examination of the research regarding Mental Health First Aid (MHFA), and how this literature details the weakness of relying on evidence-based practices. Now, MHFA is designated as an evidence-based practice, but what does that really mean?  All it means is that the program has gotten enough grant money to get some research that proves it meets its designated outcome criteria. This does not mean the real-life outcomes for the people involved, or for society, are desirable or helpful.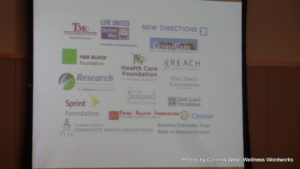 We have made a mistake in correlating a program's ability to reach its stated outcomes with the program's ability to actually help people.
Clinical outcomes are different than recovery outcomes. In other words, when you ask people what is important to their recovery, they say stuff like, "housing, a job, friends, having meaning and purpose, having a life." But when you ask clinicians what is important they say stuff, like "regular checkups, staying on meds, avoiding hospitals, and having less symptoms." But studies show that recovery doesn't even correlate with clinical outcomes. So all these efforts that produce good clinical outcomes don't do squat to actually support recovery. There is a great BRSS-TACS webinar archived that tells you how to use recovery outcomes.
Most outcome measures do not include science-based user input into research design. Who's evidence is in the base? Not neccessarily ours. There is a saying, "We are the evidence." So why aren't we being included in study design? The Patient Centered Outcomes research was designed to address this stuff, but based on their priority list for mental health, they forgot to include us in their program design.
It takes a lot of money to get a program into the evidence-based practice registry and most programs fund this cost by selling rights to their program later. So, instead of focusing on what works, many programs are focused on what is copyrightable and what is marketable. Dennis Embry has a heavily cited research article showing that most evidence-based practices can be broken down into "kernals," of cheap, free, effective interventions. And the rest of the "evidence-based practice" is just branding junk heaped on top of the effective kernal.
So how does this play out when we start looking at Mental Health First Aid? It may be an evidence-based program, but is it helpful? According to the listing in the SAMHSA's registry of evidence based practice, the desired outcomes for Mental Health First Aid are:
Recognition of schizophrenia and depression symptoms
Knowledge of mental health support and treatment resources
Attitudes about social distance from individuals with mental health problems
Confidence in providing help, and provision of help, to an individual with mental health problems
Increasing Mental health
So, Does Reaching these Outcomes as the "Evidence-based Program" Actually help people? The Million Dollar Question:
Does disease-label education support people's ability to get through hard times? Teaching disease-label awareness is counterproductive in many ways.  The DSM-5 research committee found that trained pyschiatrists could only agree on disease labels 40-50% of the time, so teaching lay people and interested bystanders to identify these disease labels is a bit ludicrous. Making mental illness scary and serious reduces people's ability to help each other, and reduces recovery outcomes. This is lost time that could be spent educating about wellness, trauma informed care, resilience, self-care, or peer support.

You can get together a roomful of bigwigs, here at the Carter Center social inclusion forum, but are they listening?

Is knowledge of mental health support helpful? Probably, but we could actually do this without the disease label education. The eCPR program certainly does.  Is knowledge of treatment resources helpful? Well, only if the treatment resources do more good than harm. Careful examination of the data on the Mad in America site says that maybe getting them into treatment is not the best thing you can do for a friend in need.
Does disease-label education actually improve attitudes about social distance/stigma? This depends on how you define stigma. Many disease-model advocates define stigma as "making labels acceptable." Whereas a better definition is, "reducing prejudice and discrimination against people in distress." MHFA obviously chooses the first definition. Specifically, MHFA used clinical vignettes to measure social distance, which means they gave a person a story about someone obviously in mental health crisis and said, "Would you want to hang out with this person, live next to them, hire them or marry them?" This type of research has a lot of weaknesses, but the biggest one is that really we should measure if someone is willing to hang out with/marry/employ someone NOT in crisis, maybe someone who recovered. (Am J Psychiatry 167:11, November 2010 p.1289)  But more so, the number #1 and #2 sources of stigma are the disease labels and the mental health professionals. So why would re-inforcing a need for mental health labels and a need for mental health professional actually reduce stigma? It doesn't. There are scads of research articles, starting with this one, showing that disease label identification only increases stigma.
Does Disease-label Education Increase Confidence in Providing Help: The biggest barriers to help-seeking are fear of labels (32%), negative social judgments (22%), employment discrimination (21%) and stigma (9%). So, education on disease labels will actually REDUCE help-seeking. Another study by Morrison showed that countering the biogenetic model made it easier to provide help. I have started replicating that study with good results in the community. All the disease-label, chemical, genetic stuff makes this a lot more scary.  We tell our trainees that everyone goes through hard times, and they already have the answers. We use the infographic below and say the four corners are peer support, dealing with trauma, building wellness stuff, and addressing social causes. All the nonprofits in town already know how to do that stuff. So this is an empowering rather than a disempowering message.
Increasing mental health: Does Mental Health First Aid increase the mental health of people who go through its program? For one thing, this was assessed using those vignettes/stories about people in crisis, and for another thing, it was about work done in the last four weeks. Both of those are pretty weird definitions of well-being.
So what to do about this? Let's stop fighting "stigma" and start promoting wellbeing.  Let's increase resilience, but let's define resilience as well-being, not awareness of trauma biology. Let's address trauma with concrete action items, not disease mongering. Let's look at how people can access peer support. Let's build and promote programs that do these things. Let's stop disease-mongering in hopes that somehow compassion will increase. (See: Eric Maisel's list of awesome programs.)
Vote for the Western Mass RLC to get $25,000.  Vote with all of your email address. We are making progress. Keep voting for real change. Keep fighting disease mongers!
* * * * *
Share this infographic: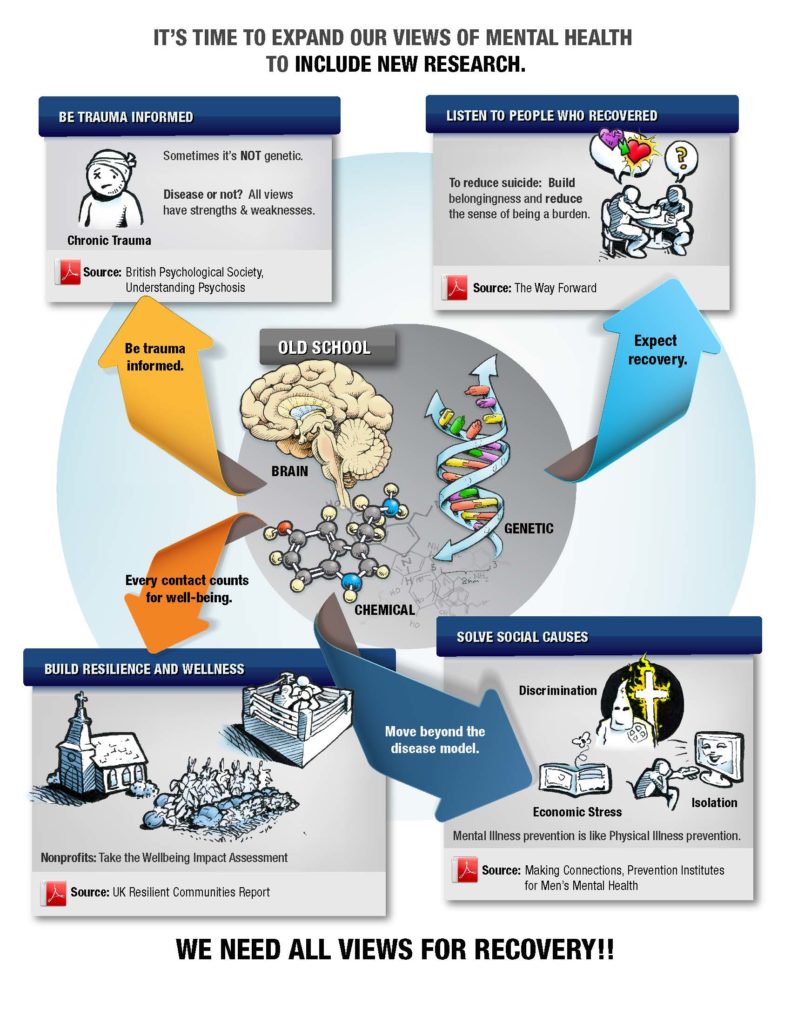 ***
Mad in America hosts blogs by a diverse group of writers. These posts are designed to serve as a public forum for a discussion—broadly speaking—of psychiatry and its treatments. The opinions expressed are the writers' own.
***
Mad in America has made some changes to the commenting process. You no longer need to login or create an account on our site to comment. The only information needed is your name, email and comment text. Comments made with an account prior to this change will remain visible on the site.