Poetry for Personal Power is sending a team of 10 people to the National NAMI conference Wednesday. It's time for #NAMIcon16 in Denver.  Yet this is a bittersweet moment for me. I disagree with much of what NAMI does and what they stand for. So do we protest NAMI from the outside or work to change from within? Can we do both?
This infographic best describes Poetry for Personal Power's relationship with NAMI and what we are doing in Denver at #NAMIcon2016.  We are using the event to bring new people into the recovery movement and to bring more information to disease model advocates to balance harms vs. benefits.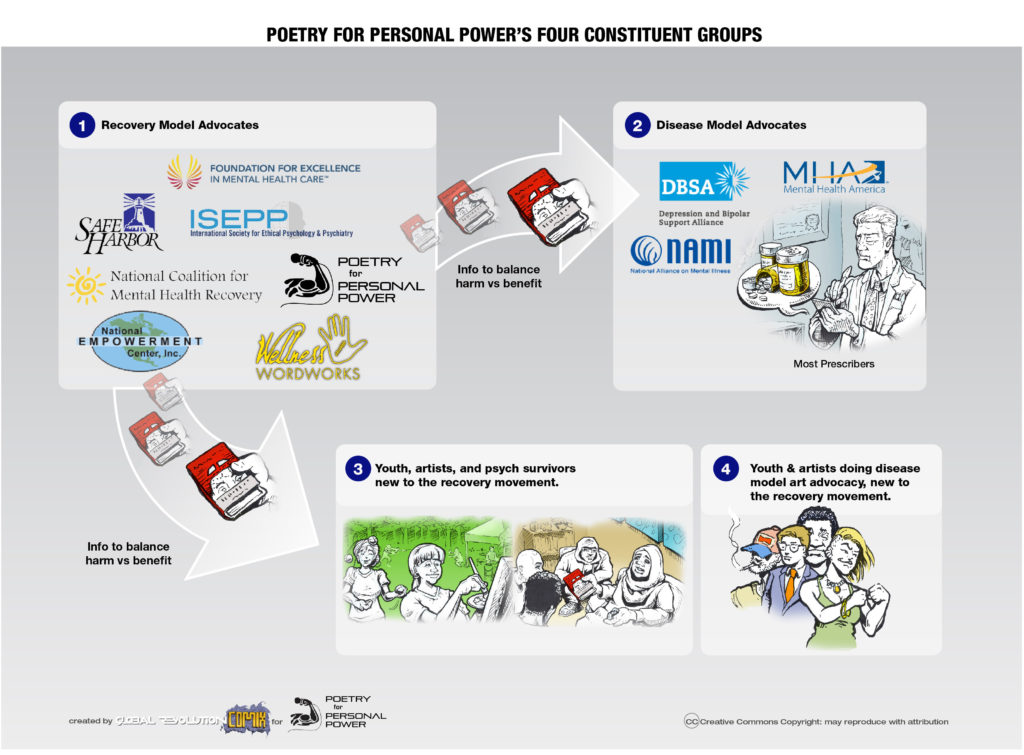 The Recovery Movement
The Recovery movement is also the peer community, or civil rights activists for people with mental health labels, or psychiatric survivors, or whatever need to start calling ourselves. But we tend to be an aging, white, and middle class community. In the 70's mental illness was 1%.  Now 20% of Americans are on psych drugs. People work, have families, live their lives despite or around these drugs and disease labels more and more often. Almost everyone in the US that has a chronic health condition like migraines, brain injury, lupus, or chronic pain is on psych meds. I'm on psych drugs. (For sleeping issues related to brain injury.)  The notion of "mental illness," has shifted. Has the recovery movement shifted with it?
Why do people keep seeing our advocates as anti-medication or anti-mental health care when we are actually pro fully-informed choice? How do people get full information about how biased the information has been that they are basing their choices upon? How biased their medical providers' education has been?
Fewer and fewer people have experienced physical abuse at the hands of mental health providers. Understanding the abuses of the disease model and it's constant information bias are a lot more subtle. Yet many people in the community "get it." Many people in the community don't like mental health care but don't know another way to do this stuff. When Poetry for Personal Power does community presentations challenging the disease model, lots of people say, "Oh, yes, I know there was something wrong about this mental health care all along, but I couldn't put my finger on it."
New Ideas for #NAMIcon16
So how do we share limitations of the disease model? How do we bring information to balance harm vs. benefit to #NAMIcon16? How do we bring this information to the general public?
I have looked at the workshop offerings at #NAMIcon 2016 and I would describe it as, "peer support and recovery heaped on top of a pile of BS." I feel  like sometimes it would be a lot better to sweep away the BS first if you want to promote peer support and recovery.  It took me a long time to start working on sending people to this conference because the disease model stuff or the BS is so harmful. Three out of four of our sponsored artists said that they know someone whose disease label has taken over their life.  Trying to solve social problems with drugs and diagnoses is like using  a hammer to turn a screw. I do not agree with most applications of the disease model framework. But yet, this is our chance to expose our 10 people to the tiny smattering of peer support and recovery available. It's our chance to start teaching them to talk about resilience and community to people who need to hear it.
Why I Can't Attend #NAMIcon16
So we are back to this. This is a bittersweet moment for me. I disagree with much of what NAMI does and what they stand for. Yet, do we protest from the outside or work to change from within? Can we do both?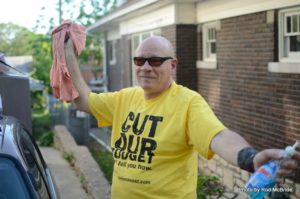 I know, that, I personally, cannot. I am distressed just thinking about this conference. It's re-traumatizing just to write a check to them for our 10 people. I lost jobs, friends, my husband, and a full ride Ph.D. Scholarship when I thought I had a lifetime illness instead of solvable life situations. I did two years of brain injury recovery after the shock treatments I signed up for because a NAMI blurb (which is still up) said "safe and effective," despite lots of science and advocates saying the opposite.   I suffered a lot learning how to safely taper off the medications that NAMI encouraged. Those drugs gave me Parkinson's disease, made me fat and diabetic, and gave me insomnia. I am often too angry at disease model advocates to talk to them. They are hurting me and my friends in ways they don't even understand. How can they talk about wellness when they have no idea about the extent of the slaughter?
Yet they do. The do talk about wellness stuff sometimes. Can , as advocates, throw away all these people because they still use disease model language sometimes? Can we, as a blanket statement, say, "NAMI sucks," or #NAMIcon2016 is pure evil? I know I myself feel that way, but is it true?
And do we help them talk about wellness or do we keep on attacking? I don't know.
I just know that Poetry for Personal Power has built into a business where other people can do this and not me. I put together a team of 10 people willing to walk into Mordor. In fact, quite happy to do so. Our people want to learn how to become mental health advocates or try out new techniques. They feel like they can talk to NAMI.
In fact, many of my friends, my support people, my allies "are" NAMI.  A bunch of them are at #NAMIcon16. Some of the most productive members of our teams are actually lifetime NAMI people. And they are just seeing their friends at this conference.
The late Ken Braiterman led NAMI New Hampshire for about 20 years, working in an inside/outside manner with recovery movement advocates. He also edited our blog for two years, posting a great selection of voices and topics on harm vs. benefit.
Eric Harkness is board chair for NAMI Kansas and NAMI Topeka, as well as vice chair of the Kansas Mental Health Coalition and the Disability Rights Center (Paimi) for Kansas. He is an advocate ally who gets us important notifications and he is working to spread "Whitaker Aware," or harm vs. beneift information through Kansas.
Paul Komarek is long term NAMI from Cincinnati, and also our technical writer.
Rick Cagan, the chair of NAMI Kansas, is spreading harm vs. benefit information into Kansas. His organization is also working to partner with Poetry for Personal Power. Whereas Kansas' first statewide consumer network refuses to answer emails about collaboration with Poetry for Personal Power, the second statewide consumer network.
Edward Duff, a Joplin tornado survivor, worked with NAMI Missouri for 20 years, and is a veteran of events like #NAMICon2016. He is also one of our long time allies and a convert to "Whitaker awareness."
Laurie Dameron is our new observer from Colorado who is still trying to figure out where we stand.
So these are the people that might eventually get NAMI to stop giving people a disease label for what might be a social problem. They might get NAMI to give honest information about the benefits vs. harms of psych meds. They might eventually just warn people that most of the drug categories for most of the illness categories don't work better than placebo.
Because I know I sure can't do this. I'm freaking out here at my house just sending texts to attendees. I can't do this, I can't walk into Mordor like this. I have been too harmed by NAMI to do this. There is too much trauma under the bridge.
Our Team of Allies at #NAMIcon16
But I have build a team who can. Our Poetry for Personal Power program now has 75 sponsored artists and advocates in 3 states. We have been teaching them how to share recovery movement ideas for years. So I can let my team speak for me like Aaron spoke for Moses.
When I say,
"We need to focus on resilience and community because you are   **)(&#$)(&    killing people,"
the anger and trauma and hurt turns people off. And I say this all the time and no one listens. And I just sit at home and get angry and hurt and stew.  But the allies for our organization, our youth poets, our slam teams, they are not so mad, not so traumatized. And they say, or they are learning to say,
"We need to focus on resilience and community because it worked for me,"
and people listen. And that is how a movement begins. At least I hope that is how our movement begins.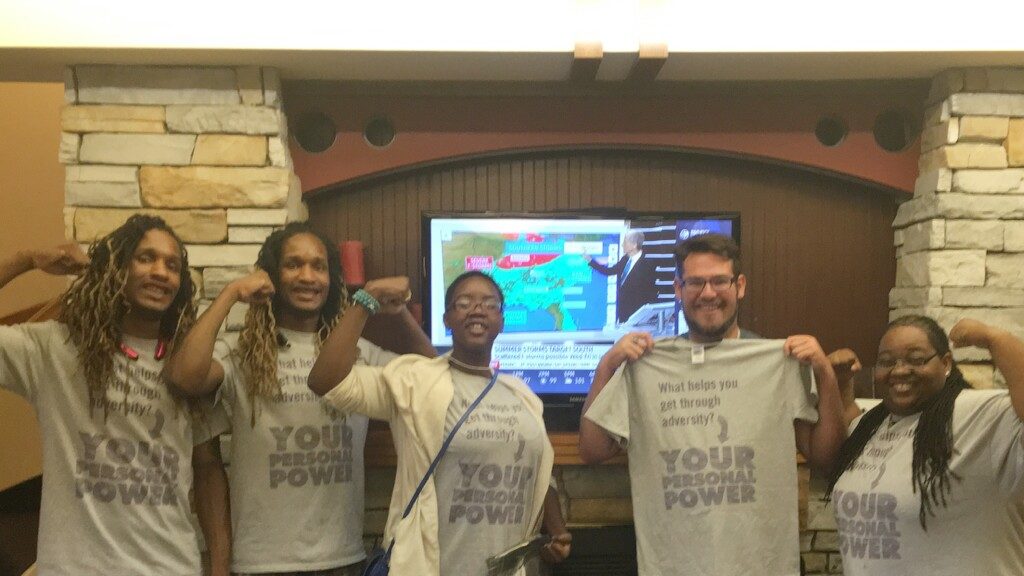 ***
Mad in America hosts blogs by a diverse group of writers. These posts are designed to serve as a public forum for a discussion—broadly speaking—of psychiatry and its treatments. The opinions expressed are the writers' own.
***
Mad in America has made some changes to the commenting process. You no longer need to login or create an account on our site to comment. The only information needed is your name, email and comment text. Comments made with an account prior to this change will remain visible on the site.