A new study, published in the British Medical Journal, investigates the prevalence of off-label prescribing for antidepressant medication in primary care settings. The results of the study, conducted in Quebec, Canada, demonstrate that only 15.9% of off-label prescriptions are supported by strong scientific evidence. The authors find 44.6% of off-label prescriptions lack scientific support.
"These findings highlight an urgent need to produce more evidence on the risks and benefits of off-label antidepressant use and to provide physicians with this evidence at the point of prescribing," write the researchers, led by Jenna Wong, faculty at McGill University in Montréal, Canada.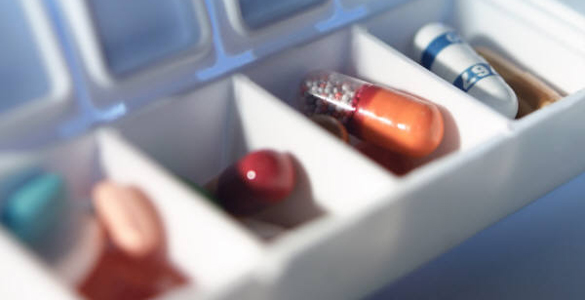 The use of antidepressants has dramatically increased in western countries. In England, 3.9 million more antidepressants were dispensed in 2015 compared to 2014, a 6.8% increase. Part of the reason for this increased use is 'off-label' prescriptions. A drug is considered off-label when it is prescribed for a treatment indication that has not been approved by the country's governing agency that oversees prescription drugs, such as the US Food and Drug Administration (FDA), Health Canada, or European Medicines Agency.
Psychiatric medications are among the most common to be prescribed off-label. Many concerns have been raised about off-label prescribing of psychiatric medications, including an increase in off-label prescribing for children diagnosed with ADHD. Users of medication for off-label purposes have a 54% higher risk of adverse events, experiencing side effects about 50% of the time.
In a previous study, the authors found that off-label prescribing for antidepressants is common in Canada, with 29% of antidepressant prescriptions being off-label. The study indicated that, for antidepressant medications not prescribed for depression, 2/3 of prescriptions were off-label.
"Inefficacious antidepressant use is a concern because it creates unnecessary costs and puts patients at risk of experiencing burdensome side effects and serious adverse events that could be avoided," explain the authors.
The implementation of electronic prescribing that links prescriptions to treatment indications provides a new opportunity to study off-label prescribing. Using electronic prescribing data in Quebec, Canada, the researchers "examine off-label indications for antidepressants in primary care and assess the level of scientific evidence supporting these off-label prescriptions."
Data was collected from 2003-2015 and any adult patient who received an antidepressant prescription was included in the study. Drugs were considered on-label if they had been approved for the given treatment indication by either Health Canada or the USFDA as of 2015.
Antidepressant drugs were categorized as "strong evidence for the prescribed drug, no strong evidence for the prescribed drug but strong evidence for another drug in the same class, or no strong evidence for the prescribed drug and all other drugs in the same class." The DRUG-DEX compendium was used to determine if there was strong evidence for off-label use. Drugs were considered to have strong scientific evidence if research showed efficacy for the indication, the drug was recommended for most or all patients with the indication, and the evidence included at least one Randomized Clinical Trial (the gold standard to assess drug efficacy) to test the indication.
The results indicate that 29.3% of antidepressant prescriptions were off-label. Prevalence rates for off-label prescriptions were calculated by the number of off-label prescriptions for a drug divided by all prescriptions for that drug or class of drugs.
The class of tricyclic antidepressants (TCAs) had the highest prevalence (81.4%) of off-label use. This high rate was due to the use of amitriptyline (prevalence rate 93.0%) for pain, insomnia, or migraines. The use of amitriptyline for pain is supported by strong scientific evidence. However, 26.0% of off-label TCA prescriptions lacked scientific support.
Trazodone also had a high off-label prevalence rate (82.5%). This was mostly due to trazodone being prescribed off-label for insomnia. Despite the fact that using trazodone to treat insomnia is not evidence-based, these prescriptions accounted for 26.2% of all off-label prescriptions.
Serotonin-norepinephrine reuptake inhibitors (SNRIs) had the lowest prevalence rate (6.1%) followed by selective serotonin reuptake inhibitors (21.8%). Since prevalence rates were based on the percentage of off-label prescriptions compared to all drug prescriptions (on- and off-label), the researchers explain, "SSRIs and SNRIs had a lower prevalence of off-label indications because they were more frequently prescribed for depression than TCAs, which by definition was an approved indication for all antidepressants." Still, 53.7% of off-label SNRI prescriptions lacked scientific support.
The authors find, "Only three of these 143 off-label drug indication pairs met the predefined criteria for having strong scientific evidence: amitriptyline (a TCA) for pain, escitalopram (an SSRI) for panic disorders, and venlafaxine (an SNRI) for obsessive compulsive disorder." These pairs accounted for only 15.9% of all off-label prescriptions.
An additional 39.6% of off-label prescriptions lacked strong scientific evidence for the drug used, but had strong scientific evidence for another drug in the same class. SSRIs had the highest rate (92.0%) of a drug from the same class showing strong scientific evidence. This left 44.6% of off-label prescriptions lacking strong scientific evidence either for the drug prescribed or any other drug in the same class.
This study supports previous research that found nearly a third of all antidepressants are prescribed off-label and provides further information on how commonly antidepressants are prescribed without strong scientific evidence. The authors state, "our findings
The authors state, "our findings emphasize the importance of considering the level of evidence supporting risk-benefit when prescribing an antidepressant, especially if the drug is known to have important adverse side effects."
The authors provide a number of contextual factors that may explain the high rates of off-label prescribing. First, the proliferation of antidepressants makes it difficult for prescribers to stay informed about approved indications. The authors suggest that electronic prescribing systems could aid providers by warning them when their chosen treatment indication is not supported by evidence.
"Technologies such as indication based e-prescribing systems and electronic health records have the potential to become essential components of effective post-market drug surveillance systems for monitoring and evaluating off-label antidepressant use," suggest the researchers.
Also, when a patient's insurance does not cover a drug that is supported by evidence, prescribers may choose a drug in the same class that is covered. However, the authors caution, "class effects cannot be assumed because even slight differences in chemical structure between drugs can alter their pharmacodynamics and pharmacokinetic properties, leading to clinically relevant differences in efficacy and risk."
Prescribers may also be choosing an off-label drug when an on-label drug is contraindicated for the patient for other reasons. Lastly, providers often prescribe medications for symptoms, rather than conditions with approved medications. The authors explain, "Primary care physicians could be struggling to find effective treatments for these conditions and thus prescribe antidepressants as a last resort, indicating a gap in needed pharmacotherapy."
The authors conclude, "When evidence to support efficacy is lacking, physicians should exercise caution, prescribe conservatively, and inform patients of this information via a shared decision making process."
****
Wong, J., Motulsky, A., Abrahamowicz, M., Eguale, T., Buckeridge, D. L., & Tamblyn, R. (2017). Off-label indications for antidepressants in primary care: Descriptive study of prescriptions from an indication based electronic prescribing system. British Medical Journal, 356, j603. http://dx.doi.org/10.1136/bmj.j603 (Abstract)