An extensive ten-year study published in Schizophrenia Research explores the relationship between antipsychotic treatment and long-term outcomes in people diagnosed with psychosis. Among other findings, this Danish study finds improved functioning and higher rates of employment after ten years in those remitted off of antipsychotic drugs. In addition, the remission rate for patients off antipsychotic medication was higher than for those on the medications.
"Since antipsychotic medication can cause adverse effects e.g. extrapyramidal symptoms and a highly increased risk of metabolic syndrome, it is important to identify which patients might be able to obtain stable remission without continuous use of this medication. This subgroup is not fully taken into account in the present guidelines and further investigation on long-term perspectives is needed."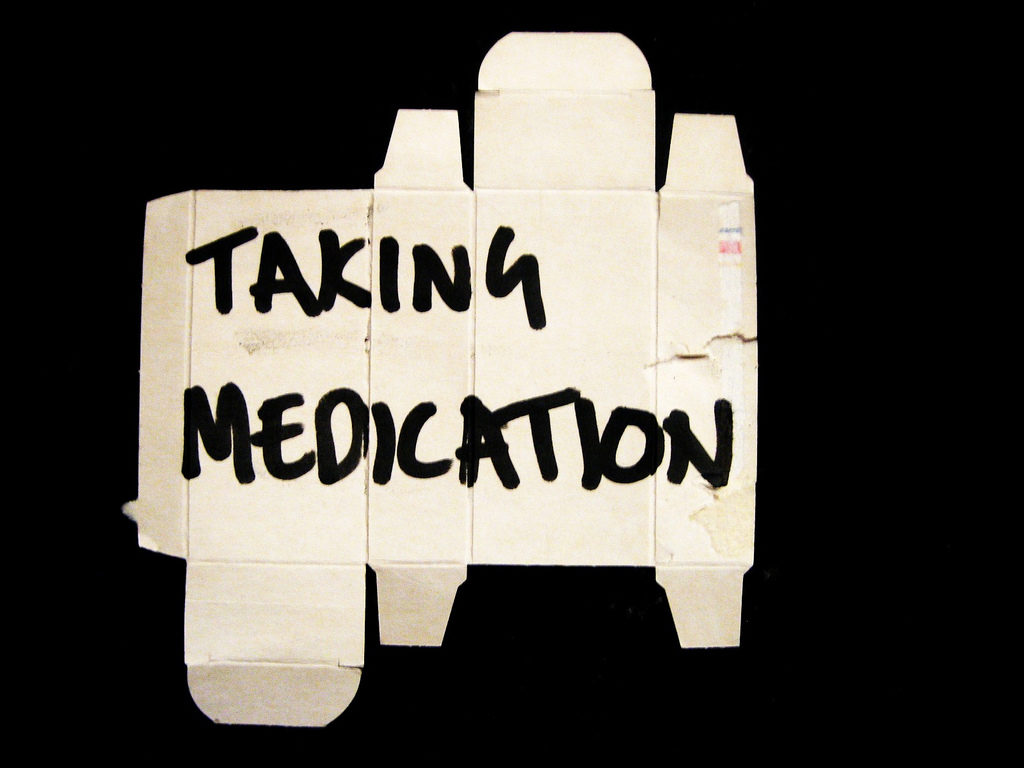 Previous reports have called attention to the adverse long-term outcomes of antipsychotic use. The authors of this study further point out that while there have been numerous studies completed of long-term results that include remission of psychotic symptoms, few have assessed the correlation of long-term outcomes and antipsychotic medication.
They do, however, highlight one study from 2001 that found a large number of participants who had good outcomes at 15 and 25 years after onset regardless of their mediation status. Other studies that have also examined the relationship between medication and psychotic symptom include the AESOP-10 and Chicago studies. In the Chicago study at 4.5 years follow-up participants, not on antipsychotics, had significantly fewer psychotic symptoms those on antipsychotics.
This study aimed to investigate long-term outcome and characteristics of patients in remission of psychotic symptoms while not being on antipsychotic medication at 10-year follow-up. To do this, 496 patients between the ages of 18-45 years, diagnosed with schizophrenia spectrum disorders from the Danish OPUS-cohort were included. The OPUS trial was an RCT exploring the effects of intensive early-intervention.
At intake, patients had not received antipsychotic treatment for > 12 weeks. Measures included diagnostic tools (Schedules for Clinical Assessment in Neuropsychiatry (SCAN); symptoms measures (Scale of Assessment of Positive Symptoms (SAPS) and the Scale of Assessment Negative Symptoms (SANS); premorbid IQ (Danish Adult Reading Test (DART); functioning level (Global Assessment of Functioning (GAF-S, GAF-F); duration of untreated psychosis (DUP; Interview of Retrospective Assessment of Onset of Schizophrenia); and evaluation of antipsychotic medication use as well as compliance with the drug. Patients were divided into four groups: remitted off medication, remitted on medication, Non-remitted off medication, and Non remitted on medication.
Sixty-one percent of participants (303) participated at 10-year follow-up. After excluding deceased (n=33) and those that moved (n=18), follow-up rate was 68%. Those who took part in the 10-year follow-up had significantly higher functioning scores and were significantly younger than those who did not participate at 10-year follow-up.
There were 121 patients off medication at the end of 10 years, and 182 who were taking antipsychotics.  Seventy-four percent of patients off medication were in remission (90 of 121),  compared to 49% in the on-medication group (90 out of 182). This produced an overall remission rate of nearly 60% for the 303 patients in the 10-year-followup.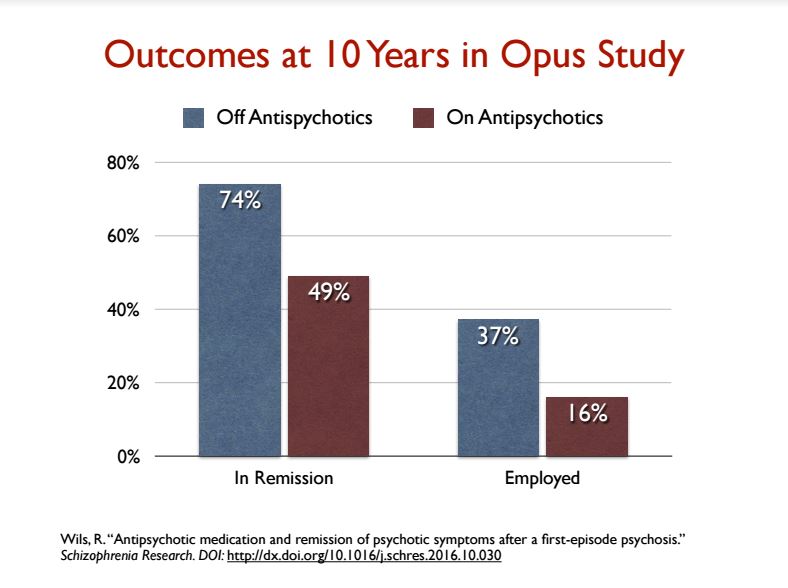 "The high rate of patients achieving remission of psychotic symptoms regardless of medication status (around 60%) in our study is congruent with results from a large cohort study by Harrison et al. In their study about 50% of the patients achieved a good outcome 15 and 25 years after onset."
In this study, a significant association between female gender and a more favorable outcome was reported. Higher functioning scores at the 10-year follow-up were associated with better long-term outcome. Moreover, there was a positive association between having a job/being in training/educational course/vocational rehabilitation and being remitted off medication. Related to this finding, better long-term outcomes were strongly associated with occupational status. Those that remitted off medication had the lowest scores of negative symptoms.
There was no relationship between age at inclusion, nor was there a correlation between better outcome and finishing high school or score on the DART (premorbid IQ). Lastly, a longer duration of untreated psychosis (DUP) was associated with poorer outcome.
Previous researchers have discussed the lack of evidence for the standard practice of long-term antipsychotic use and the potential adverse outcomes. The authors of this study provide some evidence on the effects (or lack of) of long-term antipsychotic use on psychotic symptoms. The authors of this study point out that while studies of discontinuation/dose reduction have found poor outcomes, these RCT's had shorter follow-up periods (1-2 years vs. 10 years). This study adds to our complex understanding of the effectiveness of antipsychotics and their long-term impact in reducing psychotic symptoms.
An interesting although not surprising finding in the study was that participants in the remitted off medication group had significantly higher functioning scores, lower levels of negative symptoms, and more frequently participated in the labor market. This underscores the adverse long-term functioning outcomes that can result from taking antipsychotic drugs.
****
Wils, R. S., Gotfredsen, D. R., Hjorthøj, C., Austin, S. F., Albert, N., Secher, R. G., … & Nordentoft, M. (2016). Antipsychotic medication and remission of psychotic symptoms 10years after a first-episode psychosis. Schizophrenia Research. (Abstract)