A cross-disciplinary team of researchers in social work, public health, public policy and psychology explored connections between police victimization and "sub-threshold psychotic experiences" (PEs) in a recent study published in the Schizophrenia Bulletin. The team, led by Jordan E. DeVylder at the University of Maryland, Baltimore's School of Social Work, found that victims of police violence were more likely to report PEs than non-victims.
"Efforts to improve documentation of police killings have produced of nearly 1100 killings per year in the United States (2015 estimate), compared with 7 in Germany (2012), 1 in England (2013–2014) and 0 in Japan (2013–2015). It is likely that this pervasive pattern of victimization has collateral effects that go beyond mortality to include psychological distress and other mental health symptoms."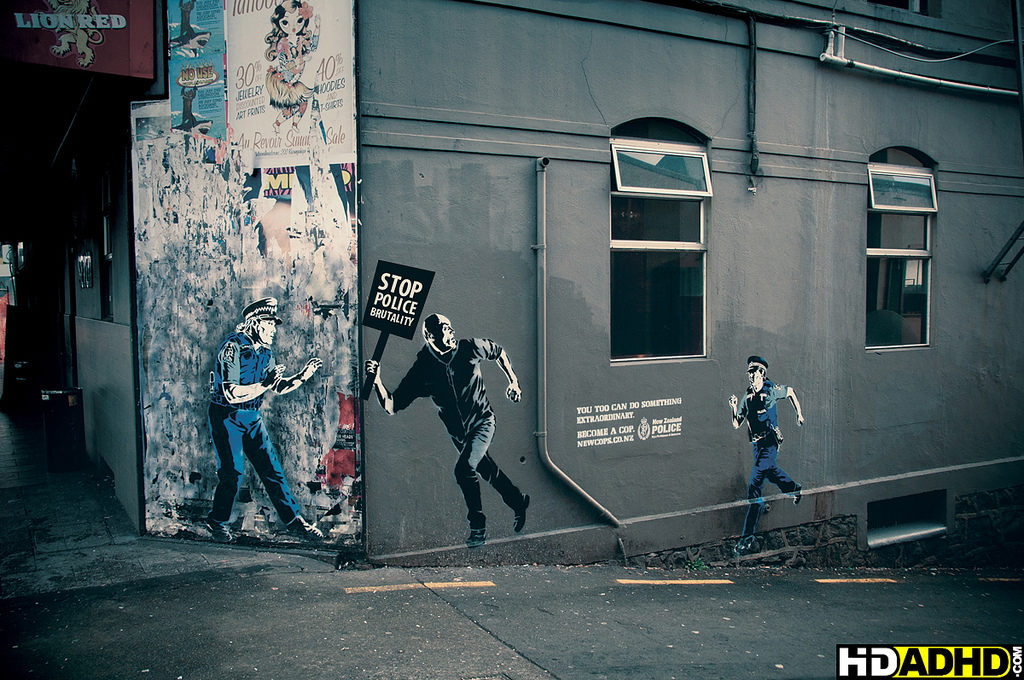 DeVylder and his research team hypothesized that experiences of police victimization would place individuals at increased risk for PEs, which they define as "hallucination and delusion-like experiences that resemble symptoms of psychotic disorders but are typically of less intensity, persistence, or impairment."
Their study is informed by the social defeat hypothesis, which understands psychotic symptom risk to be a function of long-term or recurrent contact with environmental stressors that are felt to be "socially exclusionary or defeating." The authors note that prior research has uncovered connections between PEs and a number of other social defeat experiences, including childhood trauma, racial discrimination, migration, and acculturative stress.
The researchers suggest that police victimization is a particularly potent kind of social defeat experience given the police's comparative power in society, one which likely produces strong feelings of "distress, powerlessness, and social defeat" in victims. They write that while police shootings have received extensive media coverage in the U.S. in recent years, violent interactions with police likely also have less visible, lasting effects on survivors' mental health. It is these less recognized consequences that the researchers seek to bring to light in their research.
In order to investigate whether police victimization is connected to heightened risk for PEs, the researchers analyzed data from the Survey of Police-Public Encounters, an online survey administered to adults in Baltimore, New York City, Philadelphia, and Washington, D.C in March and April 2016 (N = 1615). The survey measured "lifetime exposure" to four kinds of police violence — physical, sexual, psychological, and neglect — and collected information on participants' experiences of psychotic symptoms, including delusional mood, delusions of paranoia and persecution, delusions of thought control, and hallucinations.
The survey also collected demographic data and information on crime involvement and psychological distress, in order to statistically control for these factors' possible influence. 20.8% of the sample (n = 335) reported PEs. The researchers noted several differences in the profiles of respondents who reported PEs compared to those who did not: those who reported PEs were more likely to be Black or Latino, male, participating in crime, and were younger. They were less likely to be heterosexual, and had lower income and education levels than those who did not report PEs.
Police violence victims' "predicted probability" of experiencing a psychotic symptom was 45.5%, compared to 19.0% for non-victims. The authors also found that "prevalence of PEs increased with greater exposure to police victimization in a linear dose-response relation."
After adjusting for demographic variables, psychological distress, and crime involvement, high odds ratios (ORs) were found for links between sexual victimization and paranoia (OR = 7.16), sexual victimization and thought control (OR = 3.98), and physical victimization with a weapon and hallucinations (OR = 6.72). An odds ratio indicates the likelihood that an outcome (e.g. PEs) will happen in the presence of a specific exposure (e.g. police victimization), compared to in its absence.
One of the study's most significant limitations, as is often the case with analyses of survey data, is the fact that the researchers were not able to draw conclusions about causality or "causal direction." The researchers point out that because the survey focused on lifetime exposure to police violence and they do not have data on the timeline of PE and victimization incidents, it is not possible to know whether PEs might actually increase the probability of police victimization.
Although the researchers believe their hypothesis that victimization leads to PEs to be the more likely chain of events, they note that "even reverse causality would be of public health interest" as it would indicate that police are "more likely to interact with people who [have] severe mental health symptoms with excessive force."
"These findings align with the possibility that exposure to police violence (or concerns about the lack of accountability for such violence) challenges one's assumptive worldview, threatening a sense of safety, eroding trust, and breaking confidence that one is a person worthy of respectful treatment by societal institutions."
The researchers suggest interventions to address these newly established links between police victimization and PEs, including police training on the effects of trauma and community-based services to victims (e.g. therapy, social support) that attend to trauma and social defeat. Given their finding that victimization that occurs within a relationship with a clear power differential (i.e. police-civilian) is a risk factor for PEs, the researchers also propose that the social defeat hypothesis should be revised to incorporate the role of power dynamics.
****
DeVylder, J. E., Cogburn, C., Oh, H. Y., Anglin, D., Smith, M. E., Sharpe, T., … & Link, B. (2017). Psychotic Experiences in the Context of Police Victimization: Data From the Survey of Police–Public Encounters. Schizophrenia Bulletin, 43(5): p. 993-1001. Doi: 10.1093/schbul/sbx038 (Link)