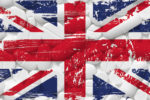 In this blog, I want to give some personal reflections on the events of the last few weeks in relation to the Lancet antidepressant meta-analysis and the lodging of a formal complaint with the UK Royal College of Psychiatrists.
In the interests of full disclosure, I am a signatory to the letter of complaint, so if you are seeking a view from a neutral party, you will want to look elsewhere. This blog is also my personal view and not meant to represent the views of the other signatories.
What's been happening?
The fun began on February 21st when the Lancet reported the results of a meta-analysis of 522 placebo-controlled trials of antidepressant drugs. In short measure, as Auntie Psychiatry and others have pointed out, the UK media largely recreated a press release written by the Science Media Centre. Respected papers like The Times and The Guardian proved that journalism now means merely reading a press release, not actually taking the time to read the study itself and reach a balanced conclusion about the results which, at best, were modest and confirmed what we already knew from the work of Irving Kirsch and others a decade ago.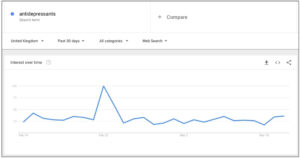 On February 22nd, the word 'antidepressants' had its highest ever number of Google web searches in the UK.
Also on the 22nd, The Mental Elf, a popular mental health and psychiatry blog in the UK (with the mantra "No Bias, No Misinformation, No Spin"), said this about the Cipriani meta-analysis:
"It's been a rough few months for people taking antidepressants. We've been bombarded with information that insists our medication is ineffective and harmful, that any benefit we gain from taking these pills is simply a placebo effect, and that by accepting a prescription of antidepressants we are joining an ever-growing zombified mass of morons."
Elsewhere, the good news story about antidepressant efficacy that 'put to bed' the debate continued to be reported far and wide.
In response on February 23rd, Dr James Davies, Dr Joanna Moncrieff, Professor John Read and others pointed out this lack of critical appraisal and the problems with the study itself. Dr James Davies appeared on BBC Newsnight and Dr Joanna Moncreiff appeared on Channel 4 news. Letters appeared in the Guardian newspaper along with critical responses from Professor Peter Gøtzsche and Professor Peter Kinderman amongst others. In addition, social media was alight, with the hashtags #MedsWorkedForMe and #MedsDontWorkForMe doing battle.
A few of us even directly engaged the current President of the Royal College, Professor Wendy Burn, an exchange which Bobby Fiddaman covered in his excellent blog. Some of us, probably naively, felt that we had made a good account of ourselves in the face of the massive media hype.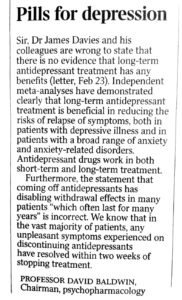 It was what happened next that made things interesting. In an attempt to refute critical comments, Professor David Baldwin, Head of the Royal College's Psychopharmacology Committee, wrote a letter to The Times on February 24th. In the letter, he said:
"Furthermore, the statement that coming off antidepressants has disabling withdrawal effects in many patients 'which often last for many years' is incorrect. We know that in the vast majority of our patients, any unpleasant symptoms experienced on discontinuing antidepressants have resolved within two weeks of stopping treatment."
I can only imagine how this statement was received at the Council for Evidence-Based Psychiatry, which has been at the forefront of work to educate and inform about the many issues with psychiatric drugs. By February 28th, nine professionals, spearheaded by Professor John Read of the University of East London, had written to Professors Burn and Baldwin, to request a public retraction of the statement or the provision of the evidence in support of it.
As detailed elsewhere, Professors Burn and Baldwin responded directly to John Read, responses which, charitably, we could probably best label as 'not helpful' with their main argument seeming to be that the complaint letter was "a bit harsh."  Following this reply, John and members of CEP amplified upon the original complaint, providing evidence in support of the view that antidepressant withdrawal was a significant issue for many people. The letter was signed by thirty academics, psychiatrists and those with lived experience. John Read then personally hand-delivered this second letter to the Royal College's offices in Central London on March 9th.
Since then, there has been a smattering of media interest with John Read facing Doctor Clare Gerada (wife of Sir Simon Wessely) on BBC Radio 4's Today programme. The issue was then given a more balanced assessment on BBC Radio 4's Inside Health programme. Scottish newspaper The Herald has been a staunch supporter providing good coverage. It is fair to say that the media response to our complaint has been muted and disappointing, in stark contrast to the near hysteria that greeted the Cipriani study and its attendant SMC press release.
On social media, particularly Twitter, there has been an interesting mix of reactions. If you are affected by withdrawal from psychiatric drugs, it is very easy to feel isolated and marginalised, and not uncommon to have your experiences refuted, denied and flat-out contradicted by doctors and psychiatrists. In recent times, there have been accusations of 'pill shaming' directed at anyone bold enough to share their difficulties and struggles. The origin of the hashtag #pillshaming is interesting in its own right.
This pill shaming defence has been adopted by some psychiatrists, alongside trying to reduce almost every conversation about the drugs to "they help people" or "they save lives" but with little to no evidence ever provided in support of these claims. Sir Simon Wessely, former president of the Royal College of Psychiatrists, tweeted after the BBC Radio 4 exchange between Professor Read and Doctor Gerada:
"Oh dear. Time for another round of #pillshaming. #r4today @BBCRadio4. Antidepressants are not addictive. There is no tolerance, escalation etc etc."
That brings us up to date. What happens next will be very interesting. Will it be a 'strongly worded letter to The Times'? Will it be a veritable feast of studies that confirm that the 'vast majority' are over their difficulties in two weeks? Will it be a public debate? Whatever happens, we will keep you updated on progress.
What can you do?
I feel that we need your input — we need to capture experiences and we need to know the cold, hard truths that people struggling with antidepressant withdrawal face each and every day. Firstly, please comment on and discuss this blog, either share your own experiences or perhaps make suggestions for promotion of the complaint and the lived experience input. If you are connected with the media, please draw their attention to the complaint. If you would like to share your experiences with me personally, rather than in the comments below, please email me.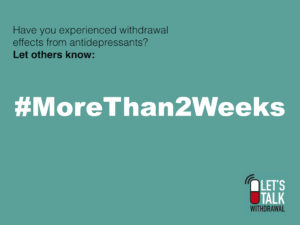 On Twitter, we didn't want to feel left out of the 'bring a hashtag' party, so we have created our own. People are sharing their experience of antidepressant withdrawal using the hashtag #MoreThan2Weeks. Please share your own experience or what you have witnessed family or friends deal with. This particular hashtag has generated over 1,000 tweets in less than 48 hours, please join in if you can.
If you have personally experienced withdrawal effects, share those experiences with the MHRA in the UK or with the FDA in the US. Psychiatrists often claim that there is no evidence of protracted withdrawal, so let's give them some.
For many of the old guard of psychiatry, who are so wedded to pharmacological intervention, pointing out the limitations and dangers inherent in psychiatric overprescribing is tantamount to an existential threat. A threat to which psychiatry is quite keen to respond — but rarely, it seems, with sound, evidence-based fact. This complaint gives us a focal point for a critical mass of us with lived experience to recount the reality and extent of antidepressant withdrawal.
Finally, I want to thank everyone who has been involved with this complaint, whether signing the letter, sharing their difficulties on social media, asking difficult questions of their doctors or even reading this blog. The recent attention has brought the issue of antidepressant withdrawal into the public eye in the UK like never before — perhaps we can start a similar discussion in the US and elsewhere too.
[Note: for those outside the UK, the media links for BBC Newsnight and Channel 4 News might not work correctly.]
***
Mad in America hosts blogs by a diverse group of writers. These posts are designed to serve as a public forum for a discussion—broadly speaking—of psychiatry and its treatments. The opinions expressed are the writers' own.
***
Mad in America has made some changes to the commenting process. You no longer need to login or create an account on our site to comment. The only information needed is your name, email and comment text. Comments made with an account prior to this change will remain visible on the site.