A recent observational study that looked at what happened to people following a first admission for schizophrenia concluded that discontinuing antipsychotic treatment is associated with higher risks of death and rehospitalisation (Tiihonen et al., 20181). This is the latest paper by a group of Finnish researchers who specialise in complex analysis of data from population registers and, contrary to many other data, always find that long-term drug treatment is good for your health. They have extensive links with pharmaceutical companies that make antipsychotics.
The latest study uses the Finnish population registers which record deaths and episodes of hospitalisation and a prescription register for data on antipsychotic prescriptions. The main outcome was a variable that was called 'treatment failure' which consisted of a combination of rehospitalisation and death. The use of a combined measure is a bit curious, since death and readmission are likely to show different patterns of occurrence and different associations. Another curious feature is that people who discontinued antipsychotics in the first 30 days following discharge from hospital were excluded from the analysis, without any apparent justification.
The study has a large sample, and I presume that the registers used are comprehensive so that follow-up would be pretty complete. The reliability of the data on use of antipsychotics has been questioned in the past, however (De Hert et al., 20102). The authors point out the limitations of randomised controlled trials in collecting long-term follow-up data and offer their study as a contribution that can help fill this gap. However, there are a number of well-recognised problems with this sort of study and we should be very cautious about accepting its conclusions at face value.
The main problem is that it is an 'observational' study and not a randomised controlled trial. An observational study is when you look at the outcomes of people who have a condition and are given treatment in the usual way. You don't actively intervene as you would in a randomised trial to ensure that the people who have the treatment are roughly the same as those who don't. Observational studies of this sort can give results that are in completely the opposite direction from those obtained in randomised controlled trials. This happened in the case of the heart failure drug, spironolactone, for example. A landmark randomised controlled trial found that spironolactone reduces the risk of death by about 30%, but a carefully matched analysis of observational data incorrectly found that it increased the risk of death by about 30% (Freemantle et al., 20133).
Authors of observational studies are aware that people who take medicine are likely to differ in important ways from those who do not (or indeed those who discontinue early, the focus of the Finnish study) and that these differences may be related to the outcome of interest and may not be captured in statistical adjustments during analysis. For example, people who are prescribed spironolactone may be older or younger, and may be more or less sick, than those who are not. For this reason, authors of observational studies usually go to great lengths to match users and non-users carefully on a whole variety of factors, both demographic and health-related. They may construct 'propensity scores' that combine a number of variables that predict exposure to the treatment of interest, and match people who are and are not treated according to these scores. This is what the authors of the spironolactone analysis did. However, in the present study, people were matched only on the length of time they had been taking antipsychotics. Age and sex were controlled in the subsequent analysis, but there does not appear to have been any attempt to control for the numerous other factors that may influence outcomes like death and readmission. In a previous analysis of mortality by the same group, the following variables were controlled in some way: age, sex, illness duration, previous hospital treatment for attempted suicide, schizophrenia diagnosis, cancer and ischaemic heart disease (Tiihonen et al., 20094). The authors were still criticised for not including variables that might have important effects on mortality such as socio-economic status, substance misuse, indicators of unhealthy lifestyle and detailed cardiovascular risk factors (De Hert, Correll, & Cohen, 2010). Symptom severity, functional status, social support, use of other medication and numerous other factors may also affect the chances of dying prematurely or being readmitted to hospital. Yet, in the present study, there was no effort to match patients on any potential risk factors. The authors reasoned that duration of antipsychotic treatment is a proxy measure of severity, but this seems unlikely since they were only looking at duration of treatment subsequent to the first hospitalisation. Therefore the matching conducted in this study is unlikely to have resulted in groups with similar levels of underlying risk factors for the outcomes of interest.
However carefully you match people, though, the real problem with observational studies is that there are likely to be residual differences between people who take the drug and those who do not, which may be related to outcome. In the analysis of spironolactone treatment, despite the most sophisticated attempt at matching, the results were still completely at variance with those obtained in randomised controlled trials.
These differences occur because the decision about who continues and who discontinues treatment in observational studies is not random. It is a decision made by patients or clinicians that is likely to be related to other factors that predict outcome. For example, we know that people who are compliant with any treatment, including placebo, have better outcomes than those who are not across a range of conditions. In the Women's Health Initiative, for example, women who showed high compliance with placebo had lower rates of hip fractures, heart attacks, cancer death and death from all causes compared to those who showed poor compliance (Curtis et al., 20115). It seems that people who stick to recommended treatment have other features that mean that they do well. They may be more physically or mentally healthy to begin with, more likely to engage with other aspects of treatment and they may have more social support. Conversely, people who stop medication may be more ill to begin with, at higher risk of neglecting their health in other ways and they may have a more chaotic lifestyle and less social support. We don't know what unknown factors are influencing outcome, and we are unlikely to be able to identify and measure everything that is relevant.
Clinicians' decisions to prescribe or to stop medication are also not random. In particular, clinicians may avoid prescribing a drug with known physical complications in someone who already has risk factors for developing those complications. They may not prescribe olanzapine to someone who already has diabetes, for example. Therefore if you look at data from routine clinical care, you may find, contrary to the pharmacological evidence, that olanzapine is less likely to be associated with diabetes than other drugs. Similarly, when someone is seriously physically ill, clinicians may decide to stop some medication. Since antipsychotics are known to be cardio-toxic, clinicians may decide to these drugs if someone develops heart disease, for example.
Not knowing the causes of death in the present study makes the figures even more difficult to interpret. The figures that are presented in the supplemental information suggest that people who had never used antipsychotics since discharge from hospital had the highest number of deaths, followed by those who discontinued antipsychotics within one year, but those who discontinued antipsychotics after longer periods did not show higher rates of death compared with those who continued antipsychotics, although numbers of deaths for these groups were small. Deaths that occurred after hospitalisation (which may include admission to a general hospital) would also not be recorded in this data, however, which may therefore underestimate the risk of death in general.
In the unmatched comparison (no matched group is provided for this comparison), the risk of rehospitalisation was only slightly higher among non-users compared with continuous users of antipsychotic medication (HR 1.24 CI 1.18 to 1.30). In the comparison of 'matched' groups of continuous users and discontinuers, the risk of rehospitalisation increases with longer duration of treatment prior to discontinuation (see Figure).
Figure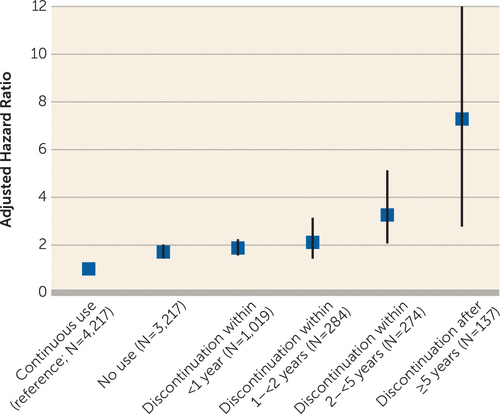 However, the analysis is what is known as a 'survival' or 'time to event' analysis. The numbers and proportions of people rehospitalised were in fact comparable between continuous users and discontinuers, but length of follow-up was shorter. Follow-up ended at the time of rehospitalisation (or when people switched antipsychotic status — i.e. when discontinuers started using antipsychotics again, or when users stopped taking them), which suggests that readmissions occurred earlier in people who had discontinued antipsychotics, but not necessarily more commonly. This finding is consistent with other evidence showing that stopping antipsychotics brings forward your risk of relapse, but may not influence it in the long-run. This was demonstrated in the Wunderink study of people with first episode psychosis (Wunderink et al., 20136).
The focus on short-term events also explains the discrepancy between the present study and the findings of Martin Harrow's study, which suggested that people who avoid long-term continuous treatment have better outcomes, including lower rates of relapse and higher levels of functioning and recovery, compared to continuous users (Harrow et al., 20127). The Harrow et al study was also an observational study, of course, and is therefore open to the biases that arise because treatment is not randomly allocated. It is possible that the results of the Harrow et al study are explained by an association between taking long-term treatment and having a worse prognosis, for example.
Another explanation is the different lengths of follow-up. Although the Finnish study presents itself as a 20-year follow-up, this is the maximum duration, and most people were only followed up for just over a year at most. People who did not use antipsychotics at all had the longest median duration of follow-up at 408 days, continuous users were followed up for a median of 376 days, and people who discontinued antipsychotics were only followed up for a median of between 122 and 134 days (i.e. just over four months). The benefits that non-users of antipsychotics show in the Harrow et al study start to become apparent at the four-year follow-up point. So, unlike the Harrow et al study that followed everyone up for 20 years, the present study is not telling us anything about the long-term outcome of people taking antipsychotics. It may be telling us that people are more likely to relapse in the immediate period after stopping antipsychotics, although given the caveats about observational studies, we should be cautious about even going this far. But it certainly does not tell us what happens over 20 years, as it advertises itself as doing.
So what should we make of this latest offering overall? First, because it is not a randomised trial, it does not provide convincing or conclusive evidence that stopping antipsychotic medication causes rehospitalisation or death. People stop antipsychotics for all sorts of reasons and in all sorts of circumstances that may be related to rehospitalisation or death quite independently of their use or non-use of antipsychotics.
Second, this is not a study of a controlled and gradual reduction of antipsychotics with the support of professionals. Some instances of discontinuation may have been of this sort, but most are likely to have been unsupported discontinuations done without the clinical team's knowledge, and some may have been discontinuations prompted by physical illness.
We need evidence from randomised controlled trials, such as the Wunderink study (Wunderink, Nieboer, Wiersma, Sytema, & Nienhuis, 2013), and the ongoing RADAR trial, to show whether a gradual and supported reduction and discontinuation of antipsychotic treatment increases rates of rehospitalisation, and if so by how much. Only a trial in which the decision to continue or discontinue treatment is randomly assigned can avoid the biases inherent in analysis of observational data and provide a reliable answer.
***
Mad in America hosts blogs by a diverse group of writers. These posts are designed to serve as a public forum for a discussion—broadly speaking—of psychiatry and its treatments. The opinions expressed are the writers' own.
***
Mad in America has made some changes to the commenting process. You no longer need to login or create an account on our site to comment. The only information needed is your name, email and comment text. Comments made with an account prior to this change will remain visible on the site.