Living in New Mexico means hoping for rain. The state is in drought, with most areas officially in either "extreme" or "exceptional" drought. The soil is full of life waiting for a chance to express itself, but the rare rain forecasts usually promise only "scattered showers nearby," with the outcome being either clear blue skies or the sight of rain falling elsewhere. New Mexico is, as well, one of the poorest states in the U.S., with more than one in five New Mexicans, and one in four children, living in poverty. We are second in the nation for the prevalence of youth living without connection to work, school, or family. New Mexico ranks high (#7) for people living with serious mental and emotional challenges.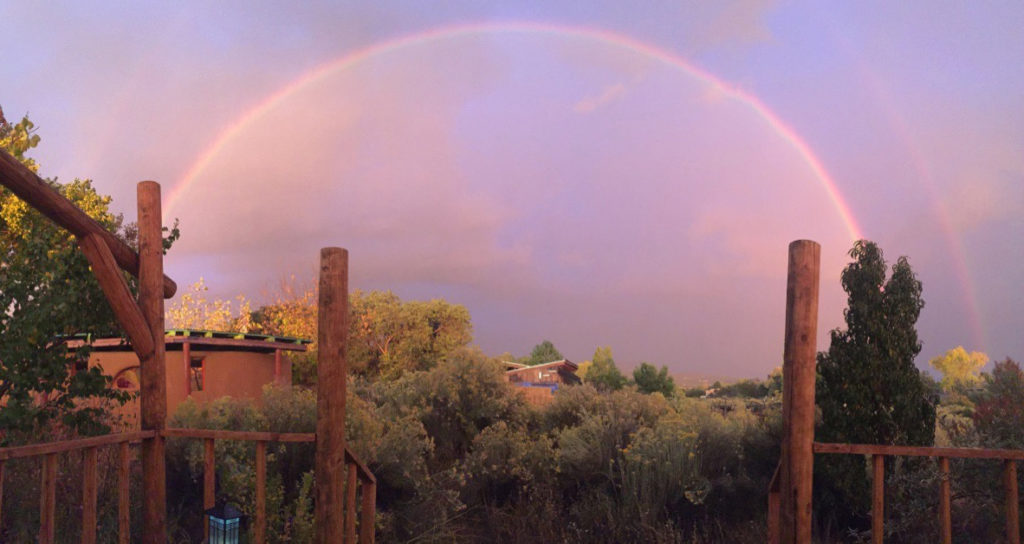 Our Journey
When I moved to Santa Fe from the east coast, five years ago, to live and work with my partner Louisa Putnam, we were excited to bring Open Dialogue and Hearing Voices to a state with such deep need. We had been brought together by a shared passion to find better ways to respond to distress. In our lives and work we had seen the catastrophic results of the unfulfilled promises of psychological diagnosis and biological psychiatry. This search brought us both to Bob Whitaker. We committed to supporting his work — and the groundswell it is part of — by helping Bob to start the Mad in America zine, for which I was founding editor, and with others to create the Foundation for Excellence in Mental Health Care. These organizations have made learning about and supporting Open Dialogue and Hearing Voices a cornerstone of their missions.
Louisa and I longed to do the work inspired by these approaches, and bring them to New Mexico. Louisa has pursued a path that led to Native American ceremony, including vision quests in the desert, without food or water, and becoming a "pipe carrier" — one who is asked to respond to people in need. We were thus very conscious of the fact that much of what is good about Open Dialogue and Hearing Voices has in fact been a part of successful communities throughout time, and especially in the southwest; listening to the voices of the earth, clouds, trees and birds, and gathering in circles to listen to people in distress and learn with them.
Further, we were respectfully aware that both HV and OD exemplify ways of being that had long been present in the southwest before Europeans arrived; listening and dialoging with community members as well as the earth, sky and nature were a part of the culture that went far beyond problem solving; they were a way of knowing, a way of being. We can see more starkly now than ever that the voices of the most silent among us, including the earth and sky, are ignored at our peril. The righteous anger and disorientation of the silenced, so often called "madness," is analogous to the global fever that threatens us all.
Louisa and I hoped to help, if in a small but palpable way, other families to avoid the tragic outcomes we have seen. Inspired by Open Dialogue, we pursued post-graduate studies at America's original school of marriage and family therapy, the Council for Relationships in Philadelphia. We are now licensed as marriage and family therapists in New Mexico, and work with many of the state's at-risk families, sometimes helping them to see that there is an alternative.
The Seminars
One of our first initiatives in New Mexico, in 2013, brought Ron Coleman and Karen Taylor to Santa Fe in 2013. Their presentation at the LifeLink center resulted in a Hearing Voices group, and LifeLink's staff and therapists have been trained in the model ever since.
Since, we have gathered representatives of Open Dialogue such as Werner Schutze, Mia Kurtti and Eleni Alavanti, and Hearing Voices representatives such as Olga Runciman as well as Ron and Karen for a series dialogue exploring the intersections between these two approaches.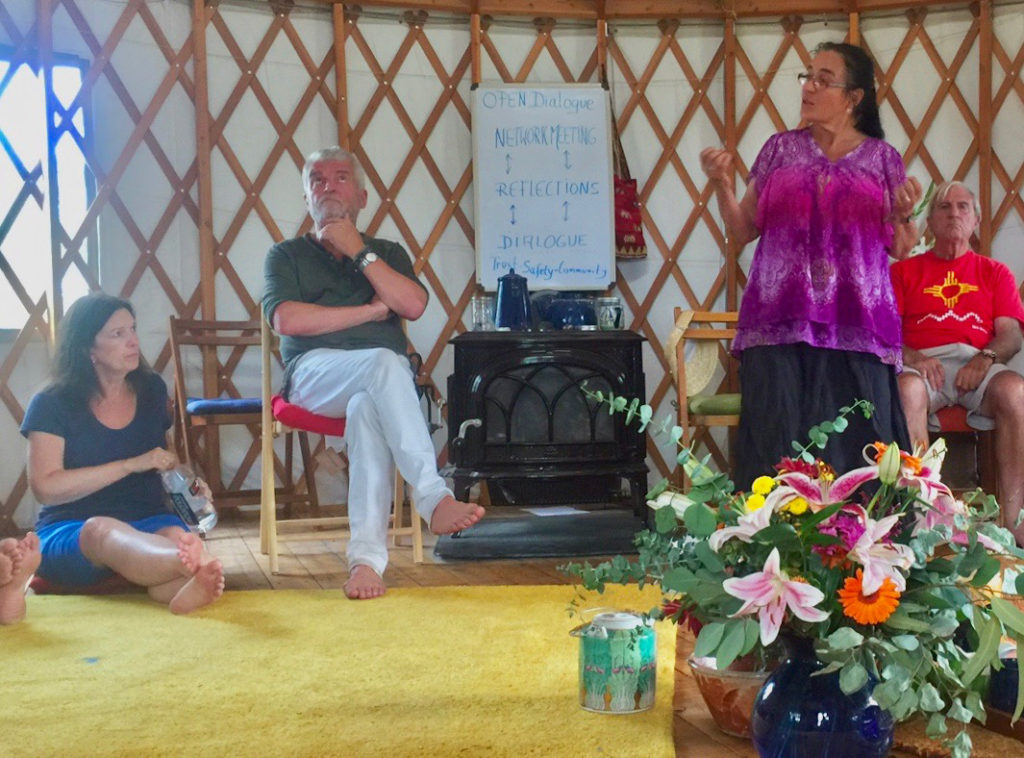 One Story
The parents of a man who had been attending the LifeLink's HV group came. Their son had not been doing well; though he attended the group, he did not speak at it. There had been incidents of violence, and the parents were in despair. The two parents took positions in the circle 120 degrees from each other, as if to sit as far from each other as possible without looking at each other directly. The son hovered around the property, sometimes coming to the door of the yurt, sometimes entering — gesturing about some unspoken need, then leaving when a parent got up to follow.
Each time he entered, Ron welcomed him and invited him to join the circle. Eventually the son sat in the circle, taking a position 120 degrees from both his mother and father; as far as they could be from each other without having to see each other directly.
Ron invited the mother and father to participate in "family sculpting," an approach that, though it may seem radical to some, is reminiscent of some of the iconic work by Virginia Satir I had studied in Marriage and Family Therapy training. Difficult dynamics between the father and mother were exposed and explored.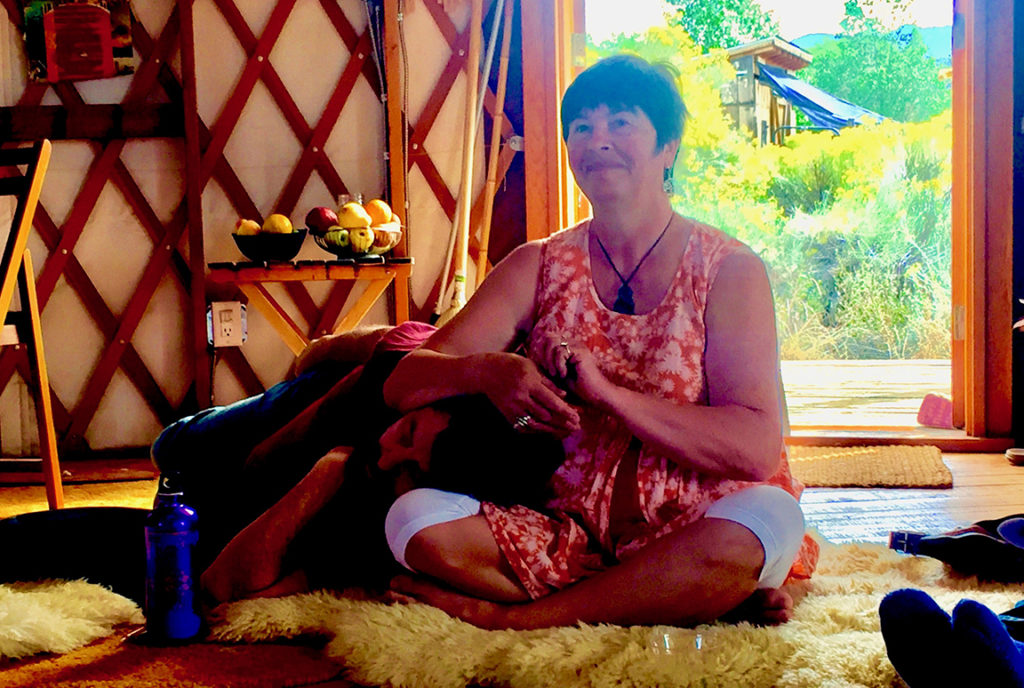 Ron wove the family's experiences together into a story that made increasing sense. As he did, the three members of the family made their way to find each other inside the circle. A gentle rain started to fall, and the group gathered tighter to hear over the faint drumming of the rain on the yurt's taut canvas. As unspoken stories wove together, however, and a way forward seemed to open, Ron — who in an earlier life had spent ten years in a psychiatric hospital, relegated to "schizophrenia" — turned to the son and said, "You know, I don't think you were ever schizophrenic at all."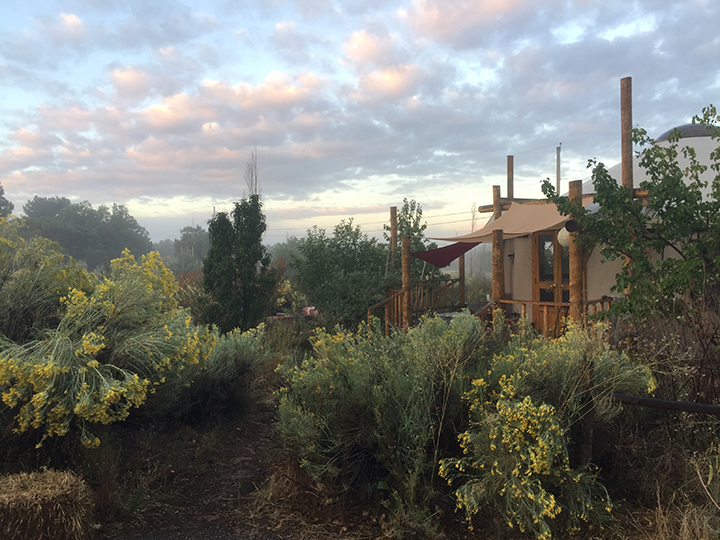 There was an extended silence as this statement sunk in. I could feel the group draw closer to hear what came next. But the rain fell harder until all sound was drowned out, and conversation ceased. We sat together, feeling the rare rain soak into our ears, our bodies, the ground; words were unnecessary. New meaning was arising. Just listen, and the story reveals itself like new life springing from the ground. Ron spoke a simple and essential truth: that what seems like madness has roots in our histories, and the histories of everyone we're close to, and the histories of everyone that came before us; what we're called to do for people in crisis is listen until the story reveals itself, and begins again.
We hear that the son continues to attend the HV group, and that after this experience he began speaking up in the group and is generally doing well.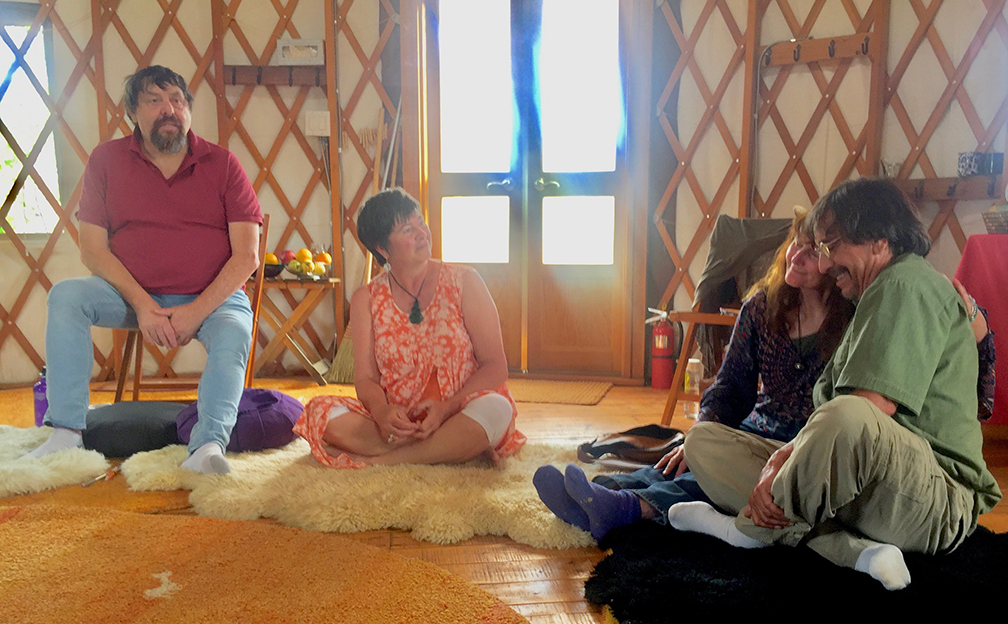 Where We Are Going
Louisa and I continue to build our practice in Santa Fe. One of my most satisfying experiences came when, working with a family from a native North American tribe, they suddenly remembered that talking with the earth's and sky's spirit voices had been — and indeed still was — a strong part of their lineage and practice. Since then they have realized that their son's diagnosis of schizophrenia ten years ago had been a mistake. They now relate to him entirely differently and his path, which had seemed close to an inevitable early death, has become a new one.
We are dedicated to creating more opportunities for people in crisis to choose the path Open Dialogue points toward. This morning, August 29, Louisa and I arrive in Tornio for the 23rd International Network Meeting for the Treatment of Psychosis, a gathering of people from around the world who are dedicated to taking inspiration from Open Dialogue's accomplishments. Next week we will attend the second module of a two-year "Train the Trainers" program in Helsinki as well.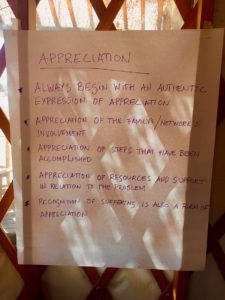 I am deeply grateful for the philosophy this path has led me to. I have touched great beauty in this work; Open Dialogue and its related philosophies have given me a container for it, as well as a network of people I respect and with whom I feel comfortable.
I am excited to gather this network in an upcoming series of webinars for MIA that will gather the many friends we've made from around the world to explore with the MIA and Foundation for Excellence communities how this philosophy has touched them, and how this practice informs their life and work.
Ron and Karen will be offering another workshop in our yurt in Santa Fe this October 1-4. We encourage anyone who would like to participate in Ron's last working trip to the U.S.
***
Mad in America hosts blogs by a diverse group of writers. These posts are designed to serve as a public forum for a discussion—broadly speaking—of psychiatry and its treatments. The opinions expressed are the writers' own.
***
Mad in America has made some changes to the commenting process. You no longer need to login or create an account on our site to comment. The only information needed is your name, email and comment text. Comments made with an account prior to this change will remain visible on the site.