[Editor's note: the author is publishing under a shortened version of her name in order to protect the privacy of family members mentioned in the story. Names of family members have also been changed.]
I was fortunate in some ways. Not others.
My fortune was that my mother grew up poor. She learned from her mother ways to handle the health of children without expensive doctors. A doctor visit was rare. Disease was rare. Rare diseases were really, really rare.
I come from families that had 6-14 children so I had trust in my mother's experiences. It worked. Along with that was a tradition of mothers who didn't blindly follow doctors. I heard stories like my Aunt Mary's.
She had a leg issue. She said what the doctor was doing wasn't working. So she took one of her homemade remedies and healed her leg. When she got back to the doctor, he asked her what she did. Her response was, "None of your business. What you were doing wasn't working!" I laughed about her spunk against authority. Never forgot it.
That gives you a little insight into how women in my family didn't treat doctors as all-knowing gods. They were heretics of rich doctors when doctors would say that what women had was only superstition and old wives tales. Not science. Eventually I had to deal with the contradictory messages I got. Still, I had firsthand experience of what worked against the doctor's social push. It was a struggle that eventually led to clarity out of confusion. Even harder to do when you don't know what you are confused about because certain things aren't discussed. Probably the most important thing I learned was that superstition parades as science and some science is simply old husbands' tales.
But here's my misfortune. My grandmother was a domestic violence and sexual assault victim in a time when they just said that my grandfather was "mean and ugly." It meant the same thing. My mother was exposed to family interactions that caused her to live in fear, to develop a fear of her fear and emotions and unworkable relationships. She grew up afraid of men with no words for that either. Where her fears were coming from was somewhat known but also made her 'look crazy'. Anytime you don't know why someone is behaving as they do, you can say they are crazy. That's what my dad did.
If you see a woman screaming and you don't see a reason, she's whacko. Take her home, out of public space, and call the psychiatrist. But if you see a man pointing a gun, you get her protected. When domestic violence was not recognized nor its results understood, victims were given depression, paranoia, agoraphobia and delusional schizophrenia labels. Today it's more borderline, bipolar and PTSD. Fortunately, my mother in marital struggles went to a good psychiatrist — once. He told her she should just leave my dad, that he was her problem. That was the end of her involvement with the mental health system. She didn't listen to the psychiatrist.
I grew up afraid that I'd have the stigma of crazy like my mom — from my dad. He also had that fear. He had a 'crazy' aunt. When asked why she was 'crazy', her brother said, "Because she has ideas of her own." And she was also accused of hexerei (witchcraft) in the 1940's. I am not making this up. It's real. I researched her medical records. Her family were deeply entrenched Lutherans. Crazy Aunt Elda was 'off her rocker' because she would argue with religious authorities about Christian Science. There was a small note in her records that she had complained about a boyfriend who was 'rough' with her.
One other interesting fact: my grandfather, no matter how violent, was never seen as crazy or hysterical. (He was irrationally violent.) He was seen as someone you obeyed and kept distant. A bad man, not a crazy one. And never considered to be in need of a psychiatrist.
But Aunt Elda was scarier than all that because she might hurt someone. Never mind that my grandfather actually did! She would argue, and other unladylike behaviors. She carried a knife which was unusual. It was never mentioned that it was her protection. So her family would lock the doors and pretend to not be at home when they saw her coming. Her psychiatrist recorded that her family life was not good.
She was a school teacher, bought a home and remained single. Most women couldn't. But when her parents died, her brother and other male authorities thought someone might take advantage of her economically, so they went to court and they did it. They deemed her incompetent to appear in court, and her brother took her portion of their parents' estate. With nowhere else to go and under a court order, at age 66 she went to a state hospital, was given medications and died there 20-some years later. The reports of her behavior indicated she adjusted well. Huh!
My father was a farmer and said the cause of Elda's mental problems was reading too many books. That's from a man that doesn't read any.
Somewhere in coming to terms with my own confusion of family experiences, I recognized early that what my father considered crazy made me question him… and my mom. Still, no matter what dad said, his word was like God's word. His counted. Hers didn't.
Most of my family conflict was between me and my mother. My father was too scary to disobey or confront but mom and I had a pattern of verbal battles that hurt. Normal for me. It started before I can remember. No one mentioned feelings.
So my fortune is that I recognized myself, not as a mental health patient, but as a grandchild of a domestic violence situation and the daughter of an abused mother who hadn't healed her feelings but tried to live different.
I was fortunate again when I learned what I was feeling and healthy behaviors. I learned to address my own verbal violence and stop the patterns of harm. I learned this by books, groups, and social movements that were addressing social justice, violence and relationship problems. I learned to stop looking like the identifiable crazy person, and felt sadness for my mother and great aunt who didn't escape that fateful stigma.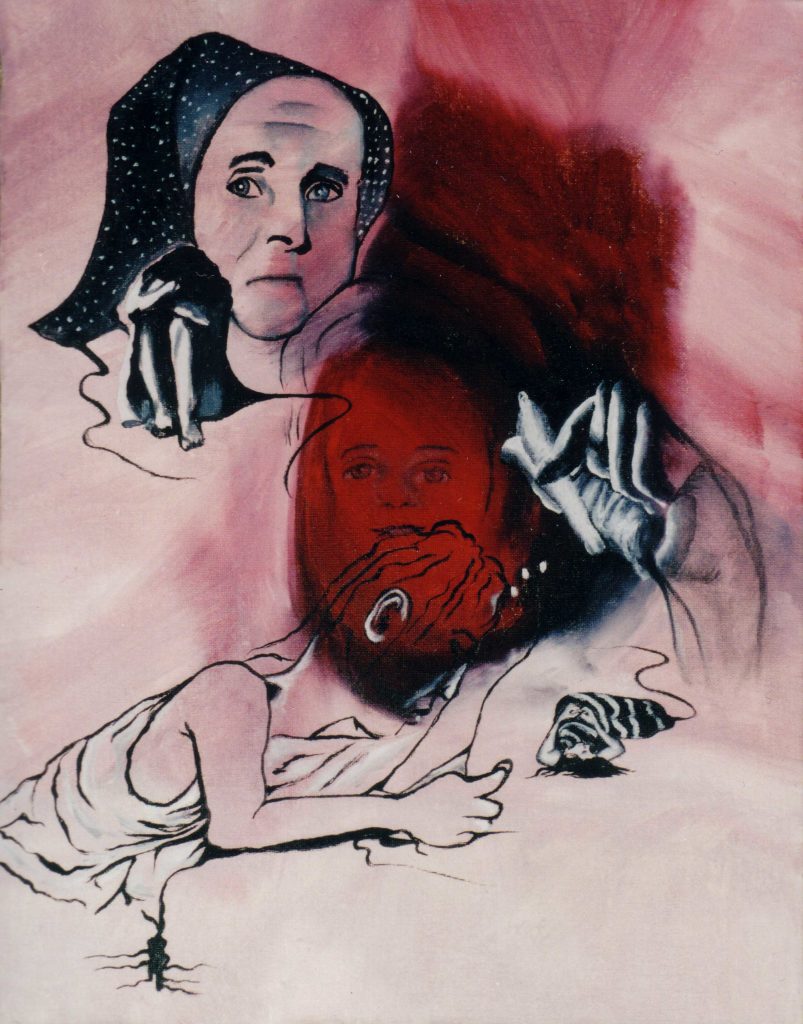 I became a feminist and learned more and more of my foremothers' stories and the stories of women who were caught within disobedience and confusion. If I had to choose between a mental illness label or feminist, I'd just have to take the hits of being called a manhater, babykiller or home wrecker. Ironic, huh? All in my quest to learn mental health and love. But in being practical it became clear that if I didn't know my history and what happened to me and my mothers (and fathers) in fact, any fiction would do. So I developed story and used my words and stayed away from doctors.
But then I had to deal with my husband who also liked to fling labels around at my behaviors. That's when I learned I could be angry, but not violent. And I didn't have to be afraid of violence. Anxiety was just a fancy word for a lot of fears you have all together. And I faced them all.
Also, I fully experienced firsthand that an angry woman didn't get the same respect as an angry man. She just looked batty. I'd be prodded into upset and then laughed at for being upset. I thought it was sick for a husband to do that. I learned to end that. I knew gaslighting and had watched the old movie before it was ever mentioned anywhere publicly.
I never laughed at my husband's upset. But he got more threatening. I had to leave the house, unplanned, one night after he had his hands around my throat — and that's when things got crazy with broken windshields, flat tires and other phenomenon meant to terrorize. Not enough marks for a PFA (Protection From Abuse) order.
I sought outside help for this situation. There was no real help.
I had been a full-time homemaker and struggled with having no experience in how to work and take care of my kids at the same time. I feared for my life and my children's lives because his goal was to hurt me for leaving him. He said so. With his behavior, threats, and no help, I lost the ability to see my children and mother them, though we had a joint custody agreement. And I had been learning the stories of other mothers who were going through the same thing, and these types of men killed — especially if they had attempted strangulation first. I feared that if I got the kids away from him, he'd kill me and/or them. Like mass violence and school shootings, this has become a behavior common for women leaving abusive husbands.
That's when I got labeled with "adjustment disorder." I had a woman counselor who counted my reality but she still had to label me with something. After the rug was pulled out from under me in not being able to see my children after being with them every single day for near 15 years since they emerged from my body, I crashed. I was looking for understanding in a world that didn't see the situation once again.
So apparently I didn't 'adjust' properly to being abused and the chaos of my life. I also visited a somewhat rebellious psychotherapist who wrote a few books on bullying. He thought I should get the PTSD label and get on disability and take a vacation to Hawaii. He said, "Your husband has ruined your life." I read the book Recovery and Trauma by Judy Herman and found something I related to that gave me some comfort and something to do. I took the advice, except I never got to Hawaii. I believed at that point that I had 'some' trauma and PTSD, but I had more reading and learning to do.
And that trauma was going to get worse. I had to negotiate stories, doctors, lawyers and the disability process. But I was getting furious and I kept thinking, why was I the one to be labeled when HE was doing all this unhealthy, violent stuff? I had done lots to be healthy from where I came from. He didn't like it. Well, he never was held accountable by ANYONE for what he did, to this day. I was accountable for what HE did as well as what I did, when his actions were not counted.
In the process of all this, how I got through the system was by showing evidence that I had taken responsibility for my family problems and my own health. I sought out doctors through health food stores, holistic alternative medical organizations, word of mouth and environmentalist communities who didn't believe in medications for a social and family problem (or the use of chemicals at all). I made a list of all that I did for my health. They signed my papers and gave authority to what I was doing to put my life into a place of wellness. That way no controlling, pill-pushing medical doctor who felt the need to force me into treatments had authority over me. I had found the right authorities, the people I chose to validate my reality, and I kept records of all my recovery and treatment processes, even lovely massages!
Now here's the hilarious part. For disability acceptance I had to have appointments with several different doctors. I was concerned about what would happen. What I found is that each doctor labeled me differently depending on what part of my story came out (there is more to the story than space allows here). It appeared that if the doctor was male I was going to get labeled with PTSD and another label or two. One doctor labeled me with social anxiety. One with major depression. He saw me less than an hour. None were exactly the same.
When I talked about my family of origin along with the current domestic violence situation with my ex, they completely ignored the present situation I was in and focused directly on my 'childhood'. Since this event I realized that you can't talk about your childhood without ending up being pathologized, even if you have overcome it and were treated for most all of it. Once you have it, you have it. Anything after that may be ignored.
There is no narrative for a normal childhood that has problems. When I saw in my records what mental health workers did with what I told them and what they ignored, I was horrified — and probably traumatized. All the ways my manners and language were displayed were turned to negatives. In fact, they even turned my healthy recovery behaviors into some type of problem.
I didn't like that. I saw reasons for how I behaved. I felt that I now was in a worse situation to achieve mental health than before I got on disability. It was not helpful at all. I was upset about the loss of my children and the social status I had had. Eventually I centered myself, I behaved and obeyed and devised a plan to get off disability and away from these medical authorities that would define my life in error and stigmatize anything I did.
I was an artist and a writer, and one of the worst things to happen to someone like that is to take away their ability to express who they are or define their life expressions.
When I came up for review, I realized that this was like taking a test in school. I knew what the right answers were for trauma and PTSD and depression, and I knew the wrong ones. That is, depending on whether you want to be labeled or not. I passed the test as I wanted and I was released as no longer traumatized. It was a farce as either way my reality wasn't counted.
I had studied and learned enough and I had that Aunt Mary story to inspire me to care for my own problems, but I also knew to protect myself from abusive authority. I wanted to sue and fight against those inaccurate records and labeling professionals who had nothing concrete for their varying opinions. I wanted the system to hold accountable my ex-husband who was free to harm women and children — I wanted to stop that legacy for their descendants. Why don't abusers get a label immediately? Why wasn't there a system to protect my children and mothers and our relationships from harm? Why didn't my ex-husband ever once think he had a problem? Why diagnose the traumatized instead of the traumatizers?
I took a lot of deep breaths, talked to good people and decided that fighting a system, not to mention trying to change it, wasn't my best option.
Privately, I picked a few choice words for my own self-definitions that I felt were most appropriate for my well being. I stuck with the value of autonomy and I understood that value through legitimate feminist therapy that counted women's realities.
I created a piece of book art I titled Normal to give my point of view about being a normal person.
And I wrote, got published and did public speaking about emotional health, the history of domestic violence, marriage, psychiatry and psychology and women's historical relationship in a world narrated by men. I created images for my own expression to learn more about me. I did an art show about "Social Explorations." I kept a few good mental health authorities by my side, who encouraged my well being in the way I wanted it to be.
The words I chose for myself were "creative" and "gifted." I had truth and through that the right community, one I wasn't fearful of. And I had wellness — as any normal person might.
***
Mad in America hosts blogs by a diverse group of writers. These posts are designed to serve as a public forum for a discussion—broadly speaking—of psychiatry and its treatments. The opinions expressed are the writers' own.
***
Mad in America has made some changes to the commenting process. You no longer need to login or create an account on our site to comment. The only information needed is your name, email and comment text. Comments made with an account prior to this change will remain visible on the site.