An extensive systematic review and qualitative meta-analysis, published open-access in Journal of Mental Health, summarizes past qualitative studies of the perspectives of people diagnosed with psychosis on their experiences using antipsychotic medication. The researchers identified four meta-themes across past studies: short-term benefits, adverse effects and coping processes, surrender and autonomy, and long-term compromise of functional recovery.  Their results suggest that while people identify positive benefits of antipsychotics for acute and short-term use, they generally experience adverse effects and feel that antipsychotics compromise their long-term recovery.
"A reported challenge in psychosis is that a substantial sub-group of patients stop taking antipsychotic drugs before recommendations indicate," the authors write. "Rather than assuming that this decision is due to denial or a lack of insight, as is often suggested, it should be explored whether such a decision results from an autonomous process in which the more experienced patient needs to negotiate the level of perceived freedom vis-à-vis his or her own psychotic experiences."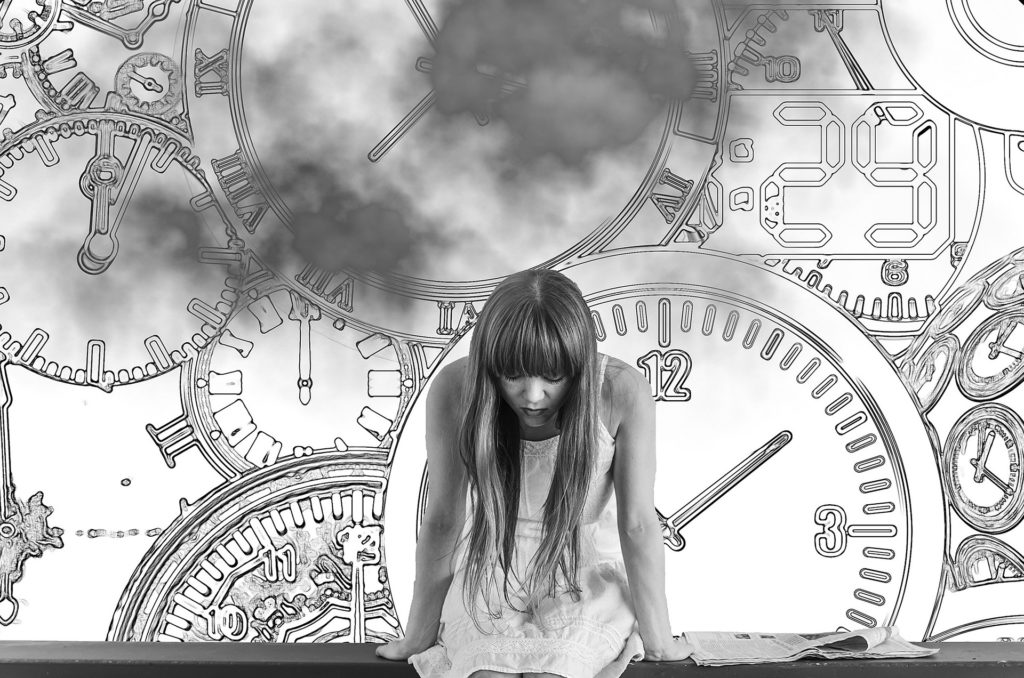 Guidelines recommended treatment with antipsychotics for persons experiencing psychosis during the acute phase and throughout maintenance and recovery. However, while antipsychotic medications have been shown to be effective at reducing symptoms in the short term, they can bring severe side effects and challenges when used long-term, including adverse effects on cognitive functioning, reduced quality of life, diabetes, and metabolic syndrome, among others.
To improve and highlight the importance of shared decision making in healthcare, the authors of the present study sought to systematically describe and summarize the qualitative, subjective perspectives of service users regarding the use of antipsychotic drugs.
The aim of the study was to re-analyze and summarize qualitative studies on patient perspectives of using antipsychotic drugs. The search for articles was completed September, 25th 2018 and all previously published articles meeting criteria were selected for screening. To be included in the final analysis, articles had to be published in English, peer-reviewed journals, conducted with samples meeting DSM or ICD criteria for a psychotic disorder, using qualitative methods to explore the first-person experience of taking antipsychotic medication. Thirty-two articles were included in the final analysis.
Most studies (30/32) were classified as at least satisfactory in quality. Across all studies, 519 individuals were accounted for, most of which identified as Anglo-American. Participants ages ranged from ages 13-70, were 42% female, and were prescribed first- and second-generation antipsychotics.
Four themes were identified across the studies. These include: (a) short-term benefits, (b) adverse effects and coping processes, (c) surrender and autonomy, and (d) the long-term compromise of functional recovery.
Short-term Benefits:
During the acute-phase, when psychotic symptoms were severe, participants reported that antipsychotic medications were efficient in reducing their psychosis symptoms. Individuals were more comfortable committing to short-term antipsychotic treatment than long-term use.
"I'm very satisfied with the treatment I received. I got a lot of help. I felt very safe on the ward. I trusted [my psychiatrist] She was fantastic … all the staff was actually like that … . I was difficult to deal with, I must admit, I wasn't a very easy patient. . .. I decided to use my antipsychotic medication for one or perhaps two years, then I thought I would be able to sustain myself without it. I will adhere to my doctor's recommendation"
Adverse Effects and Coping Processes:
This theme reflects the participants' perspectives that antipsychotic treatment came with consequences that were challenging. Despite the difficulties in finding an optimal dose that minimizes side effects while alleviating psychotic symptoms, participants mostly felt that the benefits outweighed the side effects during the acute stage. However, once psychotic symptoms dissipated, they thought that the side effects became detrimental to their mental health.
"The significance of these experiences was also emphasized in the article titles in which long-term treatment was described in terms such as 'the least worst option,' 'the greater of two evils?"' and on-going use was dependent on positive effects outweighing negative ones.'"
Significant side effects reported included functional decline, sedation, sexual dysfunction, and weight gain. These side effects were strongly associated with non-adherence to the medication.
"The medication makes me put on weight actually, reduces my motivation, changes other people's attitudes towards me for the worse, makes me feel depressed, sometimes I'm restless, sometimes has a negative effect on my day to day living. Well just that it makes me so physically disabled, so it reduces my ability to function normally."
Surrender and Autonomy:
Patients described participating in treatment as a feeling of surrender. Participants reported this a stressful process in which they had to trust that their prescribers were "knowledgeable and (at least) benign." Patients did not feel involved in treatment decisions during the early stages, which lead to many adverse experiences of the patients.
Patients felt that their personal treatment preferences were disregarded, that there was a lack of trust in them from their providers, and that their personhood was repeatedly invalidated. This lead to challenges in collaboration, feelings of powerlessness, resignation, and the termination of antipsychotic treatment. In some cases, patients reported that providers would employ sanctions if the patient did not submit to their treatment.
"He told me that [unless I took the medication] I would never be able to go to a normal school … and that I would never be able to finish high school normally. And that I would never graduate. And that I needed to get used to the idea that I would be on medication for the rest of my life … that's what he actually told me."
During the acute/early stage when patients experience significant cognitive symptoms, they felt it was important that providers take extra effort and time to ensure that patients understood the information they shared about the antipsychotic drugs. After the acute stage, when psychotic symptoms subsided, patients felt it essential that information about the etiology of psychosis, effects and side effects of antipsychotic medications, and the expected duration of use be presented truthfully and in a manner that the layperson can understand.
In the long-term patients reported that it is "essential that communication was reciprocal, respectful, and involved a high degree of user involvement both in treatment planning and treatment delivery." Importantly, patients preferred professionals who viewed recovery as an individual matter and who appreciated that antipsychotics are not necessarily the main ingredient in recovery. If this was not the case, resistance and non-adherence were more likely. Patients also reported using various sources to gain knowledge about their diagnosis that helped the move from "surrender to authority," as they formed an independent opinion on the process and an increased sense of personal agency.
Long-term Compromise of Functional Recovery:
Importantly, participants perceived the use of antipsychotics as a barrier to their individual efforts and their sense of agency as they work toward recovery. Being on medication was viewed as an obstacle in being able to separate the improvements made in their recovery as coming from their own decisions and actions or the medicines. This reduced the amount of credit they gave to their own efforts. Long-term use was also associated with stigma, which leads to participants feeling that they were not suitable for social inclusion and citizenship.
"When you go out it is like advertising you have a mental illness, so the side effects draw attention to the fact that you have a mental illness. And even though you might be quite well mentally, the side effects stigmatize you…you can't even go over to your sister's place and go out into the yard without the neighbors thinking she's got someone there who is mentally ill…you know your legs are going up and down all the time and they think you're a lunatic. It's like wearing a sign on your forehead"
Participants also reported feelings of a having to manage a balancing act between anxieties about relapse, keeping them on the medications, and worry about the long-term harm caused by the medications. Overall, this tension leads to feelings of being in a "drug labyrinth with no possibilities for escape, which gave rise to a sense of inadequacy, emotional flattering, and fear."
"It was like the lesser of two evils . . . you can be scared and paranoid or you can have no saliva. I was going to take the no saliva but . . . it was trial and error. .  . I am glad I got to the stage. . . where I actually feel like they are working."
However, some participants had positive feelings about long-term use and reported taking steps to adapt their dosing to fit their everyday lives such as dose-reduction or manipulating the times at which they would take the medication.
The authors of the study propose a first-person experiential model of using antipsychotic medication. Based on the analysis of the 32 reviewed studies, this model provides a developmental frame for understanding the experience of users.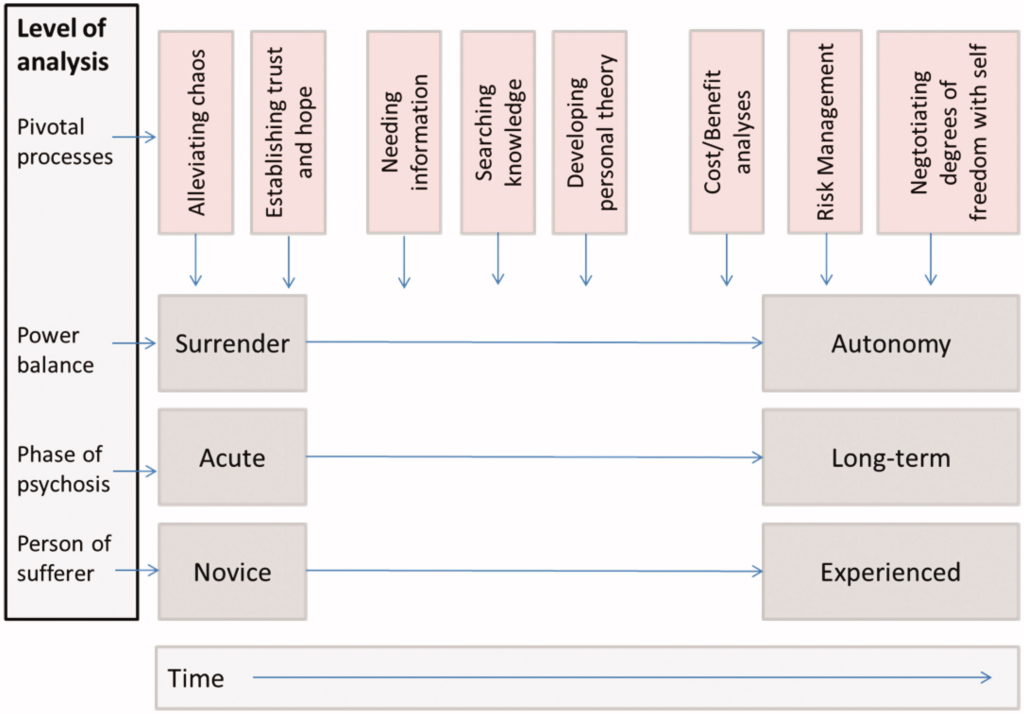 Perceptions and experiences of antipsychotic use were different between for short-term acute care vs. long-term recovery-oriented perspectives. During the acute phase, the focus of the users was in their need to silence the chaos and the cost-benefit analyses and risk-management analyses became the central focus in later stages of service use.
Additionally, the process of developing autonomy followed a similar developmental path as the user developed increased knowledge and information aided in re-establishing feelings of autonomy after the initial surrender. This process allowed for the eventual re-establishment of feelings of personhood and a sense of self, which are central to the recovery process. The authors summarize that ". . . evolving knowledge, value-based opinions, and need for a sense of personal responsibility seem to constitute an overarching process."
The authors of this study argue that the present results emphasize the importance of having the prescribing and use of antipsychotic drugs tailored to the patient's individual symptoms, functioning, and experience. This may suggest an understanding of the decision-making process that users engage in as they decide to stop or decrease their antipsychotic use.
****
Bjornestad, J., Lavik, K. O., Davidson, L., Hjeltnes, A., Moltu, C., & Veseth, M. (2019). Antipsychotic treatment–a systematic literature review and meta-analysis of qualitative studies. Journal of Mental Health, 1-11. (Link)