On July 11, the House Committee on Oversight and Reform held its first-ever hearing on childhood trauma, featuring emotional testimony from survivor witnesses, as well as a number of prominent public health experts and government officials. The hearing took place just a little over a month after the announcement of the Rise from Trauma Act, bipartisan, bicameral legislation that would fund increased services and supports for trauma-impacted children and families. (See previous MIA Report: "Bipartisan 'RISE from Trauma Act' Introduced to Address Childhood Trauma in America.")
In his opening statement, Committee Chairman Rep. Elijah Cummings (D-MD-7) referred to the landmark 1997 Adverse Childhood Experiences (ACE) study, which found unaddressed childhood trauma to be linked to a number of leading causes of death in America, including heart disease, lung disease, substance use, and suicide. 
Chairman Cummings added: "Sadly, I see this every day in my city of Baltimore, where far, far too many of our community's children are suffering severe trauma, including witnessing violence, or losing parents to violence, incarceration, or substance use." 
While Rep. Cummings acknowledged the role of the Centers for Disease Control and Prevention (CDC) and other government agencies in responding to childhood trauma, he noted that "efforts at the federal level are still severely underfunded, and they do not provide the comprehensive, whole-child approach we need to combat this crisis." 
"As a nation, we have a significant economic incentive and, more importantly, a profound moral imperative to ensure that our children have the opportunity to thrive and succeed." 

—

Rep. Elijah Cummings (D-MD-7), Chairman, House Committee on Oversight and Reform
Ranking Member Jim Jordan (R-OH-4) spoke on the intersection between childhood trauma and the devastating impacts of the opioid epidemic in his home state of Ohio, which has the 2nd highest overdose death rate in the country. Rep. Jordan said, "These overdoses are ripping apart families, and forcing children to cope with unspeakable grief." 
Rep. Cummings shared his own experience of being wrongly placed into special education as a child, and the impact it had on him. "This [childhood thing] is emotional for me," he said.
The hearing opened with a witness panel of survivor-advocates, who shared moving testimony and recommendations for change. Each witness highlighted the central importance of relationships of dignity and connection in supporting them to move forward in the wake of traumatic events.
William Kellibrew, founder of the William Kellibrew Foundation, shared testimony describing the day he witnessed the murder of his mother and brother by his mother's boyfriend, before being spared himself. 
Kellibrew discussed "trying to forget" and the toll that it took on him, including a suicide attempt in the seventh grade. The turning point for Kellibrew came when he connected with a supportive, nonjudgmental therapist: "No adult had ever listened so intently to what I had to say. It was the beginning of my healing journey." 
He also shared about the pivotal and consistent role his grandmother played, as his primary caregiver and supporter, who was in attendance. Kellibrew ended his presentation by yielding his remaining time to honor her. She was met with a standing ovation by Members of Congress and hearing attendees. 
"Families cannot be left to grapple with the aftermath of trauma." 

—

William Kellibrew, director, the William Kellibrew Foundation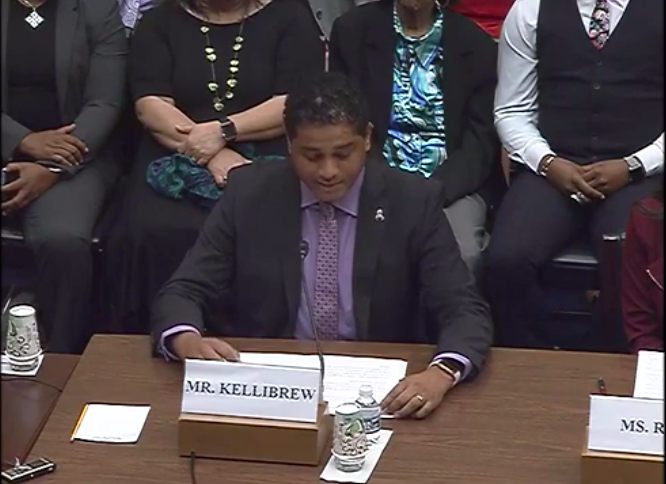 Creeanna Aviles-Rygg, survivor and activist with the parent advocacy group National Crittenton, shared her story, which highlighted the ways in which systems pathologize and criminalize the experiences of survivors. She detailed the experience of being sexually abused by her mother's boyfriend, unable to tell her mother what was happening. 
When Aviles-Rygg encountered the mental health system, her experiences were viewed solely as symptoms of "mental illness." No one asked what had happened to her.
After years of cycling between the child welfare and juvenile justice systems, Aviles-Rygg found acceptance and connection at Florence Crittenton, a residential program for pregnant teens. "I was finally treated from the traumatic experiences I had survived," she said. "I attended therapy sessions and learned that more than half the girls living there at the time were also survivors of sexual and/or violent crimes."
She said, "Looking back, I feel as if I slipped through all of the cracks in the agencies that are designed to protect children from trauma." 
"I was labeled as a troubled youth, when really I just needed someone to recognize I was being hurt." 

—

Creeanna Aviles-Rygg, survivor-activist, National Crittenton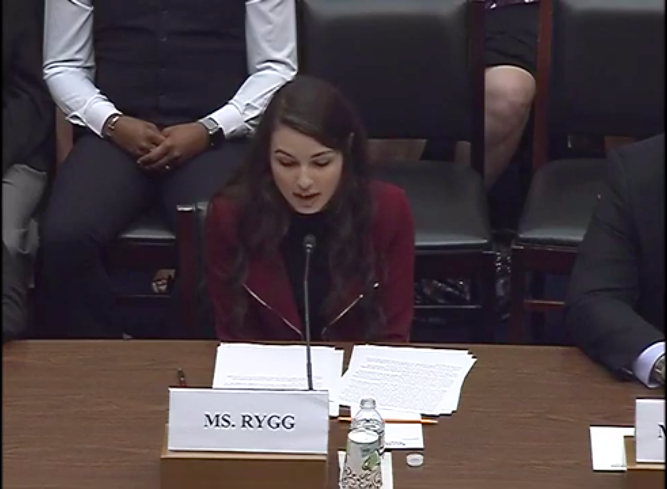 Justin Miller, co-founder and deputy executive director of Objective Zero, an organization that provides peer to peer supports for vets struggling with thoughts of suicide, discussed the cumulative impact of childhood trauma and combat trauma. "After my traumatic childhood, I tried to stay numb and intoxicated all the time," he said. "For years, I tried to stay distant to my two young kids. I had a short fuse with them. When they would cry, it would trigger old memories from war, and I would become angry." 
Miller related a story of calling the VA to disclose that he was suicidal. The VA's response was to place him on hold and give him an appointment two days later. The turning point came for Miller when he connected with the "alternative, warrior-led, holistic" Save a Warrior (SAW) project. SAW exposed Miller to the ACEs research for the first time. "During SAW is when I realized I was repeating the cycle with my children, and then decided it was time to break that cycle," he said. 
"It is going to require a culture shift for us to see a difference. People need to quit feeling ashamed or embarrassed about their trauma. By not talking about our trauma, it gives that event power over you." 

—

Justin Miller, co-founder and deputy executive director, Objective Zero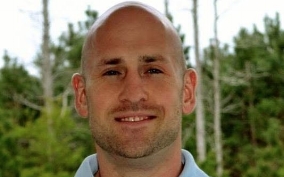 Heather Martin, executive director and co-founder of The Rebels Project, a nonprofit formed to support survivors of mass trauma, testified about her experience as a survivor of the 1999 Columbine High School shooting. 
Martin described how difficult it was for her to transition from high school to college in the wake of the tragedy. She tearfully related a time when she tried to advocate for herself with a professor. "I still had to write my final English paper about school violence or fail the class — even after confessing that I had been at Columbine. I failed that class." She eventually dropped out altogether.
Martin's healing process began a decade after that horrific day. "I reconnected with people who knew what my struggles entailed. As a result of these renewed connections and acceptance I felt when returning for the anniversary, I went back to college."
Today, as a high school English teacher, Martin uses her lived experience to support students who have survived trauma, noting in her testimony: "Schools need programs that teach children how to build resilience, how to use coping skills, and how to practice self-care."
"Teachers, and really anybody in the education field, need to be educated on trauma-informed instruction, what that looks like, and what that means." 

—

Heather Martin, executive director and co-founder, The Rebels Project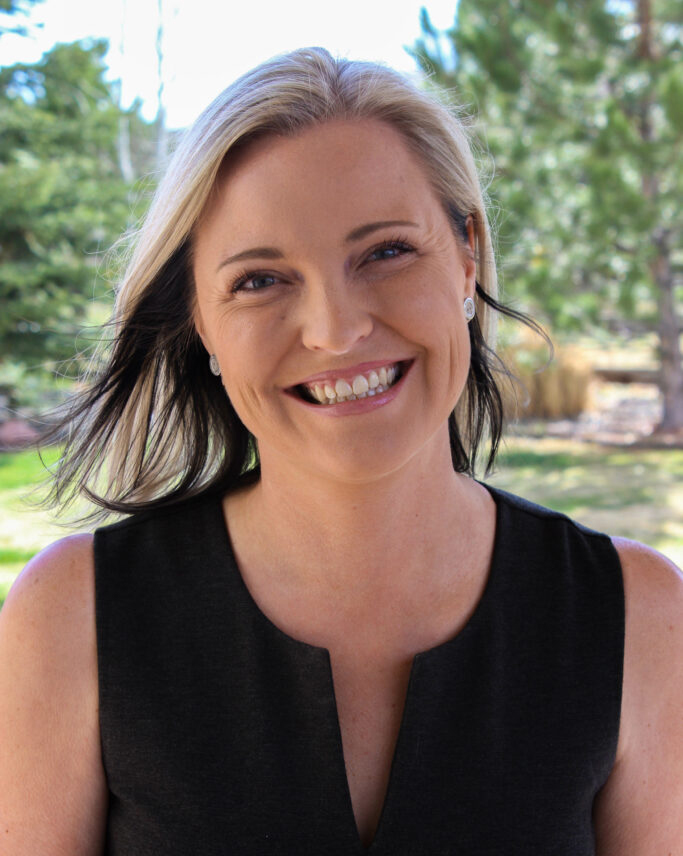 Rep. Ayanna Pressley (D-Mass), whose office partnered with Chairman Cummings' to hold the hearing, said, "It is all interconnected. Violence begets violence, and trauma begets trauma. And so many families and communities like my own are passing along, unfortunately, the legacy of intergenerational trauma."
She added, "In order for us to work on it, we have to first speak on it. But one of the things that I think stands in the way of our speaking on it is the stigma and the shame that survivors carry, when it is not your shame to carry." Rep. Pressley expressed her gratitude to the survivor panel, adding: "I am sorry that you have to weaponize your pain in order for this 'survivor tribe' to be seen and to be heard."
"It's so important that this work be survivor-led." 

—

Rep. Ayanna Pressley (D-Mass)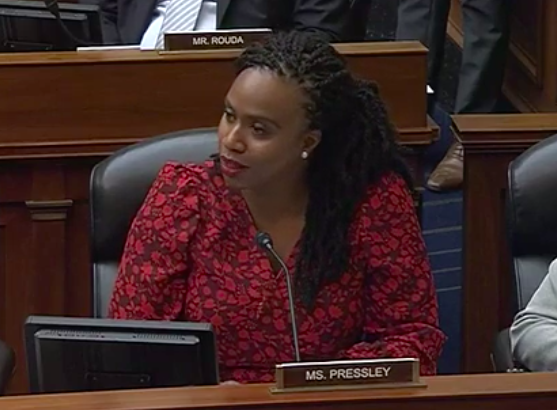 Following the survivor witness panel, which received an unusual standing ovation from the chamber, a second witness panel of public health experts and government officials convened. 
Dr. Debra Houry, director of the National Center for Injury Prevention & Control, testified on behalf of the CDC. Trained as an emergency physician, Houry related a story about a toddler she once saw in the ER for fever and cough. While treating him for pneumonia, she said, "I almost missed the multiple rib fractures he had on his chest x-ray. It became clear he had suffered trauma over a long period of time." 
Houry said that the CDC is using data, such as the Behavioral Risk Factor Surveillance System (BRFSS), to prioritize prevention and response efforts for communities most impacted by trauma and ACEs. She referenced a number of promising public health programs and approaches, including the CDC's Essentials for Childhood framework, which equips states and communities with tools and strategies to prevent child abuse and neglect.
"By focusing on prevention, and building the resilience of our communities, we can meet the immediate needs of those already affected, reduce the long-term effects of trauma, and prevent trauma." 

—

Dr. Debra Houry, director, National Center for Injury Prevention Control, CDC
Dr. Christina Bethell provided testimony as director of the Child and Adolescent Health Measurement Initiative (CAMHI), and as a board member of the nonpartisan advocacy group, the Campaign for Trauma-Informed Policy and Practice (CTIPP). She added: "I am also a person with lived experience of the majority of childhood traumas mentioned in the ACEs Study."
Bethell referred to the high prevalence of ACEs in the U.S. as a "synergistic epidemic." She explained: "We can't deal with what ails us unless we also deal with the long reach of trauma, and proactively promote relational health, emotional and stress regulation skills, and all of the factors essential to health and well being."
She noted that systems too often "diagnose, medicate, and treat the illnesses that are often very predictable outpicturings of unhealed trauma, without any awareness of their origins, the biologic drivers… or the possibilities for healing."
Bethell's recommendations to the Committee included "immediate shifts in federal-supported programs and services that can perpetuate trauma unwittingly." She called for building "a national 'caring capacity' that is trauma-informed."
"The science requires a paradigm shift in how we think about child development, human health, social problems, and the skills and requirements for our own well-being, which we can learn."

—

Dr. Christina Bethell, director, the Child and Adolescent Health Measurement Initiative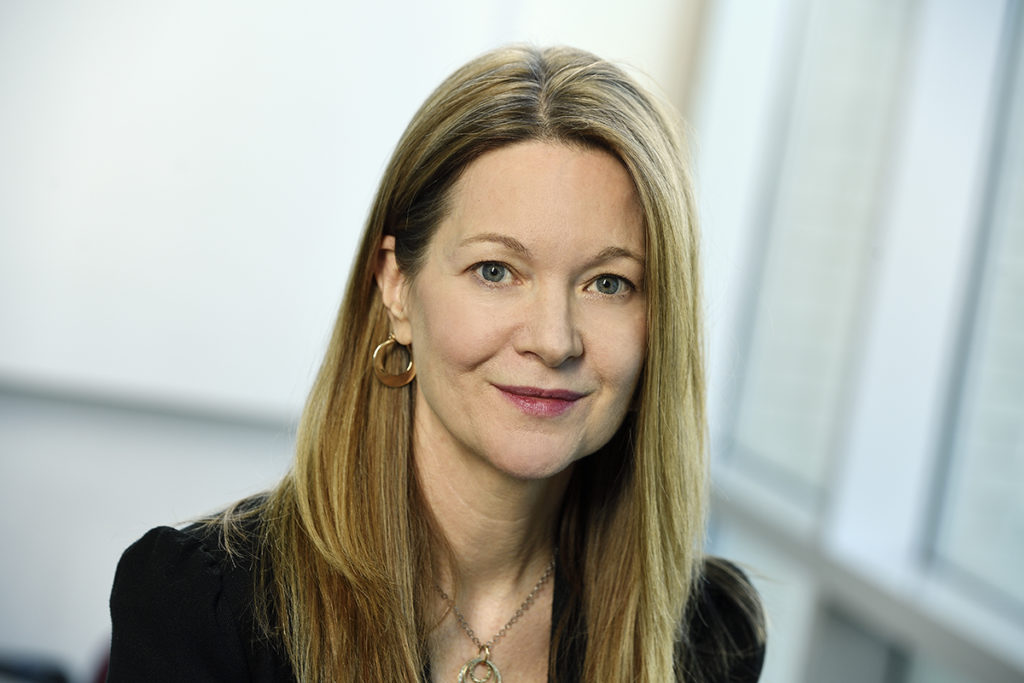 Dr. Denese Shervington, Clinical Professor of Psychiatry at Tulane University School of Medicine, shared her lived experience as a survivor of Hurricane Katrina in 2005. "Some of those effects are still being felt by certain communities," she said. "Today we are under threat of another flood, and I know that the people of New Orleans are really traumatized," she added, referring to the impending advance of Hurricane Barry on New Orleans.
Shervington emphasized how important it is for the public to receive education about the impact of trauma. In her testimony, Shervington referred to In that Number, a New Orleans-based public awareness campaign which was designed to "change the negative perceptions of . . . youth suffering from trauma, and to advocate for psychological and restorative services rather than punitive juvenile justice responses." 
https://www.instagram.com/p/ByHIFRaF74s/?utm_source=ig_web_copy_link
As a result of the In that Number campaign, she notes, "local media began to frame the issue of youth violence with a landscape lens that presented a broader perspective of their lived lives — their personal traumas and community trauma."
"I think about the need for us to inform our communities that trauma is not 'normal.' We can't 'keep it moving.'"

—

Dr. Denese Shervington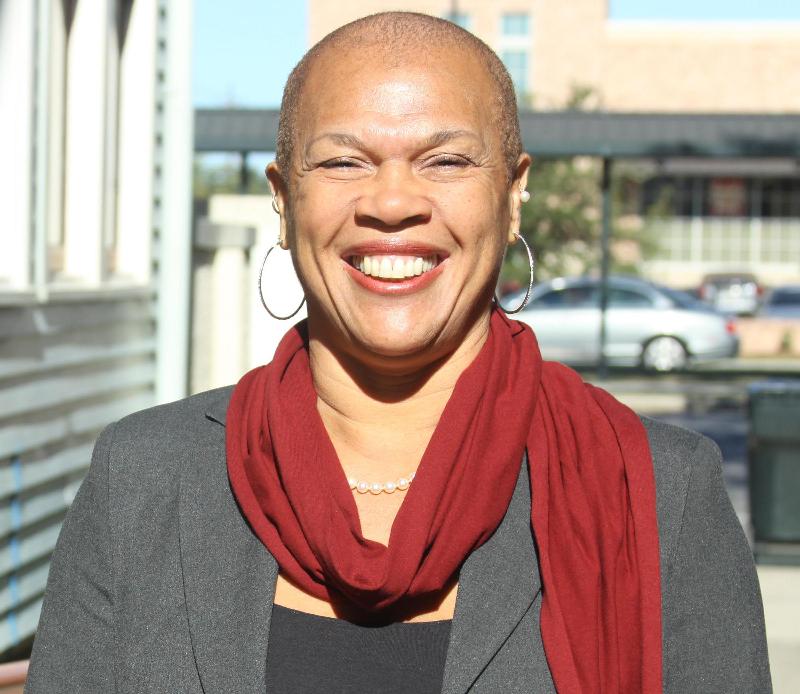 James Henry, former deputy governor & chief of staff for Tennessee, discussed in his testimony how the experience of learning about ACEs permanently changed his worldview and approach to public policy. Reflecting on his own childhood, during which he was surrounded by a large and loving extended family, Henry said, "I realized for the first time, 'Maybe you didn't just 'pull yourself up by the bootstraps.' You had some help.'" 
He detailed his efforts to get the Tennessee state legislature to approve recurring funding to address ACEs, including public relations work, as well as holding a statewide summit to educate policymakers about the human toll and economic impact of unaddressed ACEs. "We set out to make a difference," he said. "We got the appropriations, we got people involved, we adopted. But we need Congress now to help us move forward with this."
"Congress, we need your help."

—

James Henry, former deputy governor and chief of staff for Tennessee
Charles Patterson, health commissioner in Clark County, Ohio, was the final witness to testify, from a county that has been particularly ravaged by the opioid epidemic. He noted how teachers in the county are overwhelmed with the needs of traumatized children. "We've always thought that it was because Johnny was a bad kid, and now we've figured out it's because Johnny's living with stuff that most of us can't even imagine."
Patterson described a county review of drug deaths since 2015, in an effort to conduct a "root-cause analysis." He said, "When you review a mother's death, and then later on, you review the death of the son, and you wonder, could it have been ACEs? Could it have been the trauma that the child lived, with the mom going through drug abuse for many years, and them sitting at the kitchen table doing opioids together? It's very sad when . . . we've got the data that shows us that we are seeing generation after generation."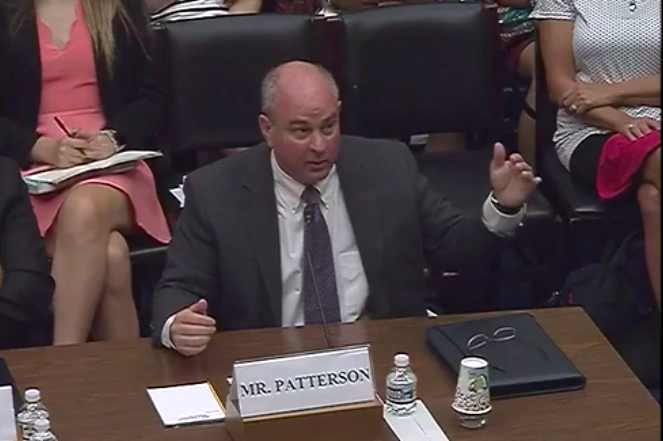 "Let's make everyone provide trauma-informed care. Not everyone will see a doctor or clinician. We need everyone in the community to be able to begin to build the relationships. Because the relationships are key, and that's where the healing can begin."

—

Charles Patterson, health commissioner, Clark County, Ohio
Following the second panel, Committee members made statements and asked questions of the witnesses for nearly two hours, on subjects ranging from racial and historical trauma, to gun violence, to poverty and homelessness, to the role of faith-based communities, to the Medicaid program. 
Members of the Committee shared emotional stories from their own districts about the impact of trauma. Representative Carol Miller (R-W.Va-3) shared that in her home state of West-Virginia, "ground zero" of the opioid epidemic, they are seeing "second and third generation effects."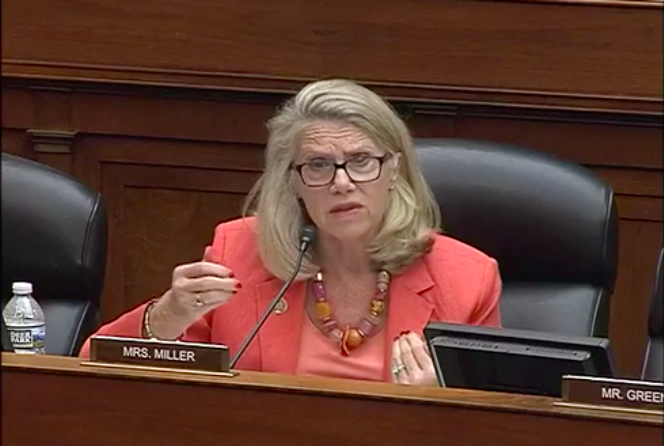 A recurring theme in the hearing was the need for the Federal government to coordinate a comprehensive, cross-sector response to addressing ACEs. In his testimony, Charles Patterson, the Clark County, Ohio health commissioner, said, "What we don't need is the Department of Education saying 'we need to do this,' and law enforcement is going to do this, and the medical community is going to do something else. We need it to be a coordinated effort." 
Dr. Shervington agreed, noting: "It will be really helpful to communities when we have one message, almost one kind of science, about how we're going to go ahead and heal." 
Rep. Debbie Wasserman Schultz (D-FL-23), referred back to Ms. Rygg's testimony to highlight the failures of the U.S. juvenile justice system to identify and respond to trauma.
She added, "Why do we sanitize all of these terms? It's hard to feel the same impact that her testimony had with the term 'ACE.' ACE is benign." 
Wasserman Schultz cited research finding that "half of justice-impacted girls have experienced five or more ACEs," and that "ninety percent of youth in the juvenile justice system have at least two ACEs."
She added that under the Trump Administration, the Office of Juvenile Justice and Delinquency Programs (OJJDP) rescinded guidance about trauma-informed reforms for girls in the juvenile justice system, and OJJDP Administrator Karen Harp said the agency is "too focused on therapeutic interventions" and has "questioned the validity of neuroscience regarding adolescent brain development science."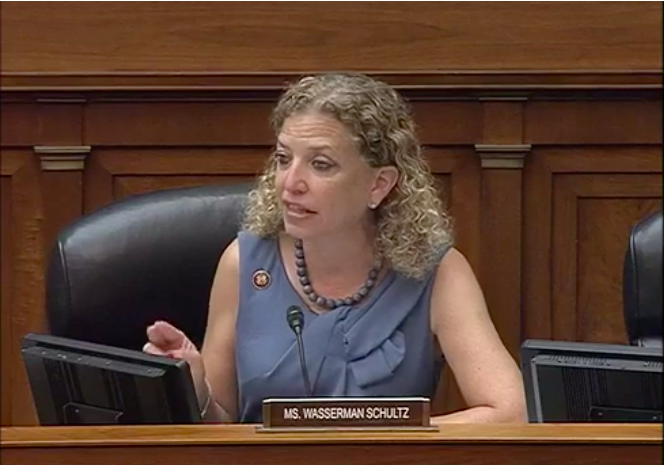 "These are young people in our country that we are categorically failing."

—

Rep. Debbie Wasserman Schultz
Rep. Alexandria Ocasio-Cortez (D-NY) took a moment to acknowledge the role of Reps. Cummings and Pressley in advancing the Congressional conversation, noting: "This is our first hearing on childhood trauma in the history of the Oversight Committee." 
Ocasio-Cortez asked Dr. Bethell to confirm that half of American children have had exposure to one or more ACEs, stating: "I think it's important that we note for the record, and for all people, that childhood trauma . . . is a lifelong issue for people to live with and deal with. Which means at some point in this country, half of an entire generation will be dealing with trauma." 
"When I think about this on a macro level, we think about how intergenerational trauma is not just familial. It is cultural." She added: "The health of our children is a reflection of the health of our nation. How we are going to have to deal with these traumas is a collective responsibility on the public policy across all of our issues."
"This is a macro issue of national consequence."

—

Rep. Alexandria Ocasio-Cortez (D-NY)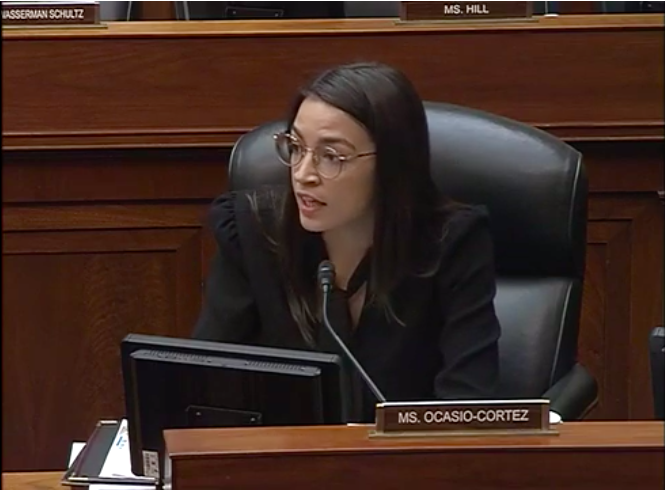 Rep. Glenn Grothman (R-WI) asked questions about the connection between ACEs, suicide, and 'mental illness.' Dr. Houry from the CDC referred to a recent youth suicide investigation from Stark County, Ohio finding that "Among youth that had three or more ACEs, 30 percent of them disclosed suicidal ideation. Those who said they were using opioids plus had those ACEs, eighty percent disclosed suicidal ideation."
Rep. Grothman asked about the percentage of American children who were currently on psychiatric medication. Dr. Bethell responded, "One of the movements we'd like to see is that before we medicate our kids and put numbers of foster kids in on Abilify, which generally can prevent them even engaging in school, first we need to assess and treat the trauma. There are so many needs, and opportunities to deal with the symptoms of mental health rather than just medicate them." 
"Suicide is not just about mental illness," added Houry. "Often times it's precipitated by a traumatic event — loss of a job, partnership issues, economic issues… which is why I think resiliency is so key."
The discussion also focused on the role of social injustice in contributing to child and family trauma. Rep. Ayanna Pressley noted, "We need to be not only coordinated, but equitable" when it comes to addressing trauma. She asked Dr. Shervington, "When the root causes that often lead to trauma are so entrenched in our very infrastructure — discriminatory housing policies, health and racial disparities —how do we respond?" 
Dr. Shervington said: "As public health practitioners, we have to advocate for those kind of policies that are going to look at those inequities and try to fix them. We can't do them alone, and so we have to be in partnership with those in our communities. It has to be community-driven, how these inequities play out."
Another theme that emerged was the need for locally-driven vs. one-size-fits-all approaches to prevent and address ACEs. Bethell said, "We need common element approaches and supports to implement them, with data, measurement, tools, and models, that then can be used by communities where they adapt and make it their own." She added, "Unless we make it our own, nothing will change. This is relational and engagement-based."
Several members of the Committee expressed interest in the Self-Healing Communities Model referenced by Bethell. Funded by the Robert Wood Johnson Foundation and operating in Washington state, the model seeks to "strengthen culture and community capacity by empowering communities to recognize their own ability to make change, and provide a sense of hope that what they do will make a difference." 
Bethell said, "Until the community is engaged in driving the change and working with systems that are receptive to their needs and ideas about what they need, I don't think we'll ever have a sustainable system."
In an era of unprecedented rancor in Washington, the tone of the hearing was remarkably civil. In their opening statements, both Chairman Cummings and Ranking Member Jordan expressed their personal commitment to moving forward on trauma on a bipartisan basis.
"It was the most nonpartisan meeting that I've ever attended," said Dan Press, whose firm provides pro bono lobbying services to the Campaign for Trauma-Informed Policy and Practice (CTIPP). 
"I hope that the hearing helps lay the foundation for meaningful conversations about how we can best support our children who have been impacted by traumatic events."

—

Heather Martin, executive director and co-founder, The Rebels Project
During the upcoming August recess, grassroots trauma-informed community coalitions around the country are mobilizing to keep the momentum from the hearing going. Several groups are planning to hold roundtables and invite their representatives in Congress to learn more about the existing work happening in their communities.
Rep. Cummings is expected to introduce legislation in the coming months. "Rep. Cummings has expressed an intention not just to educate, but to come up with legislation," Press said. "In his testimony, he talked about the need for a comprehensive approach. We're hoping this legislation will offer a comprehensive approach to addressing trauma." 
****
MIA Reports are supported, in part, by a grant from the Open Society Foundations