On June 10, U.S. Senators Shelley Moore Capito (R-W. Va), Dick Durbin (D-Ill), Tammy Duckworth (D-Ill), and Lisa Murkowski (R-AK), together with U.S. Representatives Danny Davis (D-Ill.) and Mike Gallagher (R-Wis.), introduced the Resilience Investment, Support, and Expansion (RISE) From Trauma Act, legislation designed to "increase support for children who have been exposed to Adverse Childhood Experiences (ACEs) and trauma, such as witnessing violence, parental addiction, or abuse."
The bicameral, bipartisan legislation, which has not yet been assigned a bill number, follows on the heels of a fifteen-month GAO (Government Accountability Office) investigation, with a subsequent report released in April 2019. The report does not make any recommendations, but discusses existing Federal initiatives to address trauma, and highlights key challenges facing systems in six states seeking to implement trauma-informed approaches. These include high staff turnover, lack of leadership support, lack of training for clinicians and workers, and inconsistent, insufficient funding sources.
"The weight of trauma, like exposure to violence or drug addiction, can cause emotional scars that follow a child for life. Without help, this can harm healthy development, disrupt school success, and fuel the cycle of violence and poverty."

—

Senator Dick Durbin (D-Ill), introducing the

RISE from Trauma Act

.
Expanding upon the GAO report, the RISE from Trauma Act is intended to increase support to the trauma-informed workforce across systems and settings, and to fund community coalitions to address the impact of trauma.
"Trauma-informed care" is not specifically defined in the legislation, but is referred to in ways that are consistent with the framework in the Substance Abuse and Mental Health Services Administration's (SAMHSA) 2014 Concept and Guidance for a Trauma-Informed Approach document. The GAO report states that "Although trauma-informed frameworks may vary, they generally include interventions as well as a change in culture; thus if an agency or organization is taking a trauma-informed approach, it is incorporating knowledge of trauma and its effects into its policies, procedures, and practices."
The RISE from Trauma Act includes $50 million in funding for a "mental health in schools" program. While the features of this program remain unclear, the GAO report describes efforts in six states to create trauma-sensitive schools by revamping school culture to be supportive of trauma-impacted students. And the legislation refers numerous times to section 7132(d) of the 2018 opioid legislation, the SUPPORT for Patients and Communities Act, which established a Task Force to identify best practices in supporting children and families who have experienced trauma. These best practices include social-emotional learning programs, parent-child programs, and other multi-generational approaches.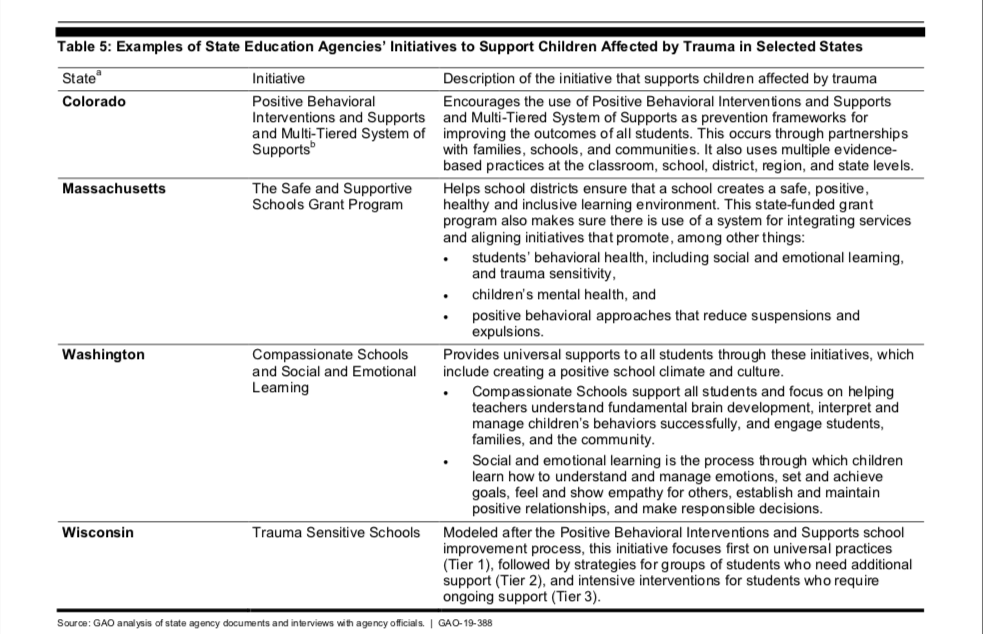 Other key provisions in the RISE from Trauma Act will:
Authorize a $17 million increase in funding for the U.S. Department of Health & Human Services' (HHS) National Child Traumatic Stress Network.

Create a new HHS grant program to fund community-based coalitions to address trauma.

Incentivize flexibility for local, state, and tribal entities to pool federal grants from multiple agencies to serve trauma-impacted children and families across programs and sectors. 

Strengthen the AmeriCorps program and several HRSA health profession training programs to prioritize recruitment and programming in communities that have experienced trauma. 

Direct the National Institutes of Health (NIH) to study and report on its trauma research agenda.

Expand existing National Endowment for the Arts programs for projects that provide "trauma-informed arts opportunities and interventions."
The RISE From Trauma Act was inspired, in part, by the findings of the landmark 1997 Adverse Childhood Experiences (ACE) Study. A collaboration between Kaiser Permanente and the CDC, the ACE Study surveyed 17,000 Californians regarding 10 categories of childhood adversity. The data revealed a "dose-response" relationship between the number of types of adversity and the risk of many physical health, mental health, and social outcomes into adulthood, such as addiction, mental health conditions, violent victimization, homelessness, suicide, and early mortality.
As recently noted in a Mad in America report by Joshua Kendall, "Adverse Childhood Experiences: When Will the Lessons of the ACE Study Inform Societal Care?," in the over two decades since the ACE Study was first published, there has been an ongoing lack of political will to support the implementation of trauma-informed practices across systems and settings. Existing trauma-informed programs and initiatives have arisen largely at the state and local levels.
Yet advocacy efforts to raise attention to trauma on the Federal level have begun to gain significant traction and momentum in recent years. In 2016, the Campaign for Trauma-Informed Policy and Practice (CTIPP), a broad coalition of individuals and organizations, formed to advance ACEs science in policy at all levels of government and society.
In 2017, CTIPP developed and circulated a policy brief on the intersection between opioid addiction and traumatic experience, which heavily influenced conversations on the Hill. That same year, CTIPP successfully lobbied for the inclusion of trauma-informed provisions in H.R.6, the SUPPORT for Patients and Communities Act, opioid legislation signed into law by President Trump in October 2018. 
Last year, CTIPP played an instrumental role in influencing members of Congress to form a bipartisan Trauma-Informed Care Caucus, with the mission to "increase awareness in Congress of Trauma-Informed Care (TIC), the science-based treatment framework used to address the root causes of major public health issues in the U.S."
Dan Press, a Washington, D.C. attorney whose firm provides pro-bono lobbying on behalf of CTIPP, said: "Three years ago, when I first started lobbying on trauma, I'd mention it to Hill staffers, and just get a blank stare. Last year was the first year that there was legislation focusing on trauma. This year when you go out talking to offices, everybody gets it. You see Senators mentioning trauma in their prepared remarks. It's now an issue that seems to have caught fire."
The RISE from Trauma Act was introduced amidst a climate of ongoing public outcry caused by the Trump administration's 2018 "zero-tolerance" policy separating refugee families seeking asylum at the U.S. border. The "zero-tolerance" policy was decried by a variety of groups, including the American Psychological Association (APA), highlighting the long-term traumatic impact on children and families, many of whom were already fleeing violent circumstances in their home countries.
Even after the Trump administration issued an executive order revoking the policy in June of 2018, the APA cited concern that the executive order would further jeopardize the health and well-being of asylum-seeking families, by allowing for their incarceration longer than is permitted by current law.
There are currently no provisions in the RISE from Trauma Act that would specifically address the trauma recovery needs of refugee families impacted by U.S. immigration policy. Ira Cohen, director of issues and communications with the office of Congressman Danny Davis (D-IL), a co-sponsor of the RISE from Trauma Act, said: "To the extent that any policies have led to an increased amount of trauma, it is fair to say that the need for this legislation is greater than ever."
****
MIA Reports are supported, in part, by a grant from the Open Society Foundations