In a new article in Nature Communications, researchers claim that "ketamine can reduce harmful drinking by pharmacologically rewriting drinking memories." But their results were much more nuanced—and nowhere near as positive. In fact, the group that did not receive ketamine had lower levels of alcohol use throughout the study.
Ravi K. Das led the research at University College, London. The researchers based their experiment on a memory-based theory of how problematic drug use develops. In that theory, memories of the rewards associated with drug use are triggered when a person sees the drug, causing them to desire more of it.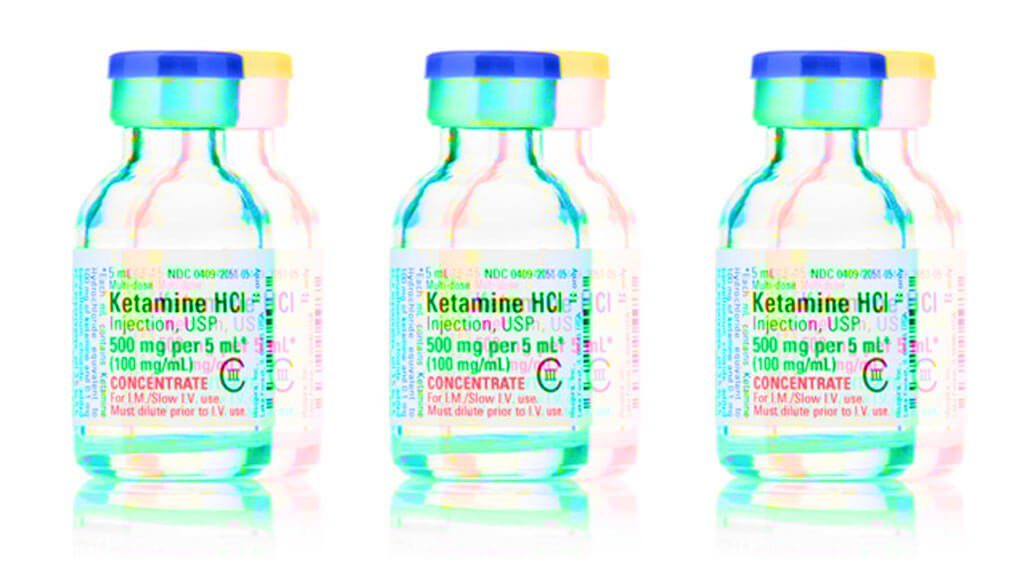 Because memory is theorized to rely on the N-Methyl D-Aspartate receptor system in the brain, Das and his colleagues thought that ketamine, which also affects that system, might have a potential use. They theorized that if someone received a ketamine infusion just after having their alcohol memories triggered, the drug might block the biological system that enables those memories to take hold.
To simplify, this theory is that ketamine might cause short-term memory loss. However, the researchers did not directly test this notion. Instead, they wanted to test the whole idea—that a ketamine infusion might reduce problematic drinking.
To test this theory, Das and the other researchers collected 90 participants (men and women), all of whom were heavy beer drinkers—although none of them had a diagnosis of an alcohol use disorder, and none of them were seeking treatment for alcohol use.
The participants were split into three groups. One group received a ketamine infusion and an alcohol drinking task (the rewarding memory); another group received ketamine, plus a fake memory task (orange juice instead of alcohol); the third group received a placebo infusion (not actually ketamine), but the real memory task.
The study was single-blind, which means that the researchers were aware of whether a person received the drug or placebo. The gold standard is to use a double-blind design so that the researchers are less likely to inadvertently bias the results.
The researchers found that, on average, the group that received both the ketamine infusion and the alcohol task improved much more—they were drinking far less than their baseline levels. But all three of the groups did better over time, and the group that received the ketamine infusion and the alcohol task was doing worse than the other groups at almost every time point. They were drinking more than those in the group that received ketamine and an orange juice task, and more than those in the group that did not even receive any ketamine at all.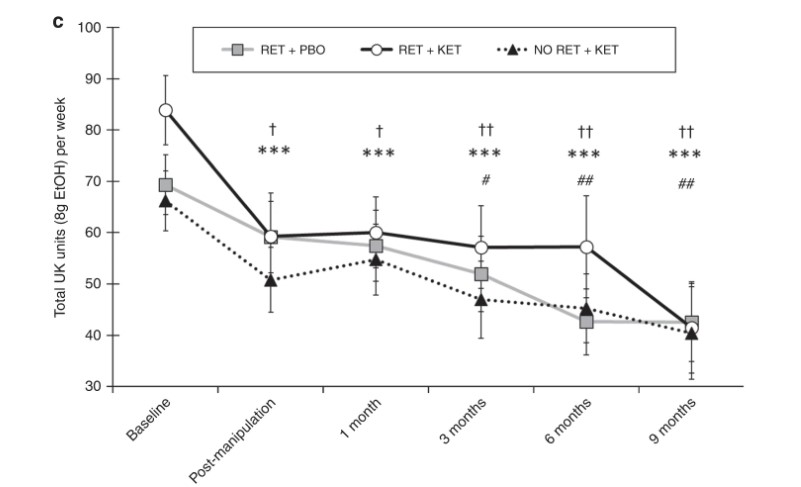 This table shows that the group that received ketamine and the alcohol memory task (RET + KET) began the study with an unusually high amount of drinking compared to the other two groups. You can see that RET + KET are, on average, drinking higher total units of alcohol at almost every time point. By the endpoint of the study, all three groups are, on average, drinking about the same amount of alcohol.
The researchers interpret this finding to mean that ketamine is successful—this group improved more over time, after all. But this finding is what would be predicted by chance.
One statistical phenomenon that occurs by chance is called regression to the mean. In that phenomenon, groups that start at an abnormally high (or low) point on any scale are more likely to return to the average over time. For instance, let's say an event occurs—like a wedding, or a holiday celebration, during which you drink much more than usual. You are most likely to return to your regular drinking amount afterward. And that's what we see here.
The researchers do acknowledge this:
"We cannot rule out regression to the mean as a contributing factor to the observed reduction in alcohol consumption."
However, the researchers assert their belief that regression to the mean is not responsible for their results, calling that common statistical phenomenon "highly unlikely."
The researchers write that "The subsequent, lasting clinical benefits observed suggest that this one-session intervention approach should be pursued in the future treatment of alcohol-related disorders."
****
Das, R. K., Gale, G., Walsh, K., Hennessy, V. E., Iskandar, G., Mordecai, L. A., . . . & Kamboj, S. K. (2019). Ketamine can reduce harmful drinking by pharmacologically rewriting drinking memories. Nature Communications, 10(5187). DOI: 10.1038/s41467-019-13162-w (Link)