Throughout the year, the peer-reviewed journal Frontiers in Psychiatry has published multiple studies on the use of antidepressants for children and adolescents—specifically on whether there is any evidence of benefit despite the well-documented harms. These studies have provided support for the notion that antidepressants are still associated with increased suicides in youth and that there is little, if any, benefit of using the drugs.
Now, Michael P. Hengartner, at the Zurich University of Applied Sciences, Switzerland, has written an editorial in Frontiers in Psychiatry which collates the information published on this topic this year. According to Hengartner:
"The use of antidepressants in children and adolescents has a troubled history, for almost all principles of good evidence-based medicine were violated or compromised. It is a history characterized by systematically biased research, financial conflicts of interest, and professional recklessness."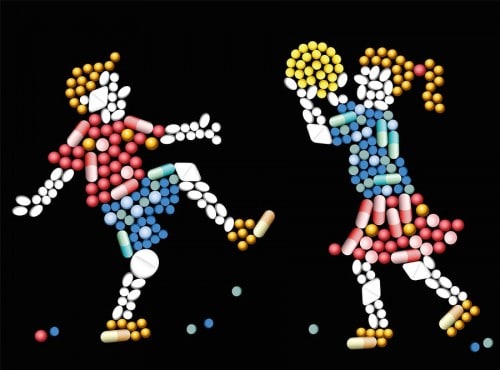 Hengartner adds that these issues were acknowledged as far back as the early 2000s. He notes that in 2004, the top-tier medical journal Lancet contained an editorial titled "Depressing Research," in which the Lancet editors wrote:
"The story of research into selective serotonin reuptake inhibitor (SSRI) use in childhood depression is one of confusion, manipulation, and institutional failure."
Hengartner also documents the problems with the pediatric efficacy literature: "It is now well-established," he writes, that the outcome research was almost entirely industry-sponsored; negative trials were not published, so only positive results reached the public, and published trials were ghostwritten. These ghostwritten studies report only positive outcomes, and leave negative outcomes out of the reports. They also don't report (or misclassify) the prevalence of adverse effects, especially the now-well-documented increased risk of suicide in children taking antidepressants.
The MHRA and FDA recognized some of these issues as far back as 2003 and 2004, respectively, when both regulatory bodies warned the public that antidepressants increase suicidality in children.
Despite these warnings, Hengartner reports that the use of antidepressants in children has skyrocketed in the past 15 years.
Antidepressants Still Linked to Increased Suicidality in Youth
Some researchers have argued that the FDA "black box" suicide warning discouraged the use of antidepressants, and thus the increased suicide rates in children are actually caused by reduced antidepressant use. However, the evidence tells a different story.
Hengartner points the reader to several studies published in Frontiers in Psychiatry this year. In the first, Martin Whitely, Melissa Raven, and Jon Jureidini examined the public health data from Australia. They found a picture consistent with the increasing use of antidepressants linked with increasing suicide rates in children and adolescents (Mad in America also summarized this study).
Whitely, Raven, and Jureidini write:
"There is clear evidence that more young Australians are taking antidepressants, and more young Australians are killing themselves and self-harming, often by intentionally overdosing on the very substances that are supposed to help them."
By the numbers: Australian antidepressant prescriptions to youth increased by 66% between 2008 and 2018. Australian youth suicides increased by 49% during the same period. Intentional overdoses in youth increased by 98% between 2006 and 2016.
Whitely, Raven, and Jureidini also address how research on the prescription rate and the suicide rate has been misleadingly harnessed to tell a false narrative. For instance, they describe an influential ecological study that falsely associated a drop in prescription rates with an increase in suicides. In fact, they write, the opposite was actually true:
"In 2004, the year in which suicide rates rose, there was no significant decrease in SSRI use; this did not occur until 2005 when youth suicide rates actually fell."
That is, suicide rates rose before SSRI use fell. Once SSRI use decreased slightly the next year, suicide rates also decreased.
The Evidence for the FDA's Black Box Warning: Still Valid
Additionally, Hengartner points the reader to a study by Glen I. Spielmans, Tess Spence-Sing, and Peter Parry. They reviewed the evidence used by the FDA to issue the "black box" warning that antidepressants increase suicidality in youth.
They concluded that "the Black Box warning is rooted in solid data, whereas attempts to claim the warning has caused harm are based on quite weak evidence." (Mad in America also summarized this study.)
Spielmans, Spence-Sing, and Parry reviewed the data from the US, concluding that antidepressant prescription increases were linked to increased rates of suicide in youth.
By the numbers: The researchers note that the FDA hired a blinded panel of suicide experts at Columbia University to review the data. Those experts concluded that antidepressants increased the risk of suicide by 71% and the risk of aggression by 79% compared with placebo.
Antidepressants: Ineffective for Children
Hengartner also summarizes recent evidence regarding whether antidepressants successfully reduce the symptoms of depression in youth. For instance, a study by Daniel J. Safer and Julie Magno Zito found that "ADM short-term trials (usually lasting 8–12 weeks) for youth diagnosed with MDD reveal no meaningful benefit for drugs over placebo in children and a marginal benefit for drugs over placebo in adolescents." (Mad in America also summarized this study.)
The researchers also looked at longer trials, which suffered from numerous methodological problems such as high drop-out rates, lack of reporting important outcomes (such as relapse rates), and lack of placebo control after the short-term period has ended.
Perhaps most problematic, according to the researchers, is the use of placebo substitution trials. These studies enroll only people who have already responded well to an antidepressant. They randomly assign half of them to continue taking the drug, while the other half are abruptly switched to placebo. The resulting withdrawal effects from abruptly stopping an active drug are then reported as "relapse," and the study is framed as showing that antidepressants have a relapse-preventing effect.
The authors write that if one does not include these unethically designed studies, the evidence shows no benefit for antidepressants in children, and a statistically significant—but not clinically significant—benefit in youth.
By the numbers: In short-term trials of newer antidepressants, youth improved by 60% on average when taking a placebo versus 65% when taking the antidepressant—a clinically meaningless difference, according to Safer and Zito.
In summary, according to Hengartner:
"Although antidepressant use in children and adolescents has increased substantially over the last 10–15 years, convincing evidence that the benefits outweigh the risks is lacking and treatment-emergent suicidality remains a major concern."
****
Hengartner, M. P. (2020). Editorial: Antidepressant prescriptions in children and adolescents. Front. Psychiatry, 30 October 2020 | https://doi.org/10.3389/fpsyt.2020.600283