In my 2013 Mad in America article "Does the psychiatric diagnosis process qualify as a degradation ceremony?" I laid the groundwork for this current article charging that psychiatry functions as a conspiracy theory-based cult.
Psychiatry has been tasked by our culture to provide a cadre of ritual specialists to serve as deviance enforcers via a degradation ritual in the name of medicalizing and labeling the occurrence and expression of human emotional suffering, which society dictates must fall between proscribed limits of acceptability.
To do that, a conspiracy theory masquerading as scientific medical dogma proclaims that the cause of emotional suffering is to be found within the bounds of the patient's physical body, brain, and genetic inheritance. The cause of human emotional suffering according to this conspiracy theory does NOT exist outside the patient, or in the patient's injurious exposure to traumatic societal injury from violence, war, famine, disease, racism, sexism, misogyny, economic, criminal, or environmental injustice, class stratification and discrimination, poverty, bigotry, and more.
The psychiatric cult uses its conspiracy theory of the cause of human suffering to let society off the hook while it enforces society's oppression.
That's the big lie that is found at the heart of any well-formed conspiracy theory—that the harm that is being inflicted by the cult leaders (the APA) and their followers (25,000 psychiatrists) is to be found elsewhere—in each patient's defective brain.
As such, conspiracy theory-based cults always blame the victims of their abuse and never take responsibility for the harm they inflict.
Now I'd like to lay out how I have been an eyewitness to this happening for the past 55 years, starting when I first qualified to be held legally insane in the eyes of psychiatry, but gratefully avoided their net and did fly free.
I became a therapist in 1980 and in 2012, I began writing for Mad in America.
I wrote based on my own lived experience of extreme states, my doctoral research on John Weir Perry's Jungian Diabasis House, and my years of working in a similar public sector medication-free, first episode, extreme states sanctuary called I-Ward.
I also wrote based on my decades working in the real world of a mental health system with adults and children.
The 20 bed I-Ward was part of a large SF Bay Area County public sector mental system, where I worked as a full-time licensed therapist for 27 years in the County hospital, on a mobile crisis team and in adult and children clinics.
Every day of those many years I worked on treatment teams alongside psychiatrists.
But because of my own un-treated and un-medicated lived experience of a year of harrowing extreme states when I was in my 20's, plus my Jungian/Laingian orientation, I never believed what the MD psychiatrists believed about the causation of human emotional suffering, nor in the harmful ways that they practiced to go about relieving suffering based on those untrue beliefs in psychiatric disease/disorders.
Those beliefs are codified in the psychiatric "Bible," the DSM, that over 25,000 psychiatrists in the US turn to daily to label their patients.
I always believed the psychiatrists I worked with held a warped and untrue set of unproven assumptions that served as a shield against the truth. The truth, as I believed—that a complex psychosocial trauma-informed paradigm was able to explain the cause of emotional suffering.
From that causation framework, proven humanistic understandings and approaches of responding to the wide array of human emotional suffering were possible. From that framework, the conspiracy theory of psychiatry, which says something is wrong with a person's brain, biology, and genetics, is refuted by countering that something traumatic has happened to cause the person's emotional suffering. I address this crucial distinction between truth and conspiracy theory in my MIA article "What's wrong with you? Nothing. What's happened to you? Something."
In the real world of how the psychiatric conspiracy theory of inherent disease causation impacts lives, my eyewitness evidence can be valuable in countering the falsehood and its harmful impacts on real people, as in this example.
A mother brought her six-year-old son to see me for therapy because she was concerned and wanted to try family and individual therapy after a child psychiatrist had diagnosed him with ADHD in 20 minutes and prescribed Ritalin. As the boy sat on the floor, the doctor reached into his desk drawer and pulled out a plastic replica of a human brain, leaned over and pointed to a spot on the brain and told the boy, "Right here is where your brain is not working properly. But the medicine I'm going to give your mother to give you every day will fix your brain, ok?"
That MD was a true believer. He had internalized the theoretical lie that he then used to justify giving a six-year-old child powerful methamphetamine salts to fix his "broken brain" chemistry, and which stigmatized the boy's self-identity as having a sick and defective brain via the ghoulish plastic brain demonstration.
So, hearing my psychiatric co-workers' beliefs in bio-genetic, chemical imbalance causation proclaimed every day about people of all ages, like that little boy I served in therapy, always felt to me like I was being exposed to an irrational and intricate, self-serving set of conspiracy theories. Those bogus dogmas, wrapped in unvalidated scientific authority, were used to justify and legitimize the wholesale medicating of countless unwitting victims
It was obviously true that psychiatrists did not have medical tests to validate a diagnosis as other medical specialties did. When you got a DSM diagnosis in any of the county treatment settings it wasn't ever based on a genetic test, a blood test, an MRI or imaging test. No, it was based on the accumulated number of so-called overt behavioral symptoms being guessed at and matched from the array of DSM diagnoses.
It wasn't the exception, but the rule that almost anyone who had been in the system for over a few months was likely to have received two or three competing diagnoses from the various staff who had evaluated them!
Those same proclaimed-to-be-proven theories and diagnostic categories were both falsely created and then blindly internalized as true by the members of the cultic psychiatric profession, from within the closed-system echo chamber of their professional guild and academic apparatus.
The injurious "best-practice treatments," such as medication for all, even for small children, and the use of ECT all grew out of the poisonous soil of the psychiatric, reality-denying conspiracy theories of there being medical disease disorders called schizophrenia, bipolar, ADHD, etc., where none actually existed.
The head of the APA, Dr. Lieberman, in defending the psychiatric cult and its unfounded conspiracy etiology/causation theories, publicly castigated MIA and other realists as being fanatical heretics who dared to challenge the APA flat-earther canon of debunked theories. He wrote that critics of the psychiatric disease model are guilty of "Spreading scientific anarchy!" when we hold up the cultic fraternal practices and beliefs of psychiatrists to the light of day.
I'm glad that one of the first articles I wrote for MIA was titled "I Don't Believe in Mental Illness, Do You?"
There, as in this article, I tried to boil it down to the power struggle between competing belief systems that absolutely have gigantic consequences when they get operationalized as public policy. There is no other medical specialty like psychiatry where its theoretical underpinnings result in patients dying over 20 years earlier than the national average, for "disorders" like schizophrenia, bipolar, and ADHD that themselves present no fatal biological disease! For me, that is damning proof that psychiatry functions like a cult, fed by deadly conspiracy-style theories that are still defended with the fanatical zeal of those like Dr. Lieberman.
Surely the dramatic public events of recent days at the Capitol bring us all closer, through our sorrow and outrage, to seeing the catastrophic results of conspiracy theory-based cultic, destructive power.
Thankfully those tragic, bitter fruits do not fall from the trees of knowledge laden with genuine, common-sense perceivable truth.
Ascertaining such truth is possible.
But the incredibly powerful psychological and social forces that can work to establish false narratives about what is real, can coalesce to form a cultic environment where those zealously embraced theories end up creating a powerful cultic mass following that never ends well, despite the cult follower's vaunted claims of authenticity.
I see now that psychiatry functions with the aura of unfounded and deadly conspiracy-laden theories, which form the basis for a cult-like social institution with incredible power to negatively impact those it was tragically tasked to serve.
I'd like to conclude this article by also saying, based on my decades of personal eyewitness exposure to the psychiatric world, that I believe it's possible for a transformative way forward. That way must require psychiatry to take responsibility for its history and actions, and to chart a new course that drops the unverified bio-genetic foundational conspiracy theory and the injurious treatments that are based on it.
It is true that many powerful social, national, political and religious entities have changed course from their conspiracy-laden unforgivable legacies in the past—because, looking back, we see that although human history is a ghastly parade of mostly war, genocide, violence, incredible cruelty, and mayhem, there are intervals where the light of human-hearted love and the reckonings of inescapable accountability of imposed justice did break through.
Psychiatry did stop doing mass eugenic sterilizations and lobotomies, the Catholic Church did stop torturing women and perceived heretics during the Inquisition, the forces of the Union did fight to end slavery here, women finally did succeed in winning the right to vote, the war was won to defeat Nazi Germany and stop the Holocaust, the civil rights and LGBT rights movements have achieved tenuous movement forward, and the worldwide collective human rights movement that includes rights for people impacted and harmed by the psychiatric system hegemony is displayed here on MIA and throughout the world.
The stakes for us all are very high.
If we continue to view each other through the conspiracy theory lens as demonic enemies, we may not survive.
The most glaring example of this risk is in knowing that tens of thousands of nuclear weapons are poised to be launched at a moment's notice upon the whim and distorted conspiracy theory perceptions of men such as Putin, Kim Jong-un and Trump.
We can only work to replace them with leaders who aren't blinded by conspiracy theories and can hopefully see some of the necessary, fundamental wisdom expressed in this seemingly too simple basic plea: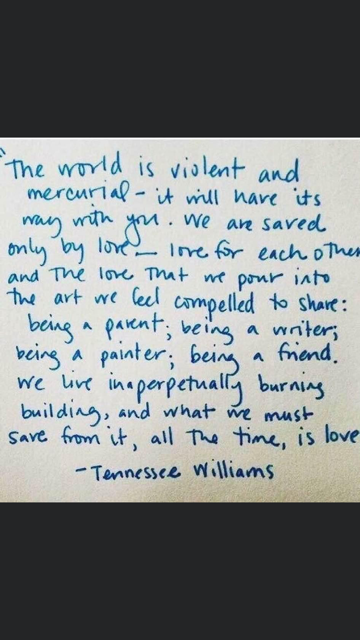 ***
Mad in America hosts blogs by a diverse group of writers. These posts are designed to serve as a public forum for a discussion—broadly speaking—of psychiatry and its treatments. The opinions expressed are the writers' own.
***
Mad in America has made some changes to the commenting process. You no longer need to login or create an account on our site to comment. The only information needed is your name, email and comment text. Comments made with an account prior to this change will remain visible on the site.