A recent article reviews the history and development of the idea of community inclusion for people diagnosed with serious mental illnesses. The community inclusion movement articulates inclusion as a legal and human right, highlighting research showing that increased opportunities to live a meaningful life within a community "enhance general medical, cognitive, and mental health and wellness." As the author, Mark Salzer, a professor of public health at Temple University, notes:
"It is well documented that individuals with serious mental illnesses are disadvantaged in their employment, educational attainment, social relationships, family relationships, and other areas, which are all social determinants of health."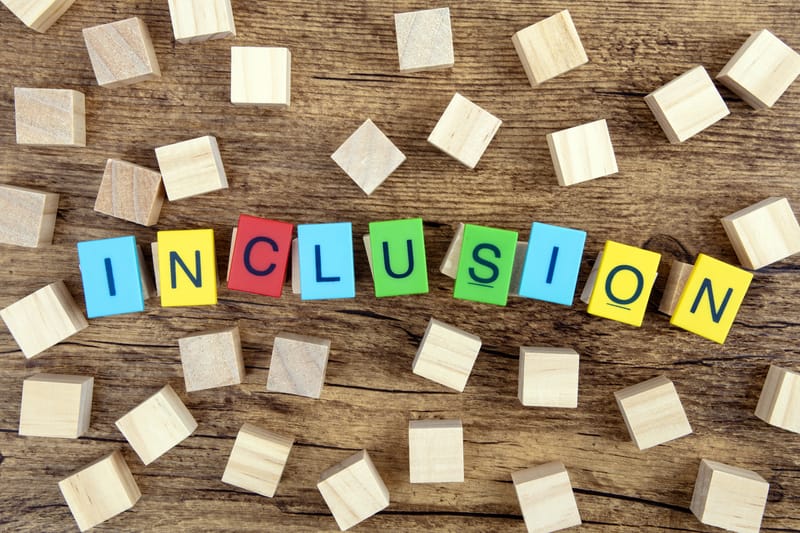 The movement to include people facing mental health challenges in their communities has been shown to benefit both individuals and society as a whole. Mere physical integration, however, is not sufficient to achieve a sense of stability or belonging – and supports are needed to achieve psycho-social integration.
Effective supports include, for example, arts participation, as in the Open Arts Essex program in the UK, which provided arts courses and was shown to improve well-being and social inclusion; and a befriending program that benefitted in the recovery of people with enduring mental illnesses.
Before the Americans with Disabilities Act (ADA), institutionalization was standard care for people with intellectual disability and serious mental illness. The move to "normalize" the lives of people with mental challenges, which emphasized the need for living conditions that mirrored "everyday living" as closely as possible, began in Denmark in the 1950s, when parents of institutionalized children responded to the isolation and discrimination their children faced in society.
The 1960s saw the emergence of the independent living movement, which emphasized "empowerment, choice, and control over resources among individuals with disabilities." These movements coalesced into the disability rights movement that brought about the ADA, which required equal opportunities for disabled people to "benefit from all programs, services, and activities (e.g., education, employment, voting, transportation, recreation, etc.)." In 1999, the Supreme Court confirmed the application of the ADA to persons with serious mental illness, concluding that "unnecessary institutionalization" is a form of discrimination prohibited by the ADA.
The Department of Justice interprets the goal of the ADA as providing "individuals with disabilities opportunities to live their lives like individuals without disabilities." This focus on opportunity and rights is central to the philosophy of the independent living movement.
The rights-based approach "emphasizes a societal commitment to policies, programs, and practices that maximize opportunities for people with disabilities to choose and control their activities … and their interactions and connections with non-devalued people."
This orientation moves beyond mere integration by aspiring to true community inclusion. Indicators of community inclusion include policies, programs and practices, and environments that provide maximum choice and control for people with disabilities.
Inclusion benefits societies at large as well as individuals. In terms of individual-level outcomes of true community inclusion, the author identifies community presence, increased community participation, altered identities, physical, cognitive, and mental health benefits, including reducing perceived stigma.
Further, as Amartya Sen and Martha Nussbaum have argued, diverse and inclusive communities are stronger and healthier communities, which supports a nation's economic development. Thus to grow stronger societies and address the social determinants of health that have historically disproportionately affected people with mental health challenges, mental health systems must incorporate community inclusion principles – not mere integration.
****
Salzer, M. (2021). "Community Inclusion and Social Determinants: From Opportunity to Health." Psychiatry Online published 3/18/21. (Link)