A new study, published in Frontiers in Psychiatry, examined public attitudes toward psychiatric coercion across varying contexts. The results suggest that public support for coercion in psychiatric care increases when individuals in crisis display signs that are perceived as dangerous. Alternatively, when there is a high degree of familiarity with psychiatric treatment, people tend to show less approval for coercive treatment.
These results highlight how stigmatization plays a central role in maintaining coercive practices in mental health care. If stigmatization leads to the approval of more severe and coercive restraint measures, then preventative interventions to reduce coercive practices should include popular education programs targeting the reduction of bias towards individuals with several mental health issues.
"Approval of coercion might be a negative consequence to people with mental illnesses as a result of labeling dangerousness to them. However, the association of stigmatization of persons with mental illness and the approval of coercion is currently under-researched.," wrote the authors, led by Christian G. Huber, a researcher at the University Psychiatric Clinics Basel in the University of Basel.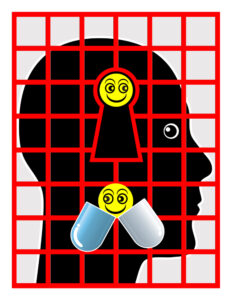 The use of coercive psychiatric practices has received increased attention in research and among advocates internationally. In a recent report, the WHO has called for "considerable" changes in the use of forced admission and treatment due to increasing reports of unsafe conditions in psychiatric treatment. Another report published in Epidemiology and Psychiatric Sciences shows that coercive practices lack empirical support and violate human rights.
There is increasing evidence that coercive practices result in negative health outcomes. For example, a past study shows that physical restraints are associated with dehumanization, loss of self-determination, and mistreatment.
Qualitative examinations of coercion and dehumanization in mental healthcare also show that individuals who are involuntarily committed tend to navigate complex experiences around autonomy, primarily in needing to decide whether to accept institutional structures and language or resist them. Additionally, there is an added layer of oppression in the use of coercive practices when multiply-marginalized individuals are involved— an example of this intersectional discrimination is seen in the experiences of African refugees and immigrants in Canada who tend to be at higher risk for psychiatric coercion than other marginalized communities.
Although coercive measures remain widely in their use, there is insufficient evidence for their short-term effectiveness in reducing danger. Moreover, many risks are associated with coercive practices, including negative emotions (i.e., fear, anger, shame, helplessness), traumatization, negative impacts on the therapeutic relationship, and poor adherence in therapy.
An equally important negative effect of coercive practices is a potential increase in stigmatization, which creates added barriers for individuals with mental health concerns, such as added discrimination and public stigma.
"Stigma is often described as a 'second disease' because the fear of rejection is perceived just as stressful as the condition itself," the authors write.
The research team conducted quantitative analysis on a representative survey of Switzerland's general population (n = 2,207). Participants received a vignette describing a person with externalized psychological symptoms and were asked to decide whether coercive measures were an acceptable approach for the individual.
Research participants were given three options in response to the vignette (involuntary hospitalization, involuntary medication, and seclusion) and asked to rate each approach on a 4-point Likert scale ranging  from "agree strongly" to "disagree strongly." In addition, other measures were included in the study, including the desire for social distance, perceived dangerousness, and familiarity with psychiatric treatment.
After conducting a logistic regression analysis examining approval of coercion regressed by contextual factors within the vignettes, the researchers found that approval for coercion in the general public tended to increase when fictitious characters in the vignettes displayed dangerous behavior or symptoms of a psychotic disorder, were perceived as dangerous, or when respondents perceived that coercive measures would benefit the character.
Results also showed that approval for coercive treatment decreased when respondents had a degree of familiarity with mental illness, either through first-hand experience with psychiatric treatment or through proximity to a loved one who has received psychiatric treatment.
This study provides evidence that stigmatization plays an influential role in the public perception of individuals with severe mental health concerns and the approval of coercive measures in the case of psychiatric crises.
"Reducing stigmatization and misconceptions about the dangerousness of persons with mental illness and increasing familiarity with psychiatric patients seem a vital and essential task for clinical psychiatry to further decrease coercive measures in the treatment of persons with mental disorders," the authors write.
Huber and colleagues recommend that reducing stigma and increasing familiarity with mental illness in the general public is an integral consideration for psychiatry in decreasing coercive measures.
****
Steiger S, Moeller J, Sowislo JF, Lieb R, Lang UE and Huber CG (2022) Approval of Coercion in Psychiatry in Public Perception and the Role of Stigmatization. Frontiers in Psychiatry. 12:819573. DOI: 10.3389/fpsyt.2021.819573 (Link)