Author's Note: On November 7, 2014, Dr. Allen Frances began a series in Psychiatric Times titled "How to Fix the Broken Mental Health System: Call for Suggestions". My list of recommendations (along with those from a diverse group of activists and practitioners) was included in his introductory article. During the time that the introductory piece was being prepared for publication, Natalie Timoshen, managing editor of Psychiatric Times asked me, "would you be interested in writing a 1200 to 1500 word article expanding on your 10-point recommendations: I think it might be valuable to our readers (practicing psychiatrists) to get a mother's perspective on what's needed?"
So I wrote "A Tale of Two Cousins" to give practicing psychiatrists a mother's perspective. Ms. Timoshen prepared it for publication and sent me a contributor agreement. But then less than a day later, she sent another message with the bad news that she had to "withdraw our acceptance to publish your essay." She explained that although she found my story "compelling and well-written" and she "loved it," her board members were not in favor of publication. When I asked Ms. Timoshen if my essay was too threatening to psychiatry, she replied that a "human-interest sort of story did not fit with the direction [our Editorial Board members] want to take."
I am grateful to Mad in America for giving voice to Kimmy's and Jake's stories, and to Kimmy, for giving me permission to share some of her journey here.  And if there are any practicing psychiatrists reading this piece, welcome! I believe that Kimmy and Jake have an important message for you.
—
What would you do if you opened your inbox one morning and found this message:
"Maybe writing this won't do any good but I have to reach out somehow. My meds aren't working like they're supposed to. I am having crippling anxiety attacks all day every day right now. I don't know how to function normally anymore. I spent several hours tonight crying, as it stands I can hardly see this screen through my tears. I am praying for relief and I don't know what to do.

I feel like I'm dying inside. My life is going nowhere, I feel like the most pointless person alive. The best years of my life are being eaten up by this awful mental health bullshit. I'm through with it. One way or another I have to be free of it.

If you can think of any starting points, please tell me. I can't do this anymore. I'm at the end of my rope."
If you're like me, you would immediately try to contact the sender and see if she's still alive. I did, and she was. I had never met her, this young woman named Kimmy, but she was the first cousin of my son Jake, who had died four years previously after a struggle with his own "awful mental health bullshit."
Kimmy had been thoroughly engaged with the mental health system in Michigan for ten years. Why, with all that help – all the "helpful" diagnoses and treatment – why did she want to be free of it? After all, if "mental illness is an illness like any other," and if she was fully complying with her treatment, then she ought to be becoming increasingly healthy and hopeful, right? In fact, just the opposite was happening.
As a despairing teenager, Kimmy had her first encounter with the mental health system, was diagnosed with major depressive disorder and given a prescription for paroxetine. It wasn't long until Kimmy experienced mania. Instead of exploring the mania as a negative effect of the paroxetine, she was given a new diagnosis, bipolar disorder, and prescribed more drugs. She then experienced hallucinations. Again a bad reaction to the drugs was not suggested. No, instead Kimmy was labeled with yet another mental disorder – this time schizoaffective disorder.
Kimmy had entered the mental health system as a depressed teen, and ten years later, sicker than ever from a cocktail of psychiatric drugs and dying of hopelessness, she reached out to a stranger for help.
What would you suggest for Kimmy?
I invited her to come live with my family for a while. Two of the resources she found very helpful in her temporary home with us were:
A copy of Robert Whitaker's "Anatomy of an Epidemic" and
Being welcomed into a home church of fun-loving people her age.
Kimmy now had the advantage of accessing some of the recommendations I'd published on Psychiatric Times for how to fix our broken mental health system (the full list can also be seen at the bottom of this post), namely number 2 – a spark of hope for a life worth living. Also important, Robert Whitaker's research allowed her to question the validity of her diagnoses along with her identity as a "mentally ill girl" with a "sick brain." She realized that many of her problems, maybe even most of her problems, were iatrogenic. Her new group of friends embraced her unconditionally and appreciated her unique self. They did not pity her as someone with a diseased brain. She had a therapeutic community, and by that I mean a community of loving receptivity. She got a lot of hugs.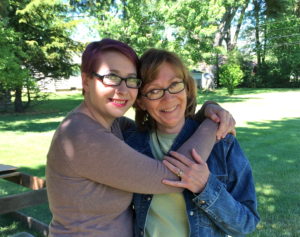 With the help of her supportive mom and a compounding pharmacy, Kimmy began to slowly taper off her psychiatric drugs. It was excruciatingly difficult. (Mental health professionals are often shockingly ignorant about the challenges of withdrawing from psychiatric drugs, usually misinterpreting severe withdrawal symptoms as a return of mental "illness" or the addition of a new illness.) Fortunately, two and a half years after Kimmy first reached out for help, she is now free of psychiatric drugs and enjoying balance and clarity. Now, when she has a bad day, it's a bad day, not a symptom of "mental illness." She is living with friends. She has a job she loves. Her boyfriend enjoys inventing creative ways to prepare healthy food for them. She has hope. She has a future.
Kimmy's cousin, my son Jake, was robbed of hope by the mental health system. In the last year of his life, he stood before a common pleas judge for committing a nuisance crime. The judge had letters of endorsement from Jake's therapist and from the OSU School of Music professor who was helping Jake prepare for an audition with the U.S. Army Band. Tragically, maddeningly, the judge chose to view Jake solely through the lens of a consultant psychologist who pronounced him "mentally ill" based on a single conversation with him. Any of his past accomplishments or future potential became inconsequential. It did not matter that he was a college graduate, talented artist, gifted musician, or that he was creative, kind, quirky, and a bit too sensitive for his own good. Judge Bender sneeringly told Jake to "have more realistic expectations" for his life and promptly sentenced him to six weeks in the county jail.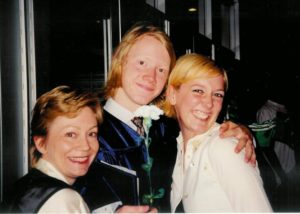 Over those six weeks in jail, Jake decided to heed the judge's advice. He gave up on any dreams and goals. When he was released, he told us that he might as well be homeless. Six months later, on April 5, 2008, he died as a homeless man.
Allen Frances bemoans that so many "mentally ill" are sentenced to jail. My son's jail sentence was a trip to the beach compared to the other life-destroying sentence­­ meted out by Judge Bender. That sentence: incurably mentally ill – damned to a limited life due to impairment – worth less.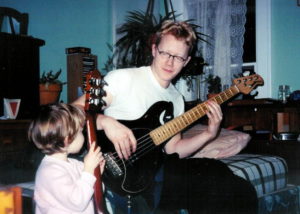 I believe there are two things that might have saved Jake. One is hope. Hope that life can get better. The other thing that might have saved him is truth. There is no hope without truth. Can we please start telling the truth about psychiatric diagnoses? Please look at the work and research of psychiatrists who have achieved real success in empowering people diagnosed with psychotic disorders to reclaim lives worth living. Please, let's look at the work of psychiatrists like Marius Romme, Jim van Os, Loren Mosher, Pat Bracken, William Glasser, Birgitta Alakare, G. L. Harrington, Sandra Steingard, John Weir Perry, and Doug Ziedonis.
Equally important, people who have overcome diagnoses of schizophrenia are a rich resource of life-saving information. If you have not already done so, please explore the wisdom of former schizophrenia patients like Ron Coleman, Eleanor Longden, Will Hall, Jacqui Dillon and Kevin Healey.
Psychiatrist Daniel B. Fisher has both professional credentials and lived experience as a former schizophrenia patient. He conducted schizophrenia research at the NIMH (he also has a Ph.D. in neurobiology) before going to medical school and completing his psychiatry residency at Harvard. As a young man he was involuntarily hospitalized three times for his psychosis. We can learn a lot from his experience.
When a psychiatrist tells a young adult that they have a life-long mental illness, hope crumbles. They are often told that their mental illness is like diabetes. This is not a fair comparison. Diabetes is due to a defect in a body part, the pancreas…. On the other hand, mental illness literally means that your mind is sick. It is as if your very personhood is declared sick. Your mind, unlike your pancreas, is not just a body part…. Your mind enables you to relate, set goals, dream, and have hope. If you and the people around you believe that your mind will be defective and sick for the rest of your life, you are left without hope of ever having the agency to build a life. This dire prediction can become a self-fulfilling prophecy.
Allen Frances likes to talk about numbers – big numbers like 400,000 mentally ill sentenced to jail or prison, hundreds of thousands of mentally ill living homeless, a million psychiatric beds closed. People are not numbers. One person is so complex. The stressors that can send a person spiraling into mental or emotional turbulence are so many and so varied – stressors like past trauma, betrayal, sleep deprivation, spiritual emergency, adverse childhood events, social isolation, poor job fit, bereavement, guilt, shame fear, frustration, loss of hope, drug use, or poor nutrition. How can throwing a formula at people possibly help?
I think a better starting place would be to ask – "How do I best help this one person in front of me?" And I think that help starts with asking, "What happened to you?" and "How can I help you to reclaim a life worth living?"
---
How to Fix the Broken Mental Health System– A Mother's Perspective 
(originally published at Psychiatric Times) 
Incorporate the ideas of psychiatrist Sandra Bloom and the Sanctuary Model of mental health care. Dr. Bloom says the important question in psychiatry isn't "What's wrong with you?" but "What happened to you?"
Promote hope for a life worth sticking around for
Provide trauma-informed care
Help with reducing the dosage of or withdrawing from psychiatric drugs
Ban direct-to-consumer advertising of psychiatric drugs
Decent housing for patients, preferably within a therapeutic community
Partner with non-medical models of care such as Hearing Voices Network and Open Dialogue (University of Massachusetts Psychiatry is leading the U.S. effort with Open Dialogue for the treatment of psychosis)
Hugs
Help in repairing frayed relationships with family and significant others
Explore the patient's "psychiatric" issues in the context of his/her life experiences
---