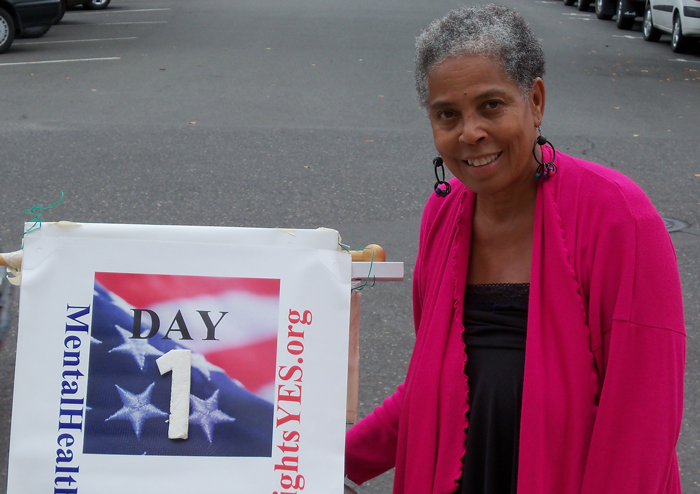 In the past three years Cindi Fisher, a 63-year-old grandmother, has gone on a 100-mile march, and on 14-day water-only and 40-day liquid-only hunger strikes. She's taught herself how to make legal arguments under the Health Insurance Portability and Accountability Act and Revised Code of Washington chapter 71.05 covering "Mental Illness." She's launched M.O.M.S. – the Movement Of Mothers and others Standing-up-together. And she's protested outside courthouses, politicians' offices and psychiatric hospitals announcing her hunger strikes to the public with a sign emphasizing in bold letters, "Ask me why."
The why: Cindi has been fighting for her 37-year-old son Siddharta's right to be free from incarceration and forced psychiatric drugging, and to participate in determining his own recovery plan in the community.
And what has she gotten for her efforts? Cindi Fisher has been banned from entering two psychiatric hospitals and even barred by court order from contacting her son at all.
However, this December Siddharta was discharged after two years from Washington's Western State Hospital (WSH) into an adult family home. And in January, after not seeing her son for a year, Cindi managed to get the court order banning her from contacting him expunged. We planned to write a good-news story about it for Madinamerica.com.
"It was good to see my son," Cindi said by telephone in mid-January. "There was a lot of gratitude and a lot of sadness." Sadness? "I was very, very grateful that I could now touch him, talk to him, let him know that I was there for him. But it was hard, because of the conditions he'd been forced to be confined in again."
Siddharta, Cindi explained, was actually no longer at the adult family home; he was being held against his will at PeaceHealth St. John Medical Center's psychiatric ward in Keslo, Washington. Police records would later show that, even before Cindi's victory in court was complete, wheels had already been in motion to re-incarcerate Siddharta on questionable pretenses. And Cindi would soon be blocked from visiting him again.
This startling turnaround, highlighting the extraordinary legal powers of America's mental health system, led us to do a deeper investigation into Cindi's story. Why was this elderly mother being seen as so dangerous by mental health authorities? And what had turned her into a public activist? Gradually, it became clear that Cindi Fisher had made an extraordinary personal journey over two decades, from dedicated supporter of forced psychiatric drugging to ardent advocate for psychological freedoms and social change. And she may be a harbinger of an emerging cultural shift inside families with children who've been diagnosed with mental illnesses.
From Brilliance to Darkness
Like many histories of families with children going through severe psychological crises, the Fishers' is not a simple, straightforward one.
Of African American descent, Cindi was an elementary school teacher and her husband a pharmacist. They raised four children in the early 1980s in a middle-class, mostly-white neighborhood in Vancouver, Washington, while trying to achieve, as Cindi describes it, "the American Dream."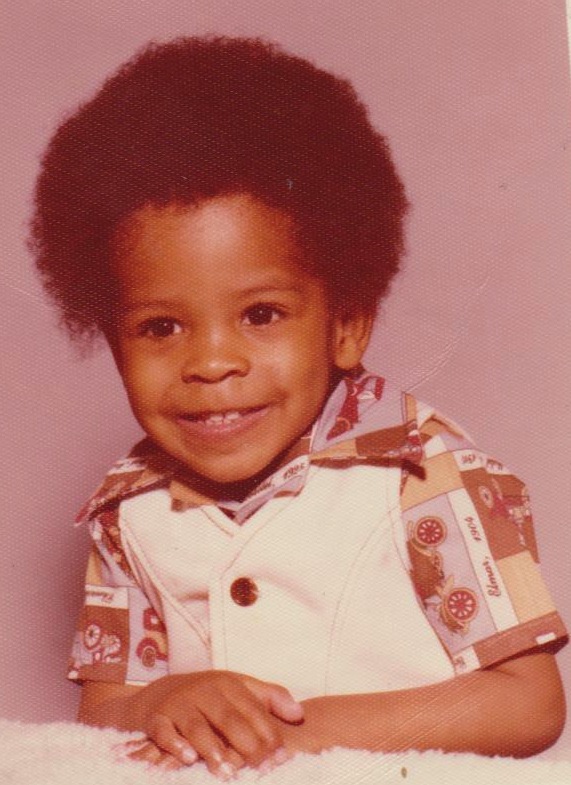 Siddharta was a sensitive, bright and independent thinker from a very young age, Cindi recalls. "We took him to a park once when he was maybe four or five, and he climbed so far up [a tree] that they had to send some rescue people to get him. He was an explorer, he was curious, and he was adventurous." Even though Siddharta often didn't show much interest in applying himself in school, he won a state championship in chess, read profusely, taught himself guitar and hip hop, and was recognized amongst the top 5% in the state after taking the SAT at age 12.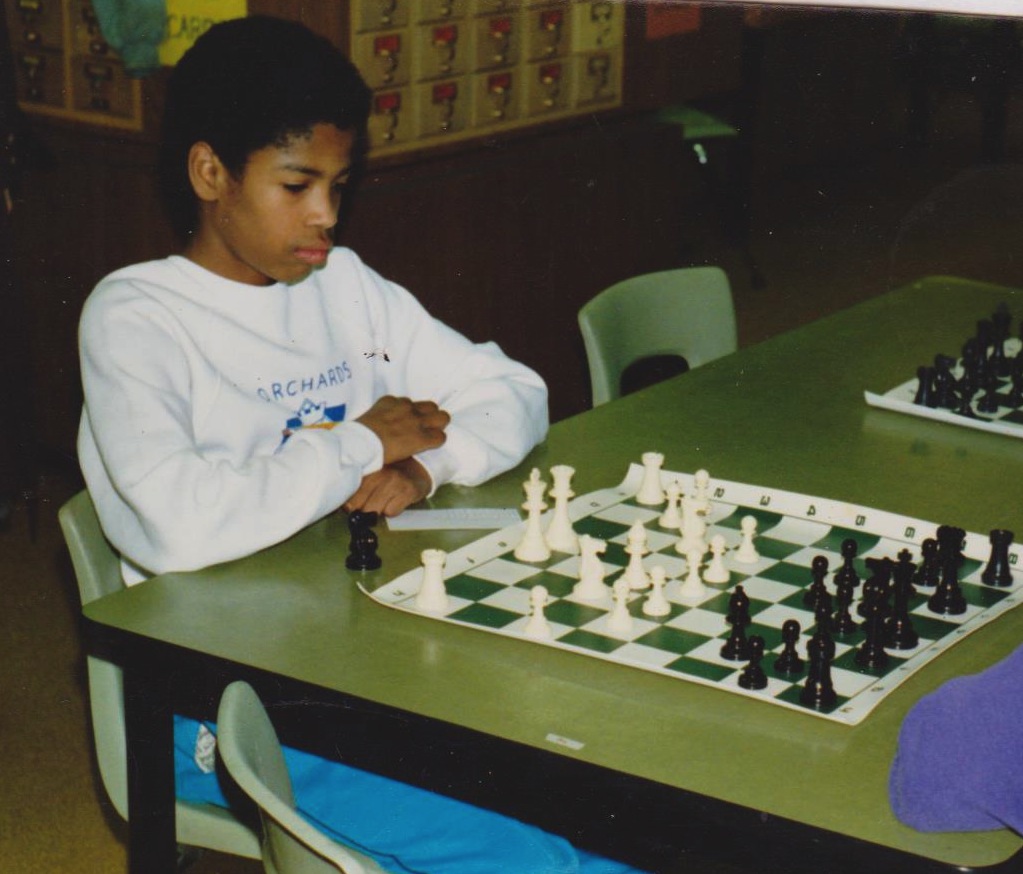 For other reasons, though, Siddharta's twelfth year of life was pivotal. Cindi today expresses regret that both she and her husband were very preoccupied during those years with work and a growing turmoil in their marriage that ultimately led to their separation. (Siddharta's busy, stern father long had trouble developing a good connection with his sensitive oldest child, Cindi says, and died from cancer before Siddharta turned 21.)
Siddharta was the only black child at an otherwise all-white school, and his parents had always taught him to turn the other cheek when confronted by slurs and racism, because doing so, they told him, would stand him in good stead in the end. But one day Siddharta came home carrying a girl's coat. He told his mother that some schoolmates had stolen it from her, and he had wrangled it from them in order to return it. The next morning Siddharta carried the coat to the principal's office. Though he denied having stolen the coat himself, Siddharta refused to reveal who had.
"The principal wrote him up and called the police," Cindi says. "The police came to the school and handcuffed a twelve-year-old boy and took him down to [juvenile detention]. A young man who had never been in trouble in his life."
The racially-tinged court case was devastating to Siddharta, as he witnessed the school principal and vice-principal expressing doubts about his integrity and helping to convict him. After a brief stay in juvenile detention, his school attendance dropped precipitously. "I started losing Siddharta to the streets," Cindi says. "He began to experiment with street drugs, trying to understand society from another way. Because what we had told him wasn't working,"
By his teens, Siddharta was mainly engaged in street life and was often alternately moody, depressed, or reacting from whatever recreational drugs he'd been taking. Cindi got him into counseling, but it didn't change much.
At age 17, there was a sudden and dramatic worsening of Siddharta's psychological state. He became surly and verbally aggressive, began talking to people who weren't there, and had several black-outs.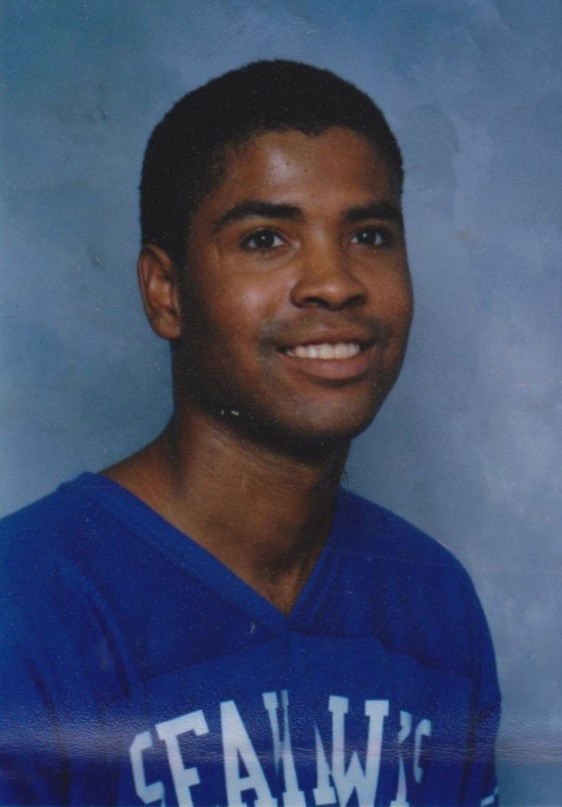 Even though such behaviors came and went, and Siddharta could still impress strangers with his apparent maturity and intelligence, Cindi became increasingly anxious. "After a while it went beyond rebellious behavior. It got to where he would be walking in circles in his bedroom for three hours, talking about the dead coming up."
With a mystical, spiritual aspect to her own perspectives on life, Cindi thought her son was "walking in two worlds" and struggling to find a balanced path between them. However, after another minor run-in with the law, a juvenile probation officer ordered Siddharta to see a psychiatrist.
Cindi took Siddharta to the appointment herself. "I was really desperate to find answers for him."
Within 30 minutes Siddharta had a diagnosis of schizophrenia and a prescription for an antipsychotic drug. "This is what kicks off his career in the mental health system," Cindi says. It also began an intertwining of mother and adult-child's lives in an ever-heightening drama that, Cindi admits, would deprive her other children of her attention, and often become utterly emotionally preoccupying.
Within 30 minutes Siddharta had a diagnosis of schizophrenia and a prescription for an antipsychotic drug. "This is what kicks off his career in the mental health system," Cindi says.
Siddharta started taking the antipsychotic, but his condition worsened. "Within the next six months, my son gave himself razor blade cuts on his arm. He gave himself a six by three-inch, third-degree burn on his arm, because he purposely held it up to a heater saying that he wanted to feel something. He begged me to stay all night in his room one night because he thought he was going to jump out of his second-story bedroom window. And I held this seventeen-year-old boy like a baby and prayed all night, prayed that he would not jump from my arms and out of the window."
Siddharta also frequently complained about extreme pain in his body. Sometimes he was in such agony, Cindi would take him to the hospital. On one such occasion, she remembers, "He rushed into the emergency room and he was begging for anything for pain. And we were reprimanded by the emergency physician. He said, 'Look, you can't keep bringing your son in here every time that he imagines he's in pain; he's got a mental illness and he's got to live with it.'" After that, Cindi notes, "I took him out and for the first time in his life I bought him a six-pack of beer. Because I could not bear the pain and the agony that he was in."
Like so many worried and confused parents, through all of this Cindi tried to ensure Siddharta always took his psychiatric drugs. "At the beginning, we all believed in the medication," she says. Siddharta never refused to take the drugs, though at times he would take them irregularly or go off them for a short period if he wasn't reminded or was living elsewhere. "I don't ever remember him saying, 'I'm not going to take it.' He desperately wanted help, and I think he had hoped that the medications were the answer."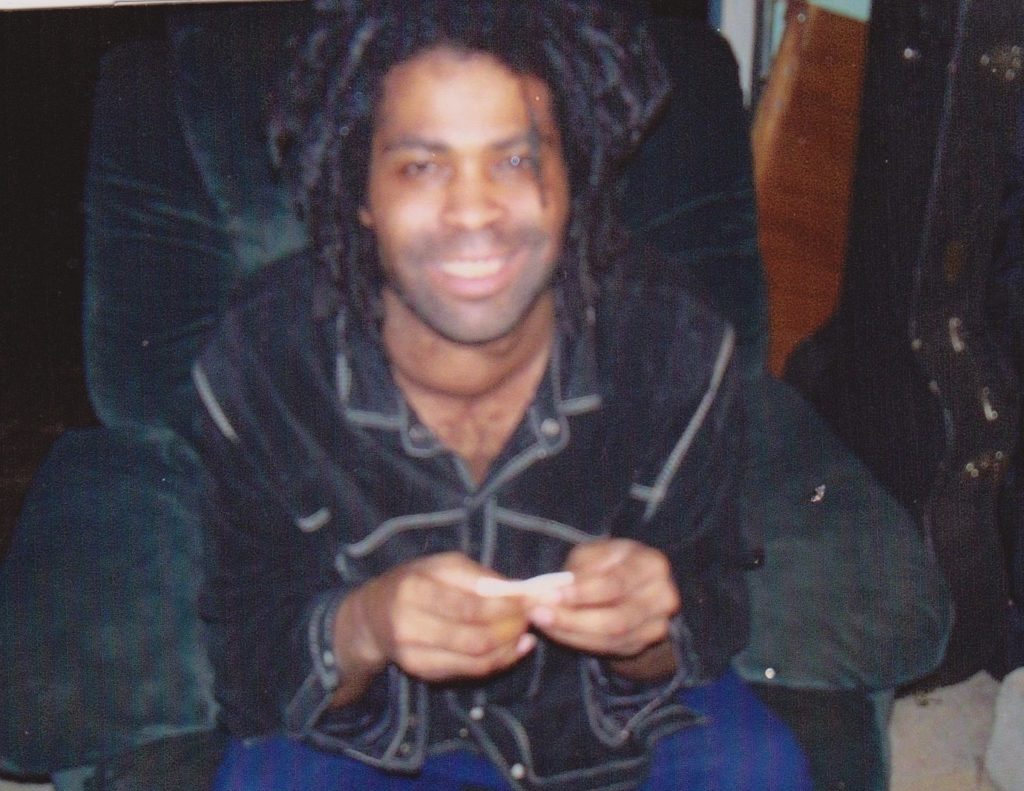 As the years passed, Siddharta had few respites from bouncing in and out of psychiatric hospitals. He was forcibly treated with antipsychotics, and sometimes other psychiatric drugs as well, for long periods in the hospital or in the community, and his behavior became steadily more bizarre, Cindi says. He also kept getting tangled in the criminal justice system, because he'd commit inexplicable petty crimes like walking into strangers' homes in broad daylight until they told him to leave.
Sometimes, Siddharta even pushed or hit Cindi. In the most serious incident, Siddharta was extremely agitated and Cindi promised to drive him to a river where he liked to walk. At the last minute, she changed the plan, wanting to get groceries first. Upset, he punched her, fracturing her nose. "I miscalculated [how agitated he was]," she says. "I made the error, and I paid for it dearly." Though Cindi called police on Siddharta "probably 8 or 10 times," she says, it was usually just to try to teach him a lesson about acceptable behavior and get him into hospital for a while. She would always welcome him back. "I wouldn't even be in fear, I'd just be angry. I just wouldn't know what to do."
Through all those years, Cindi had good relationships with his treatment providers. "I would try to make sure that he got to the programs. I was all for the medications. I had working relationships with the doctors. I'd just be asking the doctor, 'When is he going to come home? Can he come home?'"
Through all those years, Cindi had good relationships with his treatment providers. "I would try to make sure that he got to the programs. I was all for the medications."
Early on, Cindi felt that the medications did dissipate Siddharta's symptoms a little; however, in retrospect she isn't so sure. Was she at that time simply ascribing any negative developments in Siddharta's condition to his illness, and any positive developments to the drugs? "Yeah, that was it exactly," she replies.
Either way, her son was not improving. So about six years ago, Cindi decided to learn more about Siddharta's condition. He gave her power of attorney and she began gathering copies of all of Siddharta's police, court and medical records, and she also began researching mental illness, psychiatric medications, and alternative treatments. And gradually, a new narrative of her son's life began to emerge.
The Other Side of the Story
During his first involuntary admission to Western State Hospital at age 18, Siddharta was asked what he thought had caused his psychological troubles. According to physician notes, Siddharta described being falsely charged and convicted for stealing a girl's coat at age twelve. He described the instability of growing up amidst the turmoil between his parents. And he described being raped by a male drug dealer – an incident that Cindi had never heard about. It happened shortly before his crisis at age 17.
However, apart from these initial notations, Cindi says she found no other indications in Siddharta's medical records that his care providers ever developed therapeutic strategies for her son's emotional issues. Instead, Siddharta's primary problem was identified simply as "schizophrenia," and the prescribed treatment was psychiatric drugs.
Cindi says his providers apparently did not report this sexual assault of a minor to police, as was required by state law. Is it possible that the psychiatrist thought that the rape was merely a hallucination produced by Siddharta's schizophrenia? "Well, everything else he said made sense," replies Cindi. "If you really wanted to look, to see what would cause all this, [the reasons] were there. But if you wanted to look and see a mentally ill black boy, that's what you saw."
As she continued perusing Siddharta's records for clues about his condition, Cindi discovered the book Your Drug May Be Your Problem: How and Why to Stop Taking Psychiatric Medications by psychiatrist Peter Breggin and David Cohen. That led her to a conference of critical mental health researchers and practitioners, Will Hall's Madness Radio, and eventually Robert Whitaker's book Anatomy of an Epidemic.
What came was revelation after revelation. "It was just this huge, 'Oh my god,'" Cindi says.
For the first time, Cindi heard experts suggesting that psychosis can be an expression of "deep inner unhealed wounds," and that psychiatric drugging can numb the psyche and prevent those underlying issues from being dealt with.
Then she discovered that Siddharta, at age 17, shortly after having been raped, had been started on an adult dose of an antipsychotic drug that wasn't even medically approved for use in adolescents. Then Cindi came to understand the pain he had described since he'd started taking the drugs, of there being "a jackhammer" inside his head, of his insides burning or ripping apart, of excruciating discomfort driving him to restlessness or physical aggression—this was akathisia, a common side effect of antipsychotics. Even some of Siddharta's physicians had identified it as such. Cindi also came to understand that Siddharta's tendency to take his drugs at irregular intervals, or to stop them abruptly, could have been causing bizarre psychological effects and unpredictable emotional crises . . . yet no psychiatrist had ever warned them about these well-known withdrawal reactions.
Cindi also learned that African Americans are often less able to metabolize many drug toxins, making Siddharta much more susceptible to negative side effects. That was just one of many indications that racism was likely worsening his treatment in hospitals predominantly staffed by white people. And on and on it went: there were many other "symptoms" that Cindi had long assumed were due to his mental illness and lifestyle that she now recognized as possible drug side effects: His enormously distended neck from thyroid problems, his diabetes, his increasing memory loss.
Most alarmingly of all, Cindi discovered the growing body of scientific evidence suggesting that the long-term polypharmacy that had become routine for Siddharta can induce brain damage and the very problems she regularly saw in her son: sluggish verbal responses, reduced cognitive ability, dampened passions, and social withdrawal interspersed with outbursts and crises.
What did it feel like to come to this understanding? "It was actually an 'Aha!' It was a feeling of gratitude," Cindi says. "I'd been searching for answers, trying to understand why [Siddharta] didn't get well, why didn't he stay well, why did he keep cycling in and out . . . Finally, I'm finding the answer."
"I'd been searching for answers, trying to understand why [Siddharta] didn't get well, why didn't he stay well, why did he keep cycling in and out . . . Finally, I'm finding the answer."
Many parents refuse to even consider the possibility that the drugs they've been encouraging their children to take for years may actually have been harming them, and Cindi admits that there were some dark, difficult moments for her as she overlaid what she was learning about psychiatric drugs onto the details of Siddharta's personal history. "When I pieced things together, that was a feeling of terror and outrage. May God forgive me. I sent my boy to Hell, thinking I was helping him." Cindi has personally seen parents plunge into depression once they realize this, but for her the knowledge activated a passion to find new ways to help her son. "I never looked back once I opened that book" of Dr. Breggin's, she says. "I would rather find out the truth and have real hope."
What gave her hope? "Hearing psychologists and Dr. Breggin talk about people that were much worse than Siddharta getting better off drugs."
By 2010, Cindi had begun speaking to her son's treatment providers in a new way, advocating for therapies that were "culturally sensitive" and "trauma-informed," and for psychiatric drugs to be prescribed at "low or no-dose" levels.
But she soon discovered that she had new lessons to learn—about the devotion of mainstream health professionals to psychiatric drugs, and the extraordinary reach and power of American mental health laws.
A Paradigm Battle Ripping Through Lives
"At first, it wasn't really strong advocacy," Cindi says. "I was just saying, could you try this, would you try this?" She'd suggest to her son's treatment team that they try fewer drugs at lower doses, vitamin supplements, culturally-attuned African American specialists, or intensive psychotherapy. However, none of those things happened, and so she became more insistent. She brought them a copy of Anatomy of an Epidemic. She asked for a second opinion on Siddharta's treatments from psychologist Dr. Toby Watson, and sent them an informational sheet from the International Society for Ethical Psychiatry and Psychology, which encouraged patients to ask very specific questions of their treatment providers, such as, "What is your diagnosis and more importantly what is the underlying cause?" . . . What is the rationale for using this drug? Discuss the science behind the answer."
"When I started doing that," Cindi recalls, "I started getting shut up, shut down, shut out." She generally tried to be diplomatic, but concedes that some of the psychiatric professionals may have regarded her newfound skepticism as personally insulting. At any rate, this is when she began realizing how few rights she actually had, as Siddharta's treatment providers suddenly declared her power-of-attorney status to be invalid, and began using federal privacy laws to justify cutting her out of Siddharta's hospital care and his community-discharge planning.
"You're a nobody, you have absolutely no rights as a parent under psychiatric and mental health rules and law," says Cindi. "And the majority of psychiatrists and the staff in the hospitals treat you like that. It's not like at a regular hospital where they want to involve you."
"You're a nobody, you have absolutely no rights as a parent under psychiatric and mental health rules and law."
After Cindi challenged Siddharta's providers multiple times, they showed her a half-page handwritten note by Siddharta revoking her power of attorney. Later, Siddharta told her they'd promised him a quicker discharge if he signed the paper. "I was furious," Cindi says.
While many such conflicts come down to "he said, she said" accusations, Cindi Fisher's case is fairly well documented, because many of the conflicts have played out in emails, letters and court affidavits. And what is clear in the court records is that there's rarely any hint that Siddharta doesn't want his mother in his life, or that Cindi is a bad mother, or that Cindi treats his providers disrespectfully. Instead, the court documents often simply show mental health professionals proclaiming that psychiatric drugs have miraculous curative powers, and seeking to ban Cindi from her son's life because of her critical attitudes towards those drugs. It's like a battle of scientific paradigms, but one that Cindi regularly lost in court.
For example, with her power of attorney being ignored, Cindi decided to apply for guardianship of her son, which would give her a stronger legal position. She soon learned that this was risky. "Once you go for guardianship, there's no guarantee. If the hospital feels like you're an interference… they will do everything in their power to get a different guardian."
And indeed, with the guardianship petition underway, Siddharta's "guardian ad litem" — a person temporarily appointed during the court proceedings to help appoint a permanent guardian — filed a report in 2011 that ultimately told of how well Siddharta had done under state care. At the moment of Siddharta's most recent involuntary admission to Western State Hospital, wrote Charles Buckley, the guardian ad litem, Siddharta had appeared disheveled, loud, uncooperative, hostile, manic and abusive. Buckley apparently based this description entirely on notes and testimony from WSH staff. But after Siddharta had been in the hospital for a month, staff described him as "delightful to have on the ward" and enjoyable to talk with, Buckley wrote, and then he provided a reason for this amazing transformation. "Mr. Fisher was taking his medication regularly. This has made an immense difference in Mr. Fisher's appearance and attitude." Buckley then concluded his report by stating that, although Cindi might be "the best guardian" for Siddharta, he had deep concerns due to her "desire to go down another road for treatment."
After Buckley advised Cindi that she would likely lose her petition for guardianship due to the arguments to the court put forth by him and Siddharta's treatment providers, Cindi reluctantly accepted Buckley's suggested compromise: She helped choose which of the available professional guardians would be Siddharta's.
An Activist is Born
As she continued to fight for her son, Cindi became increasingly outraged by her inability to influence her son's treatment at WSH, and by the refusal of his treatment team to change their strategies in response to her medical concerns, or to discharge Siddharta into a less restrictive environment. Cindi then turned elsewhere for help. She contacted the American Civil Liberties Union, the National Alliance on Mental Illness, lawyers, politicians and news media.
"All I got was a shoulder to cry on," she says. "But nobody seemed to have any idea it should be different."
Cindi also began networking with other parents in similar situations around the country through her new M.O.M.S. group, which quickly made her more conscious of other incarcerated patients at WSH and how they were being treated. She began talking with whomever picked up the patient phone when she called WSH, or whoever else showed interest when she visited, asking them about their lives and their wishes. She even helped two people get discharged from WSH. She also helped parents elsewhere legally challenge their children's committal to mental hospitals and bring public attention to their cases.
Cindi Fisher was becoming a mental health activist. And that apparently bothered the mental health professionals even more.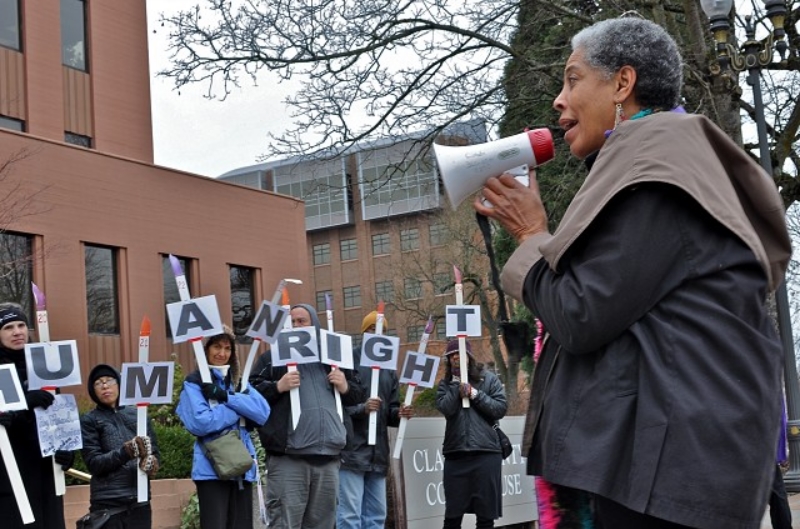 WSH put Siddharta on a floor where there was no confidential patient phone. Cindi demanded WSH install a patient phone—as was required by state law. WSH took months to install one and then, two weeks after they finally did so, in January of last year, they banned Cindi from visiting unless she agreed in writing to a new list of "rules." One of the rules stated that "visiting or conversing with other patients is not permitted." WSH's letter gave no reason for subjecting Cindi to this new rule.
Cindi refused to sign, and publicly protested. "I wanted to see my son, but I didn't want to abandon the others."
Instead of backing down, WSH staff collaborated with Siddharta's new guardian ad litem (the previous guardian had recently resigned) to apply for a Vulnerable Adult Protection Order (VAPO) under Washington state law to strengthen the ban. Legally, a VAPO is intended to prevent the "abandonment, abuse, financial exploitation, or neglect" of vulnerable adults. So how was Cindi supposedly "abusing" her son?
Guardian ad litem Lisa Rasmussen's application for the protection order explained that "Mr. Fisher's doctors and medical care providers are absolutely clear that Mr. Fisher must comply with mental health medications." However, Rasmussen wrote, "Ms. Fisher encourages Mr. Fisher to stop taking medications" and thereby "encourages a cycle which results in his repeated arrest." Siddharta's providers were consequently reluctant to discharge Siddharta into the community, Rasmussen stated, and therefore "[Cindi Fisher's] conduct is forcing Mr. Fisher to remain at WSH."
Essentially, Rasmussen blamed Cindi's criticisms of psychiatric drugs for Siddharta's incarceration at WSH, and for all of his incarcerations going back two decades, and concluded that Cindi, by voicing her opinions on psychiatric drugs, was committing "mental abuse" of Siddharta.
Leaving aside what would seem to be an assault on Cindi's First Amendment freedom of expression, in fact for over a decade Cindi had strongly supported Siddharta taking antipsychotics, and in more recent years, she says she only encouraged Siddharta to stop taking such medications on two or three occasions before she learned about the importance of very slow and careful tapering. But in any case, VAPO hearings are designed to err on the side of caution and do not follow normal rules of evidence, and on July 10, 2013, a judge banned Cindi from seeing her son for at least six more months because "there has been some interference of medication protocol by Ms. Fisher."
"The mental health system calls the shots," Cindi says. "And when things fall apart, the individual pays, because they end up getting locked up. And the mental health team doesn't take any kind of accountability for things falling apart."
"The mental health system calls the shots . . . And the mental health team doesn't take any kind of accountability for things falling apart."
Indeed, Siddharta's care providers evidently next decided that virtually everyone in Siddharta's life, except for themselves, was to blame for his troubles, because this December, Siddharta was "disappeared." He had a new professional guardian, Tracey Zacher, and she and the WSH providers decided to reveal to Siddharta's family and friends only that he had been discharged into an adult family home somewhere.
Cindi had heard of other parents whose children had disappeared into the mental health system in this manner for years at a time. "I was very frightened," she says. "I was frantic." She called out to her networks for help. She went on her third hunger strike. She tried to get publicity. She called adult family homes randomly, asking for Siddharta. How could any mental health professional think that cutting Siddharta off completely from his family and friends was good for him, she wondered.
The View from Inside
Ron Adler has only been the CEO of Western State Hospital since June of 2013, and he is prevented by privacy law from discussing specific cases. But he agrees to answer general questions based on three decades as a direct service worker and senior administrator at different kinds of mental health facilities.
"When I listen to family members I hear them say one of two things," Adler says. "'You should have kept my loved one much longer and forced them to take medication and not let them out until they were completely symptom free…' Or quite the opposite, and that is… 'How dare you use court-administered medication on my loved one and all the other coercive treatments that you have there under the false presumption of treatment. And why don't you just let my son or daughter go?'…I've heard throughout my career both of those positions articulated almost on a weekly basis."
At WSH, he says such complaints escalate up to him at least once a month. Adler feels the underlying theme is that family members want to be heard, and he thinks most mental health workers recognize that the family members' perspectives on their loved ones are important. "I do believe that we have many opportunities for improvement in this area, but I see evidence of my staff here listening to family members and listening to loved ones and receiving their input," he says. "And I think we're putting processes in place that will help that."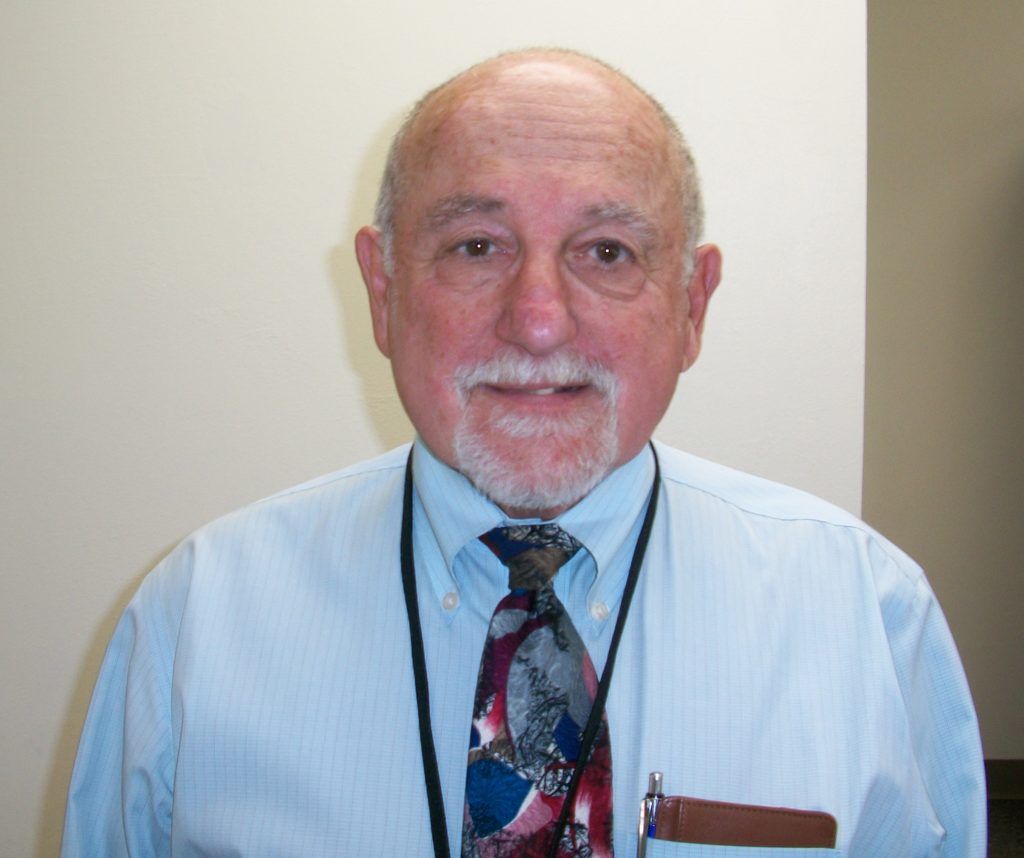 Nevertheless, Adler acknowledges that across his career he has seen occasions where care providers have banned family members from visiting, citing examples of people who were intense emotional triggers for patients. "If we think something is potentially disruptive to the patient, to the patients' treatment, or the treatment milieu, I think it's incumbent upon the hospital or institution or residential treatment center to guide that, for the most safe outcome of all concerned."
With a masters degree in counseling psychology and a strong interest in psychosocial rehabilitation approaches, Adler doesn't seem to be of the mainstream psychiatric school. So I ask him for his perspective on the growing body of research showing that psychiatric drugs can cause long-term damages. "I'm aware of an emerging body of research that talks to that issue," responds Adler. But he's also aware, he says, of "decades and decades of research" that says psychiatric medications can help reduce certain symptoms.
Adler says WSH does have a range of therapeutic options available, but then points out that in major psychiatric hospitals like WSH, patients are usually being forcibly detained, under court orders, for court-ordered purposes. "All of that has embellished around it a structure and organization and a system of care," says Adler—a system of care that is, by law, being run by psychiatrists, psychiatric nurses, and psychiatric social workers. "In fact, those are the three disciplines that are underscored in the Centers for Medicare and Medicaid Services Regulation that constitute the core disciplines in a psychiatric in-patient facility."
In part, Adler seems to be diplomatically hinting that isolated protests against psychiatric drugging may be like splashes of water against a culturally and institutionally mandated Rock of Gibraltar. On the other hand, of course, Cindi Fisher may be part of a coming tsunami of protestors that North America has not seen before—a gathering storm of family members who've witnessed unhelpful or debilitating impacts from psychiatric drug treatments on their loved ones over the course of decades. So I ask Adler if he's aware that these conflicting perspectives about psychiatric drugs seem to be coming into increasingly intense conflict in our communities and hospitals. "Very much so," replies Adler.
Then if a patient or family member asks for low or no-dose treatment and alternative therapeutic strategies, in conflict with the care providers' program, what happens? "I've worked in hospitals where people were absolutely closed off to that," says Adler. "And I've worked in hospitals where various treatment teams were very open to doing something different with patients." And different treatment teams at WSH, Adler adds, lean in either direction.
There, the underlying theme seems to be that mental health professionals still have a lot of legal powers and leeway to do as they wish.
Together Again, But Not for Long
This January 3rd, Cindi finally had her chance to challenge the protection order that was blocking her from contacting Siddharta. Not a wealthy woman, she describes the telephone-based assistance of Legal Shield as "a miracle." "I'll be damned if I haven't learned how to become a paralegal through fire," she says. The hearing date was pushed over to January 13th, but in the meantime new guardian Tracey Zacher promised to shortly let everyone know where Siddharta was.
On January 13th, 2014, the VAPO against Cindi was not only terminated by the judge but "vacated"—typically done when a previous judgment is determined to have been based on fraud or blatant error. But it was a victory that Cindi didn't get to celebrate.
According to police records, back on January 3rd, just hours after Zacher had promised to let everyone know within a few days where Siddharta was staying, managers of the adult family home suddenly called police and a crisis line in order to rid themselves of Siddharta by claiming he was a danger to others. When it didn't work, home manager Virginia Johnson tried again the next evening. In his report, the police officer who responded couldn't get corroboration of Johnson's more serious claims from others in the home. The officer described Siddharta as in good health and "cooperative," and he advised Johnson that he couldn't legally remove Siddharta for "cursing" and "being an annoyance." Johnson then called Tom Fletcher, a "Designated Mental Health Professional" with the Lower Columbia Mental Health Center, and he immediately issued an order, with no reasons given, to have Siddharta taken to hospital.
"I took Sid into my custody in handcuffs," the officer wrote.
"So within two to three hours of the guardian realizing that she's going to have to let us know where my son is, all of a sudden now he is supposedly aggressive?" comments Cindi. She suspects that Johnson didn't want a now "notorious" mental health watchdog like her visiting the facility.
Siddharta was put in a psychiatric isolation unit at PeaceHealth St. John Medical Center. Cindi, citing the police records, wrote to the hospital CEO protesting what she regarded as an illegal re-incarceration of her son. According to Cindi, on her next visit to St. John's, three men met her at the door and refused her entry because, they said, her written accusations had made staff "uncomfortable." A fourth man followed her part way down the block as she departed.
"I got kind of scared," Cindi says.
Siddharta was soon transferred back to WSH.
I ask Cindi if it's been a surprise to discover the extremely broad legal powers that mental health authorities have. "Holy smoley, that's one of my biggest shout outs to all of America," she replies. "If people had any idea of the tyrannical power that the psychiatric profession has over people on the outside, but especially inside the institutions, and they knew how they exercised that power… they would probably shut the hospitals down tomorrow."
[pullquote]"If people had any idea of the tyrannical power that the psychiatric profession has over people on the outside, but especially inside the institutions, and they knew how they exercised that power… they would probably shut the hospitals down tomorrow."[/pullquote]
Only people on a list approved by the guardian are allowed to contact Siddharta; however, family and friends say Siddharta consistently articulates his desire to get out of the hospital. Zacher declined an interview with Madinamerica.com about the situation based on legal advice that she's received. "It's just too volatile and chaotic," says Zacher. "So, best not."
Reforming the Village
Cindi plans to head back to court to try to get guardianship over Siddharta, in hopes of also gaining for him more influence over his own life. "I want him out," says Cindi. Ideally, she explains, she'd like to have practical community supports available for his recovery "with my son at the table helping guide what that would look like."
Near the end of February, Cindi learned that Siddharta might be discharged from WSH soon, and that Zacher had agreed that he could potentially be released into Cindi's recognizance. Cindi was, once again, cautiously heartened.
But she's under no illusions about the challenges ahead. "When they give us our kids back, and they're now much more harmed than they were before, after the drugs and after the inhumane and cruel institutionalization, they are dangerous," Cindi says. "So he would need to be with people who were trained in how to keep themselves safe and him safe while he's feeling and finding his way back to a world that welcomes him."
And perhaps nothing demonstrates the completeness of Cindi Fisher's transformation from psychiatrically compliant mom to advocate for civil rights and inner freedoms more than the way she now talks about wanting for Siddharta the same things she wants for everyone.
Cindi has come to believe that many of us are suffering, albeit in different ways, from the same ailments. "Mental illness is a label that needs to be disappeared," she says. "I think the heart of it is that we live in a time of a very quickly changing society that is causing a lot of distress, a lot of breakup of bonds and ties. And we have been programmed to be independent, alienated, isolated. If we as communities are going to survive these times – that are not necessarily going to get better because of all of these different crises that we are on the edge of, whether it's environmental, or economic, or social – we have to learn to recognize that when people's hearts and souls are breaking there are many different ways that those breaks are going to be expressed."
Cindi would like to start bringing progressive thinkers together to live in small communal houses, where people could learn to "hold each other in crisis," she says. "It's a way to begin to invite the neighborhood to learn how to rebuild their village." She's already tentatively feeling some of that revolutionary energy through collaborating with her growing network of mental health activist connections around the country, she says. "There's something about creating that unity, and standing up, exposing, joining our voices together not only to expose but to create something different."
I ask Cindi if she knows what it was inside her that somehow allowed her to make this rare, long human journey from being a strong supporter of forced psychiatric drugging to becoming an unflagging mental health civil rights activist. She points to that time in her life when she first lost Siddharta to the streets, lost her marriage, and lost faith in the American Dream. "I decided to live my life according to what was the deepest passion, the deepest truth that I could find," says Cindi. Then, that newfound inner strength fused with "the mother's love that just won't let go, won't give up," she says, and she gradually learned, grew and changed while grappling with challenge after challenge alongside her eldest son. "Siddharta has been my greatest spiritual teacher."
*******