"… the gunman's mother sometimes confided the difficulties she had in raising her son, including that she had placed Mr. Harper-Mercer in a psychiatric hospital when he did not take his medication."

– Oregon Killer's Mother Wrote of Troubled Son and Gun Rights,  New York Times, October 5, 2015
A screenshot of the Facebook of the Oregon shooter, taken by a colleague of mine before the site was taken down, has the following comment from the shooter:  "Chris Harper Mercer, August 16: I have a pill bottle with like five types of pills mixed in.  I don't know which ones are the sleep aids, so I just took four of each."  Here is a screenshot of Mercer's Facebook page: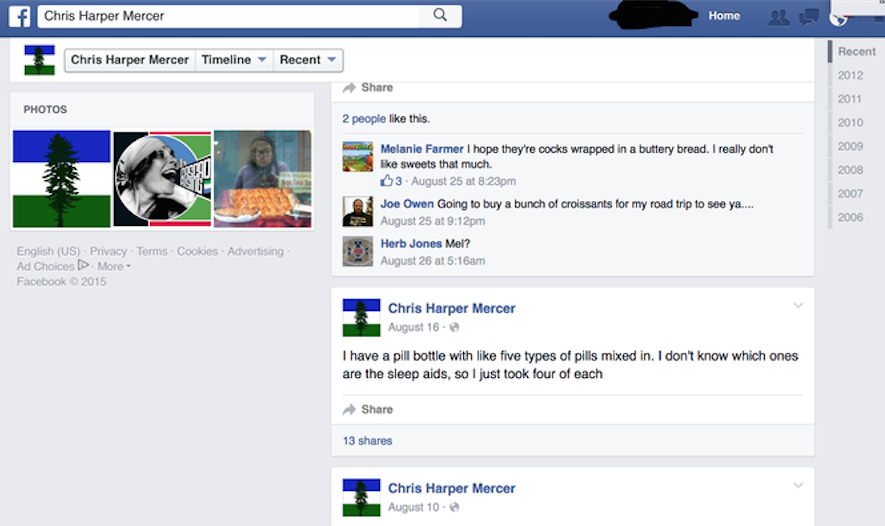 This confirms, at least, the Oregon shooter's access to psychiatric drugs.  Young people sometimes throw their drugs together and take them randomly as if they were recreational. Additionally, Mercer was also known to have graduated from a high school for youngsters with emotional and behavioral problems.
Once again, we have a shooter who has been through the "mental health" system and has probably been taking drugs.  I was a medical expert in the cases surrounding Eric Harris (the Columbine shooters) and James Holmes (the Aurora shooter).   Harris was taking the SSRI Luvox (fluvoxamine) for a year, starting before he became violent, and throughout the period of his growing manic-like violent state.  He had a "therapeutic level" of the drug in his system on autopsy.  Holmes was prescribed Zoloft the first day he saw his psychiatrist and told her that he had very violent feelings that he did not dare fully describe to her.  Over 120 days, he became more violent on Zoloft and began elaborately planning the assault on the movie theater.   He stopped taking the drug 20 days prior to the shootings, but by then he was grossly psychotic, again in a manic-like state.
We now have strong scientific evidence that SSRI antidepressants do indeed cause violence.  One is based on a review of all violence reports to the FDA.  The other, which came out in September, is a retrospective study of 18 to 25-year-olds on these drugs.
The implications of these facts are enormous, but the main goal of this report is to get them into the public discourse.  It is also important to note that the major media surely had access to the information on Mercer's website but universally has chosen to withhold it.  I have written most extensively about medication-induced violence in my 2008 book, Medication Madness: the Role of Psychiatric Drugs in Cases of Violence, Suicide and Crime.
We are once again reminded of one conclusion that comes out of nearly every act of mass violence: Going through the mental health system often makes people feel more humiliated and angry, and commonly leads to psychiatric drugs which do more harm than good, causing or inflaming the aggression.  Calls for more investment in the current mental health system are distracting and will increase the likelihood of more violent deaths.
* * * * *
***
Mad in America hosts blogs by a diverse group of writers. These posts are designed to serve as a public forum for a discussion—broadly speaking—of psychiatry and its treatments. The opinions expressed are the writers' own.
***
Mad in America has made some changes to the commenting process. You no longer need to login or create an account on our site to comment. The only information needed is your name, email and comment text. Comments made with an account prior to this change will remain visible on the site.