Anyone who has found themselves in the universe of psychiatry knows that it contains some of the "black holes" of science.  There is little reliable science on how medications are supposed to 'work,' less on what a psychiatric illness is, and none on how to withdraw from the medication. For many, escape from diagnosis and medication is daunting if not impossible. Those who succeed do so for the most part on their own initiative, and therefore any information is anecdotal.
So, when Carina Håkansson sent out an invitation for a symposium on "Pharmaceuticals: Risks and Alternatives," people came from 13 countries. From experts-by-experience to some of the world's top scientists, over 220 people gathered last month to search for alternatives to the standard of care. Researcher John Read, speaking for the panel on the stage of Folkets Hus ("The People's House") in Gothenburg said of their esteem for Carina, "(she) just said we should be here, so I came."
allowfullscreen="allowfullscreen">
Carina's search started 30 years ago when, new to work with people in distress, she realized she would not be able to work in a system based on diagnosis and medication. She couldn't see how people could recover in a system that removed them from daily life, placing them with others with whom they had nothing in common but being in a psychiatric ward. Instead she found homes in the countryside where, supported by stable families and the Family Care Foundation she created, young people in distress took part in the routine of daily life. The Family Care Foundation has become an example, internationally, of an alternative for people in crisis and Carina, who says that 30 years ago she did not have words for what she was doing, has the words today. "It is about society in a bigger framework," she said from the stage of Folkets Hus. "What kind of society do we wish to create, and be part of?"
Carina's starting roster of experts on psychiatric drug withdrawal and alternatives — Olga Runciman, Sami Timimi, Birgitta Alakare, Will Hall, Carina Håkansson, Jaakko Seikkula, Volkmar Aderhold, John Read, Peter Gøtzsche and Magnus Hald — met for the first time at the Extended Therapy Room Foundation, Carina's new home, the day before the symposium to discuss what it was they intended to do. There was agreement on the need for an organization whose focus would be on what is known — and needs to be known — about withdrawal from psychiatric drugs, but some question about when to start it. "Why don't we start now?" asked psychologist Jaakko Seikkula, and thus was born the International Institute for Psychiatric Drug Withdrawal.
The following day Seikkula and psychiatrist Birgitta Alakare presented their 30-years' work developing changing the standard of care for psychiatric crises in the Tornio catchment area of northern Finland.  The approach that resulted, the default response for all psychiatric crises — which involved systemic theory and reflective practice, rather than a focus on individual pathology — reduced western Lapland's rate of schizophrenia diagnosis from one of Europe's highest to its lowest, all but eliminating new incidences by resolving crises that had previously progressed to meet criteria for a diagnosis. In the process, Tornio's medication use, hospitalization, and expenses were dramatically reduced.  Jaakko asks:
"What happened to our societies when we learned to take care of polio, tuberculosis and those kind of illnesses? And all of a sudden we can (ask) the question; What about this? There is no schizophrenia? Would that not be an interesting issue for politicians, for instance, to think about?"
Setting an example of the different sort of outcomes — and society — that the symposium aspires to, psychologist Olga Runciman told of her ten years as a diagnosed "schizophrenic." Having reached the point at which she was drooling and nearly comatose, and believing that she could have no another life, she decided to end hers. She wrote a letter to her family informing them of the decision but decided, before sending it, to try one more thing: getting off the medications. Soon better, she made a resolution: because she had been told that someone with psychosis could not benefit from talking to a psychologist, she would give people the help she now knew she had needed. She compares her crisis to a caterpillar which changes into a liquid mass before emerging as a butterfly, saying:
"When you are in a huge crisis, you get the wrong kind of help; and psychiatry often steps in here. You are very, very vulnerable. So instead of coming out as a butterfly, as you're supposed to be, you step out as a schizophrenic. And I think this is one of the greatest tragedies in the world, actually."
Now Denmark's first and only psychologist specializing in psychosis, she presented to rousing applause a detailed description of how she approaches her work with people in psychosis.
Therapist, scholar, and psychiatric activist Will Hall described himself as "recovering from a diagnosis of schizophrenia, because the diagnosis is something that I'm also recovering from." He describes schizophrenia as a "cultural conflict. If I were living in a different cultural framework, my experience would have been valued and welcomed … I am not someone who has been returned to normalcy, I am someone who has embraced my difference."
"I am offering a very special workshop," Hall went on to say.
"It takes 96 hours and, most importantly, you cannot sleep during the 96 hours. I guarantee you everyone will hear voices who comes to that workshop because actually what we call madness, what we label as psychosis, is just a variation of human expression.
"I'm not saying that mental illness is a myth. I'm not saying that suffering is not real. Because i know that my suffering was very very real, and I did need help. I did need support. But what I needed help with, and support, was not around some disorder or some disease or some illness. What I needed help and support around was around my own isolation and powerlessness."
Volkmar Aderhold told the story of becoming a disillusioned psychiatrist, and makes a generous offer:
"Ten years ago I (was) a normal psychiatrist in a university clinic. I started to read, truly to read studies—full-text studies, not abstracts—and I was shocked. And then I decided to confront the system with their own evidence. So in a way I present their evidence. You can get these slides and if you write an email to me you can get all the full texts you want to have for free! So read! And so if you are interested, read: read the whole thing not only the headlines. So that's it; you can find a lot, and it started to be like a criminal story. And then I read Peter Gøtzsche's books and I thought, "that's about a criminal story but that came later."
Volkmar then invited Peter Gøtzsche to join him on stage, ceding to him the last ten minutes of his allotted time. Gøtzsche — co-founder of the Cochrane Collaborative, the most respected source of information on medical standards, based on the most thorough meta-analyses of the scientific literature available — said:
"I have come to rather radical views on psychiatric drugs. (Actually), they are not at all radical. I think that they are based on all the best science I could find, but they are viewed as radical by others … In relation to Zyprexa, and Eli Lilly's other blockbuster, Prozac, there were so many fundamental manipulations in the pivotal trials that they submitted for registration that in my view these drugs should never have seen the light of day. These are terrible drugs, both of them, but Eli Lilly made them blockbusters … Why is it that psychiatrists have a different view of their drugs than the patients and their relatives and what the science tells us? What is going on?  In antidepressant trials for example, the psychiatrists say that the drugs work, but when you ask the patients — whether children or adults — in the same trials, they say they don't work. So whom do you believe?  I know whom to believe. We are not treating psychiatrists, we are treating patients."
Psychiatrist Sami Timimi speaks of dispelling the illusion that prescribing medications is, in fact, a medical intervention:
"First I explain to people working with the trainees that if what you're doing is something about trying to shift someone's mental state, it is psychotherapy … (There is) this idea that there is a distinction between something we call psychotherapy, which is something some people do, talking to people in strange ways, helping them understand something, and then there's something that the real doctors do, which is not psychotherapy, called pharmacotherapy, which is addressing something of the biological nature of some problems they experience.
"So I do cover some of the evidence that actually nobody's come up with anything that shows that people are suffering from chemical imbalances. And that's illustrated by the fact that we don't send in tests for chemical imbalances. It's purely an assumption. So the first thing I tell people is that whether you like it or not, when you prescribe something that you're calling an antidepressant, with the intention that you're hoping something will shift somebody's mental state, it is psychotherapy. Sorry; you can't avoid it: you do psychotherapy every day, whether you like it or not."
Robert Whitaker presented the scientific case for why withdrawal should be a treatment option:
"There aren't good studies on how you maximize success. In other words what should be the tapering protocols, what speed should it be done, what should be the decrease in dosage at each step … from a scientific research perspective it is a black hole. Why hasn't the medical community addressed this question before?"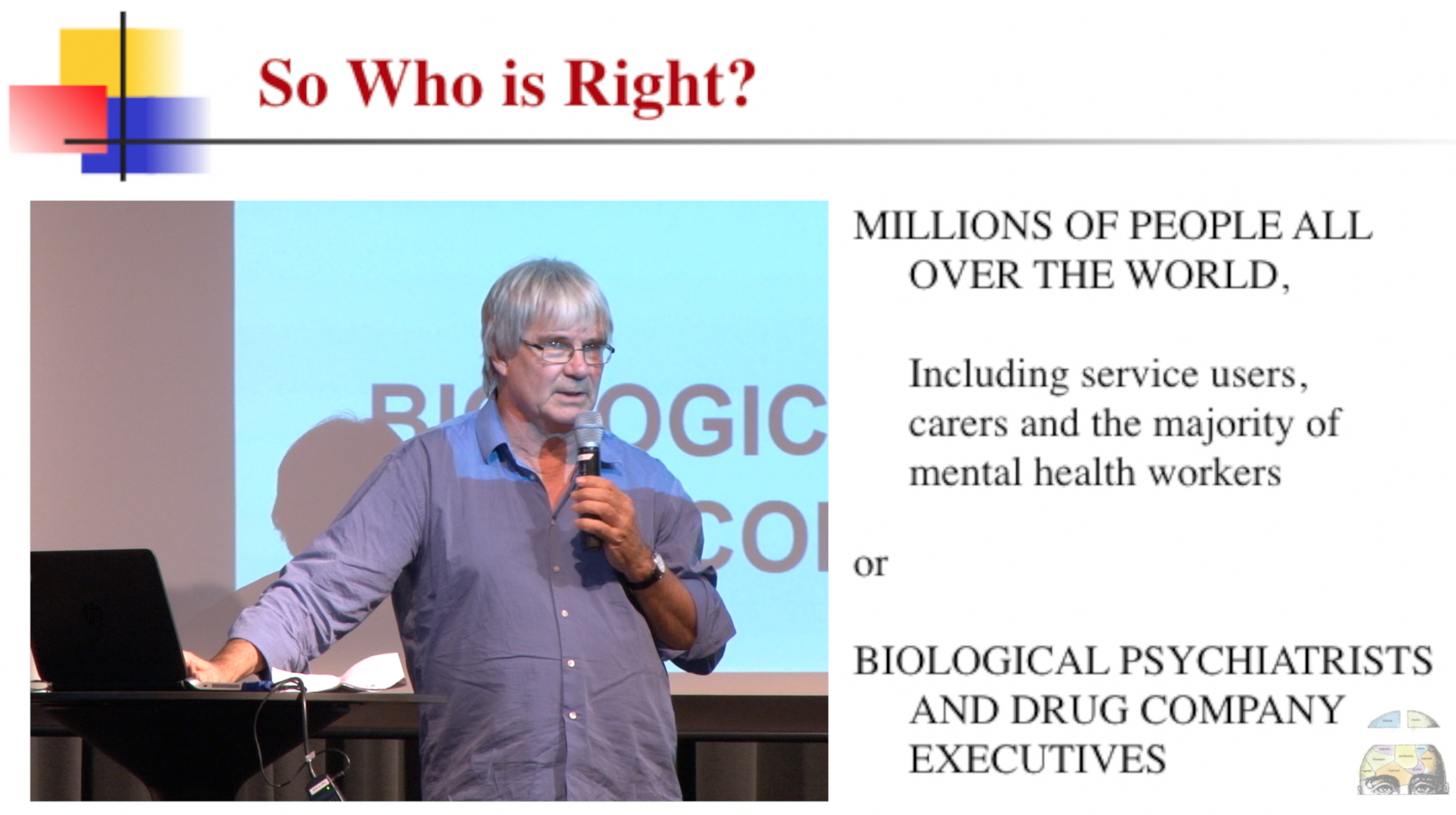 John Read spoke of the arrogance of a medical specialization that purports to know more about people than they know of themselves, saying that in an international study 97% people with schizophrenia diagnosis did not believe they had an illness.
"These peoples' beliefs were instantly dismissed as lack of insight, which was then interpreted as a symptom of the illness that they refuse to accept they have but the psychiatrist says they do have. I find this just a tad arrogant. And then it gets really entertaining, because they have now identified the part of the brain that causes you to disagree with your psychiatrist. You couldn't make this up, could you?"
Aghast at the stark assessment of psychiatry found in a Cochrane review, Read went on to say:
"We have a branch of medicine that can compulsorily make people shorten their lifespan. What is going on? … My anger and frustration is directed at the profession of psychiatry who has lost sight of what a proper professional and ethical boundary is between itself and a profit-making organization."
Criticism of psychiatry and psychology centers on the fact that both fields present themselves — or are perceived — as "knowing" things that are not substantiated by the evidence. However Read musters convincing evidence of another view of mental distress for which, though largely ignored in practice, ample evidence exists: the link between trauma and psychosis. Pushing back on those who reject data that contradict the common wisdom, Read says,
"This is cherry-picking. This is genuine cherry-picking. This is the strongest study. It's the one I like to take to psychiatry conferences with me, because this is the study where people who had experienced five types of childhood adversity were 193 times more likely to be diagnosed with psychosis. And then I'm mean, and ask them to present in return anything from the entire biogenetic research field for the last 100 years that comes anywhere close to the strength of that kind of finding, and of course they can't."
However, tasked by Carina with providing a hopeful ending, Read reminded the audience that psychiatrists are a "tiny, tiny percentage of the mental health workforce," and musters a thought from his favorite imprisoned Italian socialist who spoke of "pessimism of the intellect, and optimism of the heart." Read summarizes:
"You can still keep looking at how bad things are, looking directly and honestly at them and naming them, and hold onto the hope that if enough people can also see that, and if we work together, we can change things."
If Carina Håkansson has anything to do with it, we just might. Though there is little formal research on alternative approaches to psychoses, and on psychiatric drug withdrawal — after all, what moneyed interests are motivated to fund such research? — there is a generation of people, lifetimes of data, on how and why to pursue the alternatives. As Whitaker noted in his talk, we have seen that in every country that has adopted the medical standard of care, disability due to mental illness has gone up. The spirit that percolated in "The People's House" points toward better ways. After all, as Carina asks, "what kind of society do we wish to be a part of?"