A new study published in Drug Safety examines key studies on antipsychotic drugs for the short and long-term treatment of psychosis. The researchers find that the drug effects on reducing psychosis are small and that treatment failure is the most common outcome across studies. They conclude that the second-generation antipsychotic drugs do not have a better safety profile than the first-generation antipsychotics.
"Claims that second-generation antipsychotic drugs have safety advantages over classical neuroleptic drugs and prevent relapse were not supported in these key studies," write the researchers, Thomas Moore of the Institute for Safe Medication Practices and Curt Furberg of the Wake Forest University School of Medicine.
"The extent of injury to and impairment of multiple body systems caused by antipsychotic drugs shows the need for a scientific, clinical, and regulatory reappraisal of the appropriate use of these agents."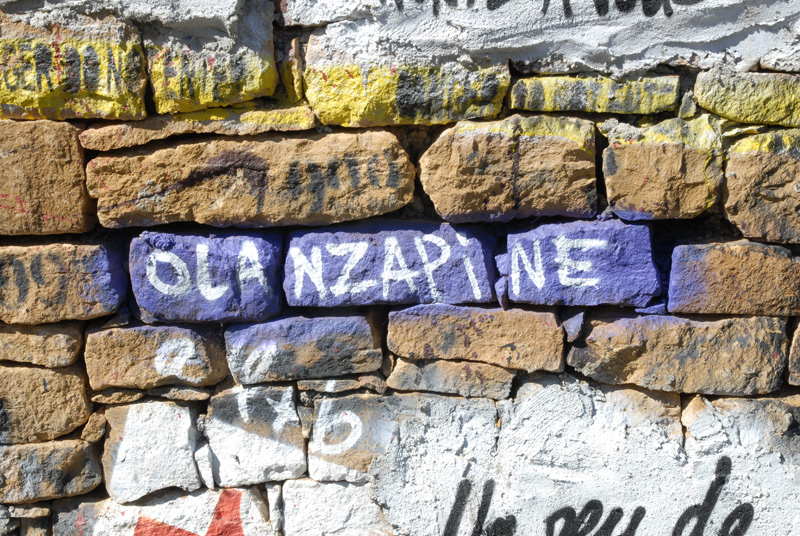 Using a key studies approach, Moore and Furberg reviewed major studies for the most widely used antipsychotic drugs: quetiapine, risperidone, aripiprazole, olanzapine, haloperidol, and ziprasidone. With the exception of haloperidol, all of the drugs examined are considered second-generation antipsychotics. Their study looked specifically at six areas in the scientific literature: (1) mechanisms of action; (2) short-term treatment of psychosis; (3) relapse prevention; (4) early psychosis in schizophrenia; (5) head-to-head comparisons between drugs; and (6) pragmatic treatment comparisons in older patients.
Antipsychotics are reported to achieve their effects on symptoms associated with psychosis primarily through occupancy and antagonism of the D2 receptor. While the link between D2 receptors and effects on psychosis has been studied extensively, it is also well known that blocking these receptors can result in severe side effects, producing symptoms similar to Parkinson's disease.
When the researchers examined the short-term treatment of psychosis using antipsychotics they found that the existing evidence in the key studies (randomized control trials used to obtain marketing approval in the US) did not convincingly support the drugs use or their safety. A trial for quetiapine, for example, suffered from a very high drop-out rate (59.4%), likely due to side-effects, and a modest 18% average improvement in psychosis symptoms. No dose-response curve was observed between the antipsychotics drugs and the reduction in symptoms.
Many treatment guidelines recommend going beyond short-term treatemnt and suggest that continued use of antipsychotic drugs can prevent relapse of psychosis symptoms. The researchers examined the relapse study conducted for aripiprazole, which is the most recently approved of the selected antipsychotics. This trial was negative, as it "failed to show a difference with haloperidol in the time to failure to maintain a response." When the researchers included participants who failed to respond or who experienced treatment failure in outcome event totals, they found that found that other relapse studies also failed to show that patients are less likely to relapse on antipsychotic drugs. They write:
"The impression that most patients will relapse unless treatment continues is not substantiated by these relapse trials, which show that 60–93% of patients randomized will either not show benefit at any point, relapse, or discontinue over approximately 1 year."
Studies on patients experiencing their first-episode of psychosis are especially useful for determining drug harms as many of these patients have not previously been exposed to psychiatric medications. For this reason, Moore and Furberg reassessed the findings of an early psychosis study, sponsored in the late 90s by Janssen Pharmaceuticals, comparing the second-generation antipsychotic risperidone with the older haloperidol. Their analysis of the study yielded the following conclusion.
"This systematic comparison showed that the extensive adverse effects on the extrapyramidal motor system seen for classical neuroleptic drugs was also occurring with a leading second-generation agent in patients with little previous exposure, and outcomes remained poor with relapses, discontinuation, and failure to demonstrate a benefit."
In head-to-head comparisons between antipsychotic drugs, the researchers discuss the results of the Clinical Antipsychotic Trial of Intervention Effectiveness (CATIE) study, which was funded by the US National Institutes of Health (NIH).  The CATIE investigators hypothesized that the second-generation or "atypical" antipsychotics would have greater long-term effectiveness and tolerability, the results of the 18-month trial showed treatment failure for 72% of all patients and "few differences among the study drugs."
"CATIE not only provided evidence that the enrolled patients had substantial impairment of the extrapyramidal motor system at baseline, but also demonstrated that these adverse effects continued to occur in the subset of patients not already showing previous injury, a result similar to what had been observed for first-generation antipsychotic drugs many years earlier."
To examine whether or not experienced physicians can achieve significantly better results when they are not bound by the confines of a randomized control trial, Moore and Furberg also discuss the findings of a large pragmatic trial of second-generation antipsychotics funded by the NIH. This trial allowed physicians and older patients substantial choice about what doses they used and what drugs they used, between quetipine, risperidone, aripiprazole, and olanzapine. The trial found no measurable effects on psychopathology, treatment failure rates as high as 81.5%, and a high incidence of serious adverse events. Moore and Furberg add:
"While some argue that the rigid clinical trial designs for marketing approval underestimate true treatment benefits in clinical practice, an alternative theory is that they may overstate benefits. Marketing approval trials are designed and conducted by manufacturers with a major financial interest in the outcome. Patients most likely to benefit can be selected through use of inclusion and exclusion criteria. Comparator drugs may be administered sub-optimally with doses that are too high or insufficient. None of the trials in this review had a truly untreated group of patients free of abrupt discontinuation effects and with psychosocial interventions to manage their disorder without antipsychotic drugs."
In their discussion, the researchers state that the effects on psychosis symptoms appear to be minimal (around 20%) and that they are rarely sustained over long-term use. In addition, treatment failure is the most common outcome and the first and second generation antipsychotic drugs both severely impair multiple body systems, leading to severe adverse effects. While this study is limited in that examines a fraction of the scientific evidence available, the researchers call on others to reassess whether or not the benefits of antipsychotic drugs outweigh the many harms. They conclude:
"It is time for regulators and the medical community to conduct an independent scientific and clinical reassessment of the appropriate use of antipsychotic drugs given the now thoroughly documented capacity to harm. Research is also needed into alternative approaches to treating psychosis that do not depend on extensive occupancy of D2 receptors."
****
Moore, T.J. and Furberg, C.D., 2016. The Harms of Antipsychotic Drugs: Evidence from Key Studies. Drug Safety, pp.1-12.  (Abstract)