As a response to shortcomings of the current mental health diagnostic system, professionals are developing alternative classification systems as well as uniting toward systemic reform. This article summarizes a recently proposed alternative system published earlier this month in The Journal of Abnormal Psychology alongside a historical overview of the larger reform movement, recently outlined in The Journal of Humanistic Psychology.
"In recent years, clinicians and researchers have started to question the very diagnostic paradigm that once gave them so much hope. Mounting scientific evidence has indicated that DSM– and ICD-based categories do not reflect patterns of mental distress found in both clinical and general populations."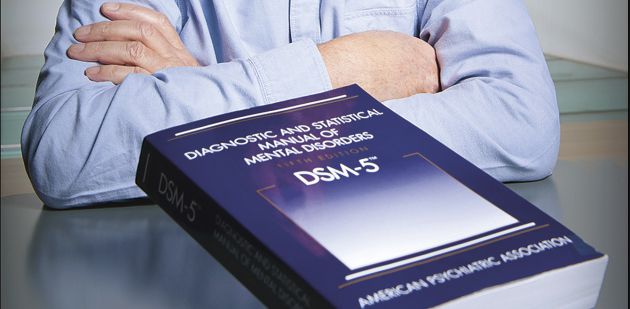 The Diagnostic and Statistical Manual of Mental Disorders (DSM) is regarded as the main authority on the classification of mental health diagnoses in the United States and beyond. The DSM's classification system is the framework that structures clinical culture, from education and training to research and practice. Since its first release by the American Psychiatric Association in 1952, the DSM has come to govern the epistemological backdrop entrenching psychological rhetoric and public discourse.
Throughout the years, the DSM has received substantial criticism and has undergone numerous revisions. The most recent revision, the DSM-5, was published in 2013, and despite being the centerpiece of scrutiny and debate on scientific and ethical grounds within mental health related professions, remains the primary diagnostic reference in the U.S.
Roman Kotov and a team of clinical researchers have identified limitations to the existing DSM taxonomy, criticizing the weak validity and the untested hypotheses that lay the foundation for the current diagnostic categories.  "First, these traditional systems consider all mental disorders to be categories, whereas the evidence to date suggests that psychopathology exists on a continuum with normal-range functioning; in fact, not a single mental disorder has been established as a discrete categorical entity," they write.
Moreover, to map out dimensional qualities and experiences onto a categorical structure results in diagnostic instability, inconsistency, and a loss of overall data to better inform the process, the researchers argue.  Kotov and his team continue to outline the ways in which these arbitrary diagnostic cutoffs manifest in inconsistent provider perceptions and judgments, citing a study which conducted Field Trials and found that 40% of DSM-5 diagnoses "did not meet even a relaxed cutoff for acceptable interrater reliability."
To articulate this dilemma further, these arbitrary diagnostic categories are assigned once a client meets the minimum criteria within a category. If the minimum is not met, even if off by a single symptom, clients are assumed to fall outside of the range of diagnosis, despite reporting qualitatively similar symptoms and therefore, potentially needing additional care and support.
The shortcomings of DSM categories extend beyond the diagnostic cutoffs and appear within the categories themselves. Built-in assumptions of homogeneity within diagnoses, purported to occur as a singular, one-size-fits-all process, leave no room for the heterogeneous reality of mental health experiences, or the realistic prevalence of comorbidity within mental health experiences.
"It appears that this rational approach to psychiatric nosology, not grounded in structural research or an understanding of the etiologic architecture of mental disorders, has failed in some instances to represent psychopathology accurately. Indeed, the sluggish pace of discovery in psychiatry has been attributed, in part, to the limited validity and certain arbitrariness of traditional diagnoses."
Kotov and fellow researchers are not alone in their critique of the DSM-5. In 2011, before the release of the DSM-5, the British Psychological Society (BPS) unabashedly criticized its proposal for lacking scientific validity and medicalizing normative experiences and behaviors, becoming a catalyst for other psychological organizations to follow suit and openly express grievances.
The Society of Humanistic Psychology (SHP) is one such organization that has led efforts to reform the DSM-5. Robbins, Kamens, and Elkins describe the history of this reform, beginning with the creation of the "Open Letter," a public critique of the DSM-5 to the American Psychiatric Association, which received astounding support and recognition from over 15,000 mental health professionals who provided their signature, over 50 mental health organizations who endorsed the petition, and news agencies across the globe who covered the story. The attention this received gave rise to the counter-narrative that has since resonated with many in the field who have united to push back on traditional diagnostic classifications.
"As a result of new and widespread disillusionment with the current system, contemporary discourse in psychiatry and related clinical disciplines is characterized by multiplicity, polyvocality, and frequent discord. Proposals to reconceptualize and redefine clinical diagnosis have emerged from all corners of the mental health world…"
As Robbins and his co-authors write, a movement to recreate diagnostic classification systems has birthed novel ideas and alternative classification system proposals. Kotov and his team of researchers have formed a consortium to propose one example of an alternative classification system known as the Hierarchical Taxonomy of Psychopathology (HiTOP).  This alternative system aims to operationalize the dimensional quality of diagnoses to be consistent with evidence suggesting that psychopathology is experienced along a spectrum rather than categorically.
The objective has been to test and develop a multi-level, hierarchical approach to identifying psychopathology through quantitative methodologies. This alternative system incorporates comorbidity and allows for flexible adaptation to individual client needs, the authors write. What sets it apart from other alternative models such as the National Institute of Mental Health's (NIMH) RDoC framework, is that HiTOP was designed to systemically approach mental health dimensions whereas RDoC is primarily concerned with identifying biological bases of mental health diagnoses.
However, Robbins and co-authors of the SHP Open Letter Committee identified additional shortcomings to the DSM-5 proposal, which extended beyond operationalizing mental health and confining it to an individualistic experience. In the original "Open Letter," Kamens and co-authors raised concerns related to the protection of the general welfare and vulnerable communities against overmedicalization and stigmatization of normal stress, calling attention to a notion often underlying diagnosis—the pathologizing of sociopolitical deviance. Furthermore, the authors requested that future DSM proposals be "submitted for an outside, independent review by scientists and scholars who had no associations with the DSM-5 Task Force or the American Psychiatric Association." This request was denied.
Since the original open letter, the Global Summit on Diagnostic Alternatives (GSDA) was established around 2013 as an internet-based platform to openly discuss the future of mental health-related classification systems. "Our ultimate goal was to generate transdisciplinary, international, egalitarian conversation about the possibility, feasibility, and potential implications of new means for conceptualizing mental distress," write the authors. At this time, the GSDA is no longer active, yet the authors and many others in the mental health field remain active in efforts toward reforming the DSM-5.
"Perhaps the greatest lesson to be drawn from this history is that when thousands of mental health professionals and dozens of psychology organizations join forces and work together, they can have a significant impact on major issues facing our profession."
As alternative proposals continue to develop, and efforts toward reform persist, all eyes are on the mental health field and their next collective move.
"Growing consensus now holds that, though the upcoming iterations of DSM (now in its 5th edition) and ICD (approaching its 11th edition) will not depart significantly from the familiar paradigm, future diagnostic models may require revolutionary change."
****
Kotov, R., Krueger, R. F., Watson, D., Achenbach, T. M., Althoff, R. R., Bagby, R. M., Brown, T. A., Carpenter, W. T., Caspi, A., Clark, L. A., Eaton, N. R., Forbes, M. K., Forbush, K. T., Goldberg, D., Hasin, D., Hyman, S. E., Ivanova, M. Y., Lynam, D. R., Markon, K., Miller, J. D., Moffitt, T. E., Morey, L. C., Mullins-Sweatt, S. N., Ormel, J., Patrick, C. J., Regier, D. A., Rescorla, L., Ruggero, C. J., Samuel, D. B., Sellbom, M., Simms, L. J., Skodol, A. E., Slade, T., South, S. C., Tackett, J. L., Waldman, I. D., Waszczuk, M. A., Widiger, T. A., Wright, A. G. C., & Zimmerman, M. (2017, March 23). The Hierarchical Taxonomy of Psychopathology (HiTOP): A Dimensional Alternative to Traditional Nosologies. Journal of Abnormal Psychology. Advance online publication. http://dx.doi.org/10.1037/abn0000258
Robbins, B. D., Kamens, S. R., & Elkins, D. N. (2017). DSM-5 Reform Efforts by the Society for Humanistic Psychology. Journal of Humanistic Psychology, 002216781769861. doi:10.1177/0022167817698617 (Abstract)