A new study, published in the International Journal of Risk and Safety in Medicine, examines clinical reports of post-SSRI sexual dysfunction (post-antidepressant use), post-finasteride syndrome (PFS, following treatment for hair loss or enlarged prostate), and sexual dysfunction as a side effect upon terminating the treatment of isotretinoin (used to treat severe nodular acne, more commonly known as Accutane). The researchers, Healey, Le Noury, and Mangin, examined 300 cases of enduring sexual dysfunction from 37 countries.
"While reports of certain issues were unique to the antidepressants, such as the onset of premature ejaculation and persistent genital arousal disorder (PGAD), there was also a significant overlap in symptom profile between the drug groups, with common features including genital anaesthesia, pleasureless or weak orgasm, loss of libido and impotence," the authors write. "Secondary consequences included relationship breakdown and impaired quality of life."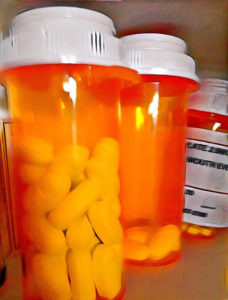 Serotonin reuptake inhibiting medications can impact sexual functioning, and the current product datasheets report that this can occur after just the first dose. Finasteride and Isotretinoin have been indicated to have acute effects on sexual functioning. While Finasteride states this information on its label, Isotretinoin does not.
The first reports of enduring sexual side effects from serotonin reuptake inhibitors (SSRIs) were documented in 2006. In 2011, the US product information for Prozac (fluoxetine) warned, "Symptoms of sexual dysfunction occasionally persist after discontinuation of fluoxetine treatment." Two years later, the fifth edition of the Diagnostic and Statistical Manual of Mental Disorders (DSM-5) published similar warnings, noting sexual dysfunction may persist after SSRI discontinuation "in some cases."
In 1997, Finasteride was licensed to treat male baldness, but the first reports of enduring sexual dysfunction did not appear until 2011. That same year, the FDA updated the product information, warning of erectile dysfunction after stopping Proscar and Propecia. One year later, decreased libido was added to potential side effects after stopping Proscar, and libido disorders, ejaculation disorders, and orgasm disorders were added to the risks after discontinuation of Propecia. Finally, a 1994 report on ejaculatory disorder resulting from isotretinoin documented more than 150 reports of male sexual dysfunction.
In order to analyze post-treatment sexual dysfunction relating to serotonin reuptake inhibitors, 5α-reductase inhibitors and isotretinoin, Healy and colleagues utilized data from RxISK.org. The website is "an independent drug safety website set up by the authors and colleagues, offering an adverse event reporting facility which began collecting data on all drugs and all adverse events in 2012." The website requires voluntary reporters to answer a set of demographic questions, followed by an assessment of causality, based on the Naranjo algorithm, to determine if the reported drug is responsible for the reaction. The following scores denote significance: 0-4 more information is required, 5-8 a likely link between medication and side effect, and 9+ a strong possibility of a connection between medication and side effect. Lastly, reporters rated the impact of the side effects on their everyday life, i.e., physical, mental, work, and social. Data from June 2012-December 2015 and April 2016-August 2017 were analyzed (the missing dates were unavailable due to website maintenance).
The results indicate a mean causality score of "8.9 for serotonin reuptake inhibitors, 8.8 for 5α-reductase inhibitors, and 8.5 for isotretinoin," from "37 countries across six continents: Europe (137), North America (126), Oceania (15), Asia (14), South America (6), and Africa (2)." The ages of participants ranged from 15-66 years, including 16 cases reporting the onset of the condition beginning at under 18 years of age. Duration ranged from a single dose to over 16 years. In many cases, sexual dysfunction appeared only when the medication was stopped or was further exacerbated upon termination. More details were depicted as follows:
17 SSRI cases report developing premature ejaculation
6 SSRI cases report persistent genital arousal disorder (continuous sense of arousal and discomfort in the genitals, without feelings of desire)
16 cases of decreased testosterone (potentially linked to a pre-condition)
5 cases report the glans of the penis remaining flaccid when the shaft was erect (4 SSRI, one isotretinoin)
2 SSRI cases of onset penile curvature (unknown if treatment-linked or incidental)
6 cases of reduction of nipple sensitivity
15 cases of reduction of other sensations across the body
3 SSRI cases of increasing loss of sexual function as the drugs were tapered
25 cases of relationship breakups due to the disruption of a romantic relationship, 9 of which were marriages
90 cases of work disruption, 12 of whom lost their jobs
17 cases endured the syndrome for at least ten years since stopping treatment (8 SSRI, one finasteride, eight isotretinoin)
Cases of fatigue (9%), muscle weakness (3%), and cognitive problems (19%), specifically memory impairment (11%), particularly with finasteride.
The researchers call for next steps, including an investigation of tardive sexual syndromes as well as a systematic approach of patient groups with specific sets of symptoms. Structured interviews are needed to explore case idiosyncrasies, and treatment histories can be used to better inform the causal (or lack thereof) relationship between the medications and side effects.
Healy and colleagues move forward by petitioning for a change to current informed consent practices for these medications. They state that while SSRIs are commonly known to reduce genital sensation, "it isn't known how many people fully regain their original genital sensation, libido and other domains of sexual functioning after using a serotonin reuptake inhibitor." Following the work of others who have unveiled this connection or been personally impacted, Healy and other petitioners call for more explicit forms of consent.
On April 23, 2018, Healey and 21 psychiatrists, psychologists, neurologists, practitioners, and other professionals in the field, submitted a petition "to request the Commissioner of Food and Drugs to immediately require the addition of boxed warnings to the product label for all selective serotonin reuptake inhibitor (SSRI) and serotonin-norepinephrine reuptake inhibitor (SNRI) products, including branded and generic formulations. Some of these include, but are not limited to, citalopram (Celexa), desvenlafaxine (Pristiq), duloxetine (Cymbalta), escitalopram (Lexapro), fluoxetine (Prozac), paroxetine (Paxil), sertraline (Zoloft), venlafaxine (Effexor), and vortioxetine (Trintellix)."
The petitions call for the addition of warnings, precautions, and highlights of prescribing information in an effort to accomplish the following:
"Inform that the use of and withdrawal from SSRIs and SNRIs can result in genital anesthesia, pleasureless or weak orgasm, delayed or absent orgasm, loss of libido, erectile dysfunction, decreased vaginal lubrication, reduced nipple sensitivity, flaccid glans penis during erection, reduced response to sexual stimuli, and decreased capacity to experience sexual pleasure"
"Inform that the use of and withdrawal from SSRIs and SNRIs can result in persistent genital arousal disorder (PGAD)"
"Inform that sexual side effects can sometimes persist for years or indefinitely after discontinuation of the drug; they can emerge on treatment and remain afterward, or emerge or worsen when the drug is stopped."
"Send all manufacturers of SSRIs and SNRIs a notification letter of the need for a Risk Evaluation and Mitigation Strategy Plan," requiring manufacturers to send letters to health care provider around the adverse reactions and to develop a 'Medication Guide and Communication Plan' for patients.
The signees use case examples to illustrate the point that the current warnings are insufficient. They conclude:
"Without adequate warnings about the risk of potentially permanent damage to sexual functioning, patients are being deprived of informed consent. It is currently impossible for patients and health care professionals to weigh the benefits of treatment against the harms. We therefore request that clear warnings are immediately added to all SSRI and SNRI products."
****
Healey, D., Le Noury, J., & Mangin, D. (2018). Enduring sexual dysfunction after treatment with antidepressants, 5α-reductase inhibitors, and isotretinoin: 300 cases. International Journal of Risk & Safety in Medicine, 29(3-4), 125-134. doi: 10.3233/JRS-180744 (Link)
Healey, D. (2018). Citizen petition: Sexual side effects of SSRIs and SNRIs. International Journal of Risk & Safety in Medicine, 29(3-4), 135-147. doi: 10.3233/JRS-180745 (Link)