On Tuesday, May 29, Roseanne Barr posted the following tweet on Twitter: "Muslim brotherhood & planet of the apes had a baby=vj." VJ, of course, stands for Valerie Jarret, a black woman born in Iran who served as Barrack Obama's senior advisor during his presidency. Since that time (and likely fueled at least in part by ABC's consequent decision to cancel Roseanne's show), Roseanne has made many fitful moves toward apology, promising to swear off of Twitter and calling her statement an example of "bad taste," only to return a few hours later to 'apologize' some more. Fortunately for Roseanne, supporters are emerging left and right to excuse her behavior.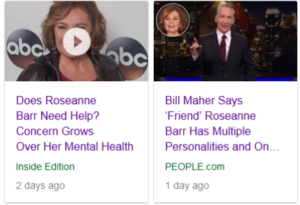 The most prominent excuse being offered is that Roseanne is "mentally ill," and that her bigoted commentary is merely a 'symptom' of that 'disease'. Some of her most devout supporters are also using this moment in time to figuratively dig up Robin Williams and suggest that the times when he made jokes that were fueled by racism and ignorance were apparently a product of his "mental illness," too. If I were to follow their logic all the way through, perhaps I'd come up with something like this:
If bigoted remarks are a symptom of "mental illness," and "mental illness" is a disability, and disabilities require accommodations under the Americans with Disabilities Act (ADA), then apparently allowing space for some such remarks becomes a reasonable accommodation.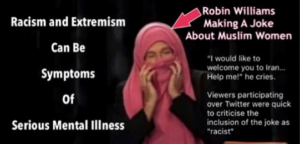 Perfect! White people needed nothing more in this country than another justification for racism. Because they're just innocent victims. (It's the black and brown people who are criminals and terrorists, right?)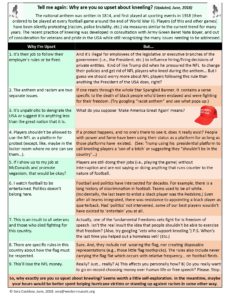 All this space-making for hateful remarks such as Roseanne's comes less than a week after the National Football League (NFL) announced that players may now face penalties for failure to "stand and show respect" during the National Anthem, and the teams to which they belong can be fined by the league. (This is the same National Anthem that includes a whole section on slavery and celebrating the death of black people that is oh so conveniently forgotten by or unknown to most these days.) That's right. While some are trying to give Roseanne a pass for her blatant bigotry, others are trying to punish those who'd quietly take a stand against its consequences by kneeling. You know… things like police brutality and death. (Click here or on the image to the left for more on the topic of the NFL and kneeling.)
The truth: There is in fact a longstanding relationship between psychiatry and racism. But, it's surely not that racism is a symptom of such a so-called "illness." Rather, the truth is that psychiatry has long been used as a tool of racism. For example, Drapetomania (coined by Samuel A. Cartwright in the 1700s) was a psychiatric diagnosis for which the only symptom was an attempt to run away on the part of an enslaved individual. Or we can look to Jonathan Metzl's work (among others) to demonstrate how Schizophrenia used to be a diagnosis most commonly attributed to white women (who weren't conforming to the societal norms of womanhood at the time), and how it somehow mysteriously transitioned into largely a black man's diagnosis during the Civil Rights era of the 1960's. Suman Fernando, a British psychiatrist and black man who grew up in Sri Lanka, speaks well to the relationship between the two, as well, as does Joy DeGruy who has spoken powerfully about a phenomenon she calls 'Post Traumatic Slave Syndrome'.
So, if we want to shine light on the relationship between psychiatry and racism, let's start there. Or we can start by (or at least combine that effort with) shining light on the families and struggles that truly deserve to be lifted up. It is another example of racism and ingrained societal white supremacy that chatter about (and excuse-making for) Roseanne Barr is taking up far more space in our collective culture than, say, the murder of any one black or brown person (or, honestly, just about all of them combined) by police in our country.
So, enough about Roseanne Barr and other famous people who make such missteps and (frankly) help illuminate a much deeper problem. Enough of our idolatry. Our participation in raising up and centering her voice above all others, in spite of her acts to silence and other those already far more marginalized than herself. Enough of our using our backs and eyes and social media accounts to create her stage. If she's struggling, let her do it privately and with the support of people she's chosen in her life. I suspect she'll be just fine without us.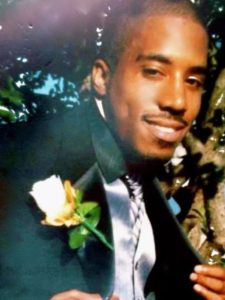 Let's turn our attention instead to the people often getting overlooked. People like Dontre Hamilton.
The story of Dontre's death and his family's subsequent fight for justice is the focus of a documentary: 'The Blood is at The Doorstep', directed by Erik Ljung.
Dontre Hamilton was 31 when he was shot 14 times by police officer Christopher Manney in broad daylight in Milwaukee, Wisconsin on April 30th, 2014. Dontre's crime was making an employee at the nearby Starbucks (yes, Starbucks… again) uncomfortable by quietly sleeping in Red Arrow Park, a place where he and his family have shared many good and peaceful times. It took three calls to the police on the part of that Starbucks employee before the police responded in person. Dontre's murder was the result.
Dontre was a black man. He was also someone with a diagnosis of Schizophrenia. And what that Starbucks employee should have known… What we all need to know and integrate into our way of being and believing… is that calling the police on him (or on anyone who is a person of color and/or known to have a psychiatric diagnosis) was a threat of violence. The police — and the criminal justice system as a whole — are not prepared to treat people equally or fairly. This goes double for people of color and people with psychiatric diagnoses, never mind if you have both marks against you. Dontre died needlessly as a result. And although Christopher Manney was eventually fired from the police force, no charges were ever brought against him for his actions.
But another problem in our society is how people are remembered. People like Roseanne Barr are remembered largely for their strengths and gifts, while criticisms come and fade away. People like Dontre are all too often remembered as murdered black men with a psychiatric diagnosis… when they're remembered at all. Even by the people trying to lift their stories up. And, so, I want to be careful to fight against that, too.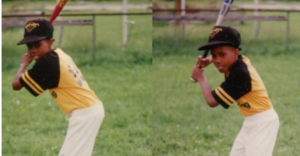 Yes, Dontre became one of many black men lost to police brutality and discrimination. But that matters all the more specifically because he was so much more than that. He was a full human. He was a brother, son, and father. In fact, Dontre was one of three brothers; known as both the youngest and the most contemplative. His father described him as thoughtful, and quiet until he got to know you. As a kid, he played little league with his brother, Nate, who was a bit older, but who — in many regards — was like his twin. As an adult, and in spite of any struggles he might have had at that point, Dontre was an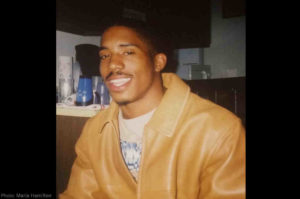 entrepreneur of sorts. He was often taking on odd jobs and business initiatives. In fact, he was responsible, at least in part, for Nate's early involvement in home repairs work, something that Nate eventually turned into his own business. Dontre was also known for filling up the back of his car with ice and cold drinks to sell to people in the park where he was eventually killed. His last contact with his family was a voicemail he left stating that he was at the park. Members of his family have since commented that, at the time, they all thought, "Oh, he's okay. He's at the park. Everything's fine."
On Tuesday, May 22nd, 2018 I got to meet Dontre's 'twin' brother Nate, as well as Dontre's mother, Maria, and his eldest brother, Dameion, as a part of helping to coordinate two screenings of 'The Blood is at the Doorstep' in Massachusetts. They are a family of incredible strength. Nate is a business owner and father of five, as well as co-founder of the Coalition for Justice. He shares in the film that this experience has awoken him to so many truths about the world, and lit his passion for activism. His ease and affability have made him a natural for his role as family spokesperson. Dameion is a musician and father of three, as well as another founder of the Coalition. He was raised to be the protector of his two younger brothers. Though tending to be much quieter than Nate, he has great strength and confidence that shows through at all times. And their mother, Maria, shines as an open heart, desiring to learn, connect, and make as much change as she possibly can. As co-founder of Mothers of the Movement (bringing together many mothers who have lost African-American children to police violence) and founder of Mothers for Justice United, she has dedicated her life to fighting for a different, better, more just future for our children and communities.

The film itself is powerfully shot by Erik Ljung (who the Hamiltons now claim as a family member of sorts, too) over a three-year period, with a mix of personal interviews, family retrospectives of Dontre's life, and footage of protests and other moments in the fight for justice since Dontre died. It asks the audience to face some of the harsh realities and painful times that come with facing a tragedy of this nature, right down to the excuse they were given by police as to why they waited over nine hours to notify the family of what happened: "We thought you would've seen it on TV."
'The Blood is at the Doorstep' also asks tough questions about who our systems are truly made to protect, who gets to define 'violence' (see my 'Baltimore is Burning' article for more on this), and who is truly left to pick up the pieces in the aftermath of a crisis (regardless of who the media might paint as the heroes or villains). It provides few answers, but demands from its audience at least the act of consideration of what role they might play in the fight for change.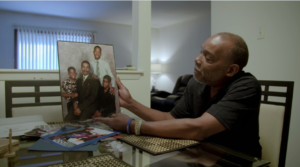 When Dontre's family arrived in Massachusetts, they traveled in the wake of another great loss: Dontre's father, Nate senior, had died just the week before. In fact, they had to adjust their return flight home to Wisconsin in order to be  back on time for his funeral. When asked why they decided to still come to Massachusetts instead of canceling or rescheduling, they all said that it's what their dad would have wanted. "Go take care of things," he would have said, or something like that.
The decision to keep moving forward — to keep doing what needs doing no matter what — is a large part of what defines the Hamilton family. And it is an example for all of us. It hasn't changed everything. Justice has still not been fully served for Dontre, although there have been some victories. In May of 2017, in the very same city, Adam Trammell (also a black man with a schizophrenia diagnosis) died after police tased him 18 times while he was naked at home in the shower. Video was just released of Milwaukee Bucks player, Sterling Brown, being tased by police after he was approached for having parked illegally in January of this year. (I was with the Hamilton family when they saw that Sterling had named Dontre in his official statement to the press about the incident, and how much they valued having Dontre remembered in that way.) But, it means something. It means a lot. And it's up to us to be a part of carrying it all forward.
The last words of the last Massachusetts screening of 'The Blood is at the Doorstep' (Springfield, May 24th, 2018) were spoken by Dontre's brother, Dameion, who had otherwise been silent for much of the Q&A that followed that event. He stood and asked everyone in the room to stand with him if they'd felt affected by what they'd seen. Just about everybody stood. He then looked at all those standing, and said: "Good. Then, the blood is at your doorstep."
The message was that this is now all of our issue. We can no longer claim to not know it or not be able to see. I hope that is a message that each person who was in that room carries forward, and that each of you who are reading this now will, too. The blood is at each of our doorsteps. Roseanne, the blood is surely at your doorstep, too. And, I hope all of us can now stop focusing on the whys of what Roseanne said, or worrying about the impact on her life that resulted. I urge each of you to stop giving that so much air time, and — as some small step toward making change — find a different voice and story to raise up. One that maybe doesn't already have a built-in platform of fame and privilege.
Right now, I choose Dontre Hamilton, Nate Hamilton, Maria Hamilton, Dameion Perkins, and the 'Blood is at the Doorstep'.
How about you?
For more about the Hamiltons and the 'Blood is at the Doorstep':
***
Mad in America hosts blogs by a diverse group of writers. These posts are designed to serve as a public forum for a discussion—broadly speaking—of psychiatry and its treatments. The opinions expressed are the writers' own.
***
Mad in America has made some changes to the commenting process. You no longer need to login or create an account on our site to comment. The only information needed is your name, email and comment text. Comments made with an account prior to this change will remain visible on the site.