A paper published in the Proceedings of the National Academy of Sciences presents findings on changes in White Americans' psychological health since the 1990s. Using data from the national, longitudinal MIDUS study, Dr. Noreen Goldman of Princeton University's Office of Population Research and her collaborators found that low socio-economic status (SES) White Americans have experienced reduced well-being and increased distress over the last twenty years. High SES Americans, conversely, have experienced small upswings in psychological well-being, including improvements in life satisfaction.
"Despite a recent focus on widening socioeconomic disparities in life expectancy and associated trends in substance use and drug-related deaths, few scholars have explored whether these patterns are mirrored by changes in mental health," the authors write.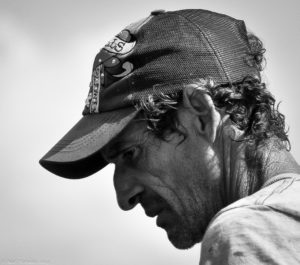 Goldman and her co-authors frame their paper by emphasizing two contemporary, connected phenomena that inspired their investigation: a rise in opioid abuse and related deaths in the U.S. since the 1990s, and flatlined (and in some cases, increased) American adult death rates over the same period. As journalists and social scientists alike have scrambled to make sense of these events, links have been made to the role of education and economic opportunity. One oft-cited 2015 study found a significant increase in middle-aged White American all-cause mortality between 1999 and 2013, with the most "marked increases" seen amongst those with less education.
The fact that Whites' increased mortality has largely been the result of suicide, drug and alcohol poisoning, and chronic liver disease has led these deaths to be labeled "deaths of despair," and have raised questions about whether the mental health of White and low-SES Americans is worsening. Different theories have been offered to account for these trends, including a sociological framework published last year that understands White Americans' poorer mental health outcomes as a product of Whiteness and the U.S. racial system.
The authors sought to investigate patterns in Americans' psychological health in light of these sociological circumstances. The researchers chose to focus on analyzing responses from White participants (n = 4,627) in the national Midlife in the United States study (MIDUS) due to the fact that Whites are "most frequently implicated in concerns about rising premature mortality." Limitations in the sample size of respondents of color were also a factor in this decision.
The researchers used logistic and linear regression to analyze trends in the sample's psychological health as related to SES, gender, age, and study period (1995-1996 and 2011-2014). They employed a combination of measures to reflect a more robust definition of psychological health than has been used in prior studies: two psychological distress measures (negative affect and depression); two hedonic well-being measures (positive affect and life satisfaction); and two eudaimonic well-being measures (psychological well-being and social well-being). SES was defined as a combination of education, occupation, income and wealth.
"Our results paint a picture of substantial social stratification in psychological health among American adults," Goldman and the researchers write.
The authors found that low SES (10th percentile) respondents' scores on certain measures decreased significantly since the 1990s. Low SES individuals experienced an increase in negative affect, whereas high SES participants saw "little change." Low SES participants' positive affect and life satisfaction declined markedly, whereas high SES participants (90th percentile) experienced "modest improvements" in these areas. Depression and social well-being did not show significant changes. In contrast to prior research and journalistic reports that have emphasized increased distress amongst middle-aged Americans, these findings held across a range of ages.
While the authors focused primarily on White respondents, they also re-analyzed the data with the complete MIDUS sample (n = 5,632), including participants of color. Although they found no significant differences between Latino (n = 196) and non-Latino Whites' results, they did see that non-Latino Blacks (n = 365) reported significantly better outcomes on four of the six measures (depression, positive affect, psychological well-being, and social well-being) than Whites.
Although the authors state that they are hesitant to draw conclusions about Black Americans' overall mental health relative to Whites', prior scholarship has explored factors that may serve to enhance Black Americans' mental health, including a potentially-protective tendency to consider external, systemic causes of hardships. This contrasts with White Americans' racially socialized belief in meritocracy and self-sufficiency, which may make coping with setbacks and "loss of status" more difficult.
Although the researchers' findings point to the potential relationship between White, low SES Americans' declining psychological health and increased mortality, conclusions cannot be drawn about the nature and direction of this relationship on the basis of this study. The authors advocate for additional research examining whether "these deleterious changes in mental health are most prevalent amongst non-Latino whites," as well as further study of sex differences in Americans' psychological health, and the use of individual, longitudinal, psychological health data to "deepen our understanding of these worrisome trends in mental health."
****
Goldman, N., Glei, D. A., & Weinstein, M. (2018). Declining mental health among disadvantaged Americans. Proceedings of the National Academy of Sciences, 201722023. (Link)