The Bottom
If it gets to where I can't take it anymore, I should have a plan in place. The plan should involve either making it look like an accident, or at the very least ensuring it's not a situation where people feel bad for me. I started to have ideations about not being alive anymore, because I saw it as a better choice than having no control and no future.
With tears streaming down my face I threw myself onto the apartment floor. My hands were clenched into tight fists. I stared at my upturned wrists and screamed: "Why, why can't I figure this out?!" To say it nicely, this was the worst day of my life. Earlier that day I'd spent time reasoning ways of improving my situation. Coming up short, thoughts of ending my situation trickled in. "If I were going to, what would it look like?"
I watched the scene from outside my body, a sober witness to my own unraveling.
This wasn't "me." I was withdrawing from the antidepressant Zoloft.
Unbreakable & Unbroken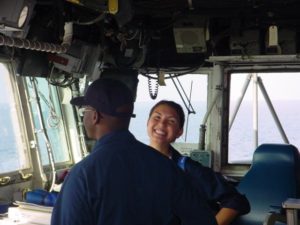 Floating in the middle of the South Pacific Ocean, I watched as my ship, the USS Dubuque, faded over the horizon. This wasn't part of the plan. It was supposed to be a training exercise. The ship was supposed to run a revolution, loop back and pick me up. Clearly, that was no longer happening. Had they forgotten about me so quickly?
As an officer and the only female rescue swimmer in the United States Navy's Pacific Fleet, I'd been trained to maintain bearing and to never panic. What followed is beyond explanation. I pushed overthinking the peculiar situation aside and a sense of calm washed over me. I'd never experienced a feeling like it before, nor have I since. 
Left in the middle of the ocean with nothing but open sky above me and the black unknown beneath me, infinity in every direction, fear should have set in — at least that's the reaction I've gotten from everyone I've shared this story with.
Panic never came: I'd turned it into a calming moment of reflection. As I floated, I took solace in my place in the universe. The vastness of the world around me, and the small speck of the ocean that I existed within; all inside an even more microscopic blink of time. For me, this event was not a traumatic one, but rather, soul touching. I remember the scene so clearly because I was at peace. This experience reinforced what I'd suspected was true, and now proven: I don't break. Ever.
A few months later I passed another triathlon finish line and ran two more marathons shortly thereafter. In all, I've finished 19 marathons and many relays and triathlons, two of them Ironman races. My first hike was Kilimanjaro. I've climbed Elbrus and Denali and trained on mountains just as formidable. By writing about aspects of these physical adventures, I've been able to put my journalism masters degree to work. It makes sense I became a rescue swimmer and found myself floating alone in the middle of the drink: I was physically and mentally built for it.
Into the Abyss
In late 2007, I left the active duty Navy. Having honorably completed my military service, I was trying to figure out what to do next. Originally, the plan was law school. Unfortunately, there was a barrier that I hadn't begun to comprehend.
In 2003, while deployed on a ship converted into a prison to accommodate the start of the Iraq War, I fell down a hatch and was knocked unconscious. Though I don't remember the incident or the next three months, I reported common brain injury symptoms: Difficulty reading, poor balance, head and neck aches. My medical records were digitized over a decade too late, but better late than never. The proof was there.   
Unbeknownst to me that I was still concussed when I shifted from active duty to the active reserves. An eye exam, basic motor function evaluation and neuropsychological testing would've served me well, but I didn't get any of those, and because I didn't understand my loss of consciousness, the military medical community and I "missed each other" in finding a proper diagnosis.
Upon entering the VA healthcare system after my active duty discharge, I articulated my problems as I understood them, while not yet understanding how the traumatic brain injury (TBI) affected me. Many TBI and PTSD symptoms overlap, and the psychiatrist checked the boxes on the chart. I was, in short order, diagnosed with post traumatic stress disorder (PTSD), major depressive disorder, generalized anxiety disorder, and after experiencing what I now know were side effects of the other medications, I was diagnosed with attention deficit disorder.
I blindly trusted the medication plan, a psychiatric cocktail, because I trusted the doctor. At no point did I abuse any of these medications, but I always voiced my concern with the PTSD diagnosis: I had not suffered a definitive trauma. Some things I saw and experienced were unsavory, and could potentially traumatize someone else, but nothing had bothered me in that way.
"What fucking happened to me?" was my only intrusive thought. But, when I shared the surreal ocean experience with a therapist, she decided that was my trauma. I knew it wasn't traumatic.
Breaking Apart
My cognition had been hindered by the head trauma, but after starting the medications I felt as though I were thinking through mud. As I fought to find a path, I found solace in focusing on my workouts and race training for stress relief. I attended culinary school, appeared in an occasional commercial, and worked as a fitness model. None of this was proactively planned: I was finding ways to survive, not living a life of intention.
After a year of being prescribed the antidepressant Prozac, and a few other drugs, my body began to falter. Arches falling. Foot surgeries. Hip surgery. Strength leaving my limbs and tingling at the periphery of my body. Tears and breaks on repeat. A doctor pulling out of a hand surgery during pre-op because he wasn't "quite sure it would help." I didn't increase my physical activity, only kept it at my normal levels, or less, but I incurred injury after injury. My cognition was arguably at its worst, and internally I pleaded — to whom I don't know — "Please don't take my body too!"
No aspects of my situation were improving or maintaining, they were all in decline. As a lifelong athlete, I'd tied my sense of self to fitness and running. Watching my athleticism in decline was heartbreaking. At the time, no connection between my physical breakdown was yet made to psychiatric medications. My duress, which anyone would experience in response to losing aspects of both mind and body, reinforced the notion that I had mental health issues and that I should continue with the medications.
Breaking My Neck, and the Cycle
I moved to New York City for graduate school in 2013 and transferred my care to the NY Harbor VA Medical Center in Manhattan. This hospital offered even less opportunity for one-on-one therapy. I was put on a list to see a counselor, only to find out when I eventually called, that she'd left the hospital and the waiting list of veterans waiting for counseling had disappeared. I was then assigned a nurse practitioner whose sole job was to oversee the prescribing of my psychiatric medications.
For two years, without seeing a psychiatrist, psychologist or therapist, the medication cocktail was tweaked and continued. My duress increased throughout graduate school, while I also continued to accumulate injuries, like a torn Achilles, which took me from Columbia's triathlon team. During this time, I shared my symptoms and physical concerns with providers, but the symptoms of various mental health diagnoses seemingly acted as blinders to the growing physical harms.
Walking back to my apartment one day, I tripped. Losing my footing, I stumbled down some stairs, then staggered forward across the landing. All of my momentum crashed headfirst into a marble wall. Blown retina. Torn jaw. Herniated disks. But, hooray, at least this time I could vaguely remember what happened!
While a tragic injury, the timing was right. My military records had been digitized, offering deeper insight into the head injuries I sustained while in the Navy. We re-examined the fall through the ship's hatch and the trajectory of my symptoms thereafter. We saw how often I'd reported crashing my bike, and reviewed a hypoxic event from my rescue swimmer days. I was given a diagnosis of multiple traumatic brain injury. At last, something to support my belief that I wasn't crazy, just damn frustrated. Compared to what I'd been through, this was something I could work with!
The Search is Nearing a Close, But the VA's Rescue Ship is not Coming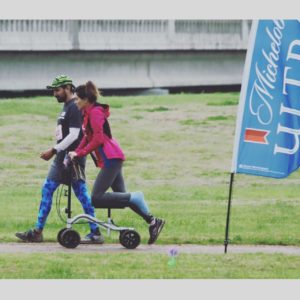 Unfortunately, bureaucracy blocked progress. The doctor who administered my neuropsychological testing told me that because I was still "smarter than average," there was nothing we could really do because the system was designed to rehabilitate soldiers and sailors to average. I demanded cognitive rehabilitation and after two sessions of sitting at a 1980's generation computer playing memory games, the occupational therapist discharged me.
Hope again evaporated. I was not questioned or immediately examined in regards to my speech, balance or vision. No one was treating my neck and jaw pain like the emergency I felt it to be. I had to keep poking as no one would call me back. I applied to two government funded comprehensive brain injury treatment centers, but both declined me based on my record of "mental health issues," which I now know to be fictional. I'm sure the list of psychiatric medications in my case history didn't help my cause.
I began to look for help outside of the VA. I found NYU Rusk Rehabilitation's Concussion Center where they specialize in the care I really needed, and because the VA refused to cover my care, I was forced to transition to Medicaid. At Rusk I completed a full course of TBI treatment as I went through my eye and spine surgeries. I went back to reading books and finding my words.
At this point, doctors from Mass General, Harvard, NYU and the Boston VA had all determined I had no real mental health issues. My main hospital, NYU, explained I'd suffered "hospital induced trauma." They also supported my desire to taper off the medications, specifically Zoloft as this was the only drug I was taking daily, as prescribed by the VA.
Clawing out of the Wreckage — Withdrawal and "Global Pain"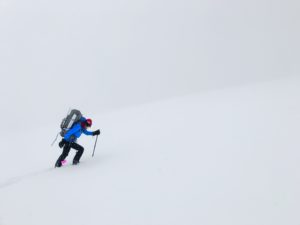 At this point, I was on 150 milligrams of Zoloft, which is a high dose, but a level commonly prescribed. The doctor suggested that I make 50 milligram reductions at a time until I was completely off the drug, and that we check in every few months along the way; though I can't say that this was a deliberate plan, as we didn't realize that "antidepressant withdrawal" could be so severe. 
What came next can be equated to a blurry living hell and rollercoaster of emotions. Understanding the arc of emotions I'd potentially go through would undoubtedly have made the worst days better, instead I was left to wonder whether or not I was losing my mind. At no point did I reason that a slow reduction in antidepressant dosage, especially for someone who wasn't depressed, could lead such duress. Besides, I was preoccupied with newfound physical pain and symptoms.
In meetings with my doctors, I felt like describing all my pain would make me look like a hypochondriac. Unbearable foot pain kept me up at night. The weight of the blankets made my feet felt like they were being crushed. Juxtaposed with spine, eye and other surgeries, I didn't feel that adding "painful feet" to the list of ailments was a priority.
I knew of headaches, but the headaches I began to experience I couldn't even think through and would have preferred to ride them out in a coma. The amount of physical pain I was experiencing reminded me of my lost athleticism. My inability to think through the mud and constant pain fed into my mood, leading to my "What's life really worth?" contemplations.
Instead of experiencing an upswing, as I was now heading towards recovery, I was having the darkest of thoughts. Even with everything I was going through the VA still didn't explain antidepressant withdrawal to me, and insisted I add the mood stabilizer Lamotrigine to my recovery.
This was no battlefield offensive, my war cry was simply "Hold on."
As an athlete, it's possible I'm more in tune with my body than most, as I'm not sure another person might take the following steps. I tracked my vital signs, digestion and sleep in a spreadsheet for months, as I had not yet connected the antidepressant withdrawal with this vast spectrum of debilitating symptoms. I even wrote down the symptoms I knew sounded ridiculous: Dry eyes and mouth, tingly appendages, inability to function in the heat, strange sweat patterns and an utterly unpredictable heart rate.
In searching to understand what happened to me, I found others on antidepressants had experienced unexplained physical ailments and similar symptoms upon withdrawing. The more I learn the more I'm certain: Antidepressants harmed me. 
Pulled from the Depths
The ship didn't pull me up on the focsle on the front of the ship in grand style as they'd usually do. Instead I was told to swim aft and climb in through the side. I grabbed the external metal ladder and pulled myself from the ocean. Once I was inside, dripping on the ship's deck, young deck department sailors stood around with mixed looks of relief and terror written all over their faces: "So you, you're okay Ms. Burrill, right?"
I could tell by their expressions and fear soaked words that somebody screwed up. It had been more important to to leave me floating alone in the open ocean for an hour, than admit a screw up in front of the embarked Admiral's staff. I hadn't been forgotten, I'd just been less important than appearances. 
The eleven year purgatory I spent on a psychiatric drug cocktail that led to chaos, physical injuries and trauma, gave me insight far greater than anything I'd yet experienced. Unlike my brief and lonely float at sea, there are hundreds of thousands, if not millions of others trapped as I had been. Lives ruined. Bodies broken down. Families destroyed.
When I was safely back on the Dubuque the day of my open water adventure, no one offered an explanation of why I'd been left behind. Instead, I had to cull it out of the other officers who'd been on the bridge, until I got the truth.
Today I've recovered a semblance of my old life, and I, like millions of others, deserve answers. Why were we left out there? What have these drugs actually done to us? Everything I've learned thus far shows that antidepressants were poorly researched, with mere six week trials before they went to market, and society, especially our military service members and veterans, were used as test subjects.
Like all who serve, I signed up knowing I could be injured. I did not sign up for my injury to be overlooked, or to be left behind. I didn't sign up to be medicated for mental health conditions I didn't have and I certainly didn't sign up to be poisoned.
I know the antidepressants I was prescribed caused me harm, and I believe people knew it. If that is the case, not just me, but millions of other people are crime victims.
I'm back onboard, and I want answers.
***
Mad in America hosts blogs by a diverse group of writers. These posts are designed to serve as a public forum for a discussion—broadly speaking—of psychiatry and its treatments. The opinions expressed are the writers' own.
***
Mad in America has made some changes to the commenting process. You no longer need to login or create an account on our site to comment. The only information needed is your name, email and comment text. Comments made with an account prior to this change will remain visible on the site.