The first-ever randomized placebo-controlled trial to investigate the therapeutic potential of the psychedelic drug ayahuasca was conducted in Brazil and recently published in Psychological Medicine. The study examined psychedelic effects on people experiencing moderate to severe depression and who have not responded positively to psychotropic medication. The large research team made up of mostly Brazilian scientists, administered either ayahuasca, a psychedelic drink made from Amazonian plants, or a placebo that produced similar side effects known to be associated with ayahuasca. The results indicate antidepressant effects for those who were given ayahuasca compared to those given the placebo.
"Depression severity changed significantly but differently for the ayahuasca and placebo groups. Improvements in the psychiatric scales in the ayahuasca group were significantly higher than those of the placebo group at all time points after dosing, with increasing between-group effect size from day one to day seven," they write.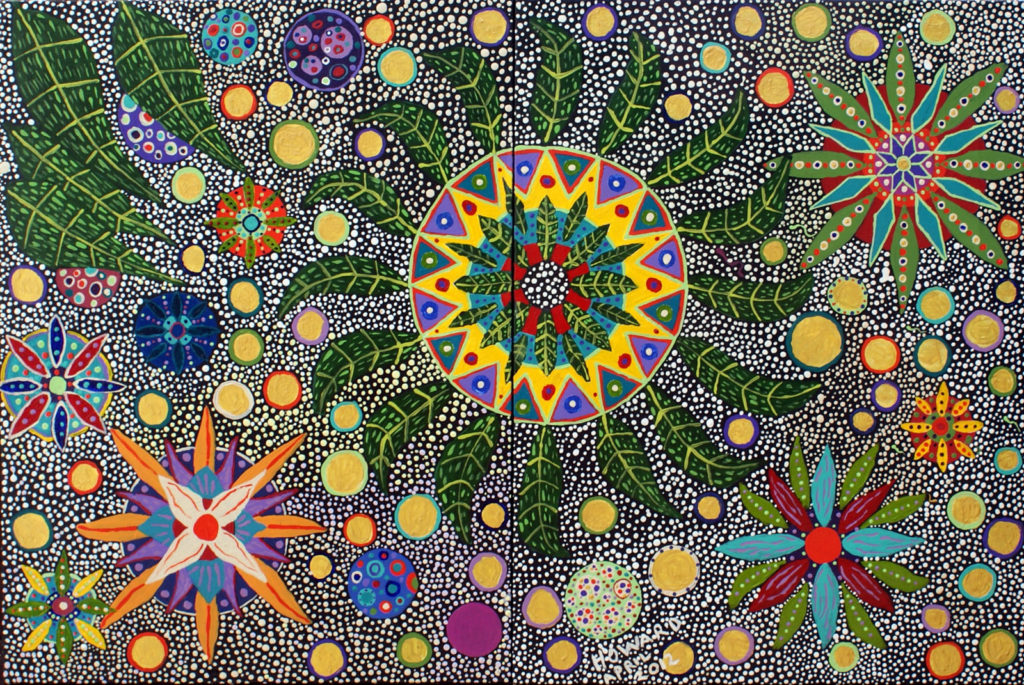 While research on the psychological healing effects of psychedelics, such as ayahuasca and psilocybin found in mushrooms, is scarce due to their illegal status in most countries. What research does exist suggests that the drugs may hold promise for treating severe mental distress. The authors of this study build on previous research exploring how psychedelics can affect the brain and alleviate suffering. In 2015, an open-label trial showed a significant reduction in depression severity in the first few hours after dosing and remained significant 21 days later upon reevaluation. Another study identified a potential explanation for the alleviating effect, observing "a single dose of ayahuasca enhanced mindfulness-related capacities," and that meditation practices have previously been associated with alleviating depressive symptoms.
However, previous trials did not control for the placebo effect, a phenomenon particularly high in clinical trials for depression. This article is the first to explore the antidepressant effects of ayahuasca compared with placebo for individuals with moderate-severe depression.
The Onofre Lopes University Hospital in Brazil hosted the study. It began with a search for people between 18-60 years who met the criteria for major depressive disorder and had not previously responded to at least two antidepressant medications from different classes. Those who were pregnant, had a history of neurological disorder, were currently abusing substances, presented with suicide risk, or had history or family history of schizophrenia, bipolar affective disorder, or mania/hypomania (which ayahuasca may aggravate) were excluded from the study. Of the 218 assessed individuals, 29 met the criteria for the trial. All participants were Brazilian, 72% were female, from low socioeconomic backgrounds. Participants were assisted in tapering their current antidepressant medication and were allowed benzodiazepines only if needed.
Dosing sessions, which lasted approximately 8 hours, were held in the hospital in rooms set up to mimic a quiet and comfortable living room, including a bed, recliner, natural and dimmed light, as well as options for a predefined music playlist. They were routinely checked on by two investigators who were always available if needed.
Participants were randomly assigned ayahuasca or placebo, while investigators were blind to intervention assignment in accordance with the double-blind, randomized placebo-controlled trial standards. The MADRS and HAM-D assessments were used to assess depression severity at baseline (one day before dosing), and at one day, two days, and seven days after dosing. *See figures in the study for graphs illustrating participant scores on the MADRS and HAM-D spanning over the four points of assessment.
The results indicate evidence of a "rapid antidepressant effect after a single dosing session with ayahuasca when compared with placebo."
The authors note a high placebo rate in their study – 46% on day 1 and 26% on day 7. They hypothesize that this high response was potentially be connected to the 'care effect' that can be experienced by low socioeconomic populations living in significant psychosocial stressors. The comfortable and supportive environment provided by the study could account for the higher placebo effects. Most participants identified with having a comorbid personality disorder, another population that may present with higher placebo responses.
The authors go on to illustrate the effects of psychedelics on the brain and discuss the mystical-type effects reported by the participants. Future qualitative research is warranted to explore what happens for individuals experiencing the effects of psychedelics to better recognize who, what, and how these medicines can help.
While the study delivers promising prospects, limitations, and room for future research are noteworthy. The study includes a small number of participants with similar demographics, e.g., living in Brazilian culture, having low socioeconomic status, and experiencing "treatment-resistant" moderate to severe depression. This lack of generalizability precludes any understanding of the therapeutic potential for others with disparate backgrounds and presentations. Additionally, the study assessed up to just seven days after the experience. Future research that evaluates therapeutic benefit long-term is essential in assessing the impact of psychedelics when treating depression.
Furthermore, ayahuasca often causes nausea and vomiting. While purging is described as necessary for the therapeutic process, people may not be receptive to the experience with uncomfortable side effects.
Before the ban of psychedelics in the 1960s, they were at early-stage testing for many psychiatric conditions. More studies are currently underway and needed to continue understanding the potential of psychedelics, such as the Amazonian brew ayahuasca, in alleviating human distress.
Palhano-Fontes and colleagues conclude:
"To our knowledge, this is the first randomized placebo-controlled trial to investigate the antidepressant potential of a psychedelic in a population of patients with treatment-resistant depression. Overall, this study brings new evidence supporting the safety and therapeutic value of psychedelics, dosed within an appropriate setting, to help treat depression."
****
Palhano-Fontes, F. et al. (2019). Rapid antidepressant effects of the psychedelic ayahuasca in treatment-resistant depression: a randomized placebo-controlled trial. Psychological Medicine, 49, 655-663. https://doi.org/10.1017/S0033291718001356 (Link)