Mad in America is about to turn eight years old, and as we are launching a fundraising effort to keep us going through 2020, I think it's appropriate to ask the relevant question: Are we accomplishing what we set out to do?
Here is our existing mission statement:
Mad in America's mission is to serve as a catalyst for rethinking psychiatric care in the United States (and abroad). We believe that the current drug-based paradigm of care has failed our society, and that scientific research, as well as the lived experience of those who have been diagnosed with a psychiatric disorder, calls for profound change.
I think it is time for us to slightly amend that statement.
Ever since the American Psychiatric Association published the third edition of its Diagnostic and Statistical Manual in 1980, our society has organized its care around what I call a "false narrative" of science. APA adopted a "disease model" in DSM III, and soon our society was being told that psychiatric disorders were caused by chemical imbalances, which could be put back into balance by a new generation of psychiatric drugs. That was a story that told of a great medical advance. Yet, science was actually revealing a very different truth: of diagnostic categories that were constructs, as opposed to validated disorders; of drugs that induced chemical imbalances in the brain, rather than fixed them; and of a rising burden of "mental illness" that resulted from this paradigm of care.
The resulting social injury is vast, and the most profound injury, I believe, is this: DSM III changed the way we viewed ourselves and viewed our children, and it gave us an utterly impoverished philosophy of being. Indeed, as you read DSM III, which sought to draw a line between the "normal" and the "mentally ill," you are struck by how its authors appear to have never read Shakespeare, or any collection of novels, or even the Bible. All of that literature tells of how we humans are subject to raging states of mind, wildly imperfect behavior, and regular fluctuations in our emotions.
And somehow the Huck Finn we admired fifty years ago has been turned into the ADHD child of the modern era.
I am not trying to discount or minimize the struggles people may experience with their minds and emotions, or the difficulties that children may experience. My point is that the "false narrative" that was sold to us encouraged us to view those difficulties through a "disease model" lens, and that is what ultimately has led us astray.
As such, "rethinking psychiatry" is too limited of a goal. What our society needs to do is create a new narrative regarding this domain of our lives, one born—I believe—from a mix of science, philosophy, and mutual caring for each other.
Thus, I think our mission at MIA is two-fold. One is to help usher out the false narrative, and the second is to help usher in a new one.
Our Operations
The scope of our efforts has steadily grown over the past eight years. Here is a quick summary of what we do:
Research News
We publish reviews of scientific findings five days a week. Our science writers focus on presenting findings that the mainstream media rarely reports on, in part because such results contradict the prevailing narrative and thus are not promoted to the media by pharmaceutical companies and professional psychiatric organizations. You might say that MIA provides readers with the "rest of the story."
Blogs/personal stories
Each week, we publish four to six new essays and personal stories, written by an international group of contributors. These posts explore both the failures of the disease model and the possibilities that arise from embracing new narratives. Our front page also provides calendar information, artwork, and a daily round-up of interesting news and articles published "around the web."
MIA Journalism
We are now regularly producing our own journalistic articles, which are published as MIA Reports. These reports include:
In-depth interviews with an international roster of researchers and activists (that also air as MIA podcasts).
In-depth investigative reports.
Political coverage of national legislation related to "mental health."
Features on innovative projects or initiatives.
Critiques of the media's coverage of this topic.
Since we ramped up this journalistic effort in March, we have published a total of 29 MIA Reports.
Informational Resources
This past year, we greatly expanded our reviews of the "evidence base" for psychiatric treatments. Specifically:
Special Sections: Parent Resources and Veterans
We have created two new sections for parents and veterans, who are regularly targeted by promoters of the disease-model narrative in their "educational" campaigns. The new sections provide a "landing spot" for those who are newly discovering the MIA critique of that model. We have also begun hosting online support groups for parents.
MIA Radio
We have aired 29 podcasts in 2019, which have featured interviews of researchers, activists, and leaders in the psychiatric survivor community. The podcasts have turned a spotlight on a wide variety of topics, ranging from psychiatric practices among the Maori in New Zealand to studies of zebra fish that tell of possible iatrogenic effects of antidepressants that are passed down through multiple generations.
MIA Continuing Education
In the continuing education world, many programs are directly or indirectly funded by pharmaceutical companies, and they typical promote conventional beliefs and "disease model" practices. We launched MIA Continuing Education to provide an alternative to that "schooling" of professionals.  Our courses, which typically are composed of six to eight presentations, have focused on such topics as withdrawal from psychiatric drugs, informed consent, open dialogue practices, and promoting system change.
MIA Global
The impact of MIA can perhaps best be seen in our growing number of global affiliates, all of which are striving to "change the narrative." We provide web hosting services for our affiliates and some technical support, while the editors of our affiliate sites provide the editorial content. We now have seven affiliates in Europe, South America, and Asia, and expect two more in Europe to launch soon.
Our Reach
As can be seen, all of our efforts are designed, in one manner or another, to help bury the old "disease model" narrative and usher in a new narrative of a radically different kind. And each year, our audience has grown. In 2019, we expect to have more than 3 million unique visitors and more than 300,000 downloads of our podcasts. Our MIA Continuing Education alumni now number more than 6,000.
Our Financial History and Values
From 2012 to 2014, we ran mostly as a volunteer organization, with our tiny budget used to pay for our IT needs and various web hosting and software expenses. Thanks to the generous support from our readers and several family foundations, we gradually transformed into a non-profit organization that could hire people as "staff" or as regular freelance contributors.
One quick note on our values: as we made this transformation, we wanted to make sure that all felt valued, and that there would be no disparity in pay between those with lived experience and those without such experience.  Thus, we pay everyone the same hourly rate.
You can see in the following table that our expenses have steadily climbed over the past four years.  Approximately 80% of our spending is for "labor" costs, and every person working for MIA, either as staff or as a regular contributor, is involved in developing editorial or educational content. The remaining 20% of our budget goes for web-related expenses, software, accounting fees, insurance, and a handful of other administrative expenses.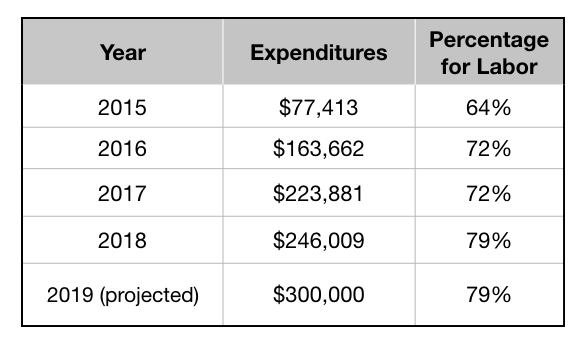 Here is our balance sheet as of September 30, 2019.
The Narrative is Changing
There are many organizations, groups, and individuals that are working to "change the narrative," and I think it's fair to say that MIA is the most prominent "broadcaster" of that collective effort. And this effort has morphed into a global movement, as is evident in the increasing number of MIA affiliates.
And I am certain that we are having an impact.
While it may seem that psychiatric practices in the United States and abroad remain hitched to the disease model, with the general public still believing in chemical imbalances and such, the narrative within psychiatry's own journals and publication has notably changed in the past eight years. Even in those circles, there have been an increasing number of editorials and opinion pieces arguing for a rethinking of psychiatric practices.
The chemical imbalance theory has now been mostly relegated to the trash bin, and if you have any doubt about that, read this blog by Ronald Pies. There is a general admission in psychiatric research circles that outcomes with psychiatric drugs are poor. And with an increasing number of long-term studies finding that antidepressants and antipsychotics appear to worsen long-term outcomes, several researchers have written papers arguing that this may be because the drugs, in essence, induce chemical imbalances in the brain.
Here is how an editorial in the British Journal of Psychiatry described the "new" thinking about antipsychotics:
"It is time to reappraise the assumption that antipsychotics must always be the first line of treatment for people with psychosis. This is not a wild cry from the distant outback, but a considered opinion by influential researchers . . . [there is] an increasing body of evidence that the adverse effects of [antipsychotic] treatment are, to put it simply, not worth the candle."
And so what are we seeing rising in place of the old narrative? The Norwegian government has ordered its hospitals to offer "medication free treatment." Soteria homes are popping up in Israel. Open Dialogue efforts are underway in the United States and throughout Europe. And so on: the revolution is happening.
One of the leading voices for radical change is psychiatrist Dainius Pūras, the U.N. Special Rapporteur for the right to health. In a 2017 report on mental health, he argued that it was time to "abandon the predominant medical model that seeks to cure individuals by targeting disorders." He wrote:
"The focus on treating individual conditions inevitably leads to policy arrangements, systems and services that create narrow, ineffective and potentially harmful outcomes . . . It paves the way for further medicalization of global mental health, distracting policymakers from addressing the main risk and protective factors affecting mental health for everyone."
I know, for a fact, that Dainius Pūras and his staff are familiar with MIA, and, in particular, that they have been interested in our reporting on initiatives. You can read his report and see that we are indeed "having an impact."
Our Fundraising Campaign
We greatly appreciate the generous support that we have received from so many this past year, and in the prior years as well. This generosity is what has enabled us to continually expand our operations.
Our goal with this end-of-year fundraising campaign is to raise $50,000. We have received a matching grant from one of our donors for this campaign, which means that every dollar donated will provide MIA with $2 of funding. Thus, if we can reach our $50,000 goal, the campaign will generate $100,000 in total funding for MIA in 2020.
And I hope that all who choose to contribute will take pride in knowing that they are helping to "change the narrative."
***
Mad in America hosts blogs by a diverse group of writers. These posts are designed to serve as a public forum for a discussion—broadly speaking—of psychiatry and its treatments. The opinions expressed are the writers' own.
***
Mad in America has made some changes to the commenting process. You no longer need to login or create an account on our site to comment. The only information needed is your name, email and comment text. Comments made with an account prior to this change will remain visible on the site.