COVID-19 has forced us all into new ways of being, new ways of relating, and new ways of responding in a time of crisis. These new ways reveal more clearly than ever how essential dialogue is to the human experience. We are all to some degree shaped by the dialogues we are born into, and the ones we join as we move out into the world. Now, more than ever, we are engaged in a global dialogue, the outcome of which will shape our uncertain future.
Dialogical practices, such as Finland's Open Dialogue, and Hearing Voices Groups, have been working and learning for over three decades how to respond to crisis by convening those affected into dialogue.
Dialogue goes back to the origins of humanity. Dialogical thinking adds to this the notion that dialogue itself is core to the experience of being human; that we make sense of the world, and meaning, together. "Madness," therefore, is what we see or feel when this process goes awry or is blocked. People who are unable to find the words for the dilemmas they face, or whose words are not heard, might grow increasingly strident or bizarre in their efforts to make sense of things and to be heard, or they might give up entirely. The cure is to get the dialogue started and on track again.
We may now live in the most dialogical time ever, as we are engaged in a global dialogue in which we collectively struggle to find our way into an uncertain future. Mad in America is proud to introduce a new venture; a web series of "Town Hall" conversations, "Exploring Dialogical Responses in a Time of Crisis," on Fridays at noon, Eastern Daylight Time.
In collaboration with HOPEnDialogue, which seeks to connect and support the Open Dialogue Learning Community, and Open Excellence (formerly the Foundation for Excellence in Mental Health Care), which has been instrumental in funding and promoting Open Dialogue and Hearing Voices practice and research, we will gather to reflect on what they are learning about responding dialogically on the front lines of this crisis. The first live town hall will be held on Friday, April 17. You can register here.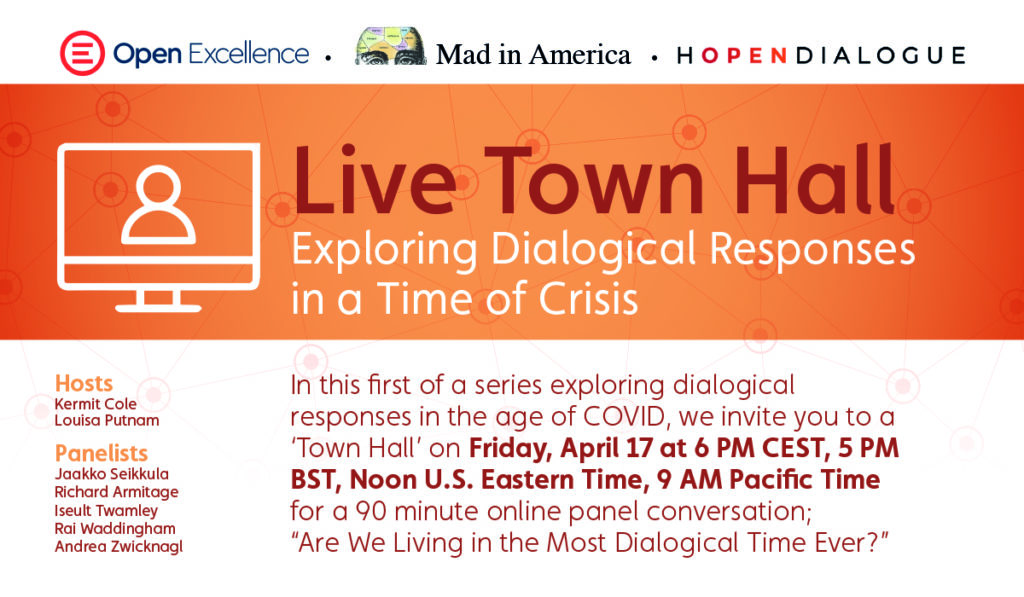 My partner Louisa Putnam and I began our Open Dialogue Foundation training in London four years ago on what turned out to be the day the UK voted for Brexit. What had started with the excitement of gathering with people from nine countries to learn about healing through dialogue turned to sadness as it seemed the world was choosing silence. Two months ago, on our way home from our last class in Helsinki to become Open Dialogue trainers this past February, excited to become part of the network of people around the world working to promote Open Dialogue, signs in the airport cautioned about the coronavirus. Shortly after we arrived home, it was clear we wouldn't be going anywhere for the foreseeable future.
It became clear in conversations with our train-the-trainers classmates that something new was happening. As the requirement to maintain physical distance became increasingly clear, the need to be in dialogue became ever more clear as well. It may be, in fact, that the principles of Open Dialogue that have been so difficult to implement or have accepted in the world as it was may be more evidently needed—and attainable—than ever before. Where once these principles may have been impractical due to issues of monetization, or ideology, or simply inertia and/or resistance to something new—even with its demonstrated effectiveness—the elements and principles that have been so simple and evidently effective in crises have become increasingly evident to a world in crisis.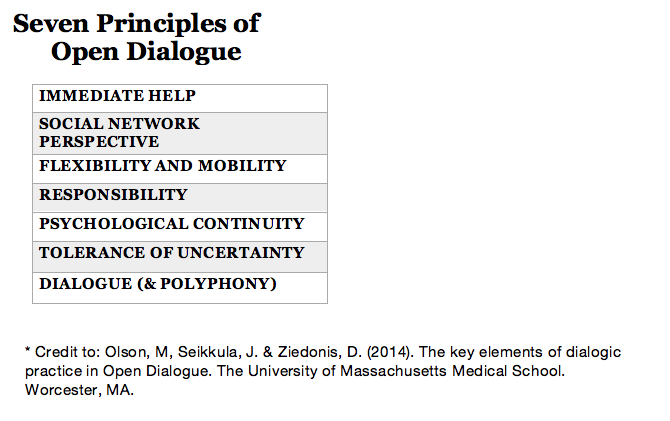 Immediate Help
In this new world, untethered to physical offices, many dialogical practitioners are finding they are able to provide "Immediate Response" by phone or online, where once a long wait for an office appointment was the norm.
Social Network Perspective
Families that had not gathered for years in the same room are now open to gathering online. Problems of distance are eliminated, as are inequalities that come with ownership or authority over a physical space.
Flexibility
Many clinicians find that, untethered to physical office visits, "flexibility" to meet clients as needed, as for instance with daily ten-minute check-ins, is a practical reality as well as a necessity. And with this flexibility it becomes easier to divest ourselves of power and authority, as the creators of Open Dialogue have labored to do. We meet with people not in our offices but in their homes, and from our homes. One clinician noted that for some "oppositional" children, the feeling of "seeing a friend online" rather than "going to a doctor" helps to establish a deeper connection. In this new context many clients express care and concern for their therapists in a way that might have seemed "out of place" a month ago.
Dialogue & Polyphony
"Face-to-Face" meeting has taken on an entirely different meaning, as we were asked to keep our bodies first three feet apart, then six, then to wear protective equipment if not to stay away from each other entirely. All participants—including clinicians—now join the dialogue from their own homes, via identical boxes on a screen. Differences of size, height, or strength are eliminated.
People who may have had difficulty looking into each others' eyes, or tracking the body language in a room, find themselves looking at faces mere inches away, and clustered in an easy-to-manage group. Some practitioners report a welcome ability of groups to spend long periods of time in silences that had previously been awkward. The smallest movements, the softest murmurs—also a part of dialogicity—take on weight and significance across a physical void that we might have missed or recoiled from in person.
Tolerating Uncertainty
One of the most essential elements of Open Dialogue, "Tolerating Uncertainty," is also famously the hardest to learn in a world that presumes to offer ready answers for fear and suffering. Now, in a world where people who may have the virus are told to stay at home, often alone, with no more than a daily call from the hospital to check on symptoms, the support of dialogical clinicians who are accustomed to holding space rather than "fixing" is more relevant than ever. Some support families who are unable to be with ailing loved ones, sometimes never to see them—or even their bodies—again. They report finding that they are grateful for all the time spent learning to tolerate uncertainty.
"Welcome to MY World!"
Many who have lived isolated, often in fear, now express feeling less alone. Jaakko Seikkula noted in a Facebook post titled "The Most Dialogical Time Ever?" that "some people who had been suffering from mental health crisis have said that they feel they are becoming closer to 'normal' people because we all are suffering now … There is nothing to be enjoyed in this terrible disaster. But the only option, and perhaps the best opportunity, is to learn to live together in the uncertainty."
Peer-Supported Open Dialogue trainer Russel Razzaque responded in a comment that "The very notion of certainty about anything at all will, I hope, be relegated in many respects to the realm of fiction where it always belonged. And whatever change beyond that emerges, I agree that dialogue will be at its heart."
Responsibility: The Virus as Metaphor
Perhaps most importantly, the principle of "Responsibility," honoring the relationships we take on with people in crisis, applies to all of us now. The virus has made starkly evident that we are all responsible for each other's welfare, as in the world of coronavirus nobody's well-being is independent of anyone else's. The virus is perhaps a metaphor for what dialogical practitioners have long known about mental health: that what manifests as "illness" in one person is often representative of invisible threats that affect all of us. Our ability to listen and respond to the most vulnerable among us is essential to our collective well-being.
This is the beginning of what will hopefully become an ever-renewing dialogue, as it is the nature of true dialogue to be; not a search for answers, but a search for new ways of being together. The world will try to go back to what it was before, but it will not be able to. It is up to us what it will become. We seek to inspire and encourage individuals, families, communities, nations, and the world to take this opportunity learn from this moment, and then work together to face an uncertain future, becoming ever more human—ever more dialogical—in the process.
This Friday we will meet with Jaakko Seikkula, a co-founder of Open Dialogue, Rai Waddingham, an Open Dialogue and Hearing Voices trainer and practitioner, Iseult Twamley, and Open Dialogue trainer and practitioner, Andrea Zwicknagl, a peer support worker practicing Open Dialogue and advisory board member of HOPEnDialogue, and Richard Armitage, a dialogical practitioner. Next week we will host Russell Razzaque and Jimmy Ciliberto on a panel focusing on the responses in Italy and the UK.
***
Mad in America hosts blogs by a diverse group of writers. These posts are designed to serve as a public forum for a discussion—broadly speaking—of psychiatry and its treatments. The opinions expressed are the writers' own.
***
Mad in America has made some changes to the commenting process. You no longer need to login or create an account on our site to comment. The only information needed is your name, email and comment text. Comments made with an account prior to this change will remain visible on the site.