A new article, published in a special issue of the Journal of Humanistic Psychology, explores our societal responses to the COVID-19 pandemic through the lens of terror management theory (TMT).
In their article, the authors explore the defenses we use to manage death-related anxiety and examine how these defenses have driven people's responses to the pandemic. They also highlight how understanding the pandemic through TMT could provide insight as to how to best navigate the pandemic in a way that allows for meaningful and purposeful living, but also protects from exposure to the virus. The authors, led by Dr. Tom Pyszcynski, one of the founders of terror management theory, write:
"Although there are many disturbing aspects of the COVID-19 pandemic, from the perspective of terror management theory, the enormous death toll and highly contagious nature of the virus play especially important roles in spawning the diverse forms of turmoil that have resulted from this crisis. We argue that the salience of death brought on by COVID-19 plays a central role in driving the attitudes and behavior of even those who believe that the dangers of the virus have been vastly exaggerated."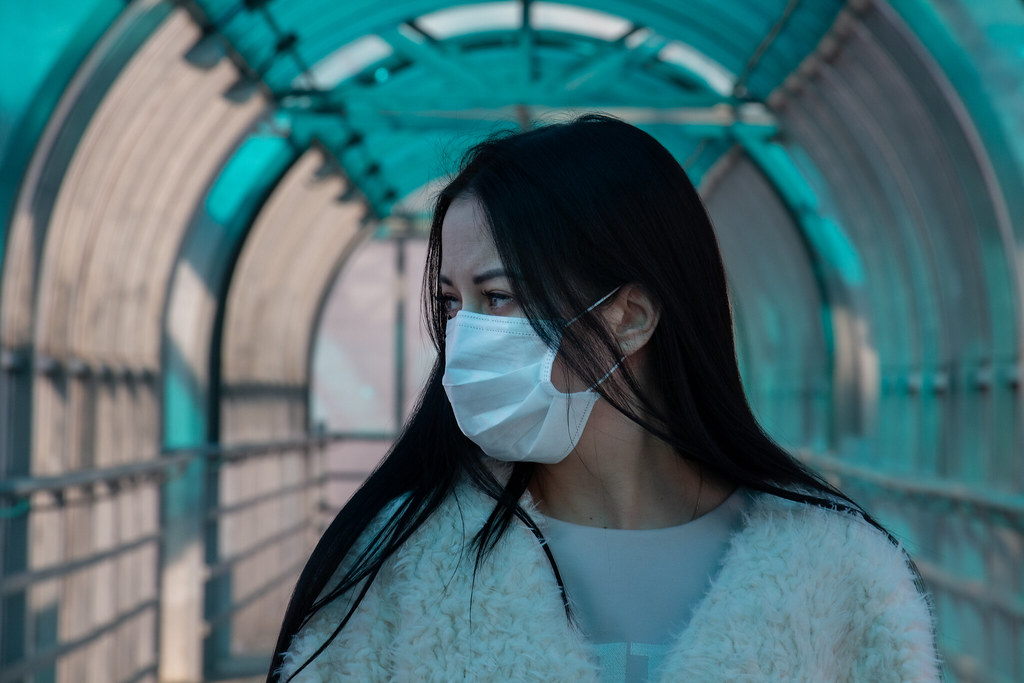 A key emphasis of TMT is its focus on human beings' awareness of the inevitability of our own deaths, something that is unique to us as a species. This awareness results in an always-present threat, an ever-looming existential terror about when we will die. However, as continually fearing our demise is not conducive to functioning well in our daily lives, we have developed an "anxiety-buffering system," which consists of our cultural worldviews, self-esteem, and close relationships with others, as a way to defend against this existential threat.
Cultural worldviews are our way of making sense out of and navigating life. They are beliefs we share with others that provide us with values, behaviors, and answers to questions about the nature of reality and life itself. They also allow us to attain a sense of literal or symbolic immortality.
Literal immortality refers to the belief that after death, there is some continuation of life via an afterlife, such as heaven or reincarnation. Symbolic immortality refers to the idea that we are contributing to something greater than ourselves that will continue after our deaths –-such as family or the greater good.
Self-esteem, from the perspective of TMT, refers to the sense of value we derive from feeling as if we are living up to the standards of our worldview. Our relationships with others validate our worldview and the self-esteem required to maintain our beliefs in our worldviews.
TMT research has highlighted how, when we are reminded of our mortality, we tend to increase our sense of commitment to and defense of our worldview, self-esteem, and relationships–-and contrastingly, when these aspects of our lives are threatened, we are more prone to death-related thoughts. Research has also demonstrated that when these aspects of our lives are strengthened, we are less likely to experience anxiety or engage in anxious behaviors. When we lean on these in response to reminders of our own mortality, we tend to be more resilient.
TMT identifies two different systems of defenses that we use to manage death anxiety, proximal and distal defenses.
Whenever we are consciously thinking of death, proximal defenses are enacted to try to push those thoughts and our worries about our deaths away. We think about death as something that won't happen until sometime in the distant future. For example, we deny our vulnerability to things that could harm us, or we make efforts to live healthier lifestyles in an attempt to live longer.
Distal defenses, on the other hand, come into play when thoughts of death are not in our conscious awareness, but still easily accessible. Distal defenses involve focusing in on our worldviews and self-esteem, which provide us with a sense of purpose and meaning, as a way to defend against death anxiety.
When applying TMT to the polarized responses to the COVID-19 pandemic, we are better equipped to make sense of these extreme reactions. The authors point to the constant barrage of media coverage of the virus and death toll statistics that we are inundated with daily, and how, regardless of how deadly the virus turns out to be or our beliefs about the lethality of the virus, we still cannot escape these constant reminders of death.
The authors also highlight the peaceful protests and organized movements across the country in response to police brutality and police murders of African American citizens. While the protests and movements have raised support for Black Lives Matter and police reform, media coverage of violence and looting has also been relentless.
Coupled together, both the pandemic and social unrest, and media coverage of each, has led to a constant bombardment of threatening information and reminders of our mortality.
In addition, efforts to flatten the curve of the virus have resulted in an economic crisis, as many have lost jobs or other sources of income. There have been social costs as well, as individuals are more isolated due to the need for social distancing to stem the virus.
Elsewhere, the impact of isolation on the mental health of children and adolescents has been examined. Others have explored how the most vulnerable in our societies, such as racially and economically marginalized individuals, as well as those diagnosed with highly stigmatized mental health disorders, like psychosis, have been most adversely affected by the pandemic and COVID-19 itself, and have called for governmental responses that address basic needs such as housing, universal income, and peer support.
Further, misinformation and contradictory information on the virus is prevalent across social media and the news media, with partisan news outlets pandering to their supporters rather than providing unbiased information, causing further disruption and misunderstanding.
The authors write:
"The world has suddenly become an even more chaotic, confusing, and hostile place, in which death lurks around every corner, and people struggle to maintain meaning and self-esteem. People are living with the very real threat of death from the pandemic, combined with challenges to their worldviews, loss of jobs, impediments to career goals, and isolation from friends and family who normally validate one's significance. From a TMT perspective, it is currently far more difficult for virtually all of us to manage the terror of death."
The authors highlight proximal defenses that have arisen to combat daily reminders of our mortality in reaction to the pandemic, which includes increases in attempts of avoidance, such as drinking alcohol, overeating, and binge-watching television.
They also point to minimizing the perception of the threat as another proximal defense, describing how some individuals have clung to narratives that the virus isn't as lethal as experts claim, that it's more akin to the flu or common cold, that it only affects the elderly, that it is a politically-motivated conspiracy created to harm political leaders, or that death rates are inflated as a way for hospitals make money.
Proximal defenses against death that are more adaptive in response to the pandemic include following the recommendations made by health experts to avoid infection, such as handwashing, social distancing, mask-wearing, and increased sanitation practices.
Although coverage of the virus has been unyielding, we aren't always thinking about it. Doing so would be too disturbing and upsetting for us to handle; it is here distal defenses enter the picture. The authors point to the partisan divide evident in beliefs and responses to the virus, with liberals viewing the virus as more dangerous than conservatives and more likely to believe scientists and medical professionals' expertise. Conservatives view the virus as less dangerous, more likely to attribute it to China and other foreigners, and perceiving the virus as being a conspiracy against Donald Trump.
While divisions between the left and right were prevalent before the advent of the pandemic, Trump's handling of the pandemic has resulted in an even greater divide between the two opposing ideologies. Conservatives tend to favor easing restrictions and reopening business and public spaces, while liberals tend to support social restrictions to curve the spread of the virus.
Describing the political division in the wake of the pandemic, the authors write:
"In many U.S. cities, protests against government restrictions were primarily attended by conservatives, some brandishing assault rifles, and White nationalist symbols. Despite initial sentiment that 'we're all in this together,' the pandemic has become yet another domain for ideological division."
TMT research provides insight into this polarization. While reminders of death have been shown to lead to a shift toward conservative attitudes, regardless of political affiliation, reminders of death have also been associated with increased polarization.
The authors point to the reactions to the police killing of George Floyd, discussing how while it certainly wasn't the first unjust police murder of an African American individual, it has resulted in more intensified reactions than we have seen in response to other incidents of police brutality and murder. They argue that the death thought accessibility brought about by the pandemic is likely the cause of these intensified reactions, as individuals probably joined the cause as a way to gain a sense of meaning and purpose in their lives, something that is especially important during a time when individuals are confronted with the loss of things that usually provide life with meaning, such as jobs, social relationships, etc.
The authors described how although involvement in protests may be an attempt to defend against death, it ironically, may also increase the risk of death as protestors, who typically hold the same leftist views as those who believe social distancing should be engaged in, are participating in mass gatherings that could increase risk of infection, and also are under threat of violence from police and counter-protestors. These individuals are therefore placed in a position wherein they are strengthening their worldviews and finding a sense of purpose by protesting against racial injustices, while also putting themselves in danger, both of physical violence and infection.
The psychological distress associated with the pandemic is also explored by the authors, who describe how death anxiety has increased, with recent research highlighting an increased sense of anxiety and fear related to physical wellbeing. Additionally, when death anxiety is unable to be managed effectively, it can lead to harmful ways of coping with stress, which we have also seen in relation to the pandemic, such as gargling bleach to try to avoid becoming infected, or using opiates or gambling as a distraction from the virus.
This psychological distress has been further heightened by job loss and other significant losses of meaningful pursuits, such as educational and financial goals, as well as connections to our social worlds, all of which are distal defenses we commonly rely on to combat death anxiety – and all of which have been significantly impacted by the pandemic. Understanding the psychological impacts of the pandemic from a TMT perspective allows for a less pathologized view of these reactions. Similarly, others have cautioned against pathologizing the psychological distress associated with the pandemic, arguing that it is a normal response to extreme circumstances.
In exploring ways to reduce death anxiety, the authors suggest reducing social media exposure, which is connected to poorer mental health. They also recommend adhering to practices indicated by the scientific community and medical professionals to avoid infection. Moreover, they suggest that finding new ways of creating meaning and connection, such as through participating in social activities that are "COVID-friendly" and by engaging in home-based hobbies like baking or exercise.
Overall, understanding responses to the pandemic from the lens of TMT sheds light on the politically polarized reactions to the virus, as well as the social unrest that has developed across the United States. Conceptualizing COVID-19 from this perspective could be beneficial in allowing us to better navigate the nuances of pandemic living, in such a way that enables us to prevent infection while also living a life that is filled with meaning.
****
Pyszczynski, T., Lockett, M., Greenberg, J., & Solomon, S. (2020). Terror management theory and the COVID-19 pandemic. Journal of Humanistic Psychology, 00(0), 1-17. DOI: 10.1177/0022167820959488 (Link)