A new article in Medscape Medical News—a leading online medical news service—addresses the controversy over psychiatry's "Bible," the DSM.
The American Psychiatric Association (APA) sells the manual for classifying psychiatric diagnoses, known as the Diagnostic and Statistical Manual of Mental Disorders, now in its fifth edition (DSM 5). It has been criticized by major figures in psychiatry, such as Allen Frances, the chair of the fourth edition Task Force and a key figure in the creation of modern psychiatric diagnoses, and Thomas Insel, director of the National Institute of Mental Health (NIMH) from 2002 to 2015.
Criticisms leveled at the DSM include its lack of validity and reliability, vague symptom lists, ambiguous diagnoses, and that its diagnoses are created (and sometimes removed) by consensus rather than scientific discovery.
However, the APA wholeheartedly supports the use of the manual despite these criticisms. Perhaps the greatest voice in support of the DSM is Jeffrey Lieberman, known for his prolific defenses of psychiatry, who was president of the APA from 2013-2014 and is now chair of psychiatry at Columbia and director of the New York State Psychiatric Institute.
In the current article for Medscape, Michael Vlessides summarizes the DSM's history and controversies, including striking quotes from these larger-than-life figures in modern psychiatry.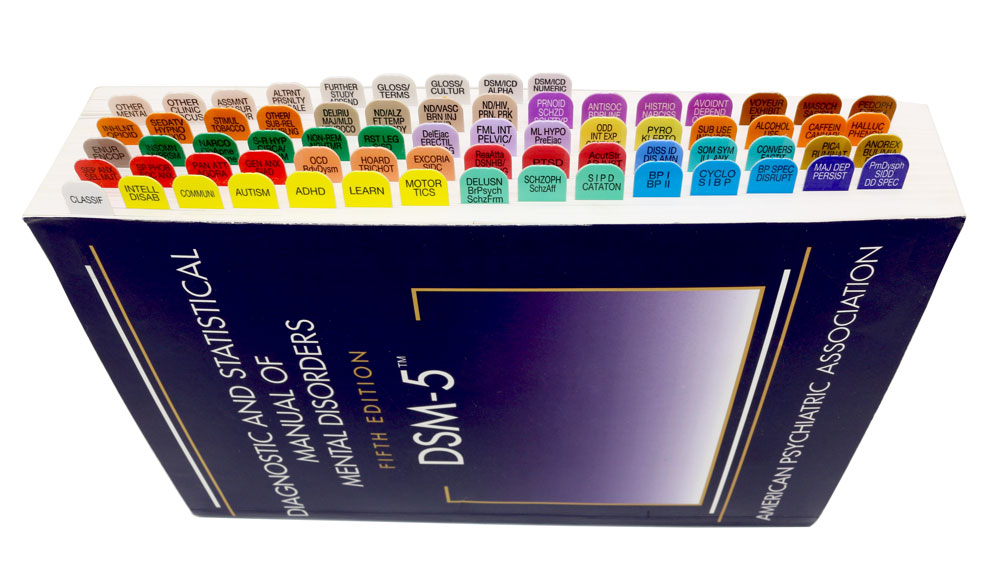 Lieberman's Apologia
Lieberman defends the DSM by acknowledging that it is flawed—and unique among medical specialties in its lack of objective measures—but suggesting that there is no better way to conceptualize distress:
"It's easy to criticize the DSM […] But at this point, it represents a system that is as good as we can have, given our current state of knowledge […] Is it ideal? By no means. But there's no better alternative. Hopefully, research will soon enable modifications that will lead to pathologic diagnostic assessments, like every other field of medicine has."
One criticism of the DSM mentioned in the article is that—unlike other medical specialties whose diagnoses are based on understandings of the biology involved—psychiatry's diagnoses are agreements among self-appointed experts regarding what personalities or experiences are "abnormal." In fact, the diagnostic categories being considered for inclusion in the DSM 5 were circulated to the general public for comment—a tradition unique among doctors and researchers who are constructing supposedly scientific medical diagnoses.
Of course, this public accountability has its benefits. It is one reason why homosexuality is no longer technically a medical disorder, despite its inclusion in previous editions of the manual. It seems that sometimes a committee of experts believes certain ways of being—such as being gay or transgender—are "disorders" or "diseases," but if enough people disagree, incremental changes can be made.
However, Lieberman does not believe this is a problem that invalidates the scientific integrity of the diagnoses—because he admits that there is no scientific data on which to base the criteria for psychiatric diagnosis.
"The consensus diagnosis issue is a legitimate concern, but I don't think it's a fatal flaw… Because if there's no data, then what methods do you use?"
The Fatal Flaw
Other experts suggest that this complete lack of scientific data is a fatal flaw. Edward Shorter, a professor of the history of medicine and psychiatry at the University of Toronto, calls it "totally unscientific":
"One of the strangely unscientific aspects of the DSM is that it's largely the product of horse-trading […] People sit down around a big table and say, 'I'll give you your diagnosis if you give me mine.'
 "This is a totally unscientific way of doing business," he continued. "We didn't come up with the speed of light by having a consensus conference, and it's not how psychiatric science should be conducted, either. To think that this is responsible for the official psychiatry diagnostic manual is just gobsmacking."
Nassir Ghaemi, a psychiatrist and author at Harvard and Tufts, makes a similar criticism:
"It was so popular that it became a bible," he told Medscape Medical News. "We've created a bunch of terms―most of which were created out of the blue with no scientific rationale―but just because we would all agree on the definitions. And now we act as if they were handed down by God himself and can never be changed. And that's essentially what's happened in the last 40 years."
Other criticisms came from two of the biggest names in psychiatry, Thomas Insel and Allen Frances.
In a now-infamous blog post in 2013, as the APA was preparing the current edition of the DSM, Insel—then the head of the NIMH—admitted to the world that the diagnostic categories were invalid and would not be tolerated by any other subset of medicine:
"The weakness is its lack of validity. Unlike our definitions of ischemic heart disease, lymphoma, or AIDS, the DSM diagnoses are based on a consensus about clusters of clinical symptoms, not any objective laboratory measure. In the rest of medicine, this would be equivalent to creating diagnostic systems based on the nature of chest pain or the quality of fever. Indeed, symptom-based diagnosis, once common in other areas of medicine, has been largely replaced in the past half-century as we have understood that symptoms alone rarely indicate the best choice of treatment."
He was not the first head of the NIMH to criticize the DSM. Steven Hyman, Harvard and Broad Institute researcher and leader of the NIMH from 1996-2001, famously called the DSM diagnostic system "an absolute scientific nightmare" when interviewed by the New York Times in 2013.
Nancy Andreasen, who served on the DSM III and IV Task Forces and chaired the Schizophrenia Work Group for DSM IV and was former Editor-in-Chief of the American Journal of Psychiatry, also criticized the DSM in a series of articles in the mid-to-late 2000s that mirrored Insel's words.
For example, in a 2007 article in Schizophrenia Bulletin, she wrote,
"Validity has been sacrificed to achieve reliability. DSM diagnoses have given researchers a common nomenclature—but probably the wrong one. Although creating standardized diagnoses that would facilitate research was a major goal, DSM diagnoses are not useful for research because of their lack of validity."
Allen Frances' criticisms of the new edition landed even harder. In a 2012 blog post on Psychology Today, Frances urged readers to "ignore" the changes to the manual and called the publication of the DSM 5 "the saddest moment in my 45-year career." He suggested that the current manual's diagnoses lacked "scientific support" and even "defy common sense."
According to Frances,
"More than fifty mental health professional associations petitioned for an outside review of DSM 5 to provide an independent judgment of its supporting evidence and to evaluate the balance between its risks and benefits. Professional journals, the press, and the public also weighed in, expressing widespread astonishment about decisions that sometimes seemed not only to lack scientific support but also to defy common sense.
"DSM 5 has neither been able to self-correct nor willing to heed the advice of outsiders. It has instead created a mostly closed shop, circling the wagons and deaf to the repeated and widespread warnings that it would lead to massive misdiagnosis."
Frances argued that the new manual would lead to overdiagnosis and overmedication because its new diagnostic categories were broad enough to subsume normal experiences of mild distress—which could now be considered "diseases." He also took aim at "fad diagnoses," which "littered" the history of psychiatry—and stated that the DSM 5 was featured at least "a half dozen" such "disorders."
Frances also called out a massive financial conflict of interest—the DSM is the APA's biggest money-maker since every professional in the mental health field must purchase the expensive, massive manual each time it is updated in order to stay abreast of the newest diagnoses and criteria changes.
"There is an inherent and influential conflict of interest between the DSM 5 public trust and DSM 5 as a best seller. When its deadlines were consistently missed due to poor planning and disorganized implementation, APA chose quietly to cancel the DSM 5 field testing step that was meant to provide it with a badly needed opportunity for quality control. The current draft has been approved and is now being rushed prematurely to press with incomplete field testing for one reason only — so that DSM 5 publishing profits can fill the big hole in APA's projected budget and return dividends on the exorbitant cost of 25 million dollars that has been charged to DSM 5 preparation."
A New Yorker article in 2013 summarized many of these complaints succinctly:
"Indeed, the D.S.M. has frustrated scientists, who note that the most common symptoms of mental disorder—sadness and worry, for instance, or delusions and hallucinations—appear as criteria for many different diagnoses; that many patients can be diagnosed with more than one disorder; and that the few solid findings about mental illness that have emerged from genetic and neuroscience studies indicate that the D.S.M's categories simply don't correspond to biological reality. Looking for the neurochemistry of mental disorders that don't necessarily exist has turned out to be as futile as using a map of the moon to get around Manhattan."
John Talbott, another former president of the APA and University of Maryland psychiatrist, was also interviewed by Vlessides for the Medscape article. He mirrored Frances' advice to professionals to "ignore" the diagnostic categories they disagree with.
"If you let the specifics of the DSM tie you down, it prevents you from practicing the art of medicine. So, I would hope people would not be bound by it but be flexible and use their clinical judgment instead."
It is hard to imagine another medical society's president urging its doctors to ignore the specific criteria in their manuals and suggesting that the published criteria for diseases actually impede good medicine.
Alternatives to the DSM
The new model of the DSM is one where periodic updates will be made online, although it is unclear whether this will improve anything about the current system.
An alternative to the DSM, proposed by Insel during his tenure as head of the NIMH, is the RDoC (Research Domain Criteria) system. This system was created to provide a structure for analyzing potential biological correlates of psychiatric complaints—without being beholden to the DSM categories. That is, the RDoC is focused on genetics and neurobiology.
Unfortunately, in a 2017 Wired interview, Insel said that $20 billion toward genetic and neurobiological research has resulted in "cool papers published by cool scientists" but, in terms of clinical outcomes, it was a complete waste of time and money:
"I spent 13 years at NIMH really pushing on the neuroscience and genetics of mental disorders, and when I look back on that, I realize that while I think I succeeded at getting lots of really cool papers published by cool scientists at fairly large costs—I think $20 billion—I don't think we moved the needle in reducing suicide, reducing hospitalizations, improving recovery for the tens of millions of people who have mental illness."
Another alternative system mentioned in Vlessides' Medscape article is called the Hierarchical Taxonomy of Psychopathology (HiTOP), which uses factor analysis to "nest" psychiatric diagnoses on a dimensional scale. However, HiTOP is currently in its infancy—more an idea than an actual, usable system.
Lieberman, quoted in the Medscape article, suggests that the diagnostic system being "terrible" does not mean we should stop using it:
"If somebody has something better, please publish it or bring it forward," he said. "But to say, 'This is terrible, and we're not going to use it,' well, that's just self-defeating."
The PTMF
Although Lieberman does not acknowledge it, other frameworks can be used. One notable alternative system was not mentioned by Vlessides: the Power Threat Meaning Framework (PTMF), which has been supported by the British Psychological Society.
The PTMF is unique among psychiatric diagnostic systems in that it was developed with service user input—rather than the consensus among professional experts. The PTMF is a framework for understanding distress as a result of trauma and oppressive power dynamics and a framework for caring for people that consciously avoids replicating those situations.
According to the PTMF, current mental health services continue to retraumatize service users and replicate oppressive power dynamics. For example, imprisoning people in psychiatric hospitals against their will (known as "involuntary commitment") is a key function of psychiatry, as is forcibly medicating those who do not wish to be medicated. Likewise, "anosognosia" is another key aspect of psychiatry—the notion that the people they treat are sick because they refuse to believe they are sick.
This notion is reinforced by prominent psychiatrists, such as Ronald Pies, a psychiatrist at Tufts and SUNY who was Editor-in-Chief of Psychiatric Times from 2007-2010. In a recent interview on Psychiatric Times, Pies argued that one could not trust the experiences reported by psychiatric patients. If they report that their psychiatrist told them they have a chemical imbalance, for example, Pies suggests that we should ask their psychiatrist what they were really told:
"And, yes—we often hear anecdotes concerning patients who tell their current clinician some version of, 'My psychiatrist said I have a chemical imbalance . . .' But where is the evidence that this is what patients were actually told? Who has contacted the patient's psychiatrist, or reviewed his/her case notes, to see if that was really what the patient was told?"
That is, the psychiatrist's case notes are the only real arbiter of what is real. This is known as "epistemic injustice,"—in which patients' experiences are invalidated by the person with more power. The psychiatrist has all the power—he can say or do anything—and the patient has no real power. No matter what the patient may report about inappropriate behavior from the psychiatrist, Pies suggests we should defer to what the psychiatrist himself says happened. The patient isn't to be believed.
The interviewer, Awais Aftab, pushed back on Pies' statements, but Pies hand-waved his statement away, saying that in a clinical encounter, he would listen to the patient and ask how that made the patient feel. He then suggested to Aftab that "listening seriously and respectfully is not the same as listening credulously." That is, he would listen "seriously and respectfully" to the patient—but not actually believe the patient's report of what happened.
The PTMF was designed to reduce this power differential and eliminate these situations in which abuse and gaslighting can be a part of supposed psychiatric "treatment."
*
Read the Medscape article by Michael Vlessides here: https://www.medscape.com/viewarticle/942694