In a new article published in JAMA Psychiatry, researchers found no neurobiological difference between those with the depression diagnosis and those without. However, social-environmental factors were a powerful predictor of depression.
The "Key Points" for the paper sums up the neurobiological failure quite well:
Question: What is the neurobiological difference between healthy individuals and those with depression within common neuroimaging data modalities?
Meaning: Study results suggest that patients with depression and healthy controls are remarkably similar regarding neural signatures of common neuroimaging modalities.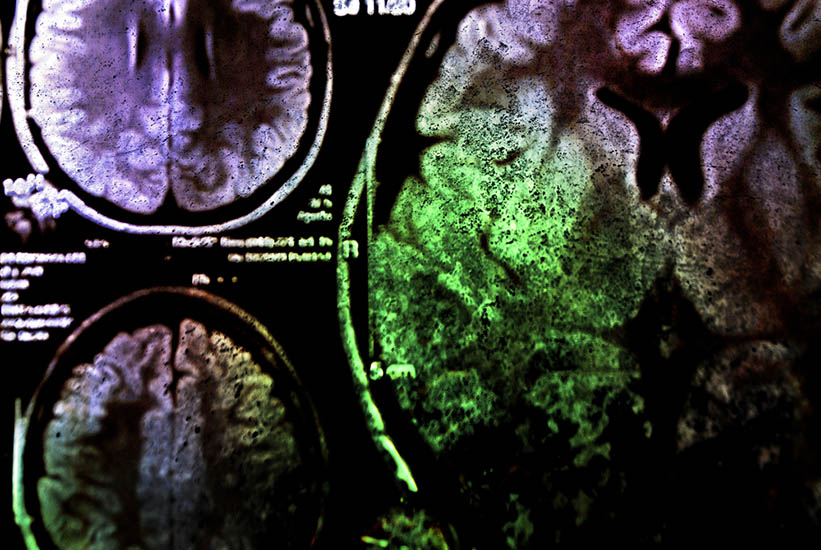 The study included 861 people with the depression diagnosis and 948 "healthy controls." The researchers included every major neurobiological measure: "structural MRI, task-based functional MRI (fMRI), atlas-based connectivity, and voxel-based physiological and graph network parameters derived from resting-state fMRI and diffusion-tensor imaging (DTI)," as well as the polygenic risk score (PRS). Finally, they included environmental variables, including self-reported childhood maltreatment and social support.
All of these biological tests were non-significant at p < 0.01 once the researchers controlled for the fact that they conducted so many statistical tests (which increases the likelihood of chance results).
Even if the non-significant tests were all included, the neuroimaging "signatures" explained less than 2% of whether someone received a diagnosis of depression or not. The accuracy of using neuroimaging for identifying whether someone had the diagnosis or not, "even under ideal statistical conditions," was between 53.5% to 55.6%. (For comparison, 50% would be guessing based on a coin flip.)
The PRS—a measure of all the possible genes that have ever been theoretically linked to depression—had an accuracy of 58.3%, slightly better than every neuroimaging test but, again, not much better than chance.
In contrast, the social-environmental variables "social support" and "childhood maltreatment" were significantly linked with depression, and each predicted with greater than 70% accuracy.
The researchers did not test other social-environmental variables, (e.g., trauma, sexual abuse, physical abuse, recent loss of a job, loss of a spouse, economic insecurity, bullying). It is likely that these other variables could be added to the two that were tested to substantially increase the predictive value.
Of note, the abstract, discussion, and conclusion sections of the paper do not mention, even in passing, the much higher predictive value of social-environmental factors.
The researchers theorized that "clinical heterogeneity" might be the problem behind their lack of results. According to that theory, there are some small groups of people who do have brain differences, but because "depression" is such a catch-all diagnosis, the data from those few people are drowned out in the "noise" of all the rest.
For that reason, they conducted a variety of subgroup analyses, separating out those with chronic depression, those with acute depression, and those on medication, for instance. However, none of their analyses turned up a significant finding.
They write, "Extensive subgroup analyses revealed that clinical heterogeneity alone is also not concealing potentially relevant differences."
In the end, though, rather than argue for the importance of social-environmental factors in explaining depression, the researchers double down on neurobiology. Their conclusion does not even mention the high predictive value of environmental factors, instead focusing on how future research must improve neurobiological testing:
"We recommend the following: (1) all researchers should clearly communicate the relevance of their findings by reporting measures of predictive utility or distributional overlap in addition to P values; if predictive utility cannot be demonstrated, researchers should precisely state in what way a significant effect advances the development of a quantitative neurobiological theory of depression, and stake holders may want to consider novel approaches to fMRI paradigm design; (2) the community should prioritize more comprehensive phenotyping, including deep phenotyping of existing cohorts, the systematic assessment of novel digital phenotypes, moving beyond simple case-control designs, as well as longitudinal assessments of symptom dynamics and life events; and (3) the major issue of poor predictive performance needs to be addressed; machine learning approaches are increasingly used to investigate multivariate patterns of deviations and map high-dimensional biological information to complex phenotypes."
The research team included 31 cross-disciplinary researchers, including neuroscientists, geneticists, and computer scientists. They were led by Nils Winter at the University of Münster, Germany.
Their research is consistent with a recent paper by the second most influential neuroscientist in the world, Raymond Dolan, who wrote that "psychiatry's most fundamental characteristic is its ignorance, that it cannot successfully define the object of its attention, while its attempts to lay bare the etiology of its disorders have been a litany of failures."
In an editorial accompanying the study by Winter et al., Lianne Schmaal of the University of Melbourne writes,
"From a clinical perspective, these small effect sizes make it unlikely for individual brain measures to provide diagnostic biomarkers. This begs the important question of whether we should continue to pursue the identification of clinically useful neuroimaging markers for depression, and if so, how?"
Schmaal suggests including social-environmental factors in neurobiological measures in the future:
"Perhaps more promising for diagnostic classification purposes is combining neuroimaging measures with environmental measures such as childhood trauma and social support, which were found to explain more variance in the depressive phenotype."
It is unclear what the neuroimaging measures would add, since, again, the research team found no significant results.
Schmaal leads the two largest neuroimaging groups worldwide, ENIGMA-MDD and ENIGMA-STB. She is also head of a program using machine learning, neuroimaging, and genetics data at the non-profit Orygen.
Editor's Note: Mad in America previously covered this study when it was posted on the open-access website arXiv, but it has now appeared, revised and with an editorial comment, in top-tier psychiatric journal JAMA Psychiatry.
****
Winter, N. R., Leenings, R., Ernsting, J., Sarink, K., Fisch, L., Emden, D., . . . & Hahn, T. (2022). Quantifying deviations of brain structure and function in major depressive disorder across neuroimaging modalities. JAMA Psychiatry, 79(9):879-888. doi:10.1001/jamapsychiatry.2022.1780 (Abstract)
Schmaal, L. (2022). The search for clinically useful neuroimaging markers of depression—A worthwhile pursuit or a futile quest? JAMA Psychiatry, 79(9):845-846. doi:10.1001/jamapsychiatry.2022.1606 (Abstract)