Editor's Note: The following is an original research article by Peter Sterling, Professor of Neuroscience at the Perelman School of Medicine, University of Pennsylvania. We are presenting it in its native format as a scientific paper. In the paper, he reviews the evidence for the biological models of depression from his perspective as a neuroscientist.
Title: A Neuroscientist Evaluates the Standard Biological Model of Depression
Abstract
Neuroscientists widely hypothesize that "depression" arises from a brain disorder caused by some defect in a specific neural pathway. If so, we might identify and localize the defect, and then develop a rational therapy. However, recent evidence from multiple sources fails to support this hypothesis: (1) Neuroimaging does not identify brain abnormalities in depressed individuals; neuroimaging does not even distinguish between large populations of depressed vs healthy. (2) Genome-wide association studies identify hundreds of variants of small effect, but these do not identify a depressed individual, nor even a depressed population. (3) The "chemical imbalance" theory of depression has failed for want of evidence, thus depriving "antidepressant" drugs of a neuroscientific rationale. Perhaps unsurprisingly then, new analyses of clinical trials indicate rough parity for most participants between drug and placebo. (4) Depression, while weakly predicted by any "biomarker," is strongly predicted by childhood trauma and chronic social stress. Furthermore, depression is significantly reduced by physical repairs to the community (housing facades and vacant lots) and by psychological repairs through sharing experience of trauma and abuse. Thus, depression—given its lack of any reliable biomarker, its diverse and shape-shifting symptoms, its transience on the scale of human lifetime, and its positive response to renewed hope—would be most fairly characterized as a distressing psychological disturbance rather than as a brain disease or disorder.
Various of my friends and family take drugs for depression and anxiety. Some have confided that they are unhappy with the effects but find it difficult to quit. Wondering if my experience as a neuroscientist1,2 might help, I investigated. I found new insights across many levels: large-scale neuroimaging and genomic studies, longitudinal studies of prevalence, and reviews of clinical trials. Here is my current understanding.
Neuroimaging
Depression is widely claimed to be a distinct disorder at the level of neural circuits—that is, a disruption of neurons, connections, or signals in a specific neural pathway. Were that so, neuroscience might trouble-shoot the circuit and try to repair it. But no example has been found of mental disturbance attributable a disordered neural circuit. Consequently, mental "disorders," such as depression, are said to be "just like" a neurological disorder—usually "just like" Parkinson's disease whose cause is certain, a progressive loss of dopaminergic neurons, and whose therapy follows from that understanding. "Just like" is a simile, a figure of speech, and what it really expresses is a hypothesis that neuroscience and psychiatry often forget is unproven.
The faulty circuit in Parkinson's disease can be observed reliably in a single slice of one brain by various modes of structural and functional neuroimaging (Figure 1)3. So, if depression were really "just like" Parkinson's, it should be identifiable by one of those measures. Indeed, there are long-standing claims of abnormal images from the prefrontal cortex4. More recently, resting-state connectivity imaged in depressed individuals was reported to define four neurophysiological subtypes of depression5. But none of these reports have been subsequently confirmed by larger studies6.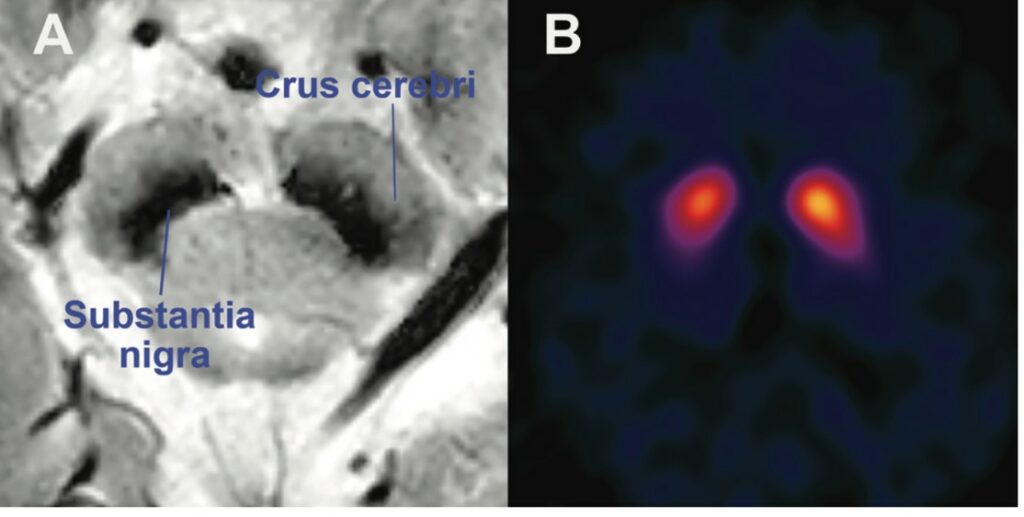 For example, probing for brain abnormalities associated with "major depression," a recent study pooled data from from 49 research groups in 15 countries7. Differences between depressed and normal groups overlapped extensively on every comparison—nothing like Parkinson's where the problem is obvious and diagnostic for an individual. However, concerns were raised that brain abnormalities associated with depression might have been obscured by clinical and methodological heterogeneities. So, a new study was undertaken to create a harmonized data set with invariant protocols, quality control, neuroimaging data acquisition, and clinical assessment for a sample of 861 adults diagnosed with "major depressive disorder" and 948 healthy controls8.
This study reported 11 imaging parameters that showed the largest differences between the two groups. Again, the effects were small, with all the distributions overlapping extensively (Figure 2). By these measures the likelihood of correctly identifying an individual as "depressed" or "healthy" fell between 54% and 56%—essentially a coin flip—and acute and chronic depression were the same. The report concluded: "…patients with depression and healthy controls are remarkably similar…regarding neural signatures of common neuroimaging modalities." The report also considered a twelfth biological measure, "polygenic risk score," and again found close overlap (Figure 2). Thus, neither the neuroimaging nor genetic associations came anywhere near to localizing a depression-related disturbance in an individual brain, nor even distinguishing a group of depressed brains from a group of healthy ones.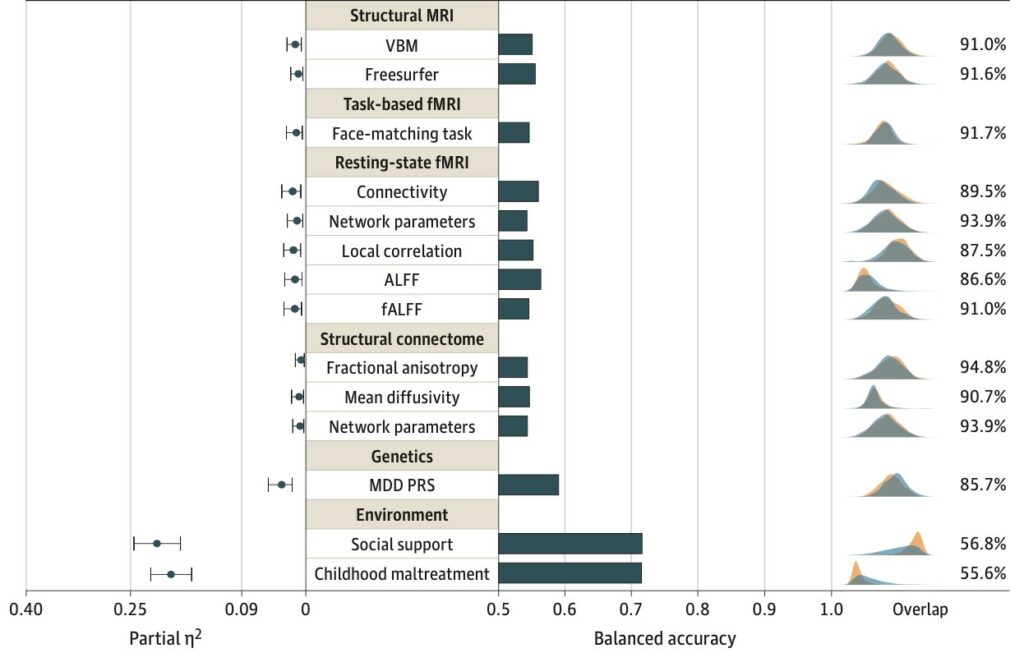 However, two additional measures did separate the two distributions (Figure 2, lower right). Depressed individuals were far more likely to report childhood trauma and far less likely to experience social supports. Many studies find childhood maltreatment strongly associated with long-term risk of depression and anxiety9-11. Maltreated children show earlier onset of psychiatric disorders, which are more likely to be severe and to be associated with greater comorbidity. Also, maltreatment in childhood causes later difficulties in establishing social relationships, leading to smaller social networks—fewer relationships and less frequent contacts.12 In other words, the psychological variable identified in the imaging study as "childhood trauma" causes the subsequent psychological variable, reduced "social support," and together they predict depression far better than the lower-level neurobiological measures.
The study concluded: "Biological psychiatry should facilitate meaningful outcome measures or predictive approaches to increase the potential for a personalization of the clinical practice." In plainer language, the study doubles down, calling to continue the neuroimaging search for biological markers of a brain disorder. An editorial commentary, written by an author of the prior imaging study, concurs12. Apparently, they are unwilling to face the implication of their meticulously analyzed findings—that depression, down to the finest accessible levels of neural circuitry, is not "just like Parkinson's."
Neuroscientists accept foundationally that the brain represents every distinct thought, feeling, and behavior as some sort of neural ripple: a sad thought must at some level differ from a happy one. But we are very far from identifying such ripples in a human brain, and farther still from understanding how to intervene at that level to shift the balance from a sad ripple to a happy one. Yet, if neuroscientists are unwilling to acknowledge that their hypothesis of depression as a brain disorder currently lacks evidence, they render it unfalsifiable—and thus "just like" religion14.
Genome wide association studies (GWAS)
One great hope for the Human Genome Project around 2003 was to identify key genetic variants that "cause" mental "disorders." Twin studies had suggested significant heritability, and various "candidate genes" had been reported sporadically for depression, bipolar disorder, and schizophrenia, but these candidates always proved spurious. As sequencing methods advanced, larger projects were undertaken to discover genes associated with specific "disorders," initially covering thousands of individual genomes and now millions.
An early report15 found 44 genes associated with major depression. The associations were generally weak, each accounting for only a small proportion of the total heritable component. This study also found an association with father's age at death (rg= –0.28), perhaps a marker of childhood trauma strongly predictive in the imaging study. This study concluded that "major depression is a brain disorder." However, one wonders what is meant by this term since the study found that "…major depression is not a discrete entity at any level of analysis."
The next report16 on genes associated with depression analyzed roughly 250,000 "cases" and 560,000 controls, identifying 102 variants as associated with depression. Again, these associations, although reaching statistical significance, are weak, meaning that the same genes are common in the control population. Sorting individuals as "depressed" or "normal" based on these associations would (as for neuroimaging) do hardly better than a coin flip.
Subsequently, 50,000 subjects from the exome-sequenced UK Biobank were analyzed for genes that would significantly influence the probability of developing a mood disorder resulting in psychiatric referral17. No gene or gene set reached statistical significance, and the author concluded: "It seems unlikely that depression genetics research will implicate specific genes having a substantial impact on the risk of developing psychiatric illness severe enough to merit referral to a specialist until far larger samples become available." Speaking plainly: not even 50,000 subjects sufficed to identify genes for a mood disorder. The most recent study18 was still larger, several million subjects, and reported still more genomic loci with small effects.
All the positive studies find that the genes weakly associated with depression are modestly enriched in prefrontal and anterior cingulate cortex—where affect, cognition, and action finally meet—as if to support the hypothesis. But where else would genes associated with these highest integrative levels be enriched?
As these studies progressed, the genetic variants weakly associated with depression turned out to be also weakly associated with other diagnosed mental "disorders," including bipolar, ADHD, schizophrenia, and anorexia nervosa. These findings play havoc with the standard diagnoses and suggest a strikingly different view of mental disturbance, perhaps most clearly expressed by Daniel Geschwind in his 2017 talk19 on GWAS at the Allen Institute:
"Psychiatric disorders are syndromes…What we call psychiatric diseases are just levels of impairment…The threshold is not scientific but a clinical/practical threshold for when individuals are unable to function in the world. These syndromic diagnoses are not etiologically defined… just one end of a continuum of normal variability…For most disorders it's the common variants that move an individual toward that threshold, and sometimes a rare variant can push the person over."
Geschwind's conclusion meshes with recent longitudinal studies.
Longitudinal studies
A cohort of more than 1000 individuals in Dunedin, New Zealand was followed from birth to age 45 years20. The cohort spanned a range of socioeconomic backgrounds in a country approaching the US in economic inequality and rates of addiction, suicide, and assault21. Individuals were assessed by neurocognitive examination at age 3, followed by neuropsychological testing during childhood and adulthood. The cohort was assessed for specific mental disorders nine times between ages 11 and 45. Diagnosable mental disorders appeared early and often, 59% by adolescence. ­Thereafter prevalence grew more gradually such that 86% of the cohort were affected by mid-life.
Most affected individuals experienced more than one disorder. Eighty-five percent of those diagnosed early had accumulated additional comorbid (simultaneously present) diagnoses by mid-life. For example, 70% of those diagnosed with an "internalizing" disorder (depression or anxiety), also experienced "externalizing" disorders (disruptive behavior, substance abuse) or thought disorders (disorganized thoughts, delusional beliefs, hallucinations, obsessions and compulsions). Another 16% suffered multiple categories of internalizing disorder. In other words, most individuals with depression or anxiety eventually suffered from disruptive disorders and/or thought disorders, or various subtypes of depression. Virtually no one, it seems, experiences a single, pure type of disorder. On the other hand, 75% of those with additional diagnoses had them at only one assessment age—indicating that mental disturbances arising across decades, also resolve.
Early mental disturbance presaged more total years of disorder and greater diversity of comorbid disorders. The accumulated disturbances and their eventual chronicity were associated with cognitive decline and premature brain aging quantified from neural images. Greater early trauma increases post-traumatic stress and dissolves social supports. Although individuals adapt allostatically to their life stress, stress wears down both body and brain (see ref 2).
The Dunedin study confirmed a far larger longitudinal study of a Danish population that also found early onset of mental disorder, high lifetime prevalence, and high comorbidity22. Prevalence was somewhat lower, but the Danish study relied on hospital records that would have missed individuals who were untreated or treated by general practitioners. Moreover, compared to New Zealand, Denmark has substantially lower economic inequality, far better child wellbeing, and in correlation, lower prevalence of mental illness23.
Social interventions treat depression
Small improvements to community life have large impacts on mental health. For example, converting vacant lots in poor neighborhoods to green spaces reduced depression by 42% and feelings of worthlessness by 51% (Figure 3)24. Also, repairing the visible facades of homes in poor neighborhoods caused total crime to fall by 22%25. Moreover, the effect was dose-dependent: repairing more houses caused greater reduction. Decreased violent crime in a neighborhood is also associated with reduced cardiovascular mortality26.

To summarize: neuroscience from three perspectives—neuroimaging, neurogenomics, and natural history of diagnosis—suggest that mental depression is nothing like Parkinson's. All these studies find small effects at the level of neurobiology, but large effects at the level of family and society. Generally, when scientists find many small effects and a few rather large effects, they choose to pursue the large ones. But that is not happening here. Neuroimagers, neurogeneticists, neuropsychiatrists, and neurosurgeons continue to promote their own technologies—despite the solid science indicating the greater value of reducing childhood trauma and enriching social connections27, 28.
Is there a rationale for "antidepressants"?
During my four decades at the University of Pennsylvania, medical students were always told that depression is "just like" diabetes, where "inappropriate" levels of glucose are homeostatically restored by insulin, and "just like" Parkinson's, where "inappropriate" levels of dopamine are restored by L-dopa29. This familiar simile offered a plausible rationale for "antidepressant" drugs. One could imagine their restoring deficient catecholamines or deficient serotonin. Moreover, since depression caused by childhood trauma might be mediated by a neurotransmitter deficit, this could be a rational fix. But the hypothesis has collapsed30. Depressed and "healthy" brains have not been found to differ in transmitter levels, so there is nothing identified to "restore".
But maybe we don't really need a therapeutic rationale. Maybe it only matters that antidepressants work and do no harm. Yet, a systematic review of efficacy with blind raters finds that for most people the drugs do not work better than safer alternatives. Symptomatic improvement with drugs resembles that from alternative treatments, including placebo, psychotherapy, exercise, and acupuncture. The type of treatment matters less than involving the patient in an active therapeutic program31. Diverse therapies yield similar reductions of depressive symptoms probably because of their shared psychological factors—such as establishing new social connections and renewing engagement.
This hypothesis receives significant support from an analysis32 of over 230 controlled trials of antidepressants (including over 73,000 subjects) submitted to the FDA over 37 years (1979-2016). This effort accessed results of individuals, rather than the usually reported aggregated data. The upshot: depressed patients were likely to improve substantially from acute treatment with drug or placebo. The mean drug advantage was small, but some patients benefitted substantially. Thus, possibly substantial benefits for the few (15%) must be weighed against serious risks for the many (85%), including disturbed metabolism (weight gain, with consequent risks of type 2 diabetes and hypertension) and disturbed sexual function (loss of libido, anorgasmia, lack of vaginal lubrication, and erectile dysfunction).
Why should drugs, named for their supposed specificity, as in selective serotonin reuptake inhibitor (SSRI), cause such diverse effects? Because when the drugs inhibit reuptake of serotonin into synapses, that is just the start33-35. They also inhibit reuptake of other neurotransmitters, though less strongly, such as norepinephrine, dopamine, and histamine. The SSRIs antagonize the neurotransmitter acetylcholine at its M1 receptor, inhibit synthesis of the neurotransmitter nitric oxide36, increase potency of endogenous opioids at delta opioid receptor37, and allosterically sensitize the receptor for the neuromodulator, brain-derived growth factor (BDNF)38. In short, SSRIs are not specific but rather affect at least eight distinct neurotransmitter/neuromodulator systems distributed throughout the body and brain. Consequently, the drugs perturb such diverse processes as blood clotting, carbohydrate metabolism, inflammatory response, cognition, learning, and memory.
Various distressing effects are caused by pathways entirely unrelated to serotonin or norepinephrine. For example, M1 acetylcholine receptors in hippocampus and cortex are important for cognition and learning—so important that a drug therapy for Alzheimer's disease tries to stimulate M1. So, when an SSRI blocks M1, it might well disturb cognition and learning, although this could be hard to tease out from effects on dozens of other receptors serving the eight neurotransmitter systems. SSRI inhibition of nitric oxide synthesis prevents vascular dilation that drives erection and thus frequently causes impotence.
Antidepressants pose additional risks via their interactions with other widely used drugs. For example, SSRIs combined with a statin (taken by over 40 million US adults) can elevate glucose, which contributes to type 2 diabetes and hypertension. Metabolic effects associated with drug-induced weight gain and type 2 diabetes cause inflammation, which negatively affects cognition. Big Pharma calls these "side effects," but neuroscientists should know better. We should not be designating as "specific" a molecule whose gazillion effects rattle throughout our whole organism.
Now it is reported that all three types of antidepressant—tricyclics, SSRIs, and ketamine—bind to TRKB, a receptor for the neuropeptide BDNF39. Binding facilitates the effect of endogenous BDNF, and this action is now hypothesized to be the mechanism of their action to elevate mood. BDNF localizes to both sides of synapses all over the brain and affects multiple forms of synaptic plasticity. The report acknowledges that "BDNF can trigger multiple and often contradictory functional consequences based on its mechanism of expression, site of release, and site of action". Yet the report also notes a search for small molecules to selectively target TRKB.
Here is an opportunity for neuroscientists to pause and reflect. Probably BDNF's selective activation of TRKB belongs to the brain's overall design (see ref 1). Would it be so smart, then, especially without an identified pathophysiology, to activate all types of plasticity across the whole brain? Would it be clever to erase a traumatic memory from the human hippocampus, as apparently we can do now in mice? Would that relieve depression, or would it engender a new source of misery: still depressed but unable to recall why? To get this right, neuroscientists should first ask: which are the most appropriate levels to intervene?
Why are antidepressants addictive?
Various websites deny that antidepressants are addictive. Here, for example is the Mayo Clinic40: "Having antidepressant withdrawal symptoms doesn't mean you're addicted to an antidepressant. Addiction represents harmful, long-term chemical changes in the brain. It's characterized by intense cravings, the inability to control your use of a substance, and negative consequences from that substance use. Antidepressants don't cause these issues."
Another example41: "Zoloft is not addictive. With addiction, a drug continues to be taken even if it's causing harm." But, of course, antidepressants are addictive. Of course, people continue to take them even if they are causing harm. Of course, they are difficult to stop, even with tapering42.
One need only read the ominous warnings about stopping: "To minimize the risk of antidepressant withdrawal, talk with your doctor before you stop taking an antidepressant. Your doctor may recommend that you gradually reduce the dose of your antidepressant for several weeks or more to allow your body to adapt to the absence of the medication."
And: "Because stopping Zoloft can cause discontinuation syndrome, it's very important that you don't suddenly stop taking Zoloft. Instead, you and your medical professional will work together to lower your dosage slowly over time. If you're interested in stopping Zoloft, it's advised that you speak with your medical professional. They can help plan a drug taper that's specific to you and your dosage. It's important to not stop taking Zoloft without first speaking with your medical professional." Not addictive—just don't stop it!
The neuroscience of withdrawal was outlined clearly in 199643 by two leaders in biological psychiatry, who explained that drugs of abuse alter cascades of gene expression, synaptic plasticity, and connectivity—to which the brain stably adapts. They applied the same model to antidepressant drugs, which also provoke widespread adaptive responses, and thus explained simply why "tapering" from an antidepressant can be difficult—it is just like tapering from cocaine or heroin:
"During a cocaine binge target neurons would be bombarded by far more dopamine over a longer period than would be expected for any non-pharmacological stimulus. The result of these types of repeated perturbations is to usurp normal homeostatic mechanisms within neurons, thereby producing adaptations that lead to substantial and long-lasting alterations. In the case of antidepressant and antipsychotic drugs, these adaptions are therapeutic; in the case of drugs of abuse, the result is addiction." [Edited for brevity.]
Neuroscience distinguishes short-term from long-term memories. We forget the number of our hotel room on route to the airport, but we cannot forget our first kiss, nor unlearn how to ride a bike. We are enjoined to forgive trespasses against us—precisely because we cannot forget them. Thus, we must expect that adaptations to a drug altering myriad physiological systems, both somatic and neural, might be hard to erase.
Conclusions
Current evidence does not support the hypothesis of depression as a localized, disordered neural circuit. The mental disturbance manifest as depression cannot be identified by neuroimaging, and there are plausible reasons why small studies generate such erroneous claims44. Nor can depression be predicted in individuals by analyzing their genetic variants. "Chemical imbalance" theories of depression have not been supported, thereby removing any scientific rationale for "antidepressant" drugs. The drugs are not specific but rather affect myriad neurotransmitter systems, offering little advantage for most individuals, but commonly causing long-term harm. The brain adapts to antidepressant drugs, just as it adapts to drugs of abuse, and so for both withdrawal can be extremely difficult.
Depression is far better predicted by levels of childhood trauma, life stress, and lack of social supports. Depression in individuals is significantly reduced by physical repairs to their depressed communities and by psychological repairs through shared experience of childhood trauma and chronic domestic abuse (see ref. 28). Neuroscience should identify therapies with large effects that do no harm: these include affective and cognitive repairs to the individual, family, neighborhood, and society. People need assistance in healing trauma and reasons for hope. Drugs may temporarily distract us from these deepest needs, but generally, because they lack a rationale, they impede the way forward.
Acknowledgments
I thank Simon Laughlin, Stan Schein, David Linden, Robert Williams, and Michael Platt for general comments and Irving Seidman, Sally Zigmond, Peter Strick, and Brian Wandell for several specific suggestions.
References
Sterling P and Laughlin SL (2015) Principles of Neural Design. MIT Press Cambridge.
Sterling P, (2020) What is Health? Allostasis and the evolution of human design. MIT Press. Cambridge.
Bae YJ, Kim J-M, Sohn C-H, et al. (2021) Imaging the substantia nigra in Parkinson disease and other Parkinsonian syndromes. Radiology 300:260–278.
Drevets WC, Price JL, Simpson JR Jr, Todd RD, Reich T, Vannier M, and Raichle, ME (1997) Subgenual prefrontal cortex abnormalities in mood disorders. Nature 386, 824–827.
Drysdale AT, Grosenick L, Downar J, Dunlop K, Mansouri F, Meng Y, Fetcho RN, Zebley B, Oathes DJ, Etkin A, et al. (2017) Resting-state connectivity biomarkers define neurophysiological subtypes of depression. Med. 23: 28–38.
Nour MM, Liu Y, and Dolan, RJ. (2022) Functional neuroimaging in psychiatry and the case for failing better. Neuron 110: 2524-2544.
Schmaal L, Pozzi E, CHo T, etal. (2020) ENIGMAMDD: 7 years of global neuroimaging studies of major depression through worldwide data sharing. Transl Psychiatry. 10:172. doi:10.1038/s41398- 020-0842-6
Winter NR, Leenings R, Ernsting J, et al. Quantifying deviations of brain structure and function in major depressive disorder across neuroimaging modalities. JAMA Psychiatry. Published online July 27, 2022.
Kuzminskaite E, Penninx BWJH, van Harmelen AL, et. al. (2021) Childhood Trauma in Adult Depressive and Anxiety Disorders: An Integrated Review on Psychological and Biological Mechanisms in the NESDA Cohort. Affect Disord. 283:179-191.
10. Kuzminskaite E, Vinkers CH, Milaneschi Y, et al. (2022) Childhood trauma and its impact on depressive and anxiety symptomatology in adulthood: A 6- year longitudinal study. J Affect Disord. 312:322-330.
Lippard ETC and Nemeroff CB (2020) The Devastating Clinical Consequences of Child Abuse and Neglect: Increased Disease Vulnerability and Poor Treatment Response in Mood Disorders Am J Psychiatry 177:1 20-36.
McCrory E, Foulkes L, and Viding E (2022). Social thinning and stress generation after childhood maltreatment: a neurocognitive social transactional model of psychiatric vulnerability. Lancet Psychiatry. Published online August 1, 2022 https://doi.org/10.1016/S2215-0366(22)00202-4
Schmaal L (2022) The Search for Clinically Useful Neuroimaging Markers of Depression— A Worthwhile Pursuit or a Futile Quest? JAMA Psychiatry. Published online July 27, 2022
Rajtmajer SM, Errington TM, Hillary FG. eLlife. (2022) How failure to falsify in high-volume science contributes to the replication crisis. eLife 11: e78830.
Wray NR, et al. (2018) Genome-wide association analyses identify 44 risk variants and refine the genetic architecture of major depression. Nature Genetics. 50: 668–681
Howard, D et al. (2019) Genome-wide meta-analysis of depression identifies 102 independent variants and highlights the importance of the prefrontal brain regions. Nature Neuroscience | VOL 22 | MARCH 2019 | 343–352 |
David Curtis (2021) Analysis of 50,000 exome-sequenced UK Biobank subjects fails to identify genes influencing probability of developing a mood disorder resulting in psychiatric referral. Journal of Affective Disorders 281: 216–219
Levey DF, et al. (2021) Bi-ancestral depression GWAS in the Million Veteran Program and meta-analysis in >1.2 million individuals highlight new therapeutic directions. Nature Neuroscience | VOL 24 | JULY 2021 | 954–963
Geschwind D. (2017). Human cognition and genetic variation: life on a continuum. https://www.youtube.com/watch?v=x-P2w3RR9wk
Caspi A, Houts RM, Ambler A, et al. (2020). Longitudinal Assessment of Mental Health Disorders and Comorbidities Across 4 Decades Among Participants in the Dunedin Birth Cohort Study. JAMA Network Open. 3:e203221.
https://www.science.org/content/article/two-psychologists-followed-1000-new-zealanders-decades-here-s-what-they-found-about-how (2018)
Plana-Ripoll O, Pedersen CB, Holtz Y, et al. (2019). Exploring comorbidity within mental disorders among a Danish national population. JAMA Psychiatry. 76:259-270.
Wilkinson R and Pickett K (2010). The Spirit Level: Why Greater Equality Makes Societies Stronger. Bloomsbury Press New York.
South EC, Hohl BC, Kondo MC, et al. (2018) Effect of Greening Vacant Land on Mental Health of Community-Dwelling Adults: A Cluster Randomized Trial. JAMA Netw Open. 1:e180298.
South EC, MacDonald J, and Reina V. (2021) Association Between Structural Housing Repairs for Low-Income Homeowners and Neighborhood Crime. JAMA Network Open. 4:e2117067.
Eberly LA, Julien H, South EC, et al, (2022) Association Between Community-Level Violent Crime and Cardiovascular Mortality in Chicago: A Longitudinal Analysis. J Am Heart Assoc. 11:e025168.
Sterling P, Platt ML (2022) Why Deaths of Despair Are Increasing in the US and Not Other Industrial Nations-Insights from Neuroscience and Anthropology. JAMA Psychiatry. 79:368-374.
Peretz A (2021) Opening Up. Radius Book Group New York.
Sterling P (2014) Homeostasis vs Allostasis. Implications for Brain Function and Mental Disorders. JAMA Psychiatry 71:1192-3
Anga B, Horowitz M, and Moncrieff J (2022) Is the chemical imbalance an 'urban legend'? An exploration of the status of the serotonin theory of depression in the scientific literature. SSM – Mental Health 2 100098
Khan A, Faucett J, Lichtenberg P, Kirsch I, Brown WA (2012) A Systematic Review of Comparative Efficacy of Treatments and Controls for Depression. PLoS ONE 7(7): e41778.
Stone MB, Yaseen ZS, Miller BJ, Richardville K, Kalaria SN, Kirsch I. (2022) Response to acute monotherapy for major depressive disorder in randomized, placebo-controlled trials submitted to the US Food and Drug Administration: individual participant data analysis. BMJ 378:e067606
Nevels RM, Gontkovsky ST, and Williams (2016) Paroxetine—The Antidepressant from Hell? Probably Not, But Caution Required. Psychopharmacology Bulletin 46:77-104.
The distribution of muscarinic M1 receptors in the human hippocampus. Scarr E, Seo MS, Aumann TD, Chanad G, Everall IP, Deana (2016) Journal of Chemical Neuroanatomy 77:187–192.
https://en.wikipedia.org/wiki/Paroxetine#Pharmacology
Finkel MS,  Laghrissi-Thode F,  Pollock BG, and Rong (1996) Paroxetine is a novel nitric oxide synthase inhibitor. Psychopharmacol Bull. 32:653-8.
Brackley AD and Jeske NA (2022) Paroxetine increases delta opioid responsiveness in sensory neurons. eNeuro. 9:ENEURO.0063-22.202 2.
Wang CS, Kavalalin ET, and Monteggia LM (2022) BDNF signaling in context: From synaptic regulation to psychiatric disorders, Cell 185:62-76
Casarotto PC, Girych M, Fred SM, et al. (2021) Antidepressant drugs act by directly binding to TRKB neurotrophin receptors. Cell 184, 1299–1313.
Mayo Clinic. https://www.mayoclinic.org/diseases-conditions/depression/expert-answers/antidepressant-withdrawal/faq-20058133#:~:text=To%20minimize%20the%20risk%20of,the%20absence%20of%20the%20medication. (Accessed 9/8/2022) (edited for brevity).
https://psychcentral.com/drugs/zoloft#zoloft-vs-lexapro (edited for brevity). (Accessed 9/8/2022)
Fava GA, Gatti A, Belaise C, Guidi J Jenny Guidi, Offidani E. (2015). Withdrawal Symptoms after Selective Serotonin Reuptake Inhibitor Discontinuation: A Systematic Review. Psychother Psychosom 84:72–81
Hyman SE, Nestler EJ. (1996) Initiation and adaptation: a paradigm for understanding psychotropic drug action. Am J Psychiatry. 153:151-62.
Marek S, Tervo-Clemmens B, Calabro FJ, Montez DF, Kay BP, et al (2022) Reproducible brain-wide association studies require thousands of individuals. Nature. 2022 603:654-660.
Disclosures: Peter Sterling reports no financial interests to disclose.
****
MIA Reports are supported, in part, by a grant from The Thomas Jobe Fund.