"But you don't know my Billy…"
Hello and welcome to my inaugural blog! It's an honor to join the insightful and talented team of writers at Mad in America. This exciting opportunity is the perfect complement to my efforts to help kids worldwide live childhood drug-free.  Or, more specifically and possibly more realistically, free of ADHD drugs. After all, as time will surely highlight, I am an optimistic pessimist.  A pragmatist, some might say.
My previous research has focused on improving our education system in the USA and helping kids  receive more fruitful academic and social experiences. Most of what I've written (e.g., books, chapters and publications) has had a more limited audience within the sometimes cloistered world of academia and education. I have a new book coming out in March 2014 with Roman and Littlefield, however, called Debunking ADHD: 10 Reasons to Stop Drugging Kids for Acting like Kids. I'm very excited about this book, because I think  the body of evidence it connects will help to change the entire landscape of the discussion surrounding ADHD. You can read more about the book and even pre-order a copy if you get the urge.
For the most part, this blog will focus on complementing what I am trying to accomplish through Debunking ADHD.  I want to share everything (and I mean everything) a concerned adult should know before they agree to become a part of, or continue being a part of, the hypothetical ADHD "epidemic."  Beyond giving ten sound reasons why we shouldn't be drugging kids for acting like kids (which might seem like no-brainers to many regular visitors to this website), the book is written to help parents, educators, and other concerned adults and professionals fully understand the extremely dubious nature of the ADHD diagnosis.
More importantly, my efforts are aimed at showing how dangerous the drugs often prescribed for such a supposed condition can be to kids in the prime of their neurological, psychological, social and physical development.  Parents, educators and other concerned adults deserve a resource that cuts through the pharmaceutical propaganda, and offers a more rational way forward.
There are many topics interconnected with ADHD, such as, how current medical, mental health, education and parenting practices are creating a vicious system very few children can escape from without the advocacy of supportive adults.  Coincidentally (or conveniently), this out-of-control, rush-to-judgment diagnosis trend is making billions for those in a not so family-friendly arm of the pharmaceutical industry. This blog will discuss such topics regularly, and also share news of more recent developments in the often surreal parallel universe I call Planet ADHD.
Please understand; I am a professor that teaches child development, educational psychology and research methods.  I am also a former child, who would with today's practices, most assuredly have been labeled ADHD when I was younger. From my perspective, the ADHD movement seems surreal because the behaviors (or as some like to call them "symptoms") associated with ADHD  are just signs of kids being kids!  These kids are displaying signs that they are bored and uninterested with what they are being provided at school and home.
The behaviors indicate that most kids have not yet learned or been convinced to adopt the social and behavioral expectations our society wishes they would.  It is as if a 5-year-old, someone who has been on this planet for just 60 or so short months, should know exactly how to behave at all times. As a result, behaviors related to extreme boredom and many other common childhood challenges might be annoying to the adults responsible for such kids.  For some strange reason many have been convinced that such behaviors justify drugging children!  In an upcoming blog I will focus on what these simple generic symptoms are, how few symptoms it takes to be diagnosed and medicated for ADHD, and how, basically, these symptoms insure that every child that goes to get a diagnosis of ADHD from an ADHD "expert" will leave diagnosed with ADHD.
We must remember that even the DSM-5, the diagnostic manual used to diagnose ADHD, readily admits that there is no test for ADHD.  Such evidence truly highlights the biggest conundrum of ADHD; how can we diagnose ADHD if we have no reliable or valid way to determine who has it and who does not?  To many of us, it makes absolutely no sense that 6.5 million kids in the USA can be diagnosed ADHD when the powers-that-be readily admit they have no way to identify it.  The fact that they use 18 symptoms that describe behaviors that nearly every child exhibits every day to some degree is just a sign they are providing a diagnosis of normal. The psychometrics (measurement) of ADHD is another rabbit hole I look forward to digging into in future blogs.
Beyond teaching future educators and mental health professionals, I also am very active in the trenches of education, serving the role as evaluator and sometimes principal investigator on numerous state and federal grants. My mission to debunk ADHD started one day when I was doing on-site research for one of my grants. I remember vividly driving home that day from studying children in a small rural elementary school after coming to the alarming discovery that more than a third of the kids I had lunch with were on ADHD drugs.
This event happened about 6 years ago, and like many of you that have experienced similar epiphanies, I reached a breaking point that day and suddenly found myself alarmed and disgusted with the fact that millions of kids are being drugged for what are just common childhood behaviors.  Never in our short history here on earth have we reached such a sad and depressing state of existence where we somehow now think it is perfectly normal and acceptable to drug a child into compliance and submission.  With adults willing to take such risks out of convenience – cloaked in the name of compassion – we might want to rethink whether it is the kids or the adults that have issues with delayed gratification and impulsivity.
Since my reputation for being against the ADHD diagnosis has grown within my small circle of influence, not a week – or, sometimes, day – goes by without a parent or educator wanting to ask me about it.  The conversation normally begins with them admitting they know I think it is a hoax, an invented disorder, but then they always seem to want to share the statement ". . . but you don't know my (place child's or student's name here)." They seem to think their child's or student's behavior is so drastically different than millions of other children not diagnosed ADHD. They want to ignore advice and facts that show the diagnostic procedure for ADHD is a farce to be reckoned with.
They want to pay no heed that the drugs prescribed for ADHD can lead to more serious mental disorders, facial tics, permanent growth suppression, and even death.  Just use your favorite internet search engine to explore "medication guide" and "Vyvanse" (or any  of the other popularly prescribed ADHD drugs) and you will find an endless list of very scary side effects that should preclude anyone even considering ADHD drugs for children. Yet, despite the warnings from even the makers of these drugs, many want to hold on to the belief that such dangerous drugs are the "medicine" their child or student truly needs.
I will admit right now, if you think any child deserves to be forced to take drugs with an endless list of dangerous side effects on a daily basis for just being slightly or even rather hard to handle, then we are at this time living in two different worlds.  I have grown sick to my stomach of hearing adults say their child needs such "medicine."  A medicine should not come with so many risks.  A medicine would help us get better, not cause our brains to malfunction or experience damage to our central nervous system.  As I will share in future blogs, the research on lab animals that have taken these medications (and experienced brain malfunctions and CNS damage) is all one needs to know when it comes to whether or not we should be giving ADHD-drugs to kids.
There is so much I look forward to sharing and discussing with you in the future. I sincerely thank you again for attending my inaugural blog, and I hope to see you back here soon. Maybe together we miraculously can get millions of kids and their parents off Planet ADHD and back down here to planet earth! Your "Billy", and millions of other kids worldwide, deserve nothing less than to live childhood where their imaginations and bodies run free, and their exuberance, energy and creativity are embraced.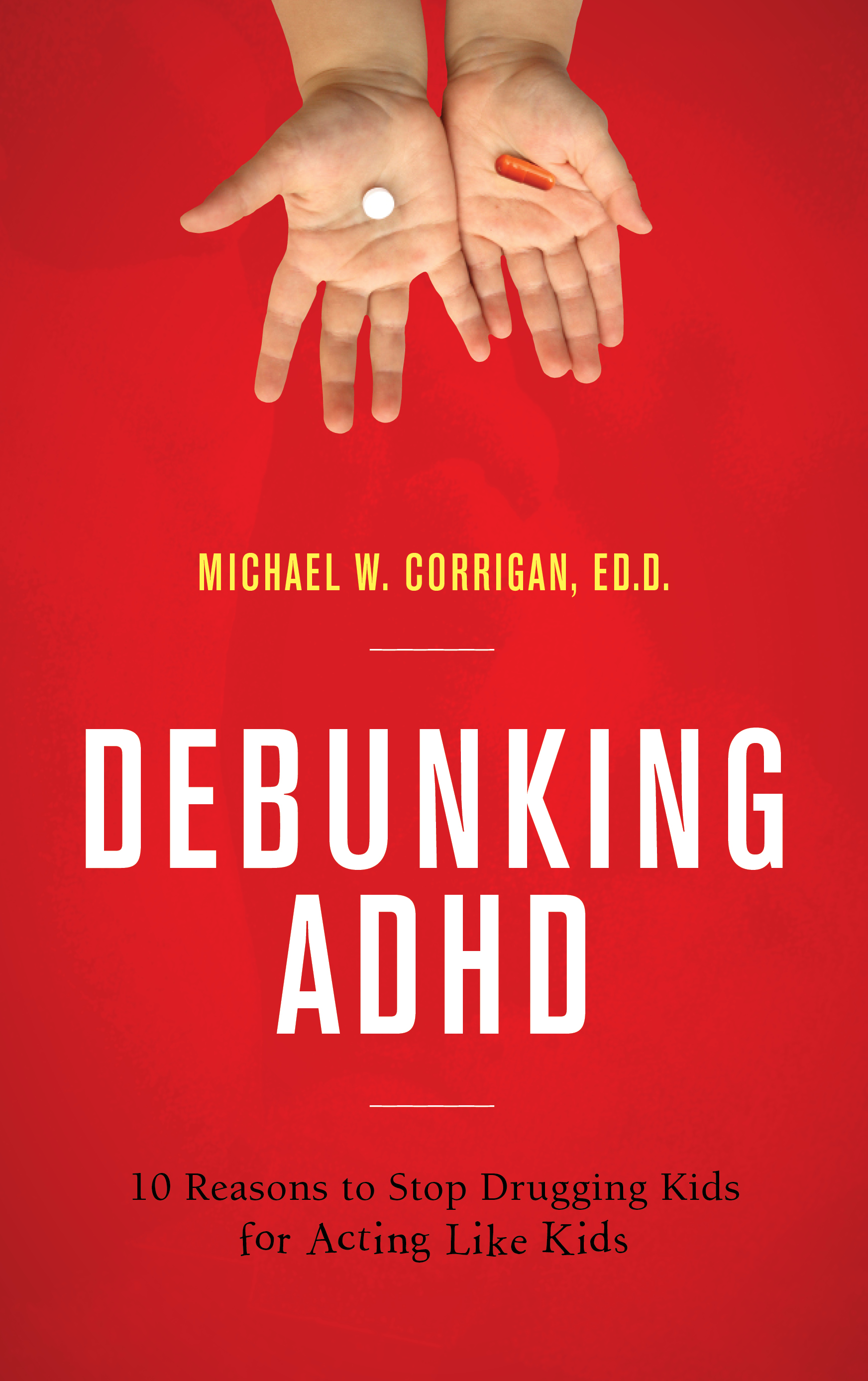 ***
Mad in America hosts blogs by a diverse group of writers. These posts are designed to serve as a public forum for a discussion—broadly speaking—of psychiatry and its treatments. The opinions expressed are the writers' own.
***
Mad in America has made some changes to the commenting process. You no longer need to login or create an account on our site to comment. The only information needed is your name, email and comment text. Comments made with an account prior to this change will remain visible on the site.