On May 16, 2015, our movement for human rights in psychiatry carried out a historic event. In fourteen cities in the United States and eleven cities in eight other countries, shock survivors and their allies publicly opposed the brutal and damaging practice of electric shock "treatment." In many places, the demonstrations were well covered by the media. Others were small but determined. We had never done such a large scale manifestation before, and it was inspiring.
For me, I was moved very deeply. I could not have dreamed, when I was six years old and being tortured by shock at Bellevue Hospital, that such a thing could ever happen.
And I also was excited that so many new people stepped forward, people I had never heard of before, and threw themselves into the hard work of organizing these protests. It is good to know that our movement can still inspire and recruit these people. To avoid leaving out a lot of other names, maybe I should just say that the three women leaders in Boston, Melbourne, Australia (sometimes called the shock capital of the world), and Calgary, Alberta, especially inspired me.
The idea for this action began with a demonstration planned for May 16 in Portland, Oregon by Debra Schwartzkopff, a shock survivor who had organized several earlier demos. I had spoken in late January at a memorial service for Leonard Frank, a shock survivor and one of our most respected and beloved movement leaders, really one of our movement's founders, who died on January 15. I mentioned the Portland protest, and someone suggested that there be a shock protest in the San Francisco area too, to create a kind of synergy. I mentioned this to Debra, and suddenly she was on the phone and internet, recruiting people to have their own protests in their own cities. In a few days, she had rounded up eight or ten cities, and we were off!
Soon, we had dozens, and coordinating things was not so easy. We wound up with a small informal "steering committee" that included five of us, with Jim Gottstein of PsychRights in Alaska and Mary Maddock from Ireland working with Debra and me. I want to give special thanks to Emmeline Mead, whose ability to troubleshoot and figure out where to put her energy was just awesome.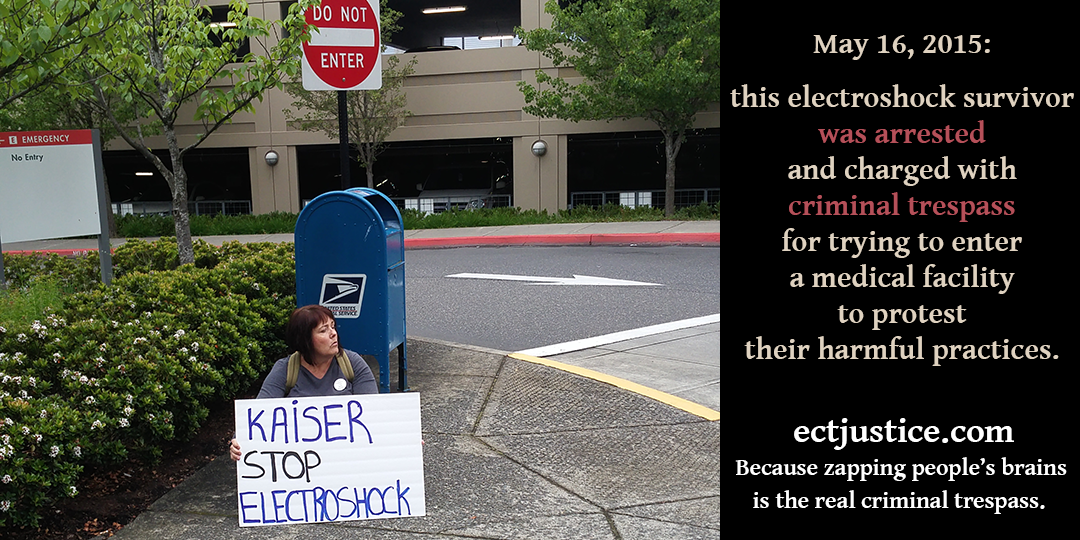 Some cities worth pointing out: Portland's demo was covered THREE TIMES by the local progressive radio station, KBOO. Debra carried out a one-­woman civil disobedience, being arrested for trying to enter the local Kaiser shock hospital with her sign. (Her court appearance at the Clackamas County Courthouse is scheduled for June 15, and I encourage anyone who can to go to this hearing and sit peacefully in the courtroom, to show that there is community support for her.)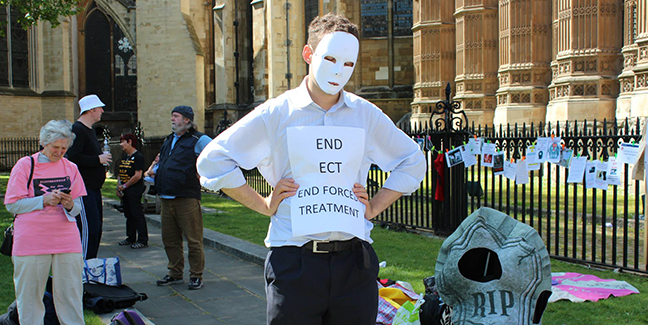 London's protest, in front of the Houses of Parliament, lasted four hours and was reported to have been very militant. In Berkeley, we had coverage by the local progressive radio station KPFA. In Santiago, Chile, there was a very lively demo. Eugene, Oregon's protest got local TV coverage. In Toronto, our people vigorously confronted the American (sic) Psychiatric Association at its annual meeting there. Melbourne was covered by one of the largest newspapers in Australia. Photos, video and reports about the protests were posted on our Stop Shock Twitter page as they came in.
So what should happen now? I think it is very important for us to follow up on the good energy that was unleashed by May 16. For too long, there has been a lot of talk but not a whole lot of action. Now is the time to start moving forward.
I would like to see the formation of a national organization that emphasizes action, and more protests like this, over a variety of issues. For a long time, I have been wanting to see, and I have felt was needed, an organization with a very critical analysis of psychiatry, that carries out the kind of activities that the Network Against Psychiatric Assault used to do. NAPA actually stopped shock treatment in San Francisco for a while, through a series of powerful protests that made it a public relations disaster for the hospitals that were doing shock. They also played an important role in Berkeley in 1982, where we won overwhelmingly a measure we put on the ballot to ban shock there.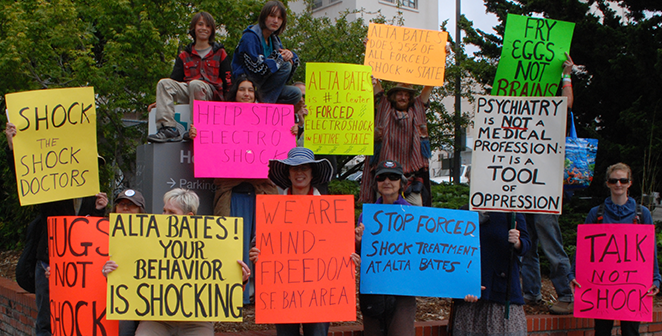 There already is a website and Facebook page for NAPA, and it would be a good idea to build on that.
I am hoping that most of the great people who organized in their towns on May 16 will join in this effort to revive NAPA. But several very interrelated things are very important. We have to agree on a statement of purpose that minces no words about the destructiveness of psychiatry. I am drafting such a statement and (uncharacteristically for me) think it will be not too difficult to get a broad general agreement.
I think that there are several issues that would be important to take up. One is of course shock treatment, which is a public relations weak point for psychiatry. We are small and not yet particularly strong. They are powerful and well-­funded (to say the least). When a smaller force takes on a powerful enemy, we have to attack them at their weakest points, else we are bound to lose. I think shock can be that entry point to convincing the public about the true nature of psychiatry.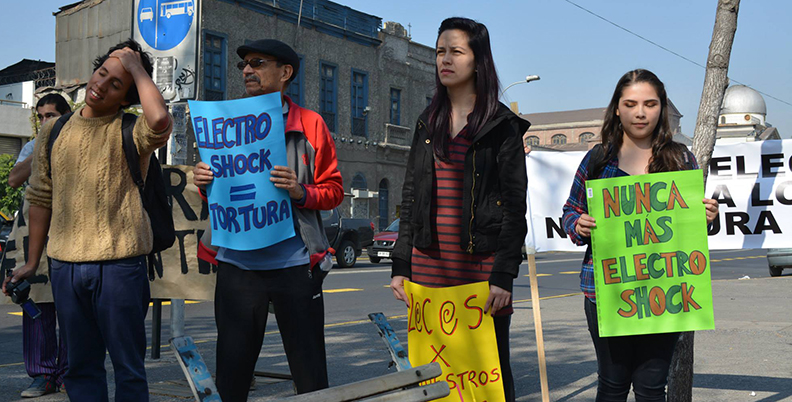 Another similar issue we should be talking about is the psychiatric abuse of children. The public often is not that interested in what happens to adults in the system, but when they hear of kids being abused, they can be much more sympathetic. Besides the terrible fact that huge numbers of foster children are being drugged, there is even a move now to take away the ability of parents to prevent their kids from being drugged. This is an issue that many mothers and fathers could relate to.
And to me, the use of shock treatment on children may be one of the best issues of all for us to take up. While I of course think all of it should be banned, I think getting it stopped on children can be accomplished in a reasonable time. Put yourself in the place of the leaders of the psychiatric profession who will have to defend this. It will be a public relations nightmare for them. I actually think, although we will be outspent a hundredfold, we could put this on the ballot in a carefully chosen state, and win. One of the big advantages of doing it this way is that everyone who will vote will be paying attention to the issue. It is also so unusual for the public to vote on anything connected with psychiatry that the major media will cover it, just as they did the Berkeley shock ban vote in 1982.

What might be a lot harder, though, but urgently necessary, is to create a group that is supportive and positive for its members. In 1974, when our movement was fairly new, and we were winning victories, I remember our Conference on Human Rights and Psychiatric Oppression was incredibly full of comradeship and caring about one another. I had gone around the country that summer, trying to bring people together, letting them know what everyone else was doing, and recruiting them to come to the conference. It was a very exciting time, and we were optimistic that our cause would prevail.
Now our backs are against the wall, with attacks on our rights like the Murphy Bill and outpatient commitment, and the portrayal of us as crazed killers who should all be locked up and drugged. It's discouraging, and sometimes in frustration we turn against one another. But I think what happened on May 16 should show us that when we cooperate, we can accomplish something. Let's fight for our freedom, not with one another!
Anyway, congratulations to us! Let's do something like this again soon!
***
Mad in America hosts blogs by a diverse group of writers. These posts are designed to serve as a public forum for a discussion—broadly speaking—of psychiatry and its treatments. The opinions expressed are the writers' own.
***
Mad in America has made some changes to the commenting process. You no longer need to login or create an account on our site to comment. The only information needed is your name, email and comment text. Comments made with an account prior to this change will remain visible on the site.