For five years, I and others worked to create a residential healing community in Brookline, Vermont, where people could recover from debilitating and traumatic life experiences, which often lead to addiction and mental health challenges, without the use of psychotropic medications. We welcomed our first six seekers to a yearlong, therapeutic and farm-based, day program last September, and we now can report on what we have learned during this time.
First, the background to Inner Fire.
I decided to create Inner Fire after spending years working at a therapeutic residential center where our clients constantly stood before me and asked, "I hate being medicated. Isn't there a choice?" And as these questions kept coming at me, I asked myself: "Why these questions at this time in my life?"
Previous to my working at that center, I had worked for more than 30 years in anthroposophical and alternative medical and alternative therapeutic centers in England and Europe where we never medicated people but rather assisted them to work through their challenges. I knew I could not lie to my new clients and say, "No, there is no choice. Just take your meds."
Finally, I was moved to action after Zach committed suicide. He was the sixth person I had known who had committed suicide because he felt he had no choice. He didn't know that there was a possibility that he could recover free from the harmful and stultifying side effects of psychotropic medications. He had experienced no progress toward his deeper healing and felt that no other choice for recovery was available… so he chose to end his suffering amidst a fog of pain.
And then I thought too of a struggling individual in his fifties who angrily stated: "I did not expect to have this kind of a life!" he had been medicated since a teenager and thus simply 'maintained' since then.
I was struck by how accepting many parents were, completely oblivious of the options and how they justified one way or another the loss of their offspring. "What else could they have done?"
Nevertheless, within me grew the feeling that these individuals have made a sacrifice so that we will wake-up! We are allowing our brothers and sisters to be dehumanized by the medical model. We are not machines which can be tweaked and manipulated. To be a human being is challenging and complicated. Human beings think, they feel and they do. If you know anything about the side effects of the medications, you know that over a period of time, the medications typically would disconnect any of us from our thinking, our feeling and our will.
Those striving individuals who still have a connection to their inner fire fight against this damping down and homogenizing experience. They need to be supported to engage proactively in their journey of balancing and thus healing on a deeper soul spiritual level, while tapering off their psychotropic medications.
I knew I had to take the best of my varied life experiences, find colleagues and simply offer a choice for those seeking an option to the predominant medical model in the United States.
My background
I am a practitioner of Hauschka Artistic Therapy, a three-year, full-time and medically based training which is founded on the grounds that human beings are 'three-fold', having a body, a soul and a spirit and each artistic medium–clay, watercolor, pastel etc.–works upon the relationship between the bodies of the human being in unique ways. Thus the artistic process specifically supports the balancing of the soul, the seat of trauma.
It is a remarkable experience to accompany individuals as through different artistic mediums, they tap untapped wells within their innermost soul and discover aspects of themselves they never knew were there. Being proactive is a key ingredient to healing: One day a client of mine south of London declared, learning of my moving away, "you can't leave, you healed me!" My response was, "You picked up the paint brush." Indeed, we can become addicted to cocaine, therapists and yards sales! It is essential that an individual acknowledge support but that in fact, through their engagement, they have healed themselves.
As mentioned earlier, being a human being is complicated and we have a choice as to how we respond to the challenges we meet in life. We all respond to trauma somewhere in the spectrum: for example, some of us respond to traumas by flipping out and we end up hovering, wanting at all costs to disconnect from our body of pain which has suffered such abuse. Others respond in the opposite extreme: we contract and dare not to breathe out, having to hold our self together for fear of falling apart. Such soul imbalance leads sooner or later to physical and eventually psychological imbalance. But the human being is a creator and with the right support can re-establish soul balance.
I have practiced this therapy for 35 years in medical and therapeutic centers, prisons, inner city initiatives, residential facilities and my own private practice in Europe and the United States. I have worked with people ranging from 4-86 years old wrestling with anything from cancer, angina, rheumatic conditions, and insomnia to addiction and mental/soul health issues. In Europe, I was used to working with people who weren't taking medications, but then when I returned to United States in 1999, I developed a private practice, worked in prisons, schools, rehabilitation centers and mental health organizations in Vermont. I was astounded by the overwhelming use of psychotropic medications.
I also saw how case managers wasted so much time organizing medications rather than focusing on the client. Through the overwhelming use of psychotropic medications, these case managers, devoted to supporting struggling human beings, have gradually been pushed to the side, their gifts ignored, as they basically received the message: "we don't need you and all your gifts and wise, heart forces, we just need you to medicate." I have had many people working in the system applying for jobs here at Inner Fire saying how they hate what they are doing; they see the meds do not help in the long run, but they have families and bills to pay and so they have to carry on. This in itself is demoralizing.
The Philosophy of Inner Fire
The name Inner Fire captures the reality that only by rekindling and claiming our inner fire can balance and healing occur. Passivity gets us nowhere. We offer the opportunity for those who seek deep and lasting healing to engage in our yearlong, intensive program which first, by establishing the rhythm of daily, creative activities, helps to stabilize the seeker and then supports them as they begin their gradual tapering process. The program offers empowering opportunities through proactive individual and group therapies, a customized work program, a wholesome diet and detox program as well as nurturing, cultural experiences, which together with peer support, help to rebalance and to bring harmony to the distressed soul.
Inner Fire is located in a quiet valley about thirty minutes north west of Brattleboro, a dynamic and creative town in southern Vermont. Grace Brook Farm, on a dead end dirt road, surrounded by flower and vegetable gardens, where all the Inner Fire activities are held at this time, has the Grace Brook running through it which offers relief on hot summer days. Leading to the open field above the Grace Brook farmhouse, where the Inner Fire residential home will be built, are apple trees and blueberry bushes, a terraced herb garden and soon vegetable gardens. Diverse woods on this undulating land open up in the winter exposing the varied wild life. Seekers declare how reassuring, peaceful and safe they feel in such an environment.
The Program
Individuals, eighteen and over, who want to be proactively engaged in their recovery without the use of psychotropic medications, are encouraged to apply to Inner Fire. This includes those experiencing a first time "break" as well as those who desire assistance in coming off their medications or who wish to avoid medication all together.
At this time, we can only offer a day program which begins at 7 a.m. and finishes at 8:15 p.m., and the six seekers, who have been with us since last September, live in two rentals nearby.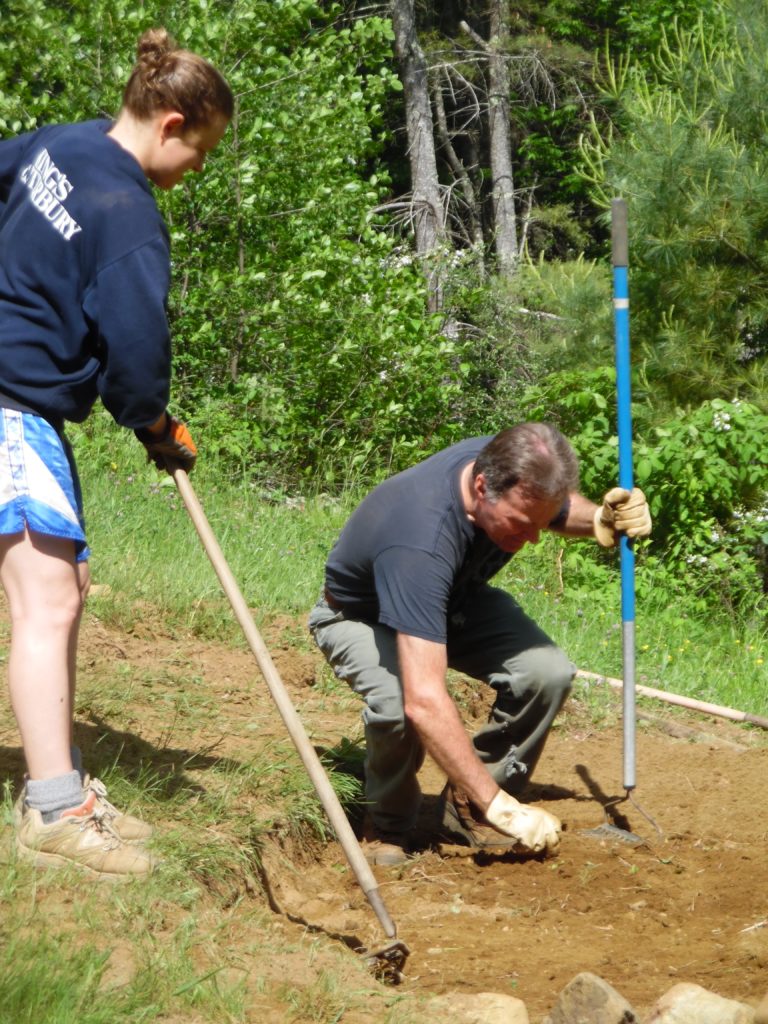 During the mornings, individuals are a part of an intentional work program in the biodynamic gardens, woods, kitchen or household. Two afternoons a week they engage in creative and supportive group sessions, including Biographical Work, Psychosynthesis and when appropriate, Hearing Voices Network. The other three afternoons, individuals participate in specific proactive therapies such as Hauschka artistic therapy (clay, watercolor, pastel), eurythmy and spatial dynamics (both forms of movement), music, speech arts, drama and massage.
Our experienced therapists and guides pool their expertise during weekly meetings focusing on each individual's progress and regular contact is kept with our medical doctor, homeopath and psychiatrist. Evenings and weekends consist of planned social fiber-building activities such as drumming and singing, hikes and creative, cultural events aimed at nourishing the soul.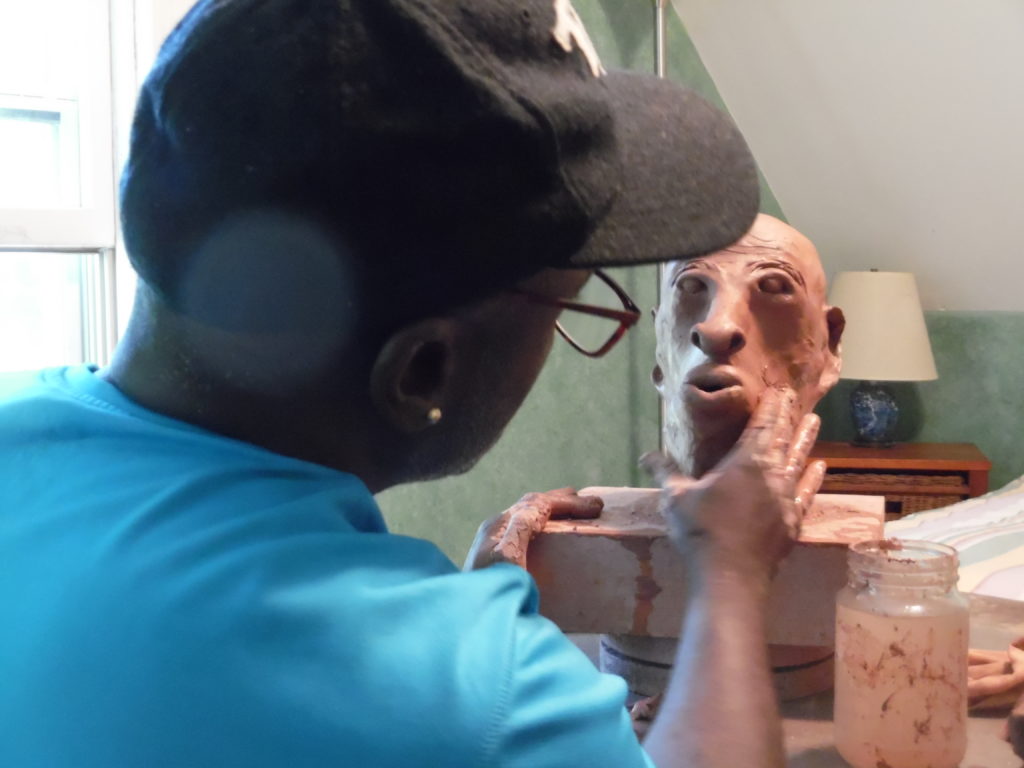 Our first year
During the first seven months, all but one of the seekers who arrived last September has tapered off psychiatric medications. One of our seekers is a man who, after 26 years in prison, had been proven to be innocent all along. He has withdrawn successfully from a crack cocaine habit he developed while homeless during the first years after his release. Another seeker will soon be off a very powerful benzodiazepine. "Hell warmed up" is the expression used describing the withdrawal process from this benzodiazepine; however, it has been everyone's experience that by staying engaged in the program, surrounded by encouraging and loving people who believe in them as a creator and not a victim, that the withdrawal symptoms have not been as debilitating as expected.
I do not want to give the impression that life is a breeze here at Inner Fire, for indeed while coming off these incredibly addictive and for many, trauma inducing medications, one meets many emotions which have laid dormant: anger is a major one. Indeed, who would not be angry having 'lost' half a lifetime in a chemically induced fog, devoid of feeling with the inability to take up the challenges which come with simply being a human being. For some reason, we are meant to believe life should always be balanced and harmonious, that there should be no need to cry, and now a-days, if you do cry for longer than a prescribed amount of time, well there is a medication for you! At Inner Fire, we believe that crying and laughing, and we mean belly laughing, are simply ways the soul can breathe out, which is part of the emotional digesting and healing process.
At Inner Fire, we are very fortunate to have a highly respected psychiatrist who guides the tapering process of medications and meets monthly with the seekers. Each seeker has the opportunity to meet with a homeopath, naturopath or anthroposophical MD shortly after arriving and thus receive support on a deeper constitutional level. Our experienced and committed therapists and guides, some of whom have left jobs with benefits to pioneer because they believe in choice and recognize how essential the visibility of this alternative to the medical model is.
Our detox program includes the regular use of the infra-red sauna, a liver compress three times a week after meals, and of course, an organic diet, high in fats and protein and free of sugar and wheat. The rhythm of the day, in itself, is an essential part of the healing process for there is little chance for creating inner harmony if one's outer life is chaotic.
I should emphasize that Inner Fire is all about choice. We would never tell someone to come off their medications, however, we know too many people who took their lives because they were not aware that indeed, there is a choice. What we offer at Inner Fire is not rocket science. It has all to do with recognizing the challenges of being human and nurturing and guiding while the striving individual takes the time to reconnect with their creative and resilient Self.
Our hope is that this autumn we will begin building a "home" on the property that will house twelve seekers, a kitchen and dining/meeting room, and therapeutic spaces. Our goal is to open this residence in the spring of 2017.