I like being mad. As I explain in my article 'Being Mad is Liberating' (which was removed from the site for a year upon my request because I got scared of stigma, silly me), being mad, when properly processed by the brain, can help one to reach enlightenment. Which, in my humble opinion, is the aim of madness in the first place.
Gods are talking to us, the mental, and it's up to us to hear them. Believing as I do in many different things from all kinds of religions, I think it might be that the animal spirit world tries to wake us all up (not only the mental) in order to push us away from mediocre thinking. Like instead of watching useless TV shows, spending all our money on such craziness as Black Fridays and totally ignoring what is happening in the rest of the world, we should actually stop, reflect, and start caring more about our planet and what matters in this life.
I do reflect on such things and I do consider myself an enlightened human being, thanks to my madness. I also believe that I could have been Buddha in a past life, and that I am still meant for greatness in this life.
That might sound over-ambitious, vain, or like what psychiatrists might call "delusions of grandeur," but such qualities are necessary in order to survive psychiatry. As Albert Einstein said: "Great spirits have always encountered violent opposition from mediocre minds."
I have to say that I do miss talking to a good psychiatrist, however. I could sit and argue for ages with a psychiatrist who is intelligent and kind (quite hard to find, but they do exist). Especially now that I have a PhD in philosophy and have read everything that can be found on madness, including the notes they wrote about me when I was in the hospital. Nowadays, psychiatrists have a tendency to sign me off pretty quickly when I come onto their radar. They don't wish to deal with me, I tire them out.
Therefore, I am left on my own, and so I talk to that nice, clever, invisible psychiatrist while sitting at the salon having my hair and nails done. I feel like a celebrity now, drinking my cappuccino and waiting for that final blow dry. And so, I look into the mirror and I say to the psychiatrist:
"If you want to talk about delusions, let's first give a diagnosis to psychiatry! I say that it's you who has delusions of grandeur."
"Excuse me?" he answers. "Did you forget to take your meds today?"
"Actually, no," I reply, admiring my new colour in the mirror. "I figured out on my own the precise dose of medication I need in order to walk in a state of semi-permanent psychosis and still lead a productive life. I'm able to see magic and faeries and be directly connected with the divine, but still wake up at a reasonable hour, take my child to school, go to work, buy groceries, write and read and meet with friends and get a manicure."
"Oh really," he says, looking a bit skeptical.
"Yes," I reply. "I love the psychosis because it's exactly what they preach will happen in heaven—a feeling of total joy, happiness, being totally free. Neither psychiatry nor the weight of society can deny me this pleasure."
I can't really see the psychiatrist (he is in my head), but can imagine him rolling his eyes and rubbing his chin, while giving me that pensive, 'in the know' look.
"Can you, please, elaborate more on your last statement?" he asks.
"Yes. You think you are real and sit there and preach to me on how I should lead my life and which medication I should take, telling me that I am bipolar, while in reality I am enjoying my day, having a nice cup of coffee, having my hair done and believing in fairies, while you choose to believe in the most stupid manual possible."
"Which manual do you refer to? We have quite a few," he replies, taking a sip of coffee. Since I am having one, I don't want to deny him this small luxury even if he isn't quite real. So, a nice cup of cappuccino it is. Yes, I confused the staff at the salon when I insisted on two cups of coffee, but they should be used to my eccentricities by now. Last time I brought a Bible to read while my hair was done—I was surprised that my hairdresser managed to keep a straight face the entire time. I do need to live up to my diagnosis of bipolar, you see.
"Yes," I say. "I mean that stupid Diagnostic and Statistical Manual of Mental Disorders (a title not made for dyslexic people, that's for sure). I nearly fell asleep by the tenth page, but you have almost a thousand pages in it. Hundreds of 'disorders'—and every one of them a figment of someone's imagination."
The psychiatrist is in the middle of taking another sip from his coffee, but puts his cup promptly back on the table in order to reply. I reckon that this topic is important to him as well.
"Well, since you mentioned it," he says. "And please, don't tell anyone I told you this. The truth is that most of us are quite fed up with that manual as well. Pages and pages indeed of totally useless stuff and sciencey jargon. But, this is the strategy psychiatry came up with as an institution, so that we can give you a diagnosis and then treat you accordingly—as much as I, personally, might hate it. How can one judge an individual based on some syllabus?"
I am so bewildered by his response that for a moment I remember that I am not talking with a real person but with myself, and that that nice, kind and insightful psychiatrist is strictly in my head. I miss them so much (the psychiatrists), that I invented one for myself! Like I said, they tend to sign me off too quickly now, telling me that I understand my 'illness' better than them. They shouldn't do that though, in my humble opinion, as I could help them to manage their load if I got the official invitation to help them in their profession. I will come back to that at the end, explaining what I mean by 'invitation.'
"Hmm, don't forget, you are just in my head," I reply to the psychiatrist, since I don't want him to get too delusional either.
"Am I?" He seems rather sad, and for a moment or so, I wish he was real, and not some imaginary friend sitting in my head, with my hairdresser asking whether I am okay because I pronounced my last statement aloud, forgetting where I am. Did I mention that I am bipolar?
"Well, yes and no," I reply, deciding that one way or another I will finish the dialogue in a positive fashion. You see, I have had the opportunity to meet some good psychiatrists. It is not the individual doctors who are fault (even if some of them are assholes) but the profession as an institution. If anything, now that we are talking (and I try to make sure that I keep it silent, as I want to come back to this salon in the future), I realise that my imaginary friend reminds me of another psychiatrist who was more than real, and helped me a lot.
"You remind me of Alesha," I tell him. "The Jewish psychiatrist of Polish origin who treated me after my second psychosis, on the recommendation of my friend. Alesha was a rarity in the profession as he agreed with me that psychosis can indeed be a shamanic experience. He was the first psychiatrist with whom I became friends, and thanks to him, I stopped fearing them all. "
"Really? Tell me more," my new friend the psychiatrist replies to me, in a clearly better mood. He even has another sip of coffee.
"Alesha was amazing. He had a small office attached to a large hospital in Amsterdam, the town where I lived when I first became psychotic at the age of 27, and he agreed to see me even though he already had too many clients. He found my case interesting because, despite being bipolar and on medication, before meeting him I explained on the phone that I still believed in magic and that if he denied me that pleasure, I wouldn't see him. I think he was so taken aback by my statement that he offered me a meeting the next day."
"And?" The imaginary psychiatrist in my mirror is smiling now. I know. It is hard to find mental people who still like some of them. But it isn't the individual psychiatrists who are at fault, but rather the State which doesn't implement the necessary reforms, plus the general stigma in society and total misunderstanding about what madness is. Madness is magic, and one needs to become aware of it.
"Well, he had a small office filled with books and piles of stuff, and it was difficult not to like him. He would smoke a cigarette, ignoring the no-smoking sign above the hospital's entrance, while trying to clear some sitting space and make me a cup of coffee at the same time. That's why I made sure you have a nice cup of coffee as well. I do believe in equality, even if some of you don't. You think you have authority over us, the mad—you give diagnoses too quickly, overdose us and try to kill our souls!"
The psychiatrist starts to tremble.
"Please, don't forget, I am one of the nice ones… but do explain!"
I remember that he is not real and that I am having my hair done, that Christmas is coming and it is a beautiful day and I shouldn't get angry, especially since I am among the lucky ones. I figured out the madness, and I figured out psychiatry as a profession and the weight of society in terms of what people might think of you, all by myself. Madness comes from God and we need to hear his voice, and the only way to stay tuned to his message while keeping both feet on the ground is to have either a minimal dose of medication, or none at all. But then, each individual case should be treated as separate, and not as a mass marketing campaign for their stupid manual of diagnosis.
"You need to realise that what we see and hear in our madness might be very real!" I tell the psychiatrist. "It isn't just delusions, hallucinations or nonexistent voices! What if it is indeed all real? And magic does exist? Do you understand that in that case, you are just killing any remnants of creativity? That if you continue to diagnose us, from as early as five years old, you will soon end up with robots? Robots are nice, but not when you make them out of humans!"
The psychiatrist is again in a pensive mode.
"Okay, let's imagine that what you say is true. What would your solution be, then? How should we talk with the patients?"
My hair is almost done and so I need to think fast on this matter. Christmas is coming and I want to finish the dialogue on a nice note. Especially since I do believe that a good exchange of ideas with psychiatry is needed, not just a negation of it, and that we can do much more if we indeed talk with each other. Share our experiences, even exchange some jokes.
"Well, how about abolishing forced medication and isolation rooms? How about you stop putting mental patients into prisons? That could be a start, don't you think? And since you elected President Trump and he quite obviously likes Russians, how about the idea of me leading a reform on mental health in your country? Hmm?"
Didn't I tell you that I am over-ambitious?
But we will have to finish the conversation another time as they are done with my hair now. And so, removing the hairdresser's cape with a flourish befitting the Queen of Russia (who I'm quite sure I was in a past life), I am off, to check whether I will see any fairies in the nearest park.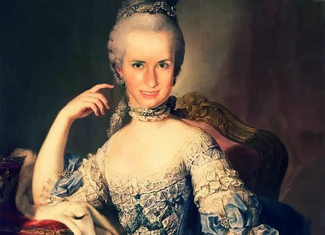 ***
Mad in America hosts blogs by a diverse group of writers. These posts are designed to serve as a public forum for a discussion—broadly speaking—of psychiatry and its treatments. The opinions expressed are the writers' own.
***
Mad in America has made some changes to the commenting process. You no longer need to login or create an account on our site to comment. The only information needed is your name, email and comment text. Comments made with an account prior to this change will remain visible on the site.