In an article recently published in the New England Journal of Medicine, a team of researchers out of Boston led by Dr. Timothy J. Layton sought to determine the extent to which birth month affects patterns of attention deficit-hyperactivity disorder (ADHD) diagnosis. To do so, they examined the medical records of 407,846 students born between 2007 and 2009 in the Truven Health MarketScan Research Database.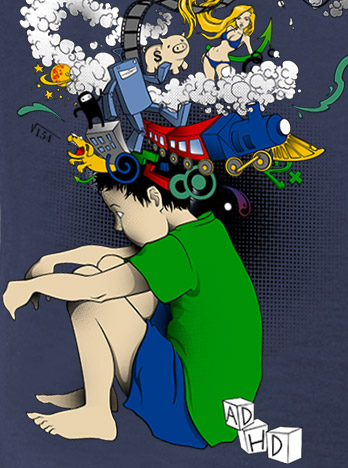 They found significant differences between diagnosis trends among students with August birthdays (among the youngest in their class cohorts) and students with September birthdays (among the oldest) in schools with arbitrary September 1st kindergarten entry cutoffs. Their analysis also revealed broadening discrepancies with age, and no significant differences in asthma, diabetes, or obesity rates according to birth month as a point of comparison. Additionally, of students with an ADHD diagnosis, those with August birth months received an average of 120 more days of treatment according to prescription records compared to those with September birth months.
Layton and team begin their article by outlining some controversial features of ADHD as a diagnostic category. Past research has found geographic variation in diagnosis patterns, a recent and substantial surge in prevalence, and that one of the primary features of the presentation of ADHD in childhood is a discrepancy between a child's behaviors as a student compared to that of same-aged peers. Self-control, organization, and attentiveness are qualities valued in schools, and when student behavior deviates from externally imposed expectations, it may be easier to attribute this deviation to within-child processes than to larger contextual issues.
"Some evidence suggests that teachers or school personnel are more likely than parents or physicians to first suggest a diagnosis of ADHD," the researchers write. "In the classroom setting, teachers and parents may presume that all children should behave in a similar manner; therefore, behavior that appears to be anomalous relative to the behavior of other children in the same peer group stands out."
Poor sleep quality, birth month relative to peers, diet, and digital media use are just a few examples of the contextual factors that have been linked to ADHD diagnosis. The likelihood of receiving a diagnosis varies tremendously across primary care practices throughout the US, and there are disparities in diagnosis patterns across gender, racial, and ethnic groups.
Children are more likely to be classified as having ADHD once in school, and stimulant medication is the most common form of treatment for ADHD-type behaviors. Given the potential for side effects associated with pharmacological interventions and the implications of a diagnosis on a student's self-concept, Layton and team's contributions are timely.
The popular (yet somewhat arbitrary) September 1st cutoff for month-of-birth applied in 18 states means that students with August and September birthdays belonging to the same academic cohort may be nearly an entire year apart in age. The authors hypothesized that teachers, clinicians, and parents may inaccurately pathologize developmental differences associated with age and that ADHD diagnoses would be assigned at disproportionately high rates among children with summer birthdays.
In addition to comparing trends between the oldest and youngest students, ages four to seven, in states with September 1st cutoffs, Layton and team compared month-to-month differences in diagnosis rates across all other consecutive pairs of months. As previously noted, they also looked at prescription patterns within the sample over time, differences in diagnosis patterns over time by age (i.e., September and August birthday differences in diagnosis among four-year-old children vs. seven-year-old students). Finally, they analyzed differences in other common diagnoses to evaluate the presence of any other September to August differences.
"We found that in states with an age cutoff at September 1 for kindergarten entry, children born in August were significantly more likely to receive a diagnosis of ADHD than children born in September," they write. "Furthermore, children in these states who were born in August were more likely than children born in September to receive medical treatment for ADHD. The demographic and clinical characteristics were similar in August-born and September-born children and in their parents."
In states with a September 1st cutoff, children with August birthdays were 34% more likely than children with September birthdays to be diagnosed with ADHD, and treatment occurred at a 32% higher rate for children with August birthdays among those diagnosed. No significant differences were detected in the consecutive month pairings, nor between September and August birthdays in states without the September 1st rule.
Although similar trends have been identified in past research with older data, survey responses, and in other countries, Layton and colleagues' work is current and United States-specific. Their use of healthcare trends derived from an insurance database removes the limitation of recall bias associated with survey data and has implications for healthcare providers, educators, parents, and ultimately, the students of the United States.
****
Layton, T. J., Barnett, M. L., Hicks, T. R., & Jena, A. B. (2018). Attention Deficit–Hyperactivity Disorder and Month of School Enrollment. New England Journal of Medicine, 379(22), 2122-2130. (Link)