In a new article published in the Journal of Prevention and Health Promotion, counseling psychologist John Westefeld of the University of Iowa describes how we can begin to understand suicide and suicide prevention as a social justice issue.  Westefeld offers a nuanced analysis of the term 'social justice' and a thoughtful discussion concerning the intersection of social justice and suicide prevention.
"The central thesis presented is that suicide—especially suicide prevention—is a social justice issue."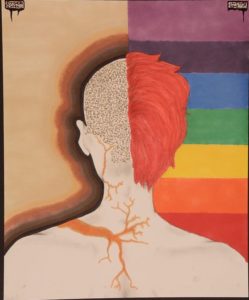 Social justice is notoriously tricky to define. The meaning of 'social justice' has shifted throughout history. Despite its ongoing effort to align itself with social justice's many aims, critics have argued psychology and psychiatry often perpetuate many systemic injustices that social justice movements push back against, including colonialism, racism, and classism. As suicide rates climb in the United States,' psychology and psychiatry ought to see suicide prevention as a social justice issue, too.
In "Suicide Prevention: An Issue of Social Justice," John Westefeld notes that social justice is a central tenet that affects human service professionals throughout the United States and the world and can be understood as "activities designed to reduce suffering among people and promote the values of 'equality and justice.'" When taken into account alongside the racial disparity in the United States' current suicide statistics, this definition highlights that suicide prevention is undoubtedly a social justice issue.
"The most current data available from 2018 indicate that there were 48,344 suicides in the United States, which is one every 11 minutes. Suicide is the 10th leading cause of death overall in the United States and the second leading cause of death among 15- to 24-year-olds. In 2018, there were 596 suicides by children between the ages of 10 and 14 years. More than 50% of suicides are carried out utilizing a firearm," Westefeld writes.
"The suicide rate has steadily increased over the past 10 years. Among U.S. ethnic groups, American Indians/Alaskan Natives have the highest suicide rate. Between 1991 and 2017, there was an increase of 73% in suicide attempts among Black adolescents. When suicide rates were examined among Black and White youth below the age of 13, the rate among Black children was twice that of White children."
Westefeld goes on to point out that both systemic suicide prevention, as well as individual prevention strategies have many of the core tenets of social justice work built-in: reducing the stigma around mental health services, reducing means (especially firearms), and increasing accessibility to services and community.
However, both strategies still have a long way to go before genuinely addressing suicide and suicide prevention as social justice issues, Westefeld claims. Arguing that: "stronger inroads can be made from the area of preventing suicide, and the welfare of the society can be promoted. The intersection of suicide prevention and social justice provides a potential strategy for affecting suicide prevention more broadly and more directly—and hopefully lowering the suicide rate."
He finishes the article with implications and recommendations.
Suicide prevention should focus on multiculturalism to better address unique system-level stressors for certain groups of people and individual identities.
Access to means must be significantly restricted, in particular, handguns. "There is a strong positive relationship between firearm access and suicidal risk." Not only is a gun deadlier than other means of suicide, but at-risk groups such as veterans are also more likely to own a gun than other groups of people.
There needs to be more research done on suicide prevention. "Both qualitative and quantitative studies are needed so that more can be learned about risk and prevention effectiveness, as well as what can be done to increase advocacy."
When training individuals on suicidality and suicide prevention, there needs to be a discussion of advocacy and the social justice components of suicide prevention. Trainers also ought to be aware of their own biases and privileges.
Lastly, given that COVID-19 affects different groups of people disproportionality, in ways not dissimilar to other injustices, action should be taken to prepare for a unique kind of suicidality that may erupt in the coronavirus' aftermath.
****
Westefeld, J. S. (2020). Suicide Prevention: An Issue of Social Justice. Journal of Prevention and Health Promotion, 1(1), 58-79. (Link)