Advances in evolutionary understandings of depression as an adaptation – like pain or anxiety – suggests that depression plays an adaptive role in resolving complex social issues. This view, called the analytical rumination hypothesis (ARH), posits that depression may have evolved precisely to facilitate prolonged dwelling on the issues that bring us down. In a new article in the flagship journal American Psychologist, Vanderbilt Psychology Professor Steven Hollon applies this evolutionary perspective to explain the lackluster results of antidepressants for depressed individuals.
Hollon argues that interventions like antidepressant medications (ADMs) disrupt the rumination process by masking symptoms and prolonging the underlying depressive episode, leaving it unresolved. Cognitive therapy and interpersonal psychotherapy, on the other hand, can do a better job at addressing the neurobiology of the underlying episode to the extent that they facilitate the resolution of complex social problems.
"To the extent that [the ARH] is true, then any intervention that facilitates the functions that depression evolved to serve is likely to work better in the long run than one that simply anesthetizes the pain," Hollon writes.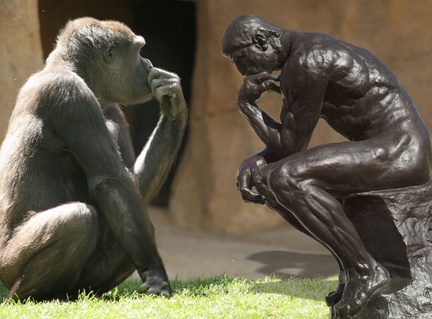 The use, efficacy, and marketing of ADMs have been criticized for a variety of reasons, including increasing the risk of suicidality, especially for youth, misreporting clinical trial results, and causing withdrawal problems and risks in pregnancy. Others have raised concerns about the rationality behind the classification of depression as an illness requiring neurochemical modifications. Others have noted the worrying correlation between ADM use and long-term disability. Thus, critics from a wide range of perspectives have argued that ADMs may do more harm than good as a treatment for depression.
Hollon's work might offer a unique explanation as to why this is so. Humans have two distinct information processing styles: one fast (Type I) and the other slow and demanding (Type II). Depression engages Type II information processing, which is "more likely to be employed when there are complex problems to be solved that Type I thinking cannot resolve."
The ARH suggests that depression evolved to facilitate thinking and dwelling on complex social problems. In this view, depression is an evolved adaptation, and pathologization of depressive symptoms is simply a misguided artifact of clinical culture. Hollon writes:
"It is clinicians who have given rumination a bad reputation, largely because it is seen as a potential cause of distress."
If this is correct, it could explain why therapy appears to have an enduring positive effect. For example, a 2013 study found that cognitive therapy cut the risk for relapse after treatment termination by more than half, relative to prior treatment with ADMs.
The ARH could also explain why patients treated with ADMs have a 30% greater risk of death: by simply masking symptoms, ADMs may have an iatrogenic effect. As Hollon notes, it is dangerous to assume that suppressing the symptoms of an evolved adaptation does not affect underlying homeostatic mechanisms: "the brain alters its synaptic parameters in response to taking ADMs," and there is no reason to believe these long-term alterations will be benign.
The takeaway from this evolutionary perspective is that while ADMs may suppress symptoms, they may also disrupt the evolutionary purpose of depression and thus end up prolonging the underlying episode. At the same time, they may produce long-term maladaptive changes in the brain, cognition, behavior, and society.
While the analytical rumination hypothesis is by no means certain, the issue is of clear importance to public health and can be resolved empirically. The author proposes a research plan designed to determine whether ADMs are indeed iatrogenic in terms of prolonging the life of the underlying depressive episode or if the "apparent enduring effect" of therapy is simply an artifact of differential mortality. The results of this research could privilege psychosocial interventions that facilitate the functions depression evolved to serve, rather than medications that "merely anesthetize the distress."
****
Hollon, S. (2020). "Is Cognitive Therapy Enduring or Antidepressant Medications Iatrogenic? Depression as an Evolved Adaptation." American Psychologist, Vol. 75 No. 9, pp. 1207-1218. (Link)