New research addressed the question of whether neoliberal ideology affects individuals' well-being. Adding to the literature that has documented the negative social and economic effects of neoliberal politics, Julia Becker, Lea Hartwich, and S. Alexander Haslam conducted a series of studies to examine whether individuals' health is similarly impacted:
"We explore the argument that neoliberalism with its emphasis on personal responsibility and its de‐emphasis on social support and solidarity can lead to feelings of loneliness and of being alone in a highly competitive system…"
Their paper, published in the British Journal of Social Psychology, represents the first experimental research, to their knowledge, that examined how neoliberal politics influence individuals' sense of social disconnection, loneliness, competitiveness, and well-being. They summarize their findings:
"Despite suggestions that this political philosophy might promote individual well‐being because it encourages people to strive for personal growth, we found that it actually appears to be harmful to health because it can create a sense of being disconnected from others, as well as being in competition with them, in ways that feed feelings of loneliness and social isolation."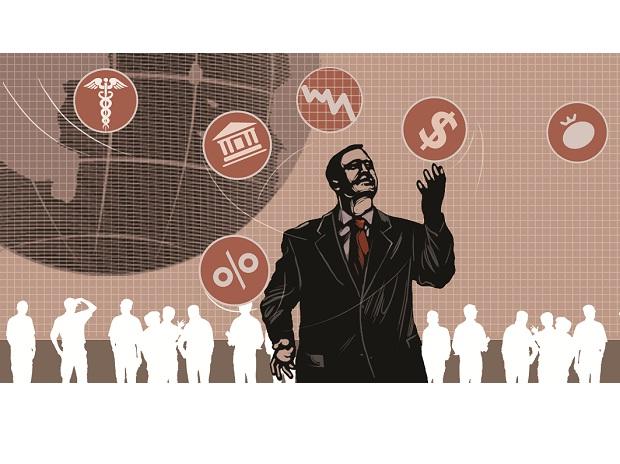 Becker and colleagues identify neoliberalism as the prevailing ideology in numerous parts of the world. The central feature of neoliberal ideology is the emphasis on organizing economies and societies around free-market principles, thereby constricting government and state intervention. These principles include individual entrepreneurial freedom, responsibility, property ownership, and free trade.
The assertion that free-market principles are conducive to social progress and individuals' well-being, an assumption central to neoliberal ideology, has been debated. Although some scholars have contended that neoliberalism encourages growth and striving toward self-actualization and happiness, others have pointed out that neoliberalism undermines these aims and corrodes people's sense of security and solidarity by promoting competition.
The researchers briefly reviewed the ways social inequality is exacerbated by neoliberal ideology:
"Under neoliberalism, economic disparities are seen as accurate reflections of differences in hard work and deservingness, and the neoliberal age has seen a corresponding rise in inequality."
The authors continue:
"Indeed, it has been argued that inequality is not an unintended result but itself an important feature of neoliberal politics because it is supposed to serve as a mechanism to increase competition and productivity."
Becker and colleagues' new paper supplements existing evidence that neoliberalism is detrimental to community life by compromising trust and social cohesion, divorcing individuals from the associated health-enhancing attributes. Moreover, their research connects findings that suggest that interpersonal competition and loneliness can heighten people's experiences of insecurity, anxiety, stress, and depression to neoliberalism:
"For example," the authors write, "research has shown that a neoliberal conception of personal debt as failure is associated with increased anxiety, depression, and blood pressure."
Becker and team conducted a series of four comprehensive studies, using participants from Germany, the UK, and the US, to explore the health effects of neoliberal ideology:
"…to our knowledge, the effects of neoliberal ideology on variables such as social isolation, loneliness, and well‐being have yet to be studied. The present research fills this gap by attempting to explore whether neoliberal ideology can heighten loneliness and associated health problems."
First, in study 1, they examined population data at a specific point in time to explore a possible relationship between perceived neoliberalism and well-being. They utilized various measures to assess correlations between perceived neoliberalism and loneliness, well-being, and political orientation.
Their results garnered support for their hypothesis: neoliberalism engendered feelings of loneliness that, in turn, negatively affected individuals' well-being. These effects were not explained by individuals' political orientation or social class.
Then, the following research design was utilized in the remaining three studies that they conducted. Guided imaginal exercises tested whether exposure to neoliberal ideology could cause these psychological effects. They asked participants to envision a future society based on a written description provided.
In one group of participants, the description articulated a future society based on neoliberal principles. In the second group, the society described was based on social equality principles. In the control group, no description was provided. Instead, participants in the control group were instructed to freely imagine a future society.
Studies 2 and 3 examined the impact of neoliberal ideology on loneliness and then well-being, respectively. They found that participants in the neoliberal condition reported feeling lonelier than those in the social equality or control conditions, providing "the first causal evidence that neoliberal ideology can engender a sense of loneliness," Becker and team claim. In study 3, they found that participants in the neoliberal condition also endorsed lower well-being.
Additionally, they observed that participants who identified as left-wing were more likely to experience a stronger sense of loneliness owing to neoliberalism when compared to right-wing participants. The researchers explain why they were interested in examining political orientation and social class:
"This is because it is conceivable that the effects of neoliberalism are particularly prevalent for those who are left‐wing (because they reject neoliberal systems) and people from lower social classes (because they are most exposed to the impact of a free‐market society in which there is no social security)."
Finally, in the fourth part, the researchers examined competition and social disconnection in relationship with exposure to neoliberal ideology. They found that people in the neoliberal condition reported higher levels of loneliness, competition, and social disconnection than those in social equality and control conditions. These individuals also had significantly lower well-being. In contrast, these health indicators did not differ across the social equality and control conditions.
Becker and colleagues summarized that exposure to neoliberalism predicted competition and disconnection. In turn, disconnection engendered loneliness, and loneliness predicted lower well-being. They write:
"This accords with our hypothesis that neoliberalism can increase loneliness and health problems by pitting individuals against each other in a competitive environment and eroding social connections between them."
Importantly, regarding political orientation, neoliberalism predicted diminished well-being for liberals but not conservatives. However, neoliberalism's effects on loneliness, explained by increased competition and social disconnection, were endorsed by everyone.
Becker and colleagues identified three major implications of their findings. First, this works adds to the literature on social determinants of health by demonstrating that neoliberal ideology poses a risk to individuals' health. Second, these findings corroborate how being socially connected can have curative and protective effects on people's health. Third, these new findings "bring these two lines of inquiry together," they argue:
"…in a world where people are becoming increasingly aware of the health‐related costs of a mounting 'loneliness epidemic,' it may be time to broaden our critical gaze and reflect on the extent to which this too is a consequence of neoliberalism."
"At the very least, as we attempt to tackle this epidemic, we need to be mindful of the fact that its causes can be political as much as social and psychological."
****
Becker, J. C., Hartwich, L., & Haslam, S. A. Neoliberalism can reduce well‐being by promoting a sense of social disconnection, competition, and loneliness. British Journal of Social Psychology. https://doi.org/10.1111/bjso.12438