Dear Globe,
After a lengthy break following your third installment of 'The Desperate and the Dead', you really seem to have found your groove. Four installments in just over a month's time? Color me impressed.
Sure, three of the four of them amount to little more than, 'Hey, our legal system is also really, really messed up', and 'Homelessness is a for real issue'… Oh, and the ever brilliant and enlightening, 'sometimes more support helps', but… yeah. Still impressed.
Now, as much as I'm tempted to leave my summary of those three pieces right there and skip on to your last piece (Woah. Boy, did you ever outdo yourself with that one!), it'd be downright neglectful of me to not at least pause for a moment and delve a little deeper. Just three quick(ish) points as follows:
You Can Judge a Journalist by the Company he Cites
First of all, each and every time you reference the Treatment Advocacy Center (TAC – the place that is the 'home base' for the guy – E. Fuller Torrey, that is – who proports the 'cat feces' theory of schizophrenia), you do yourselves (and all of us) a disservice. You do this most recently in your court-focused piece, and thusly lend further credence to the rumors that the Globe is somehow 'in bed' with TAC, and all their various force-laden priorities. Thanks so much for quoting my friend and colleague, Earl Miller in your article about the intersections of psychiatric diagnosis and homelessness (although you left out so much of what he actually said… like that it's not so much emotional and mental distress that causes homelessness, rather then the other way around), but you'd basically have to have let him write the entire thing to balance out even one such citation.
Cite Your Sources (Especially When Your Sources Can't Cite Back)
Meanwhile, what is the deal with the Globe's decision to post such lurid details of people's most troubled times, identifying them fully by name and without their permission? Surely, Debra Silvestri (who, at one point, you refer to as 'Deb', as if you were old-time buds) did not give you her posthumous permission to feature her so prominently in the court piece. Kind of you to not publish David's last name in your installment on homelessness, but what of Nick in your prison-focused article? Maybe you did phone him up behind bars, but you can't have it both ways, can you? You can't say that people are so 'sick' that they can't function in society, but that they're in a perfectly good spot to okay such deep revelations about their lives going out to all your readers.
Contradictions Only Matter if They Contradict the Common
Say that five times fast. No, but really. It's amazing that you can continuously put out pieces that are so full of contradictions, and not get called out on it. It's no secret why. You can do this with such impunity because what you say is consistent with cultural narratives about psychiatric diagnosis. What a privilege for you.
But, let's examine just how contradictory things can get. To do that, how about we go back to David and your Spotlight piece on homelessness and the mental health system?  A few excerpts:
He believed, at times, that his medications made him taller, or that children he saw on the street were undercover police.
Hospitalized dozens of times over the decades, including at least seven stays at Bridgewater State Hospital, a medium-security prison that houses mentally ill men, he has been prescribed "nearly every anti-psychotic medication available over the past 30 years," a court report stated.
Back in court again later this fall, David trembled as he stood before the judge. He'd been in jail. His appearance was disheveled. His medication, he insisted, was not working."My head keeps shaking!" he complained, his quiet voice becoming a wail. "I'm not in the right state of mind!"
So, you seem to have presented a good case for the fact that psychiatric drugs do not appear to be the need or the solution, and hospitalization would seem to sit in a similar boat. At least for this one man upon whom you so relentlessly focused throughout your entire piece. To your credit, you yourselves briefly acknowledge that what would work to stop this cycle is unclear. You also point to the lack of validity of psychiatric diagnoses themselves ("He…would be diagnosed, at various times, with schizophrenia, bipolar disorder, and schizoaffective disorder.") which I very much appreciate (even if you did so unintentionally). However, rather than sitting with all your discomfort and uncertainty, you dive into the authoritative embrace of the police:
"Everyone knows who he is, and nobody knows what to do with him," said one police officer… "We have a lot of guys like this — he's not alone. You can take him to the hospital, but he doesn't want to go. You can take him to the court, and he'll just be released. It's a frustrating thing. . . . And it's [bad] for the guy because he needs help."
… Boston Police Captain Haseeb Hosein showed up unannounced to demand an explanation for David's continued presence on the streets. Why, he asked, is there nowhere he can go, no hospital to take him, no one who can help? Told that David could not, by law, be committed to a hospital against his will unless he could be proven dangerous, Hosein was incredulous.
I'm throwing up my hands on this one, my Globe friends. This has been a common theme throughout my Boston Globe blogs. You insistently point to how things aren't working, and then declare with all the apparent confidence in the world that what is needed is more of the same. Person's taking their psychiatric drugs, but they aren't working? More drugs for them! Psychiatric hospitalization hasn't fixed anything? Send them back!
What precisely do you think is going on in these hospitals that you lament do not have enough beds available or enough laxity in their policies for all the forced commitment you would like? It's not Disney World in there. I can tell you that much. No magic is happening. It's just more psychiatric drugs and incarceration until people are released into the same damn situations from whence they came.
Texas is the Bestest
So, on to your latest and greatest (and perhaps most dubiously titled): 'Solutions.' Apparently, they're all to be found in San Antonio. This Globe edition details how Massachusetts needs to learn from the 'lessons' taught by San Antonio, Texas and how a handful of inspired Texans have transformed their system since the turn of the millennium.
But, before I go even one step further, I need to ask you a serious question: Who edits your writing? And how did these particular excerpts slide past your collective sense of decency?
"A woman in her late 20's tried to hang herself in her bedroom. Her boyfriend walked in just in time, pulled her down, and hog-tied her while he called for help."
"Evans — burly, magnetic, and insistent — had wrestled bears as a younger man. He'd changed the diapers of mentally retarded adults in Oklahoma."
Wait. What!?! Every time I read these sentences, I hear a record scratching to a stop in my imagination.
For what it's worth, when I searched on 'hogtied' to come up with an illustration, literally all that surfaced on Google were pornographic images. I was looking because I felt like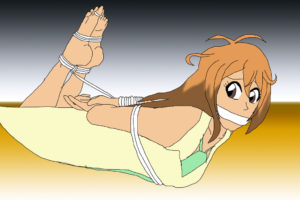 displaying an image was merited, just to really drive home what we're talking about when we use that term. But it took several tries before I found even a vaguely acceptable one (see right).
To be clear, I'm pretty sure that if anyone non-consensually 'hogties' anyone else – suicide attempt or not – it's abuse (yet, the hogtying dude in your intro is portrayed as a hero arriving 'just in time'). Meanwhile, the intro to the next segment (about a man who apparently played a key role in rescuing the San Antonio mental health system) also sounds like a description straight out of a romance novel that promises more explicit material to come. But… he wrestles bears? Who does that? Isn't that animal abuse? And who uses 'mentally retarded' anymore? Seriously. I know you've let some strange statistical analyses pass for truth, but how did this all skate by?
So, I've pretty much been incredulously reading these sentences to anyone who sets within a ten foot radius of me all day… because they're just that hard to get past. But, settling down into the 'meat' of all this and as best as I can gather, this article is a thinly veiled push for force and (apparently) an advertisement for AstraZeneca from whom the San Antonio mental health system reportedly raised over six million (!?) dollars to fund its transformation.
There's not much else that's new here. Things go better when police officers have some sort of support to understand how to connect with humans in distress. Housing people helps. Apparently, 'chasing' people is considered 'help' and not harassment in this particular alternate universe. ("Her case manager — the agency currently has 360 of them — had to chase her onto the bus that Bohanan took to her job at a Pizza Hut call center, even transferring to a second bus when Bohanan did.") A cursory glance is given to some creative voluntary programs that also (strangely) seem successful, before we get back on track to where the force is at. Life goes on.
Now, conveniently for me (only in the sense that less research is required), one of the women who I wrote about in my last Boston Globe blog (Roshelle Clayborn) was beaten to death by employees in a psychiatric facility right in – you guessed it – San Antonio, Texas. But, that was before their big 'transformation', right?
Well, even more conveniently for me, a woman contacted me after your 'Solutions' article came out to say that she had lived the majority of her life in San Antonio before moving up to Massachusetts, and that she had loads of experience with the 'model' mental health system you described. She was eager to share.
Meet Kelly. Kelly is a 31-year-old woman who moved up to the Eastern part of the Commonwealth just a few months ago. She was first hospitalized at the age of 5 at Laurel Ridge (where Roshelle Clayborn was murdered). Her most recent hospitalization there was about six years ago (around a decade after the 'transformation' got underway), and here's just a bit of how she described that experience:
"If you eat too slow they literally take your food away. If you have Polycystic Ovary Syndrome (PCOS) like I do and have to take birth control to prevent your cysts growing, prepare to have someone bring you birth control because the pharmacies in the hospital don't carry it. Also, if you start having a period due to not taking your birth control, prepare to have your family bring you feminine hygiene products because they don't have that either.
When you're in the hospital, you are coerced into doing anything and everything. By the end of your time there, you are to the point where your spirit is broken and you're telling people what they want to hear just so you can get out of there."
But, the police who are responsible for getting you there are at least better trained, right? I mean, that's what the Globe said…
"I had a nervous breakdown at work and was dragged out in handcuffs, which was completely unnecessary. When they took me out in handcuffs, that was the only way they were taking me out, and I had displayed absolutely no aggression at all so I really have no idea why they did that. It was degrading and horrible. I felt like garbage."
Clearly, Kelly must have interfaced with some of those very few police officers who missed the special training the Globe articles say are so widespread in San Antonio. You know, the ones where they get trained on how to deal respectfully with people who are in deep distress… so that the police don't make the situation worse or traumatize anyone in the process?
But, surely, the rest of the system was better… Maybe it's just the hospitals that have that much growing left to do?
"My entire life in the system there was composed of people basically telling me to "aim low" so to speak. I shouldn't try to work, shouldn't try to do anything "unrealistic". I was constantly being told I can't do things or won't because I have a 'mental illness'."
Well, uh, that sounds pretty bad. But, maybe… I don't know. Maybe it's still better in comparison to what we've got up here?
"It really makes me sick to think [the Globe is] trying to make San Antonio out to be an amazing system when it's significantly more broken than the one here. I had never even heard about recovery being an option until [I interacted with people in Massachusetts]."
Huh. So, we've got a pharmaceutically funded, pro-force system that perhaps isn't as rosy at the Globe is painting it to be? Shocking. 'Lessons learned,' indeed, my Globe friends. Those lessons include (among others):
Which system is 'better' seems to have at least a little bit to do with who's defining what is 'good.'
Which system sounds scarier, surely has a lot to do with which author is choosing the horror stories.
Dear Globe, you kept telling us that – if we were patient – your series would make us all happy in the end. You said we'd be able to get past your 'Desperate and the Dead' title, and feel good about the overall message. You told us to our faces that this wasn't about pushing force and Involuntary Outpatient Commitment. You lied. Or you were wrong. Or a mix of both. Does it even matter which?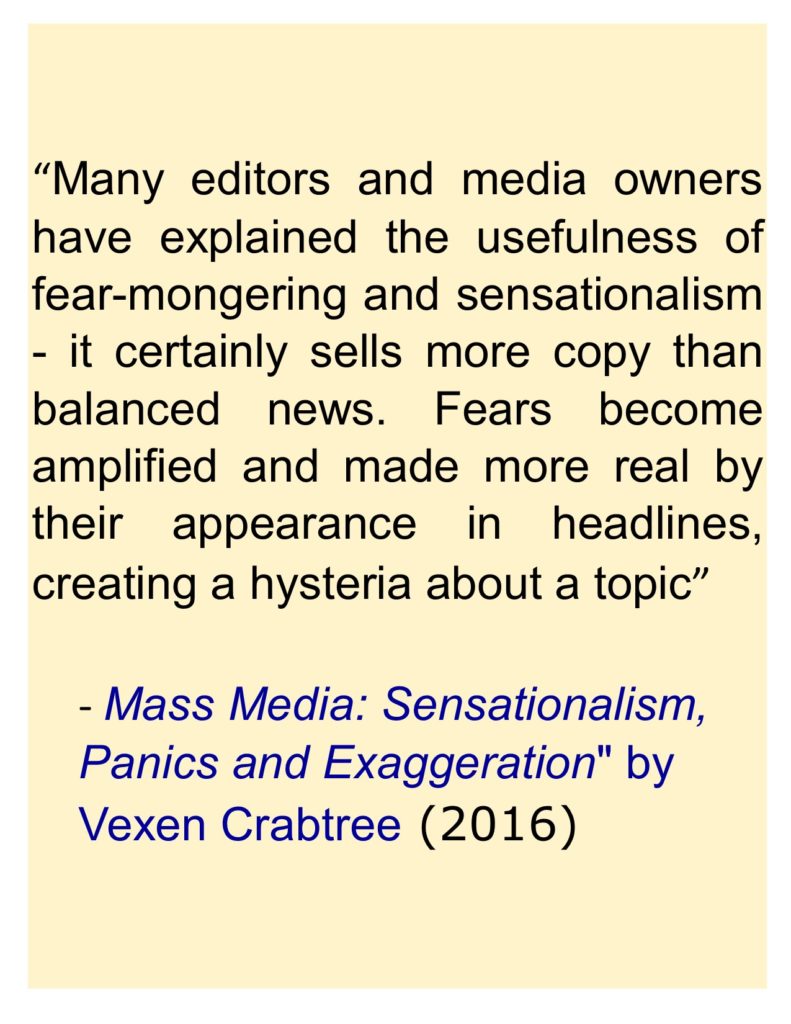 In the end, first impressions stick. Everyone in journalism (and beyond) knows this. Corrections and counter-balances are largely ineffective, because it's those earliest images and ideas that often become ingrained. In an article somewhat comically titled, "British public wrong about nearly everything," Jonathan Paige details the results of a survey that found public opinion is commonly off the mark, and one of the reasons cited was sensationalized media reporting. No matter how much truth follows along behind. There's no mystery here.
From day one, you have wielded your sensationalized titles and faulty statistical analysis to foster fear. You have mined the personal pain of your fellow humans and splattered it all over your digital and paper pages to drive an agenda I'm not even sure is your own. You've ignored our voices when we've told you you were wrong (or at least didn't have the full story) or where to look for what might be right, and intentionally denigrated us when looking the other way stopped working. You've unraveled so much of what we've fought for. And now, you just get to walk away, series complete, while we're left with the pieces.
We've (blessedly) reached the end of your series, and all I can say is… don't you feel even a little bit bad for what you've done?
***
Mad in America hosts blogs by a diverse group of writers. These posts are designed to serve as a public forum for a discussion—broadly speaking—of psychiatry and its treatments. The opinions expressed are the writers' own.
***
Mad in America has made some changes to the commenting process. You no longer need to login or create an account on our site to comment. The only information needed is your name, email and comment text. Comments made with an account prior to this change will remain visible on the site.