This has been some year. We (indirectly, sort of) elected the most openly bigoted president of the United States in recent racist history. The media tried to make us believe we were witnessing a new phenomenon by flooding us with news of so many of the latest police killings of Black men (while still mostly omitting all the deaths and disappearances of women and trans* people of color). We've teetered precariously on the edge of our apparent destiny as a 'reality TV'-driven nation, and finally decided to dive full on in.
Yet so much violence mixed with the grandiosity of Trump's hateful gestures – rather than drawing attention to and raising awareness and concern about all shapes and forms of racism – seems to be making the more everyday variety that much harder to see; As if we needn't concern ourselves with the comparatively 'small stuff' while the big stuff (like a presidential incumbent who's been formally endorsed by the KKK) is…well… so big. Even though we know that racism is much more about the nearly invisible (to white people, anyway) stuff embedded in our most basic system structures and ways of being, then about those blatant acts that are more 'symptom' and 'outcome' than 'disease.'
Unfortunately, this all seems to have distracted us and re-enforced the belief that our own movement(s) should get some sort of 'pass.' Because Trump's policymakers are coming for us, too. Because many of us have been deeply wounded and experienced oppression first hand. And because, well, we're working hard at tackling that type of systemic oppression. So, shouldn't that be enough to fill our 'fights injustice' quota? Isn't looking at anything else just a distraction that will water down our abilities to be successful in our own realm?
Truth: Our movement is just as racist (and sexist, and classist, and transphobic, etc.) as any other. We are just as liable to get lost in or be blinded by our privilege (white, male, cis, etc.), in spite of the profound pain and systemic oppression so many of us have survived. The majority of our communities (both on-line and in person) and events are still centered around the voices of white people, even when we're talking about non-white experiences. And our best efforts thus far to correct for all that have tended toward demands that white people make space for those who are not white at tables where we're not even sure it's worth having a seat, or to post 'Black Lives Matter' signs in our yards to meet a trend before going about our day.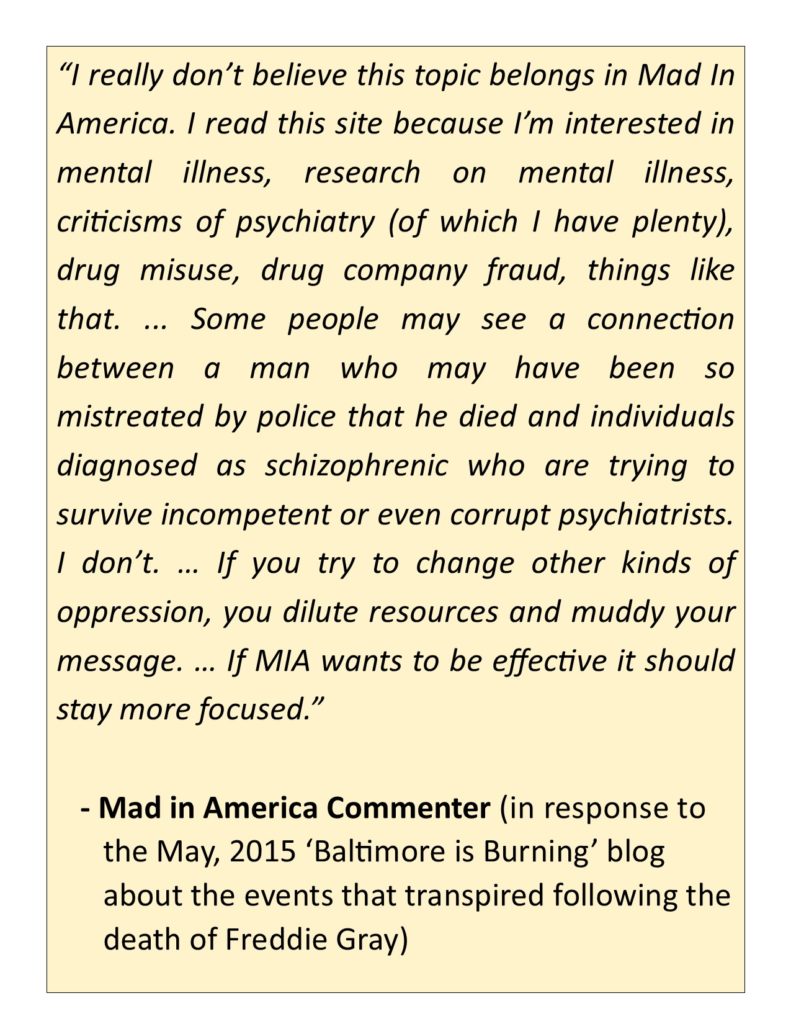 There are many reasons why this remains so, yet all of it co-exists alongside the fact that Black, latinx, and many other people of color are substantially more likely to be given what are seen as the harshest psychiatric labels, to be subjected to psychiatric force, and to be injured or killed during interactions not just with the police, but also with 'mental health' professionals. It also remains so in spite of the fact that our collective voice is weaker, less capable of making change, for all its fractured off pieces, and that it seems the height of hypocrisy to claim the mantle of 'social justice movement' if we're ignoring all these points.
There's no clear path to digging ourselves out of this mire, but even in the absence of a precise recipe for success, the following 'don't's and 'do's seem good food for thought.
DON'T (as in NO! Just stop it! Right now!):
Stop comparing psychiatry to slavery (or similar): A common response when this topic rears its head is to debate precisely what constitutes 'slavery' (in the most basic sense of the word). In some ways, this can be a complex argument, littered with various dictionary definitions interpreted in somewhat variable ways, and because it is true that race-based slavery and the Atlantic Slave trade is far from the only example of the existence of slavery in our world's history. However, here's a bit of a reality check on these points: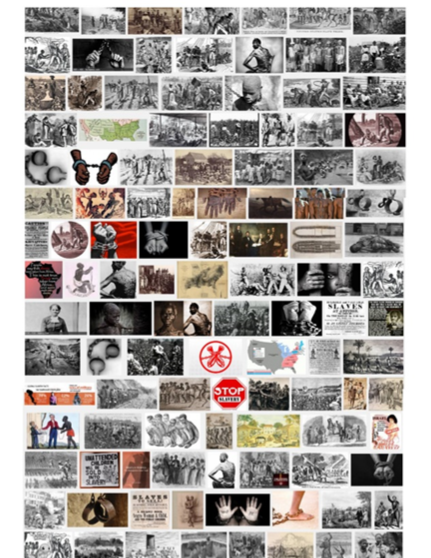 When one Googles (yes, that's a verb now) for images representing slavery (at least from a computer based in the United States), about 98% of the images that pop up on the first page represent enslavement of people of African descent. A word-oriented Google scan also elicits a first page of results that are made up of references to slavery as it has existed most prominently in the USA with a few generic definitions thrown in for good measure. And, when one speaks of 'slavery' (without any other qualifiers) to those around them (again, at least in this country), few report hearing someone ask, "What kind of slavery do you mean?"
So, when objections are raised in response to the term 'psychiatric slavery' for all the appropriation and denigration of the history of so many Black Americans that it represents, it feels completely disingenuous for proponents of this analogy to offer up vague dictionary references or historical citations of slavery in Greece and Rome as first defense. It's not that any of these points are exactly untrue, per se. Yet, it all rings of feigned ignorance to the reality these words have lived and the impact they are likely to have in the here and now.
Now, to be clear, this 'don't' is directed primarily at white people. Sometimes Black people do make this comparison, and there is a difference. When asked about this topic, Suman Fernando (a Black psychiatrist originally from Sri Lanka currently residing in England and who has done a great deal of work related to racism and psychiatry) had this to say:
"When a black person with a family heritage of slavery (as meaning race-linked slavery) says that psychiatry feels like slavery (I have heard this mainly in the context of being forced -sectioned), that feeling is to be taken seriously as a valid statement with sometimes very deep meaning not just for the person but for anyone trying to understand the effect of the psychiatric system on other people (ie. academics, writers and most of all psychiatrists). If a white person and or someone who has no family heritage of slavery (is not an expert by experience on slavery) says the same thing, it usually means -'I have experienced psychiatry so I know what slavery is like' and this is an insult to people whose heritage has slavery experience and a devaluation of the experience of slavery – and indeed an attempt to appropriate someone else's experience."
Now, Suman should not be sought out for his expertise on what it's like to experience psychiatric oppression in general (he has not experienced it), but his words as a Black man who has spent many years examining the relationship between psychiatry and racism should carry great weight. If nothing else, they should carry far more weight than those of Thomas Szasz (who certainly does otherwise have many messages of value to offer) and other white men commonly cited as utilizing the frame of 'psychiatric slavery,' but who  know very little about living Black in this world.
(Oh, and while we're at it, also stop comparing the experience of psychiatric oppression to the Jewish Holocaust, the genocide of American Indians, or any other such devastating experience held by another group of people in our nation.)
Stop appropriating the words of Black people to support system (or anti-system) messages: We understand it can be tricky to know when quoting a person of color is an effective way of using our own voice as a tool to raise up the voice of another, or when it becomes little more than a way to make one's self look good or progressively minded. Clearly, white people only referencing other white people is not the way to go. However, how many times has a white person quoted someone, when they could have instead stepped aside to make room for a real, live Black person to speak for themselves? And, based on existing trends of the extraordinarily small pool of Black people recognized as worth quoting (or 'gentle enough' to be heard), how many people might unknowingly be walking this earth thinking that Martin Luther King Junior was the only Black person ever to have said anything worth repeating?
On Monday, September 19th, 2016, the opening dinner for the Alternatives Conference was held in San Diego, California. One of the opening speakers was a white presenting man from the Substance Abuse and Mental Health Services Administration (SAMHSA, the funders of the conference). Throughout his talk, he increasingly referenced the words of different Black people up to and including Oprah Winfrey (?!). While he inevitably meant well, his frenetic inclusion of every name at the top of the 'well-known Black people list' was overwhelming. Toward the end of his speech, he also directly appropriated a quote from Martin Luther King Junior (because, as aforementioned, no speech where race is referenced is complete without at least one MLK nod).
Instead of "…will one day live in a nation where they will not be judged by the color of their skin, but by the content of their character" (from MLK's 1963 'I have a Dream' speech), he said (basically… we might have a word or two off):
"Judge a person not by the contents of their prescription bottle, but by the content of their character."
Wait, what?! No. Just no. There's so much wrong here, from the entrenched association between emotional distress and psychiatric drugs to a white presenting man opening a predominately white conference by appropriating a Black man's quote and twisting up its meaning to fit a completely different agenda. This should never have happened, but it set (or perpetuated) a tone that was never truly questioned.
This is not unusual. It follows on the heels of one of the organizers for this very same conference having proclaimed, "All Lives Matter!" just the year before. It happens all the time. Our movement, for example, quite regularly speaks of "Creative Maladjustment," and one relatively recent Mad in America blog went so far as to say:
"In fact, if you wish, and you reflect the values of Martin Luther King, you may say you are leading the organization that he first envisioned, the International Association for the Advancement of Creative Maladjustment (IAACM.)"
Honestly, it's awful hard to imagine that MLK would have ever envisioned an IAACM that was so white, where Black people and others people of color so commonly feel excluded or spoken for and over, and where a white presenting man would open a majority white conference contorting MLK's words into something they were never meant to say.
Also, stop appropriating imagery from our racist history for other causes: Individuals fighting psychiatric oppression are not the first to appropriate experiences associated with our country's long record of racism. This is also an issue, as it turns out, among animal rights activists (see image to the left). In December of 2015, Claire Heuchan (a Black radical feminist and writer from Scotland) authored the article, 'Veganism has a Serious Race Problem', in which she made the following statement:
"Material designed to provoke a white audience is also liable to alienate a Black audience. By using slavery as a tool to promote vegan values, vegan activists make clear that vegan spaces are frequently racist spaces. As is often the case in predominantly white spaces where racism goes unchecked, there is little room for people of colour. This marginalisation results in the perception that veganism is a movement by and for white people, which certainly isn't the case."
That first sentence seems especially worth repeating:  "Material designed to provoke a white audience is also liable to alienate a Black audience." We would do well to learn from and apply this in our own work.
And, stop arguing with Black and other people of color when they tell you to stop: It really should be unnecessary to write more than just, 'Don't' in this section. Yet, judging by the frequency with which this occurs, it seems much more is needed. There is a phenomenon called 'whitesplaining' that occurs fairly commonly, and one of the ways in which it rears its ugly head is when white people attempt to explain to Black people or other people of color why they shouldn't find something offensive.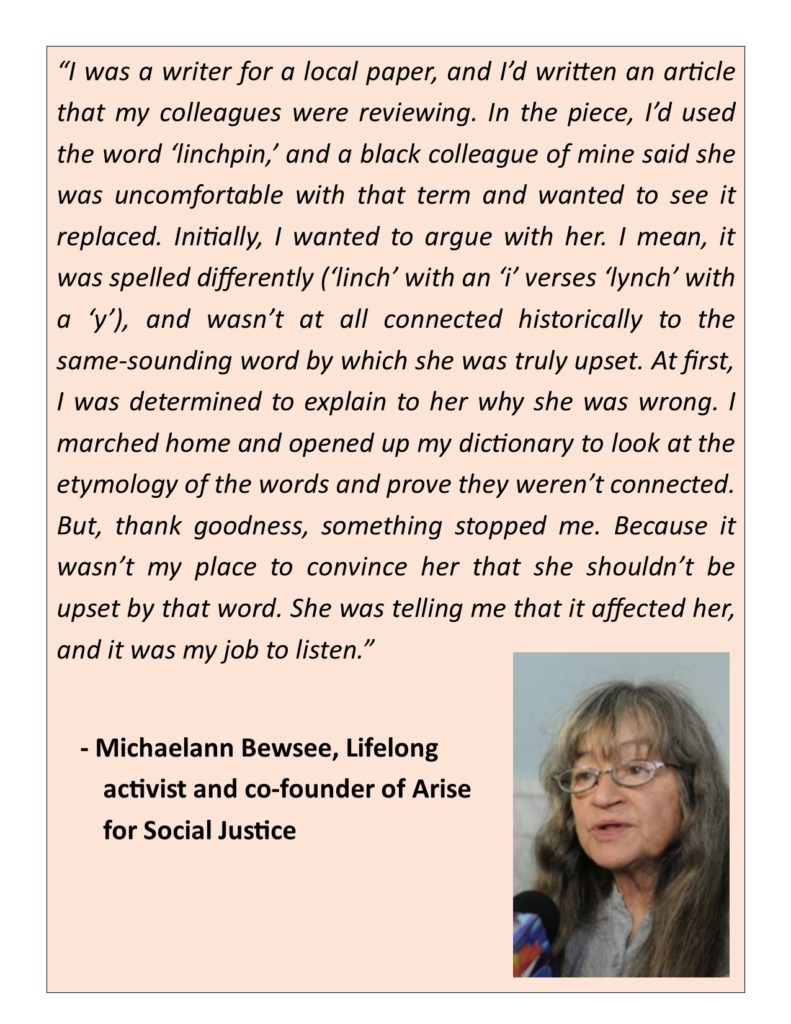 However, in a society that has consistently catered to white feelings, perceptions and interpretations, if we are truly going to move forward toward healing racism, then the very least that a white person can do is listen when a Black person tells them that something they are doing or saying feels racist or brings up hurts that are so related.
And beware the urge to go in search of another non-white person to contradict the first (generally done in effort to somehow vindicate one's self). Certainly, there are many times when people of color will disagree on such points.  There are many groups, after all, that fit within the term 'people of color,' and even if you narrow it down to just one – Black, for example – there is no obligation to be any less varied or diverse than any other group in what individuals within those groups think, feel or say. However, our time would be far better spent examining our own motives and why it feels so important to hang on to something if we've been told so clearly that it's hurting a fellow human being, especially when that fellow human comes from a group that has already lived a lifetime of being silenced and devalued.
Better that one just… stops.
Stop proposing 'color blindness' as a goal:
"I don't see color."
"I wish we were all colorblind."
"Race is a social construct."
When we say those things, it often seems that the intent is to say that people are people.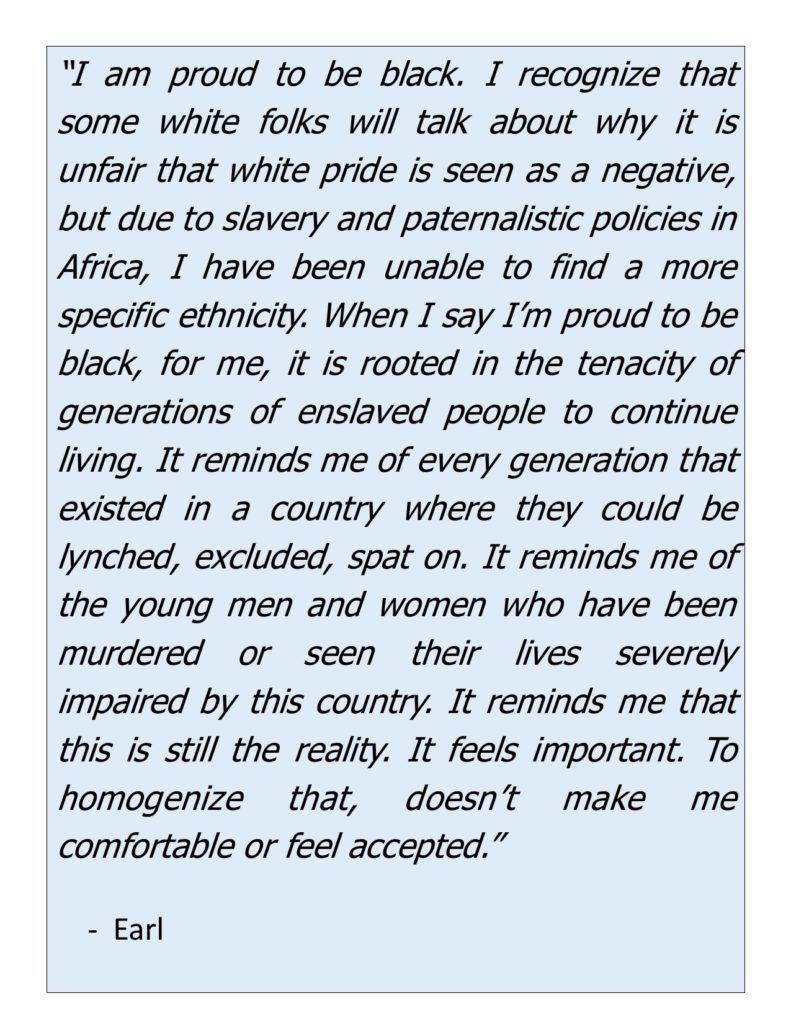 That we aspire to see people as the whole of their selves instead of as some label they have been given. In this psychiatric survivor movement, where we are so intentionally trying to move past preconceived notions that stick to people's being, it even seems understandable.
It is a flawed concept though. This movement is very white. Deep breath. It's been said. The list of reasons is long, but at least part of that is that inviting people of color to an all white table is complicated. Nobody wants to be tokenized or treated as some sort of exotic foreigner. So, perhaps, well meaning people offer the color blind explanation to try and offer some comfort. Intentions being what they are, it can be seen as a welcoming gesture.
However, the first flaw is the implication that blackness or brownness is something to be ignored. And, the second flaw is the inherent privilege of that statement. If you are a white person, you can be color blind. Racism is like the next city over. Sure, it impacts you… from a distance. But to see it, requires leaving your comfort zone and intentionally seeking it out. If you are a person of color, it's more like your neighborhood. You have to work hard to even have a small space where the impact doesn't exist. The society we live in means that every retail experience, every police stop, job interview, all of it has the opportunity to remind you that the world sees you as a lesser person. You cannot be color blind because there is no space for that.
It's okay to want to not see how unfair things are. To wish them righteous. It just doesn't do anything.
Yet, promoting 'color blindness' seems to be a phenomenon that is sweeping our movements most closely associated with 'mental health'.
While we all instinctively want to be able to stand on the merit of our individual personhood, Black folks have rarely (if ever) been able to focus on the individual self, to be seen as possessing of individual identities rather than simply as one of a mostly faceless mass. It is born of privilege that white people are able to be individuals at all times, to not focus on race, and to (supposedly) not see the color of other individuals.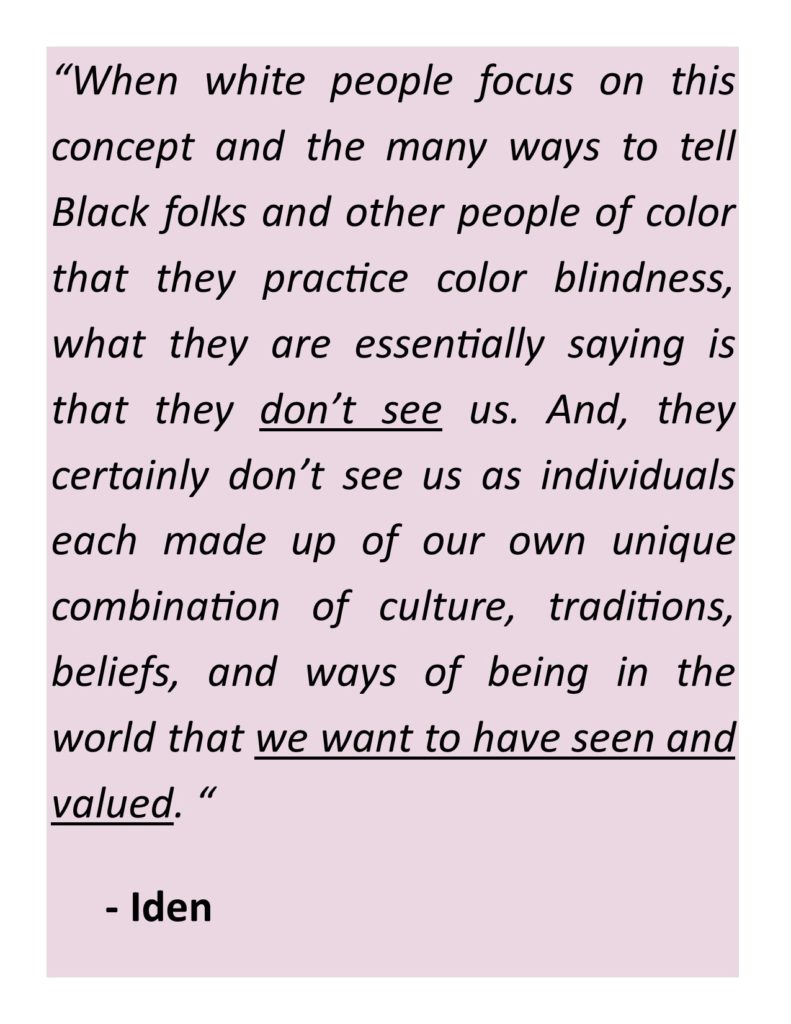 What evidence is there that Black people and other people of color are not allowed to be individuals? We need only look at the way laws are enforced across entire communities of color. Police forces occupy such neighborhoods daily. Recently, you have seen these occupying forces in Ferguson, Baton Rouge, and Standing Rock; Police officers dressed as if they are going into military battle with American citizens.
When was the last time you have seen occupying forces such as this in white communities? How has their response compared in university towns that riot after winning tournaments, or cities that riot after winning professional championships? Whenever there is a random shooting in Chicago the media portrays the entire community as a criminal element. When 9/11 occurred every Muslim in this nation feared for their lives and many still do today.
Yet, just recently a white man murdered two police officers, and not once was his race mentioned. Not once was his community or family held accountable for his actions. As a matter of fact, the term "Lone Wolf" was created to effectively give white men a way to be individually identified in domestic terrorist acts, acts of racial violence, and any other criminal activity in which they may be involved. This is the color blindness that white people are able to practice so unabashedly while still participating in racial profiling, oppression, and systemic racism.
The intergenerational trauma we face as a nation together and then in our respective communities has shaped the way we view and interact with each other. The shame, fear, hate, and refusal to 'see color' has played a significant part in transforming this nation into one of traumatized individuals who have refused to deal with the elephant in the room.
The last eight years, we have witnessed what many thought was a past that was long forgotten, but in reality was only swept under the carpet. Many white people respond to the hatred of Trump supporters and those who blame Muslims for any incident that might be related to terrorism in feigned disbelief. They are seeing now what many Black people and other people of color have known for years. Racism has always been alive, practiced, and tolerated in this country.
(As a side note, it seems worth adding: When people of color laud 'color blindness' or throw out a 'All Lives Matter' cry to groups of mostly white people… Well, whatever they may mean in those instances and however differently intended it may be from when it leaves the lips of a white person, it's probably worth considering what the white people hear… Do they care what is actually meant, or does it simply get translated into an excuse to do the same, and serve to undo so much work of others who have fought to broaden their view and understanding?)
DO (as in YES! Please. Give it a go! Trust us!):
If you see (or hear) something, say something: Here's a line most commonly associated with abandoned backpacks or suspicious activity in public places, but what's much more common is witnessing people making comments that perpetuate hate, negative stereotypes, prejudice, and/or plain lack of respect of one marginalized group or another. And, more often than not, such statements go unchallenged.
Why? This happens for a variety of reasons including that the person in the 'witness' role:
Doesn't want to be seen as rude or risk damaging a relationship
Is afraid they'll somehow be a part of silencing a person of color or unintentionally treat them as incapable if they speak up in their defense
Is afraid of getting labeled as the 'fun police' or being excluded from a group of friends or colleagues for being 'too sensitive' or 'too difficult'
Is in a position of lesser power and is afraid of the consequences of questioning or potentially embarrassing a person they see as 'above' them in some regard
Feels less educated and/or confident in their communication skills than the person they want to challenge
Isn't entirely certain that what they heard is truly 'wrong' and isn't quite sure why it leaves them feeling uneasy
Isn't sure what to say to challenge or interrupt what was said
Is waiting (hoping) for someone else to step in
Feels like it's pointless to speak up, because they have no hope of changing that person's mind
Within the movement(s) that seeks to address psychiatric oppression, silence can also sometimes be the result of just how difficult it can be to tell someone who has been so oppressed in their own way that they're nonetheless hurting someone else, or taking advantage of their privilege. Indeed, it can be very hard for someone who's spent years in a psychiatric institution or who has been living in poverty to hear or acknowledge that they have any privilege at all.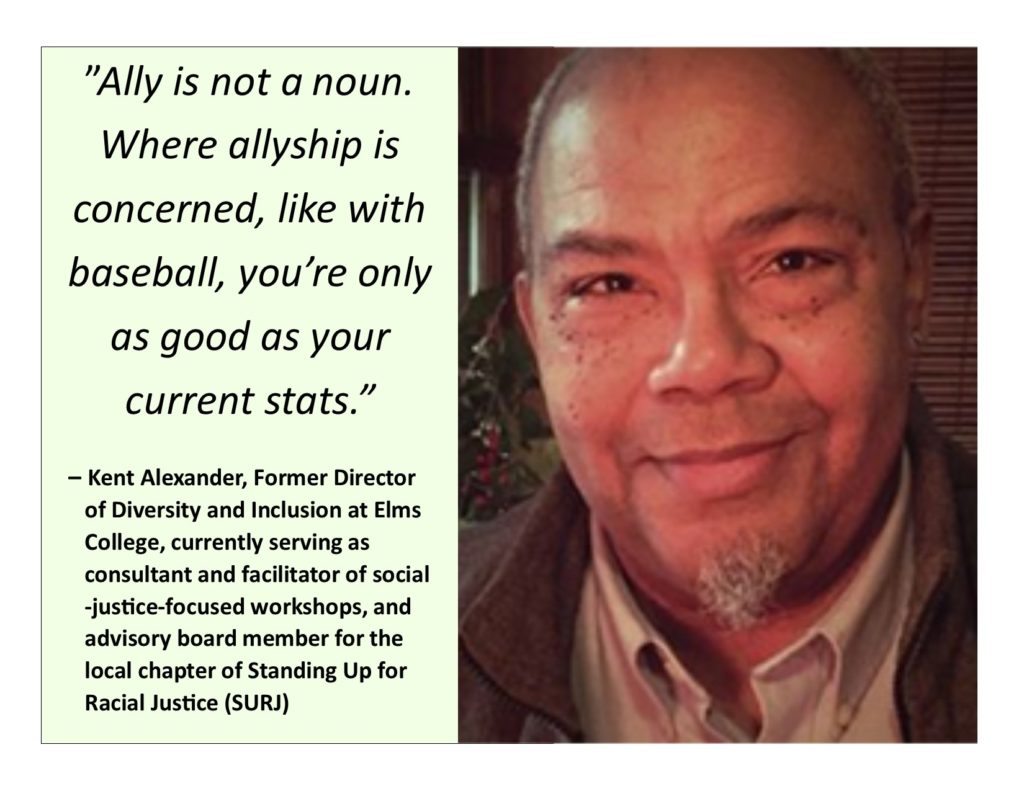 But, getting comfortable with saying something (even if clumsy and imperfect) is absolutely key. Even if it feels like there's no chance of changing the other person's beliefs (because what you say may impact others who are listening, and seeing your example may give someone else the courage to also speak up and interrupt in the future, and because being silent in the face of oppression is rarely the right thing to do). In fact, given that it's white people that have historically held the power and been responsible (however unwittingly) for maintaining institutional racism, it makes all the sense in the world that they should also be primarily responsible for its undoing.
Along the way, expect to make mistakes. And, when a Black person or other person of color 'checks' you or otherwise gives you feedback… Well, in most instances, you'll want to refer to #4 in the section above, thank them for letting you know and move on.
Work together to develop our own language: As a movement, we have continuously recycled language from other groups. Calling the fight against psychiatric oppression a 'civil rights movement' is one example that walks the line. (Why not just call it a human rights movement?) And, as noted in the previous section, a particularly painful example is using terminology from the slavery era (aka 'psychiatric slavery') to describe psychiatric units, forced treatment, and the mental health system at large. 
Many Black people have stepped up and asked that this language not be used in relation to modern day mental health, only to be met with white (as well as a handful of Black) folks who have loudly proclaimed that they have a right to compare slavery to the modern day system. However, what seems to be lost in this conversation (aside from a heavy dose, once again, of #4 from the 'Don't's section above) is the generational trauma associated with this history. So many seem to be oblivious to the fact that many Black people are literally being re-traumatized by the very people who claim to be fighting for their rights.
There simply is no reason in today's world that we can't find alternative language that is both more accessible and less harmful.
Language has great power. It can create connection or build mistrust. Proclaiming who you're fighting for is meaningless if you trample those people's feelings and wants along the way. It is not the job of people of color to offer new language. It is up to the movement as a whole – and particularly those who say that they care – to see, hear and feel how they are impacting others.
We can and should do better.
Work from a social justice framework, NEVER an industrial one: This 'movement' has been fragmented, and far too many people are now focusing on 'peer support.' More importantly, they're focusing on peer support not for its purest vision or value, but for its career path and industrialized potential. 'Peer' itself is now most commonly boiled down (in this context) to two people with similar diagnoses (or to one person who has been diagnosed), rather than the commonalities between two people who have experienced similar dehumanization or systemic oppression (often of more than one kind), in addition to any personal struggles that may have led them there.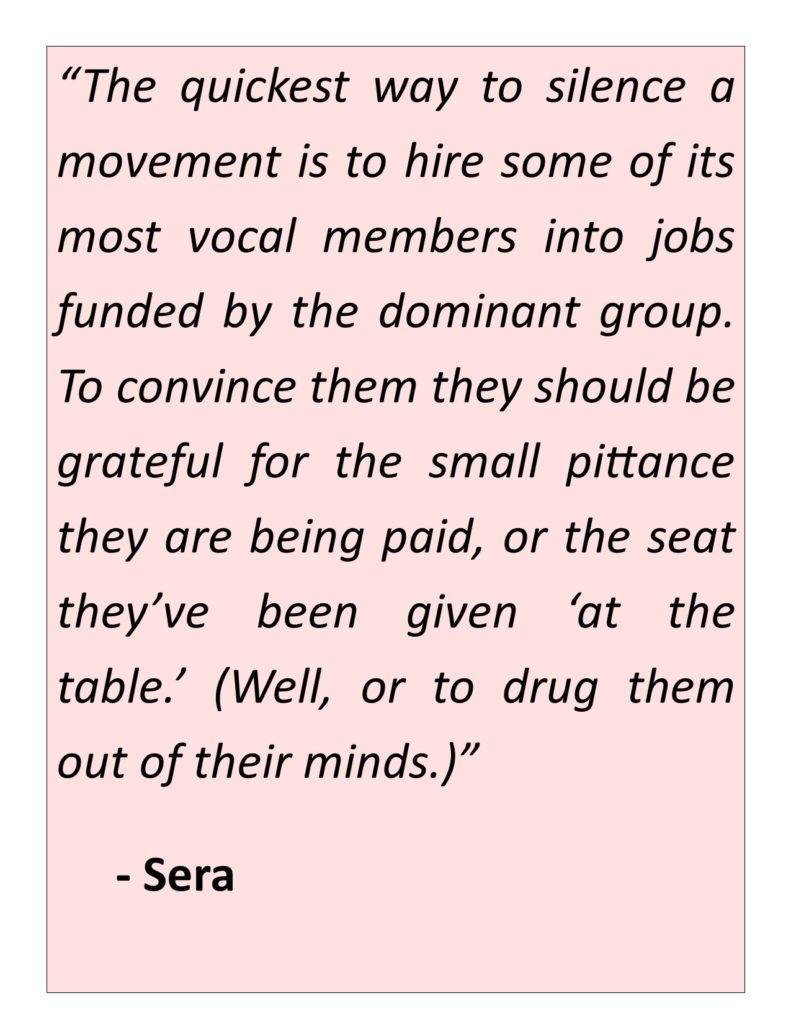 But few people seem to recognize how our power is slipping further and further with every 'peer' job that is created, especially for all the compromises we seem willing to make to reach that end. And, when we are so quick to lose our way in the battle that we say we are prioritizing, how can we ever expect to get right with all its intersections with so many other kinds of oppression (or how we are playing our part in keeping them alive)? It may all be well intended and start under the guise of creating change, but in the end, rendering those who would put up the most heartfelt fight dependent upon those they seek to change for their financial survival is often the most effective way to shut them up.
To fight one battle, we must see them all for what they are, and call them out as such.
Focus more on the comfort of those who've experienced oppression than those in the dominant group: Our movement (like so many others) has often made the mistake of believing that we are obliged to afford boundless room to be sensitive to people's needs to learn and how hard it is to unravel those invisible messages we've been taught. But – in our effort to be understanding – it seems we often only manage to perpetuate the creation of spaces that continue to be inaccessible to those who have been most harmed.
So much that's embedded in our culture we have absorbed without ever thinking it through. Take words for example: Who knew that terms like 'cotton pickin' hands,' 'sold down the river,' 'getting gyped,' and 'no can do' all find their origins in such a racist history? Of course, if most of us paused for a second to think about some of those phrases, their problematic nature would become obvious, but the reality is that so much has sunk into our minds and ways of being without us realizing (or living lives that require us to realize) its there. And, so, far too much of the time, we simply don't have an awareness that there's anything to even think about.
It's true, we can't suddenly know what we don't know, yet we need to move away from the idea that mistakes are 'okay' (while retaining some of that compassion for the process). Instead, we need to re-frame the conversation around the idea that our mistakes, missteps, microaggressions, and needs to learn (and unlearn) make sense, but that they are categorically, completely not okay. Otherwise, we will never hold each other (or ourselves) strongly enough to the necessity of change.
Yet well intended people are pulling ideas out of their trendy 'non-violent communication' tool bags, and proposing warm and fuzzy phrases like, let's learn to "call in" instead of "calling out." And, sure, (as Loretta Ross, among others, has spoken to) there is a time for calling 'in' to people with curiosity, an invitation to learn, and a desire to understand and be understood, rather than calling them 'out' in a way that might make them feel shameful and judged. (Or to call 'out' the actions while somehow still calling 'in' the people.)
But, at some point we need to stop and ask ourselves on whose needs and culture is that approach based? Is this not sometimes twisted into just another way to ensure that white people's comfort and feelings continue to reign supreme (in keeping with a 'white fragility' frame)? Who's potentially being silenced along the way?
The reality is that white people have the privilege of whiteness to increase their comfort in so many (read: almost all) venues. So, perhaps it's just fine if our approaches to discussions around racism are a tad less… precious, and that we might make ample room for anger, and yes, a healthy dose of calling 'out'.
Pay attention to internalized racism: Here comes some more fun. Why is internalized oppression important when we talk about racism in the psych survivor movement? Isn't the whole point to give people of color a voice? Well, absolutely, Mr. Literary Device, but (and this is said with full knowledge of the inherent dismissive implication) when a system is built on teaching people how fundamentally 'less than' they are, that voice may need a history lesson.
A vignette from Earl: "So, this one spring day, I found myself in this workshop on diversity and inclusion. I find myself in these sorts of spaces fairly regularly, and it was pretty standard stuff aside from a single double sided page called 'Possible Things To Consider When Working With African Americans (IMHO)'. It was pretty appalling.
Included were things like 'If you do not have any friends of the same background, culture and race as the person you are working with it's best to assume you are not culturally competent.' That isn't super off on its own, but the part that caught me was the reverse implication: That having a black friend could possibly make you competent to an entire, huge, wide ranging culture. (Note that this is perfectly in sync with one of the most commonly used, eye-roll inducing defenses around when a white person is accused of being racist: 'Hey, I'm not a racist because I've got a black friend!')
It went on to say that 'The darker the skin color and the less European the person looks, the more likely it is that we have dealt with racism and discrimination.' This essentially serves to establish a color chart of oppression, and, most absurdly, suggests that perhaps some of us who are lighter skinned have somehow evaded being impacted by what we know to be a deeply systemic issue. Most upsetting for me, was point number five suggesting that language such as 'recovery, mental health and wellness' are 'too white, fancy or educated and not of our culture'.
I imagine, most people can see where I might have felt upset. I followed up by reaching out to folks from the almost entirely white led organization who put this out. Initially, they just put me off, and when they did address the point, there were really only two responses. One, said in private, was that I was too Christian and educated. (I'm an atheist with a GED, but that is just another example of people making assumptions.) The other response, the one said directly to me, was that this was a group of black people and thusly to question the paper was to implicitly question their experience.
That wasn't my hope. I wanted, however, to talk to them. To ask why they felt like these words were inaccessible. To ask why they would write a paper to white people that reinforced the narrative that black people are less intelligent and less resilient. I never got to have that meeting but those questions persist.
I remember being in hospitals and knowing without anyone needing to tell me that if I got angry, I would be restrained. There would be no question of why, or an assessment of my danger levels, because I was assumed to be inherently dangerous. I couldn't ball my fists when I was angry, or make intense eye contact. I couldn't be alone, and I couldn't be more than a role that had been predetermined.
I'm a black man, which means I am a time bomb. You want my opinion, when we agree. You want me at the table, when it isn't your table. You want my intensity in doses you can measure out and my body when it's useful. I had a teacher call me a gang member in the administrative building we called a school in Connecticut, despite the fact that I had only made one friend in my 6 month stay and when I gave that little blonde girl a hug after my mom moved away, I wasn't allowed within ten feet of her again.
I say that stuff mostly to say that my history within the psychiatric system is really informed by the ways in which young men of color are told this narrative of themselves. For a long time, I wasn't someone who had heard these things. I was these things. Florynce Kennedy once said, 'When a system of oppression has become institutionalized it is unnecessary for individuals to be oppressive.' I wasn't smart enough, or well-read enough, or on a more base level, worthy enough of not being a fearsome entity in a story other people had written for me."
This movement, in large part understands that when we talk to people who have been given a psychiatric diagnosis that those words may have become a central pillar of that person's existence. That to ask them to re-define themselves without the tools they need to build another, different pillar isn't fair. That it would be a disservice. The same thought makes sense when talking about anybody who has been fighting the weight of oppression. The solution isn't any more complicated than to be compassionate and curious about where people derive the definitions of who they are; to try to understand why and how they've come to believe what they believe. Assuming you know something about another person comes with a cost.
That is to say, if we assume that just because a person is Black that they have ever necessarily had space and time to ponder their position in a racist society is to assume we know intimate details of their life with no rhyme or reason.
Conclusion:
Our communal trauma has only been exacerbated since the Civil Rights movement. While so many white people had the luxury of assuming that the Voting Rights Act, the Housing Act, and desegregation put an end to racism, Black, latinx, and other people of color have been painfully aware of how its all only grown more covert and expanded into many other forms such as redlining to suppress voting, housing, and educational opportunities.
When you recognize and face hurdles day in and day out, no matter how hard you strive to achieve academically, professionally, and in social settings… When you walk to the corner store and pass five or more police officers, or are stopped walking the two blocks to the corner store only to be asked where you are going, or to show your identification… Then you begin to realize that your community is being targeted and treated differently than other communities.
And yet our own movement(s) trucks on, with its largely white-driven leadership, conferences, and forums such as this one. With people periodically expressing outrage when racism is brought to the forefront, as if little of note is otherwise happening most of the time beyond the Murphy Bill and so much else that is directly related to our own little corner of the world.
And, so this blog returns to where it started:
The idea that we are truly standing in opposition to systemic oppression becomes a bit of a joke if we have to add a tag that says, 'Oh, but we only really mean that for this group.' And, failing to make ourselves accessible (and relevant!) to so many people ensures that our voice will never gain the numbers we need or get loud enough to have any shot at competing with any of the forces currently standing in our way.
Shortly after Trump was named incumbent, Black Lives Matter released a powerful statement that concluded with the following sentence: "The work will be harder, but the work is the same." For our own movement(s), there is also much truth in those words.
But, for us, the work had also better be different. We had better fight to include far more voices than ever before. We had better look to get much more honest about our failings and who's been left out. Ignoring these realities is a path to nowhere.
A racist movement cannot move.
NOTE: We realize that there are some concepts, references, and language that may be less than completely familiar to at least some people reading this blog. As such, as have done our best to insert links (wherever you see blue text) as an additional resource for anyone interested in learning more.
***
Mad in America hosts blogs by a diverse group of writers. These posts are designed to serve as a public forum for a discussion—broadly speaking—of psychiatry and its treatments. The opinions expressed are the writers' own.
***
Mad in America has made some changes to the commenting process. You no longer need to login or create an account on our site to comment. The only information needed is your name, email and comment text. Comments made with an account prior to this change will remain visible on the site.