This is not my first Trump versus 'crazy' blog, but this one goes out expressly to those of you who call yourself 'progressive' or 'liberal' or whose views put you in the camp where folks who go by such labels usually hang. It is not so much intended as criticism (or support!) of Donald Trump, as it is an exploration of how you justify calling him 'mentally ill', and if doing so is of any use at all.
You: You're imperfect, but well-intentioned and keen on doing the right thing. You likely participate in a progressive listserv or social media group or two. You have favorite causes to which you dutifully donate your time or funds (combatting homelessness, food for hungry kids, animal rights, and so on). You believe in global warming. You would probably consider going to an anti-oppression workshop or public event on your own time. At the very least, you are not a stranger to speaking out against sexist, racist or other bigoted remarks on your Facebook or Twitter accounts, or defriending the people who promulgate them. Overall, you are a good person. You really try.
And, as a good person, when you call Trump 'crazy' you probably mean one of two things: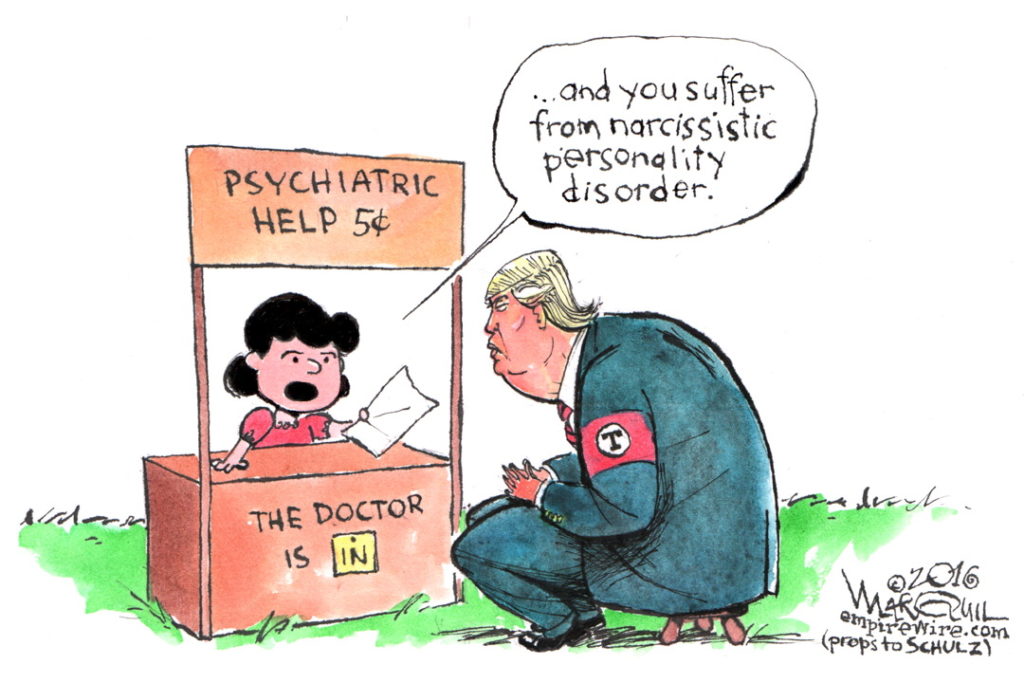 1. You just can't believe that someone who you feel is doing such terrible things could possibly be of sound mind. What he says and does just feels too wrong to you, and that's worth calling out in some way… maybe with a little jab of humor or sarcasm to make it a touch more tolerable in the moment.
And/or:
2. You think that Trump being removed from office is paramount, and you genuinely believe that proving he is "unable to discharge the powers and duties of his office" due to his perceived lack of mental fitness is the best way to get him out. (See the 25th amendment for more on this point.)
Okay. I want you to know that I hear you. I understand your logic. Really, I do. It even makes sense to me, and I do not consider you to be a bad person for thinking in that way. And, while some still believe in Trump's ability to "make America great again," there are certainly hundreds of thousands of others who are right there with you looking for a way to oust a man that they see as a real threat to society.
So, yes, I hear you, but I wonder if you could take a few moments to hear me, too? Stick with me here for just a bit and consider the following scenarios:
1. L is your co-worker. L's adult child recently began providing foster care for a new baby, as a first step to adoption. It's an exciting time for everyone. However, social services has informed the family that L is not allowed to have any contact (let alone help to care for) their soon-to-be grandchild due to L's psychiatric history. This is in spite of the fact that L has been working successfully at the same job for years, and has no history of violence toward others.
2. Q is your child. Q has worked so hard to be accepted to their first-choice college. As head of their class, Q gave the valedictorian speech and earned a fantastic scholarship, too. But in their freshman year, Q struggled. It was their first time away from home, and the same efforts they put in to be top of the class in high school didn't yield the same results as Q was used to. One day, Q nervously shared with a campus counselor that suicide had crossed their mind. This triggered an automatic response that landed them in a local hospital where they were diagnosed with major depression and generalized anxiety disorder and put on a suicide watch for three days before being released. During that time, the school also made the decision to require a medical leave, which eventually turned into a permanent dismissal. Now Q is living at home with no scholarship or access to higher education.
3. T is your neighbor and friend. T has been working at the same job for five years. They have gotten great performance reviews throughout their time there, and were recently promoted to a supervisory position. However, after a number of difficult turns in their personal life, T felt the need to take some time off. When speaking with their boss about taking a medical leave, T disclosed for the first time that they'd been diagnosed with bipolar disorder many years ago. Although their boss seemed supportive and sympathetic at first, it was a different story when T returned, at which point they were asked if they really felt 'up to' coming back. T's work was scrutinized in a way it never had been before, and people continued asking them questions about their ability to meet job requirements. T was written up for the first time ever a month after their return, and lost their job six months later. Now, they're struggling with how to pay their rent.
4. Y is your parent. Y has always struggled to keep up with the world and life's demands, but after your sibling's death, Y's emotional wellbeing went into a tailspin. After several hospitalizations, they ended up in the mental health system, living in a residential program for several years. Now, the same agency is supporting them to find an apartment. Conversations with landlords often start out positive, but multiple potential leads have 'fallen through' after the landlord finds out about the rental subsidy and the connection to mental health services. Y is still stuck living in the residential program, and is beginning to feel hopeless.
Perhaps this all sounds a little outlandish or extreme. Maybe you think these sorts of stories are outliers, cherry picked to upset you or raise your activist hackles. But, each of these scenarios are real, and all too common. There are several articles on the web about students being kicked out of school for being 'depressed.' Many families have been broken up primarily on the basis of diagnosis, and there are even cases of forced abortion or sterilization for people so labeled. There are literally hundreds of thousands more examples and scenarios I could offer, from the seemingly small (like the Vipassana meditation retreat center that says, "Although Vipassana meditation is beneficial for most people, it is not a substitute for medical or psychiatric treatment and we do not recommend it for people with serious psychiatric disorders.") to the homeless shelter that would rather leave someone standing out in the winter cold than give them a place to sleep if they've ever been prescribed a psychiatric drug, and many shades in between.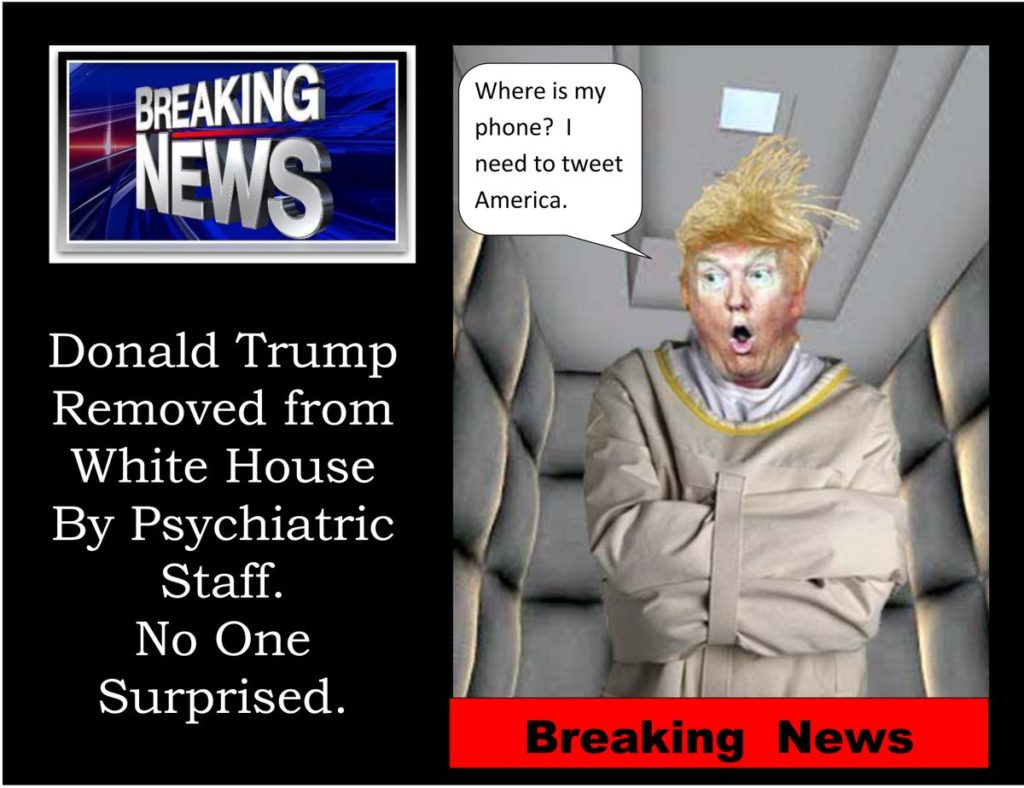 It's also no small point of note that psychiatry has a long history of being used to control marginalized groups. Homosexuality remained a diagnosable illness until 1973, and a potential reason for 'treatment' well beyond that. Drapetomania was a diagnosis given to enslaved people who tried to run away from their captors in the 1800's. Women have sometimes been imprisoned in psychiatric units by their husbands for holding what were seen as abnormal views on marriage and child rearing.  Schizophrenia also shifted from a diagnosis most common among women to one most common among black people round about the 1960s (go figure), and remains so today. People have been tortured and died in the sorts of restraints and straitjackets that some jokingly paint Trump in.
And these are all things you care about, right? Housing, employment, and educational access. Keeping families together. Stamping out injustice and discrimination in so many forms. In fact, the discrimination and hate that you see Trump as perpetuating (against immigrants, women, people of color and more) is one of your foremost complaints against him, isn't it?
So, why play party to replicating that hate? You see, by calling Trump 'crazy' for making wildly racist, sexist, and other hateful remarks and out-of-control tweets (among other things), you fail to actually promote an end to such violence and bigotry. Instead, you are simply asking that it be redirected to another group. And you're doing so in a way that is blind to all the history, and continues the aforementioned trend of using psychiatry as a tool of social control. In other words, focusing in on the idea that Trump should be evicted from the White House because you feel he is diagnosable points the president-tossing shovel at a psychiatric label rather than at his actions themselves.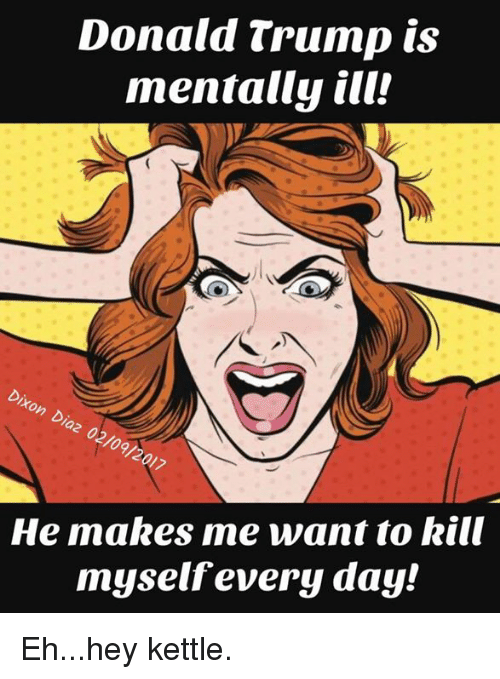 Ultimately, each time someone posts another article or image asserting that Trump is 'crazy' it reinforces all the misguided and harmful ideas that are precisely what drives the scenarios above. It equates psychiatric diagnosis with danger. It helps justify leaving those who've been so diagnosed without home or job. It silently supports tearing people from their loved ones, leaving them isolated and alone.
On top of all that, the fact of the matter is that it's also just not working. Regardless of the intent, this grasp at a sort of loophole in the 25th Amendment is not working to move Trump along. The 25th Amendment was established after the assassination of President Kennedy, to set forth procedures in the event that the president or vice president become incapacitated. In the past, it's only ever come into play when a president has become physically incapacitated. Success in a debate of 'mental' capacity is highly unlikely, especially since, well, first of all, it's a debate rather than a certainty (such as when a president dies or is in a coma). Secondly, it flies in the face of presently acceptable methods and ethics of diagnosis (in person, by a doctor). Finally (and perhaps most importantly), hope of success seems particularly low given that one of the primary methods of achieving this goal would be by formal declaration from the vice president. You know, Mike Pence?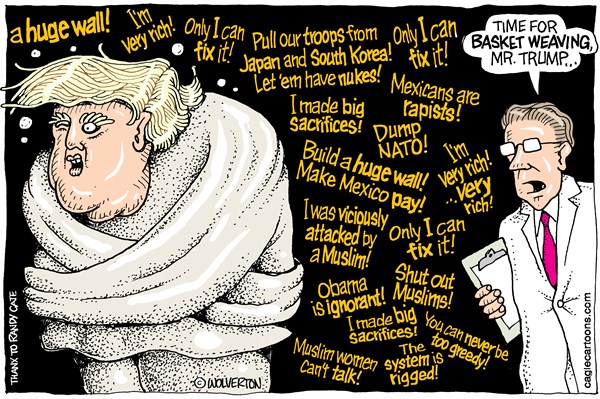 This is a desperate ploy, destined to failure. And, while the level of desperation is telling as to the state of our current political climate, all anyone has succeeded in doing by arguing about Trump's mental status is give even more energy to discriminatory systems and the meme-making machines that produce offensive images of him in straitjackets and more.
People who identify as progressives and liberals generally see themselves as fighting against abuses of power and for the underserved, underrepresented underdogs. Please hear that it is precisely those people that you are now hurting, while Trump remains unscathed (even if a bit annoyed, as well).
You simply can't have it both ways.
***
Mad in America hosts blogs by a diverse group of writers. These posts are designed to serve as a public forum for a discussion—broadly speaking—of psychiatry and its treatments. The opinions expressed are the writers' own.
***
Mad in America has made some changes to the commenting process. You no longer need to login or create an account on our site to comment. The only information needed is your name, email and comment text. Comments made with an account prior to this change will remain visible on the site.